This post may contain affiliate links. As an Amazon Associate I earn from qualifying purchases. Please see my disclosure policy for more information.
Pot of Gold Cake Cups are perfect for St. Patrick's Day, or anytime you need a little rainbow magic! These easy mini trifles are filled with cake cubes and frosting, and topped with cute buttercream rainbow toppers.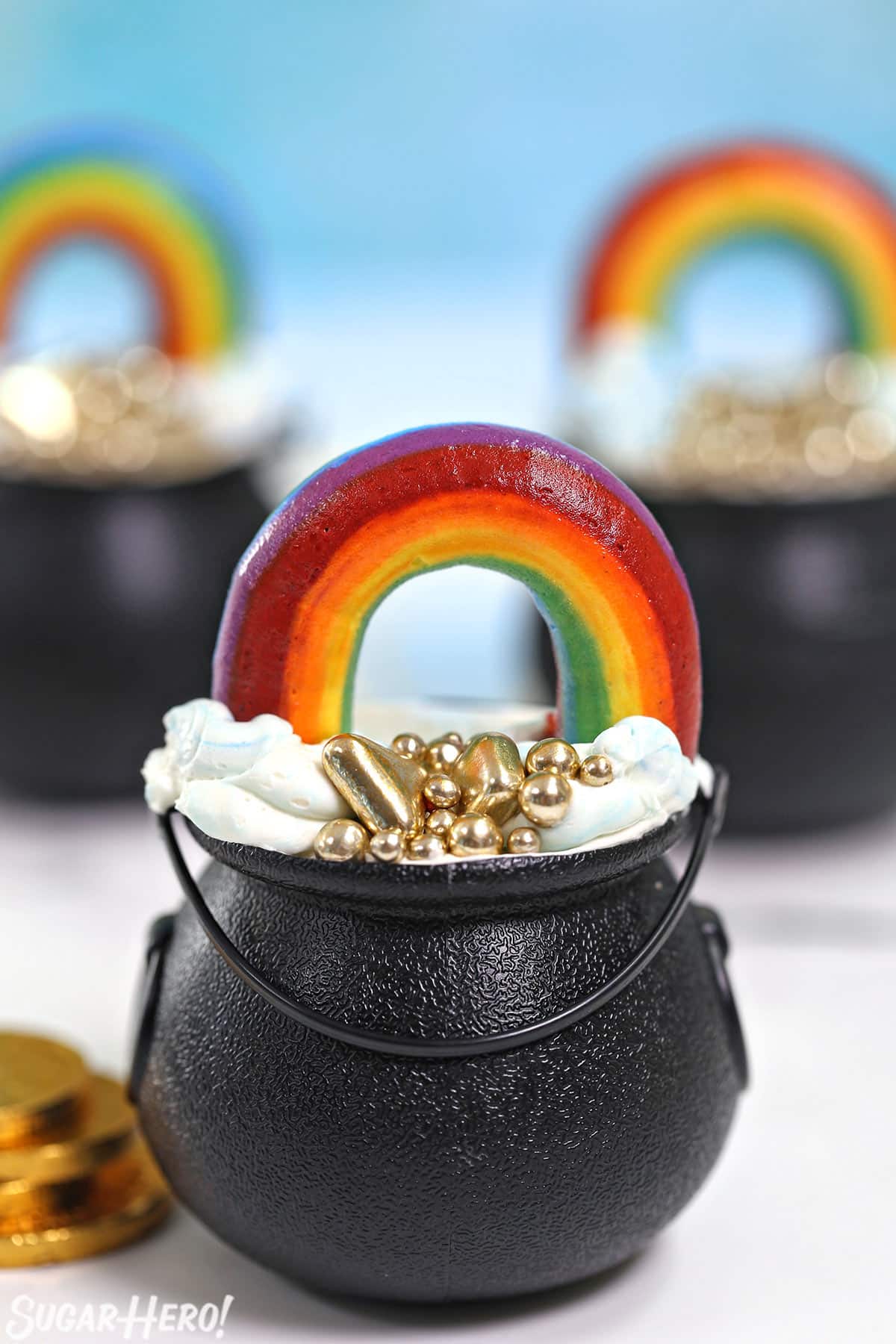 🍀 Rainbow Cake Cups for St. Patrick's Day
Forget catching a leprechaun this St. Patrick's Day – we're gonna make our own magic this year. And by "magic," I mean, of course, we're gonna make delicious cake cups, decorated to look like mini pots of gold.
What's in a Pot of Gold Cake Cup?
These cake cups could also be described as individual, single-serving trifles. They feature layers of cubed cake and buttercream, assembled in candy kettles to look like leprechaun pots, and decorated with shiny gold dragees, buttercream rainbows, and frosting clouds.
These wee pots of gold are super cute, eye-catching, and of course absolutely delicious, because how can you go wrong with a cup full of cake and frosting?! So read on to learn what you'll need, how to make them, and tips and substitutions in case you need to make adjustments.
If you are as obsessed with rainbow desserts as we are, you won't want to miss some of our all-time most popular rainbow cakes, like this Rainbow Cake with a surprise rainbow inside, Gold-Topped Rainbow Cake, and the spectacular Rainbow Mousse Cake.
🧾 What You'll Need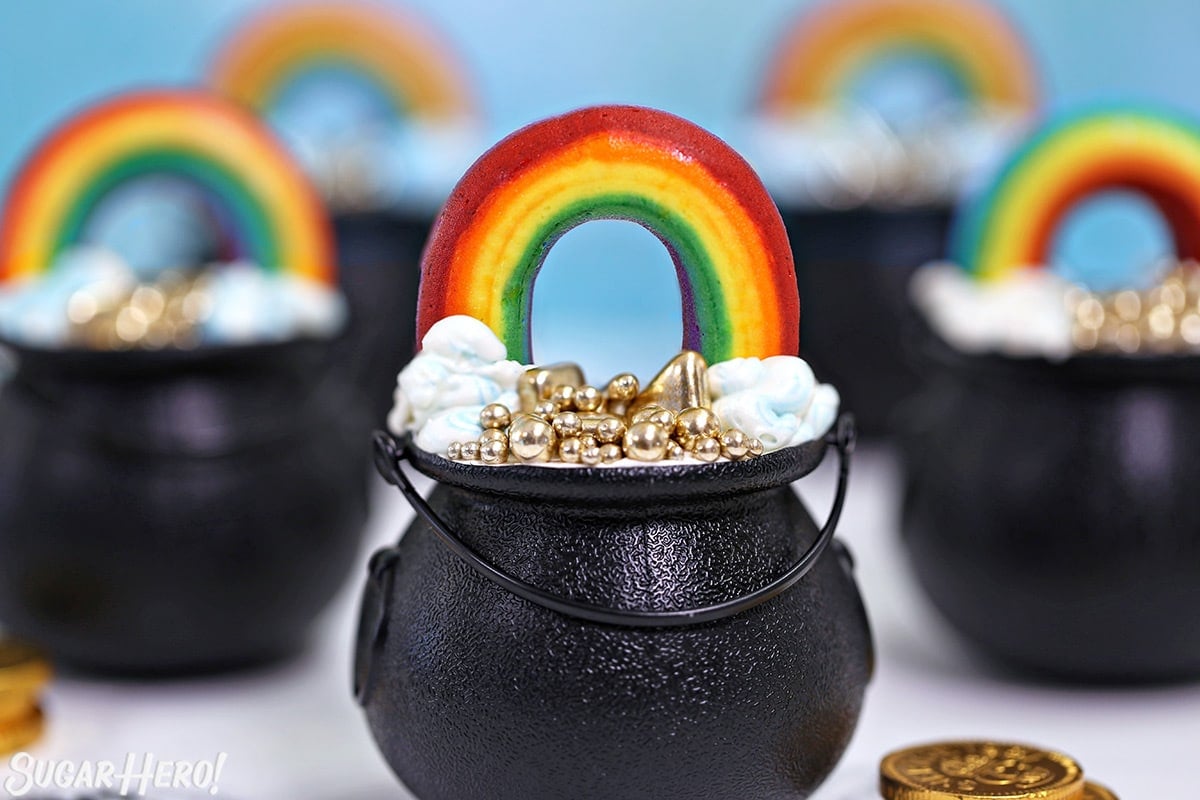 Ingredients

& Substitutions

The ingredient list is short and sweet, because this recipe is less about the baking and more about the decorating. Here's a few things to keep in mind as you gather ingredients, and you can find the full ingredient list in the recipe card below. (Amazon links are affiliate links and I earn a small commission from qualifying purchases.)
Supplies
Here are the tools and decorations you'll need to make these cute Pots of Gold! (Links are affiliate links and I earn a small commission from qualifying purchases.)
📋 Instructions
Here's a quick photo guide to making these Pot of Gold cake cups. For the full instructions, see the recipe card below.
Make a yellow cake (or another flavor of your choice) and bake it in a rectangular pan.
Let the cake cool completely, then cut it into small cubes.
Put white buttercream in a piping bag with a 1/2-inch round tip.
Add a single layer of cake cubes to the bottom of your candy kettles. Cover with a layer of buttercream.
Add one more layer of cake cubes, then top with another layer of buttercream. You should end up with 2 layers of each.
Smooth out the buttercream on top – it doesn't need to be perfect, just enough to seal the cake in so it stays moist.
Fit a piping bag with a medium round tip. Spread a few streaks of blue buttercream on the inside of the piping bag, then fill the rest of the bag with white buttercream. Massage the bag between your hands to mix the white and blue colors a little bit.
Pipe two fluffy piles of buttercream on either side of the candy kettles so that they look like clouds.
When the buttercream rainbows are firm, peel them from their parchment backing and firmly press them into the top of the candy cups.
Finish by piling a glittering mound of gold sprinkles in the center to complete the pot of gold look!
Buttercream Rainbows
Give your desserts a splash of color with these Buttercream Rainbows cake toppers! These fun frosting rainbow toppers are surprisingly easy to make, and they look SO fun on top of cakes and cupcakes.
Get the recipe!
Rainbow Cake with Rainbow Frosting
This gorgeous Rainbow Cake has a surprise inside! Underneath the fluffy white cloud-like frosting are bright stripes of rainbow buttercream frosting. Make it for a special birthday, party, or St. Patrick's Day!
Get the recipe!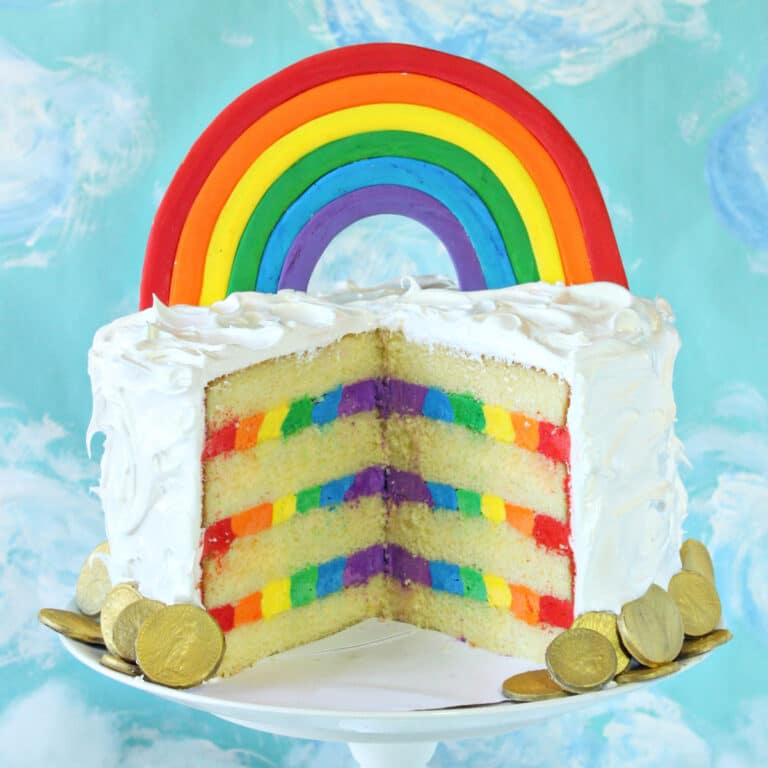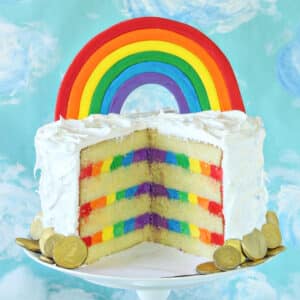 Pot of Gold St. Patrick's Day Cake Cups
Pot of Gold Cake Cups are perfect for St. Patrick's Day, or anytime you need a little rainbow magic in your life! These dessert cups are served in mini black kettles, filled with cake cubes and frosting, and decorated with gold sprinkles and buttercream rainbows.
Ingredients
For the cake:
1

box

yellow cake mix

,

(16 oz box)

, plus ingredients needed to make it
For the frosting:
4

oz

pasteurized liquid egg whites

,

see Note below

1

lb

powdered sugar

,

(4 cups)

¼

tsp

salt

1

lb

unsalted butter

,

cubed and at room temperature

1.5

TBSP

vanilla extract
For assembly and decoration:
20

plastic candy kettles

,

washed and dried

⅓

cup

gold pearl sprinkles

20

buttercream rainbows,

or other rainbow cupcake toppers
Instructions
Make the Cake:
Preheat your oven to 350° F (175° C) and line a 9×13-inch rectangular cake pan with parchment or foil. Spray the pan well with nonstick cooking spray or brush it with homemade cake goop.

Prepare the cake batter according to the directions on the box. Scrape it into your prepared pan and bake it according to the box directions, about 30-35 minutes. Allow the cake to cool completely before assembling the cake cups.
Make the Frosting:
While you wait for the cake to cool, prepare the frosting. Combine the whites, powdered sugar, and salt in the bowl of a large stand mixer fitted with a whisk attachment. Mix everything together on low speed, until the sugar is moistened and no dry patches remain. Turn off the mixer, scrape down the sides and bottom of the bowl with a spatula, then turn the mixer to medium-high speed. Beat on medium for 5 minutes until white, shiny, and thick.

Switch to a paddle attachment and turn the mixer to medium-low. Start adding the softened room temperature butter in large chunks, about 2 tablespoons at a time. Once all of the butter is incorporated, add the vanilla extract and mix it in. Stop the mixer and scrape down the bottom and sides once more. It is normal for the frosting to look lumpy or broken at this point.

Turn the speed to medium and beat the buttercream for 10 minutes. At the end, you'll have a frosting with a wonderfully light and creamy texture.

Remove ¼ cup of frosting and color it with blue food coloring until it is a light sky blue. Take a piping bag and fit it with a medium round tip, like Ateco #12. Smear a thin layer of blue frosting on the inner surface of the piping bag. Add white frosting to fill the bag, and massage the bag between your hands so the blue and white frosting gets mixed.
Assemble and decorate:
Once the cake is completely cool, flip it out of the pan onto a cutting board. Cut the cake into thin strips, then cut the strips into small ½-inch cubes.

Fill the bottom of a candy kettle with a layer of cake cubes. Press down or break the cake into smaller pieces if needed to make sure the bottom of the kettle is covered.

Pipe a layer of buttercream on top of the cake, then top the buttercream with another layer of cake cubes. Finally, top the cake with a second layer of buttercream, coming up to the top of the kettle. Smooth the buttercream into an even layer that's flush with the kettle top.

Pipe two round swirls of frosting on top of the kettle on opposite ends to represent clouds. If you are using buttercream rainbows, make sure the rainbows are frozen, then peel one off of the parchment backing and press it firmly into the buttercream clouds. Alternately, use a paper rainbow cupcake topper or a rainbow candy strip on top.

Finish by adding gold dragee sprinkles in between the clouds. Repeat to assemble the remaining cake cups. Serve these Pots of Gold at room temperature. The buttercream rainbows might start to droop after several hours if the room is warm, so these are best served within an hour or two of assembly. Store extras in an airtight container in the refrigerator for up to a week.
Video
Recipe Notes
About pasteurized egg whites: this recipe calls for pasteurized egg whites. It is safe to consume egg whites without cooking them, as long as the whites you buy are pasteurized. To save time, I buy them in a carton–look for 100% egg whites, not liquid egg substitute. If you cannot find them in a carton, you can buy pasteurized eggs and separate them yourself. You'll need about 4-5 large eggs to get the amount called for in the recipe.
About the rainbow toppers: if you don't want to make the buttercream rainbows for these cake cups, you can either use cardboard rainbow cupcake picks, or rainbow striped candy belts.
MEASURING TIPS
Our recipes are developed using weight measurements, and we highly recommend using a kitchen scale for baking whenever possible. However, if you prefer to use cups, volume measurements are provided as well. PLEASE NOTE: the adage "8 oz = 1 cup" is NOT true when speaking about weight, so don't be concerned if the measurements don't fit this formula.
Click here to learn more about baking measurements and conversion.
Nutrition
Calories:
352
kcal
|
Carbohydrates:
44
g
|
Protein:
2
g
|
Fat:
19
g
|
Saturated Fat:
12
g
|
Polyunsaturated Fat:
1
g
|
Monounsaturated Fat:
5
g
|
Trans Fat:
1
g
|
Cholesterol:
49
mg
|
Sodium:
373
mg
|
Potassium:
29
mg
|
Fiber:
1
g
|
Sugar:
34
g
|
Vitamin A:
567
IU
|
Calcium:
61
mg
|
Iron:
1
mg
Share by Email
Share on Facebook
Share on Pinterest