These Puff Pastry Apple Roses are a deceptively easy, elegant dish that dazzles as an appetizer or dessert!
Can we agree that we're all Thanksgiving-ed out? If you don't celebrate it, you're like, "Shut up with your dumb national holiday already! And PS those Pilgrim hats look stupid." And if you do celebrate it, you're like, "I have 647 things to buy at five different grocery stores today and a whole house to clean and an entire meal to prepare and I also need…uh, I mean, "my friend" needs to watch some YouTube videos about how to roast a turkey. I do not have time for any more Thanksgiving recipes!"
I get that. I'm a little Thanksgiving-ed out too, and it hasn't even happened yet. Solidarity, sister!
Soooo, instead of calling this a Thanksgiving recipe, I hereby name it a generic "holiday" recipe, good from now until the new year. Sure, cranberries are involved, but cranberries are invited to the table throughout the fall and winter months. Let's not pigeonhole it just because of a few red berries.
I mean, sure, these gorgeous puff pastry roses would make a beautiful appetizer at your Thanksgiving feast. And who am I to stop you if you want to serve them alongside your other Thanksgiving desserts, or maybe as part of a cheese course, if you're the type of fancy muckety-muck who does a cheese course? (Actually, I do a cheese course too, but it mostly consists of me asking myself, "Do I want some cheese? Of course!" . . . shall I have Goat Cheese Brownies, Dessert Grilled Cheese Sandwiches, Raspberry Brie and Chocolate Puff Pastries or Pumpkin Spice Cheesecake? The struggle is real.) The roses, generic holiday suitability notwithstanding, would feel quite at home on a Thanksgiving table, is all I'm saying.
.

These puffs, although beautiful, are deceptively simple. They start with some store-bought puff pastry dough, cut into long strips. On top of that are layered apple slices (simmered for a few minutes to soften them up), a bit of cranberry sauce, and some slices of crazy delicious gouda cheese. Roll that puppy up, pinch the bottom closed, bake it off in a muffin pan, and baby, you've got yourself a rose!
I love baking with apples. Don't miss my Apple Donut Recipe, Apple Cider Fritters and Caramel Apple Cake!
And, of course, you can shake things up a bit—try using sliced persimmons (or pears?) instead of apples, or swap out the gouda for another cheese. Omit the cranberry sauce entirely, or use a different jam—fig, quince, or apricot all sound really good!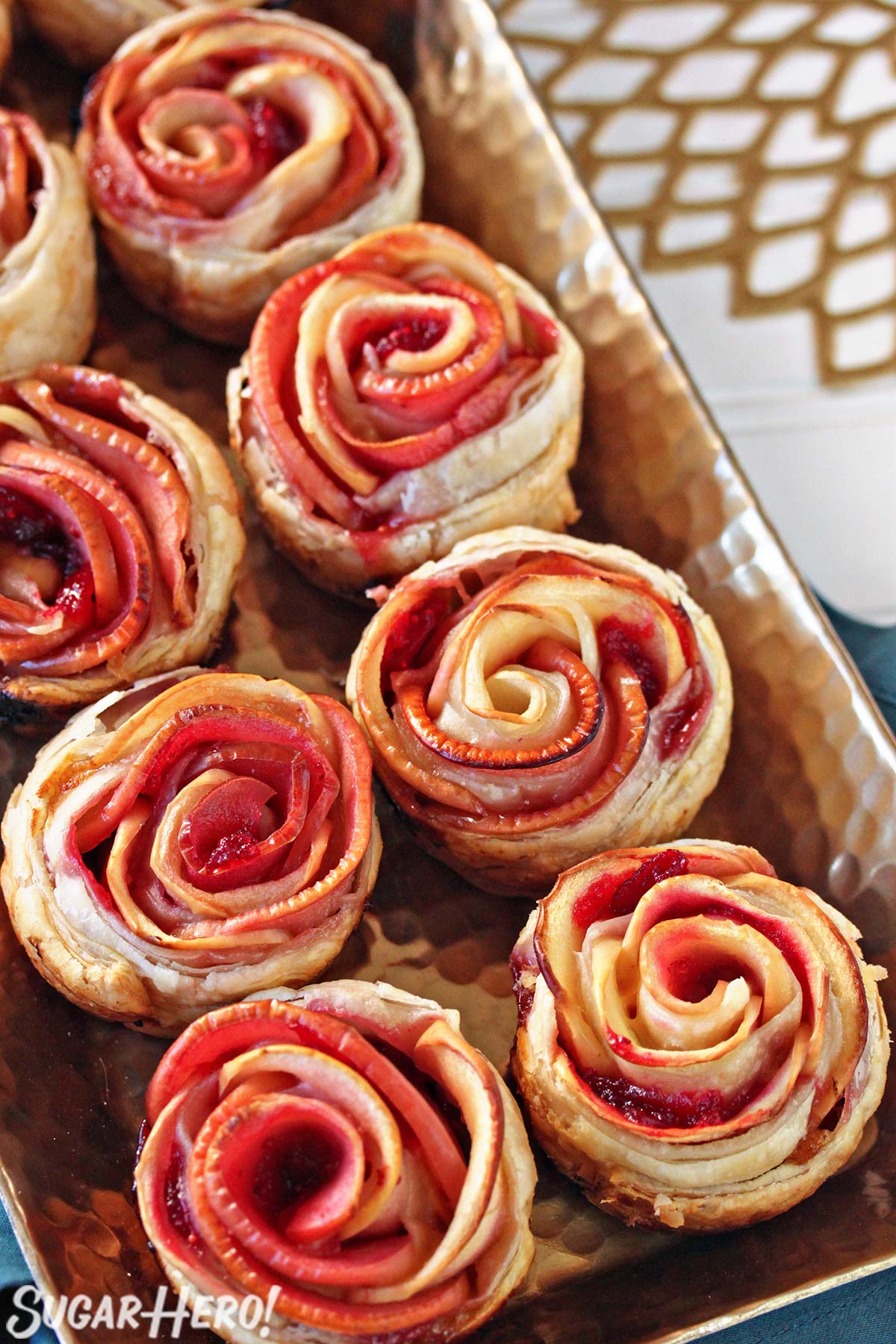 This is one of those dishes that could easily be served as an appetizer, part of the main meal, or on the dessert table. The cheese gives it enough of a salty, nutty flavor to keep it from sliding straight to dessert-ville, but the fruit adds a sweetness that would let these roses shine right next to the pumpkin pie.
I tried to be clever and dyed some of the apples pink with cranberry juice. I think it added a really pretty effect, especially when I layered them with the regular apple slices in the same pastry. It's certainly not necessary, though, and they will taste just as good (and look almost as pretty!) if you skip the apple pinkening.
And with that, I am officially done saying the T-word this year. Let's all eat massive amounts of food, take giant naps, and reconvene here for more dessert shenanigans next week. Have a good one, lovelies!
Cranberry Chocolate Truffle Cake
This Cranberry Chocolate Truffle Cake is a nice change from the typical cranberry desserts. In this cake, tart cranberries are paired with a dark fudgey chocolate cake and topped with shiny chocolate glaze. Serve this one at Thanksgiving or any time you have a cranberry craving.
View Recipe
Orange Mousse with Cranberry Sauce
This Orange Mousse with Cranberry Sauce is a light, elegant dessert that showcases the sweet-tart beauty of cranberries! You can use store-bought or leftover cranberry sauce for the topping, so it comes together quickly and easily!
View Recipe
Don't miss the step-by-step tutorial showing how to make Puff Pastry Roses – check out the web story here!
Puff Pastry Apple Roses
These Puff Pastry Apple Roses are a deceptively easy, elegant dish that dazzles as an appetizer or dessert!
Ingredients
2

sheets

prepared puff pastry dough

(16-17 oz total)

3

large apples

(I used Gala)

3

cups

water

4

oz

gouda cheese

(I used Old Amsterdam)

1

cup

cranberry sauce

preferably homemade

1

large egg

lightly beaten
Instructions
Defrost the puff pastry according to the package directions, and keep it in the refrigerator until you're ready to use it.

Cut the apples into quarters around the core. Slice each apple section into very thin slices, around 1/8-inch thick or less if possible. Save any misshapen slices or end pieces for another use. Place the water in a medium saucepan, and bring it to a simmer over medium heat. Add the apple slices and simmer them for 3-5 minutes. You just want to cook them slightly so they're pliable and can easily bend—do not let them get overly soft or mushy.

Strain the apples out of the water and place them on a baking sheet covered with a paper towel to drain. Let them cool to room temperature.

Preheat the oven to 425 F, and spray a muffin pan with nonstick cooking spray. Flour your work surface and rolling pin. Roll out one sheet of puff pastry to a 12×12-inch square. (Leave the other sheet in the refrigerator until you're ready to use it.) Cut the square into six long strips.

Use a vegetable peeler or cheese slicer to slice the cheese into paper-thin slices. Give the cranberry sauce a few good stirs to break up any clumps.

Brush the bottom of one strip of puff pastry dough with the beaten egg. Start laying apple slices along the top of the puff pastry strip, with the rounded part sticking above the dough. Overlap the slices slightly as you lay them down, and leave a small margin uncovered at the end of the strip.

Spread a little cranberry sauce on the apples. A little goes a long way, and if you overfill it will spill out the top of the pastry and look messy, so try to go lightly on the cranberry! Add the cheese slices on top of the apples, and roll the puff pastry up. Brush a little egg onto the uncovered margin at the end of the strip, then press the pastry roll closed. Pinch the excess dough at the bottom of the pastry together—the egg wash will help it hold together.

Place the puff pastry rose in the prepared baking sheet, and repeat until all of the roses are made. Bake at 425 F for 25 minutes, rotating halfway through. If the apple slices start to get too dark or burn along the edges, cover the pan loosely with foil. They're done when they're puffed and they look golden brown along the sides.

These pastries are best enjoyed a bit warm on the same day they were made.
Recipe Notes
To get the pink apple effect, I whisked together equal parts homemade cranberry sauce and water, and soaked the already-cooked apple slices in it for several hours (I imagine overnight would be even better.) It gave them a subtle cranberry flavor and a lovely pink color. You can try this with all of the apples, or do half of them pink and then alternate pink and white apples in the roses.
Measuring Tips
Our recipes are developed using weight measurements, and we highly recommend using a kitchen scale for baking whenever possible. However, if you prefer to use cups, volume measurements are provided as well. PLEASE NOTE: the adage "8 oz = 1 cup" is NOT true when speaking about weight, so don't be concerned if the measurements don't fit this formula.
Want to learn more about baking measurements and conversion?
Nutrition
Calories:
322
kcal
|
Carbohydrates:
34
g
|
Protein:
5
g
|
Fat:
18
g
|
Saturated Fat:
5
g
|
Cholesterol:
24
mg
|
Sodium:
194
mg
|
Potassium:
96
mg
|
Fiber:
1
g
|
Sugar:
14
g
|
Vitamin A:
105
IU
|
Vitamin C:
2.6
mg
|
Calcium:
78
mg
|
Iron:
1.2
mg
Tried this recipe?
Snap a pic and hashtag it #SugarHero. We love to see your creations on our Instagram @elabau.