This Cranberry Curd Almond Cake is a new way to enjoy cranberries! The soft almond cake has wonderfully chewy edges and is filled with a sweet-tart cranberry curd. Add this to your Thanksgiving menu this year!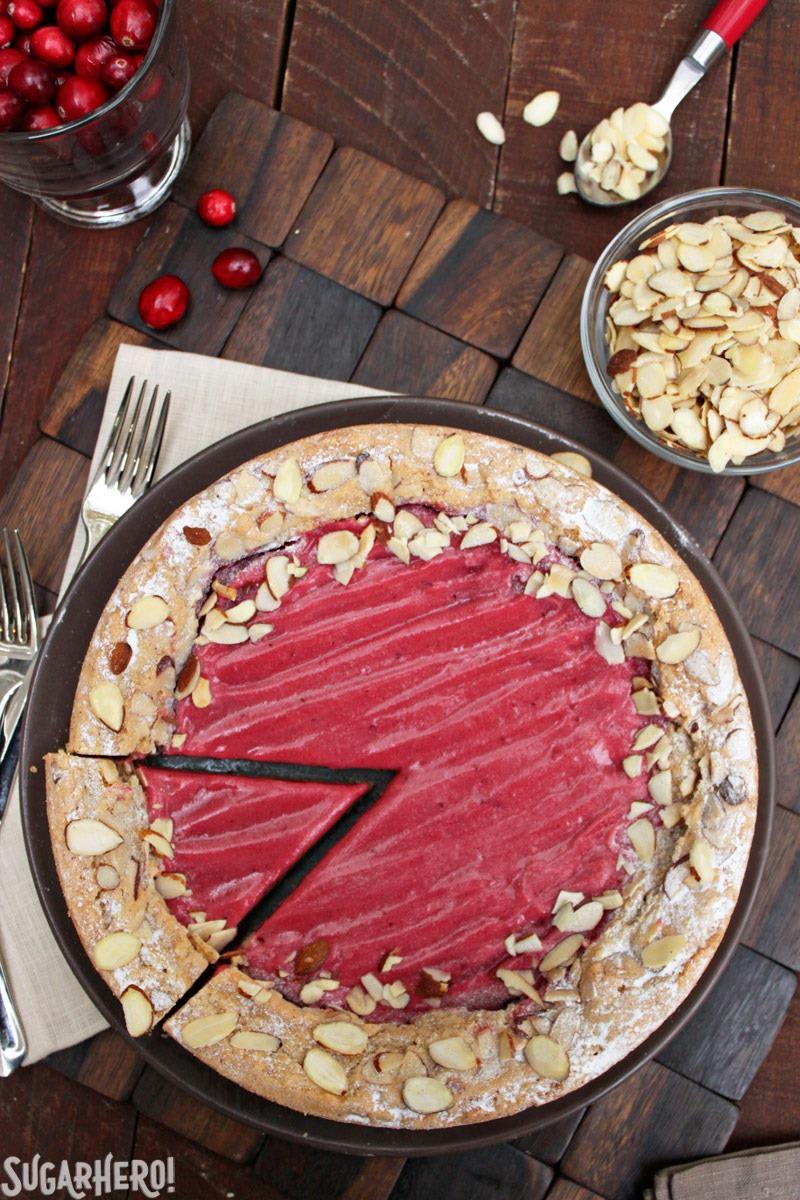 I always like to have at least one non-pie option for Thanksgiving dinner every year. I've mentioned before that I'm not the biggest pumpkin pie fan (although this dulce de leche pumpkin pie version won me over!), so I like to provide some choices for other people who, like me, are staunchly on Team Cake.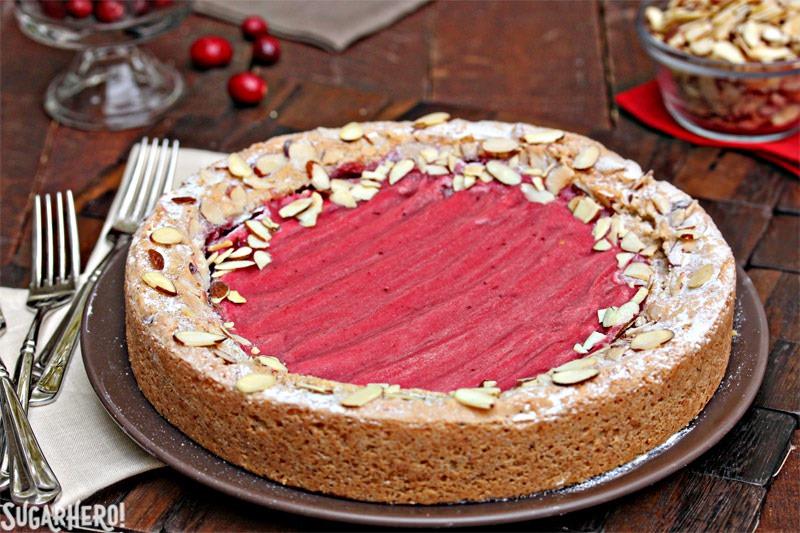 Since I'm already bucking tradition a bit, I do try and make sure that the non-pie dessert feels Thanksgiving-ish, and more often than not, that means I turn to cranberries. I love a good homemade cranberry sauce, but those gorgeous red berries are good for so much more than being a gloopy side dish for turkey! Their sweet-tart flavor is jut begging to be put to use in desserts.
In years past, I've served them in puff pastry with apples and gouda, as part of a giant trifle, and paired with chocolate in a dense, fudgy truffle cake.
This year, I've been experimenting with cranberry curd. Lemon curd and lime curd tend to get all the love, but you can actually make curd with just about any fruit puree, and cranberries make an especially nice curd. It makes total sense—the same process that turns sour lemon juice into a wonderfully sweet-tart  spread also works to make lip-puckering cranberries into a sweet, smooth, vibrant filling.
I found it helpful to use a candy thermometer when making the cranberry curd. If you are new to using a thermometer, check out my guides for how to use a thermometer and how to test and calibrate a thermometer correctly.
For this cake, I paired the cranberry curd with a delicious almond cake base. Most of the curd is spread on the cake before baking, and during the baking process, the edges puff up and around the curd, resulting in a cake with a soft and tender center, and edges with a slightly chewy/crispy texture.
Baking the curd makes it firmer, but also darkens it and takes away some of the gorgeous shine. So I like to reserve just a bit of cranberry curd and spread it on top of the baked tart at the end. Finish with a dusting of powdered sugar around the edges, and you have a cake that would make even the biggest pie lover think twice before choosing a slice of pumpkin!
Cranberry White Chocolate Sweetie Pies
These Cranberry White Chocolate Sweetie Pies are throw back to the good ol' days when my dad made little hand pies called "sweetie pies". Flaky, buttery crust enfolds sweet-tart cranberries topped with white chocolate!
View Recipe
Cranberry Sauce Cake
This Cranberry Sauce Cake is an easy Thanksgiving cake recipe. It features two orange-scented cake layers and cranberry orange sauce filling, for the perfect combination of sweet-tart fall flavors.
View Recipe
Cranberry Curd Almond Cake
This Cranberry Curd Almond Cake is a new way to enjoy cranberries! The soft almond cake has wonderfully chewy edges and is filled with a sweet-tart cranberry curd. Add this to your Thanksgiving menu this year!
Ingredients
For the Cranberry Curd:
6

oz

fresh cranberries

(or defrosted frozen berries)

½

cup

orange juice

or water

2

oz

unsalted butter

at room temperature

5.25

oz

granulated sugar

(3/4 cup)

1

large egg

2

large egg yolks
Instructions
To Make the Cranberry Curd:
First, make the cranberry puree. Combine the cranberries and orange juice (or water) in a small saucepan, and heat them, stirring occasionally, until the berries pop. Pour the cranberries into a blender and blend them well. If the mixture seems very thick, add 1-2 TBSP water to thin it out. Strain the cranberry puree through a mesh strainer to remove most of the bits of skin.

Fill the bottom of a double boiler (or a regular saucepan) with about an inch of water and bring it to a simmer on the stovetop.

In a large mixing bowl, cream together the butter and the sugar with a handheld or stand mixer fitted with a whisk attachment until the mixture is light and fluffy. Slowly add the egg and yolks, and beat for 1 minute more. Add the cranberry puree and mix—at this point the mixture might look curdled.

Pour the liquid into the top of a double boiler or a bowl that fits snugly over your saucepan. (I actually like to use the metal mixing bowl that goes on my stand mixer so I'm not dirtying too many dishes.) Cook the mixture over the simmering water, whisking frequently, until it thickens enough to coat the back of a spoon. If you want to use a candy thermometer, cook the curd until it reaches 170-175 degrees F.

Once the curd thickens, remove the pan from the heat and pour the curd through a strainer into a bowl to remove any bits of cooked egg. Press a layer of cling wrap directly on top of the curd, and refrigerate it until it is chilled and thick.
To Make the Almond Cake:
Preheat the oven to 350 F. Line a 9-inch pan with a removable bottom (or a springform pan) with a parchment circle, and liberally spray with nonstick cooking spray.

Place the 2 oz of sliced almonds in a food processor, and process until they're fine crumbs. Add the flour, baking powder, and salt, and pulse until everything is well-mixed. Set aside for now.

Place the butter in the bowl of a large stand mixer fitted with a paddle attachment, and add the granulated sugar. Cream them together for 3-4 minutes until light and fluffy. Add the eggs one at a time, beating for 30 seconds after each addition, then add the extracts. Finally, add the almond/flour mixture and mix on low speed until there are just a few streaks of flour remaining. Finish mixing by hand, scraping down the bottom and sides well with a spatula.

Spread the batter in the prepared pan. Top with most of the cranberry curd, reserving 3-4 tablespoons for later use. Spread the curd in an even layer on top of the cake, and leave a ½-inch margin around the edge. Sprinkle the toasted sliced almonds and a bit of granulated sugar on the edges of the cake batter.

Bake the cake for 40 minutes, until puffed and golden and barely jiggling in the center. It might puff up in the middle—insert a thin paring knife into the center to deflate any air bubbles. Let it cool to room temperature, then spread the reserved cranberry curd on top to give it a nice shiny look. Run a knife around the edge of the pan and release the cake. Sprinkle the edges with a bit of powdered sugar and serve!
Measuring Tips
Our recipes are developed using weight measurements, and we highly recommend using a kitchen scale for baking whenever possible. However, if you prefer to use cups, volume measurements are provided as well. PLEASE NOTE: the adage "8 oz = 1 cup" is NOT true when speaking about weight, so don't be concerned if the measurements don't fit this formula.
Want to learn more about baking measurements and conversion?
Nutrition
Calories:
331
kcal
|
Carbohydrates:
40
g
|
Protein:
4
g
|
Fat:
17
g
|
Saturated Fat:
8
g
|
Cholesterol:
103
mg
|
Sodium:
157
mg
|
Potassium:
123
mg
|
Fiber:
1
g
|
Sugar:
30
g
|
Vitamin A:
465
IU
|
Vitamin C:
1.9
mg
|
Calcium:
47
mg
|
Iron:
1
mg
Tried this recipe?
Snap a pic and hashtag it #SugarHero. We love to see your creations on our Instagram @elabau.