Looking for the perfect Valentine's Day dessert? This Pink and Red Velvet Cake has it all – 8 beautiful cake layers, a delicious cream cheese frosting, and a super easy decoration anyone can do!
💗Pink velvet cake for Valentine's Day
Flowers and chocolates are all well and good, but if you really want to win someone's heart this Valentine's Day, you've gotta up your game. Might I suggest making them a big ole layer cake as a token of affection?
Everything about this Sky-High Pink & Red Velvet Cake is swoon-worthy: the eight (!!!) layers of super-moist pink and red velvet cake, the smooth and tangy cream cheese frosting, and the easy but eye-catching candy decorations ringing the sides and top.
If you love the sound of this cake, you won't want to miss some of our most-beloved Valentine's Day dessert recipes, including Valentine's Day Sugar Cookies, Trendy Cream Tarts, Chocolate-Covered Strawberry Cakes, and another romantic red velvet cake, our Heart-Topped Valentine's Day Cake.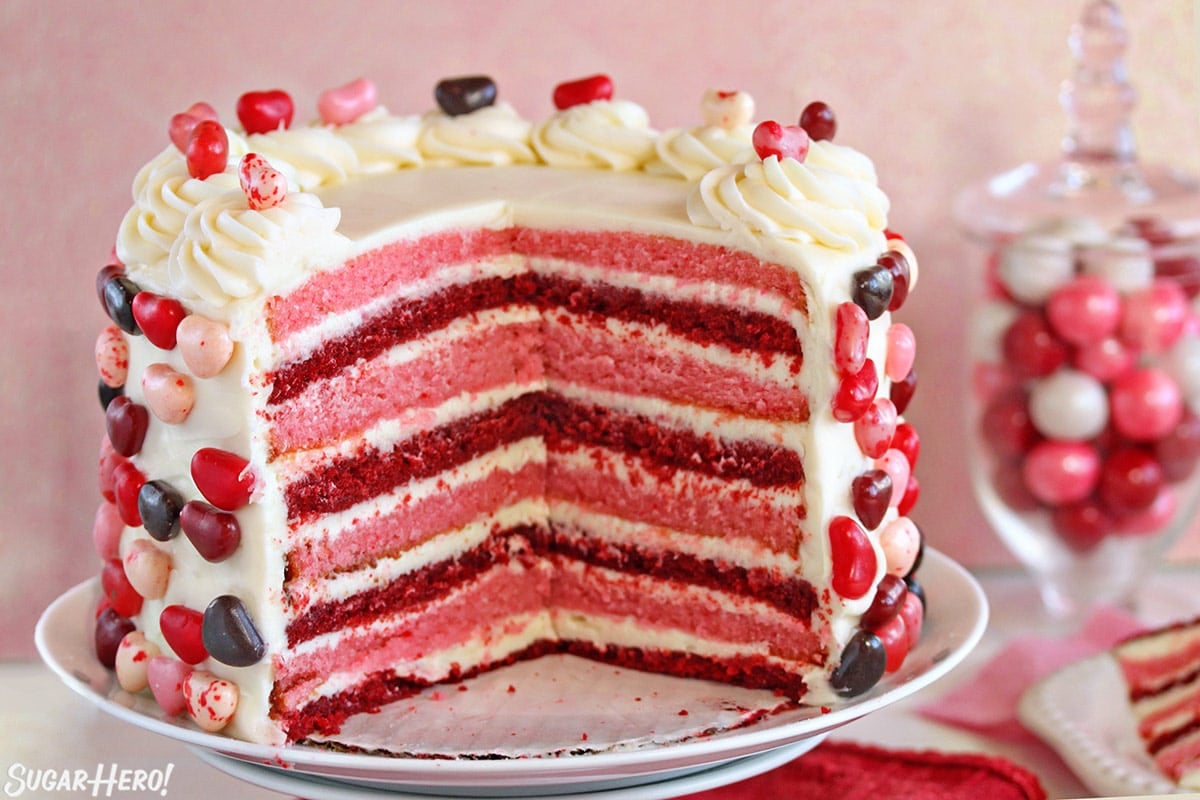 Table of Contents
🧾 What You'll Need
Ingredients

& Substitutions

You probably have most of what you need to make this cake already, but here are a few things to keep in mind as you gather ingredients. (Links are affiliate links and I earn a small commission from qualifying purchases.)
Oil:

This cake uses vegetable oil instead of butter, so it stays moist for days. You can swap in another neutral oil, like canola oil, if you'd like.
Buttermilk: Buttermilk adds moisture and flavor, and is a signature part of red velvet cake. If you don't have any, you can whisk together equal amounts of sour cream and milk, or Greek yogurt and milk, or check out the FAQ below for instructions on making your own.
Eggs: Use large eggs, and for the best results, have them at room temperature before beginning. Either let them sit out for 20-30 minutes, or submerge them in a bowl of warm water for a few minutes to warm them up quickly.

Vinegar:

The cake recipe uses a little white vinegar to help react with the baking soda, which gives the cake a lot of lift and a super-soft texture. Don't worry, you can't taste it in the final product!

Cocoa powder:

Cocoa powder is a traditional part of red velvet cakes. This isn't a chocolate cake, however — it has just a hint of light cocoa flavor.

Gel food coloring:

For this cake, I used Americolor gel coloring in Super Red and Soft Pink. Gel color is preferred to liquid color because it's much more potent, so you can get brighter colors with less coloring.

Butter:

Make sure the butter is at room temperature when making the frosting. This means it's pliable but cool–you don't want it to be greasy and melty.

Cream cheese:

Be sure to use full fat blocks of cream cheese for the best results. Avoid "light" and "whipped" cream cheese, and any cream cheese sold in a tub. I recommend using Philadelphia brand cream cheese when possible–I have had mixed experiences with store brands. Also, make sure your cream cheese is at room temperature before you begin.

Marshmallow cream:

I like to add a bit of marshmallow cream to this cream cheese frosting — it helps with stability and texture. But you can omit it if you'd like.

Heart-shaped jelly beans:

This cake is decorated with these sweet "cherry lovers" heart-shaped jelly beans. If you can't find them, you can recreate the look with basically any heart-shaped candy. I think conversation hearts would be a fun variation on this idea!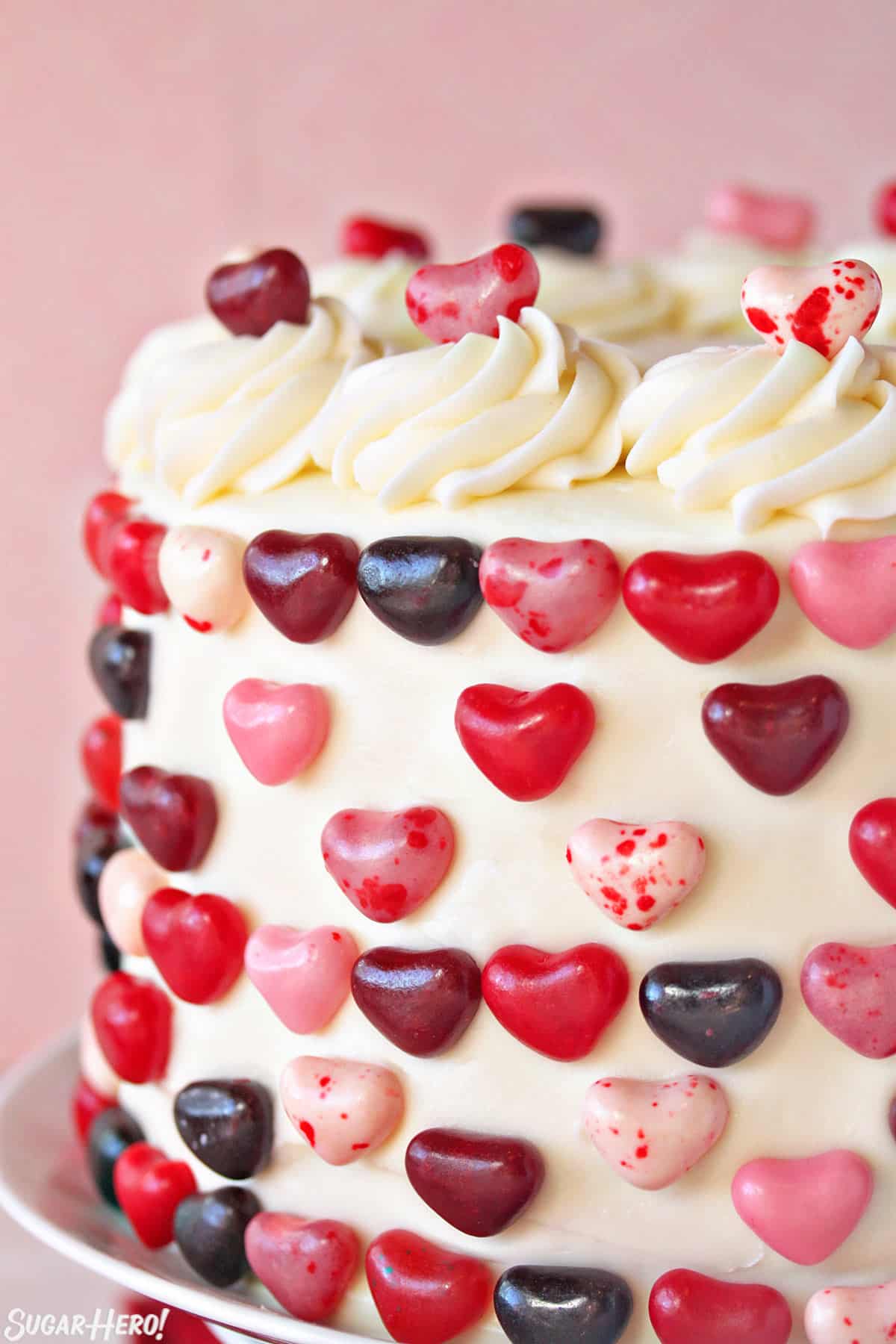 Equipment
💭 Variations
There are lots of different ways to play around with this recipe! Try one of these fun variations:
Turn it into cupcakes: this recipe can easily be converted into Red Velvet Cupcakes. A single batch of the red velvet cake batter makes about 24 cupcakes, and you can bake them at 350 F for about 20-23 minutes.
Put it in a jar: use this Red Velvet Cake in a Jar recipe to assemble this cake in adorable, single-serving jars. Perfect for parties and celebrations!
Add additional flavors: because red velvet and cream cheese frosting are both fairly neutral flavors, you can get creative and add extra flavoring extracts to the cake batter or frosting. One of my favorites is adding a bit of mint, like in this wintery Red Velvet Trifle.
Change the color scheme: maybe it's not Valentine's Day, or maybe you hate pink and red. No worries! Most colors will work with this cake batter. But because there is a bit of cocoa in it, it's not a great choice for lighter colors like yellow.
Decorate differently: you can use other candies for decoration, or go in a whole different direction entirely! Try rolling the sides in sprinkles, or get creative by topping it with a heart like this Valentine's Day cake.
Try other frostings: Swiss meringue, easy Swiss meringue, or even stabilized whipped cream would be great with this tender cake.
💡 Tips and FAQs
Homemade Buttermilk replacement
If you don't have buttermilk on hand, you can easily make your own. Combine 3 TBSP of fresh lemon juice or white vinegar with 3 cups of 2% or whole milk. Stir well, and let the milk sit for 10 minutes, until it's thickened slightly, then you can use it!
💖 More Layer Cakes You'll Love
Pink and Red Velvet Valentine's Day Cake
Nothing says "love" like this Pink and Red Velvet Valentine's Day Cake! The uniquely sized tiers give it a modern look, and the graphic red, black, and white heart-and-arrow pattern is striking. You'll swoon over this romantic red velvet cake!
View Recipe
Truffle-Topped Heart Cake
This Truffle-Topped Heart Cake is a chocolate lover's dream come true! It starts with a moist chocolate cake, layered with chocolate-blackberry filling and covered with a shiny chocolate glaze. Top it off with a mass of homemade chocolate truffles!
View Recipe
Sky-High Pink and Red Velvet Cake
Looking for a lovely Valentine's Day dessert? This Pink and Red Velvet Cake has it all – 8 beautiful cake layers, a delicious cream cheese frosting, and a super easy decoration anyone can do!
Ingredients
Instructions
To Make the Cakes:
Preheat oven to 350 F. Line four 8-inch cake pans with parchment rounds, and spray the pans with nonstick cooking spray.

Begin by making the red velvet cake: in a medium bowl, sift together the flour, sugar, baking soda, cocoa, and salt. In a separate mixing bowl, combine the oil, buttermilk, eggs, food coloring, vinegar, and vanilla, and mix on medium speed with a paddle attachment until everything is smooth.

Stop the mixer, add the dry ingredients, and mix on low until the flour streaks disappear. Turn the speed to medium and continue to mix until any lumps are gone and the batter is smooth. Divide the batter between two cake pans.

Wash your bowl and paddle, and repeat the process to make the pink velvet layer cakes. They will be made in exactly the same way, except the pink velvet doesn't contain any cocoa powder, and the amount of food coloring used is less. Bake the pink and red velvet cakes for 30 minutes, until the tops spring back when touched lightly and a toothpick inserted into the center comes out clean.

Cool the cakes completely on a wire rack, then turn them out of the pans and wrap them well in plastic wrap. Place the cakes in the freezer to chill for at least 1 hour before assembling the cake. They don't need to be frozen solid, but it will be much easier to assemble if they are partially frozen and firm. If you do want to make them in advance and freeze them for several days or several weeks, that's fine—they will keep well. Just let them sit at room temperature for 10-15 minutes before trying to slice them so they're easier to cut.
To Make the Frosting:
Combine the butter, cream cheese, and marshmallow cream in the bowl of a large stand mixer fitted with a paddle attachment. Cream them together until they're light and fluffy, without any chunks of butter or cream cheese. Add the vanilla and salt, and mix it in.

Add the powdered sugar and cream, and mix on low speed until the sugar is moistened. Turn the speed to medium-high and whip until the frosting is fluffy and light. Add more cream or sugar as desired, to get your optimal texture. Use immediately, or store in the refrigerator until ready to use. If it's too cold straight from the fridge, beat it briefly until it's a workable texture.
To Assemble:
Working with partially frozen cakes, cut each one in half so you have 4 red velvet rounds and 4 pink velvet rounds. Place a red velvet round on a cardboard cake circle, and top it with about 1/2 – 2/3 cup of frosting. Use an offset spatula to spread the frosting to the edge of the cake. Place a pink velvet round on top, and top it with more cream cheese.

Continue to layer the cakes and frosting until you have stacked all 8 cake layers. Spread a very thin layer of frosting on the top and sides of the cake. It will look rough and imperfect, and that's okay – this is the "crumb coat" and it is used to lock in any stray crumbs.

Refrigerate the cake for at least an hour, until the frosting on the outside is cold and firm. Add a thicker layer of frosting to the top and sides of each cake, covering the crumb coat, making sure the frosting is as smooth as possible. To get the sides extra-smooth, run a metal offset spatula under very hot water, then wipe it dry and run it along the sides of the cake—the heat from the spatula helps smooth out the frosting.

Transfer some remaining frosting to a piping bag fitted with a large star tip, and pipe a ring of rosettes around the outer edge of the cake.

Press heart-shaped jelly beans into the side of the cake in the pattern of your choice, and add a heart on top of each rosette.

Keep the cake refrigerated until shortly before you're ready to serve it. This cake keeps well, and should stay moist for 4-5 days in the refrigerator.
Recipe Notes
To make cupcakes: Line cupcake pans with 24 paper wrappers. Scoop batter into pans and bake at 350 F for 20-22 minutes, until the tops spring back when lightly pressed. Cool completely before decorating.
This cake can also be made in 9-inch pans if you prefer your cake to be slightly shorter and wider.
Measuring Tips
Our recipes are developed using weight measurements, and we highly recommend using a kitchen scale for baking whenever possible. However, if you prefer to use cups, volume measurements are provided as well. PLEASE NOTE: the adage "8 oz = 1 cup" is NOT true when speaking about weight, so don't be concerned if the measurements don't fit this formula.
Want to learn more about baking measurements and conversion?
Nutrition
Calories:
849
kcal
|
Carbohydrates:
125
g
|
Protein:
8
g
|
Fat:
36
g
|
Saturated Fat:
22
g
|
Polyunsaturated Fat:
2
g
|
Monounsaturated Fat:
9
g
|
Trans Fat:
1
g
|
Cholesterol:
131
mg
|
Sodium:
569
mg
|
Potassium:
166
mg
|
Fiber:
1
g
|
Sugar:
100
g
|
Vitamin A:
1283
IU
|
Calcium:
102
mg
|
Iron:
2
mg
Tried this recipe?
Snap a pic and hashtag it #SugarHero. We love to see your creations on our Instagram @elabau.