This post may contain affiliate links. As an Amazon Associate I earn from qualifying purchases. Please see my disclosure policy for more information.
Get ready for grilled cheese like you've never had it before! Dessert Grilled Cheese Sandwiches are made with pound cake, chocolate, fresh raspberries, and gooey, melted brie cheese!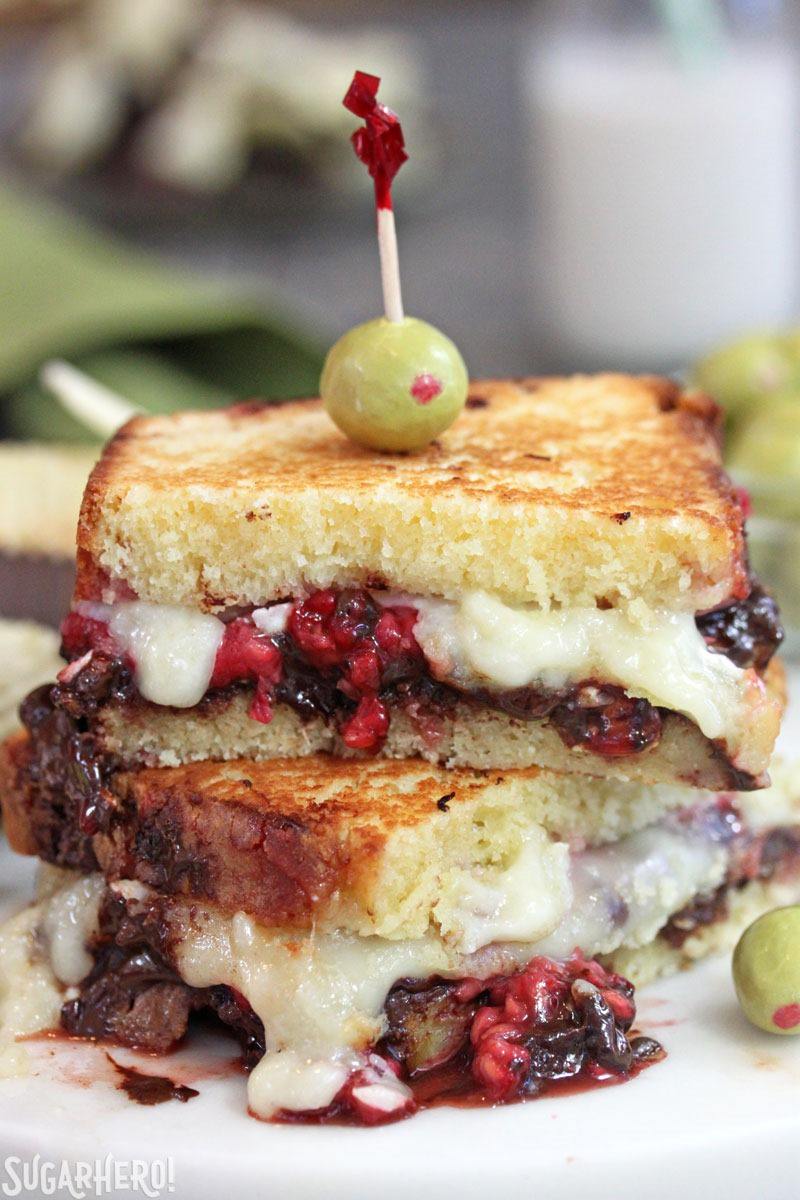 Hello, long-lost friends! Things have been too quiet around here for too long. The bad news is, I've been neglecting SugarHero. The good news is, I've been busy working on a project that I can fiiiiiinally share with you all! Next week I'm travelling to Denver and filming a second class with Craftsy. (Short explainer: Craftsy is a website that offers in-depth video tutorials about everything from cooking to painting to Photoshop. Last year I collaborated with them on a super fun candy and chocolate-making class, which you can learn all about here.)
For this class, I'm moving away from candy and focusing on cake decorating. I don't want to spoil all the surprises, but I will say that we are going to cover some REALLY cute techniques, and I'm excited to tell you more about it in the upcoming weeks! If you follow me on Snapchat, you've probably seen a few of the designs already. And if you don't follow me yet, you'd better get up in my Snapchat grill, because I'll be posting lots of behind-the-scenes stuff on Snapchat and (hopefully) Facebook live while we're filming. More to come!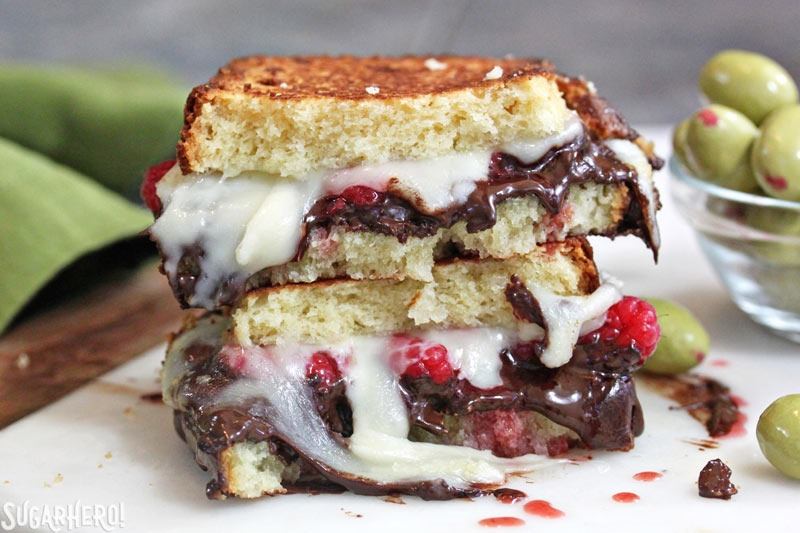 Now that I've made my excuses and shilled my projects, let's get down to melty, gooey, face-stuffingly good business.
YOU GUYS. This grilled cheese? Has been giving me life.
As mentioned above, I've been frantically scurrying to finish up other work and haven't had time to make my usual over-the-top desserts. Enter the dessert grilled cheese sandwich! It has just four component: pound cake, chocolate, raspberries, and brie cheese. Sounds simple, right? Well, sometimes the simplest things are best, because take a gander at THIS: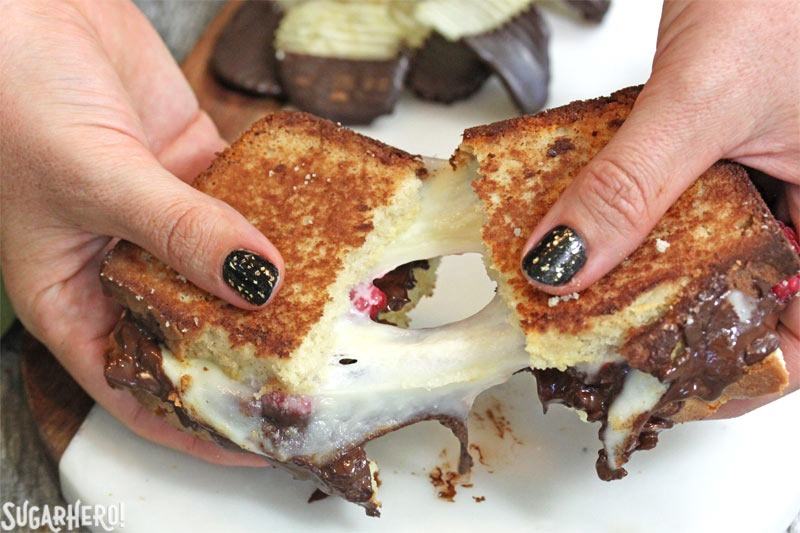 If you are not drooling at that cheese and chocolate situation, you are a monster. Picture it: soft pound cake, edges crispy from being sautéed in butter until golden brown. Melted chocolate, just oozing out the sides of the sandwich. Fresh raspberries releasing their juices, and mixing with the luscious, creamy brie cheese. Can you even handle it?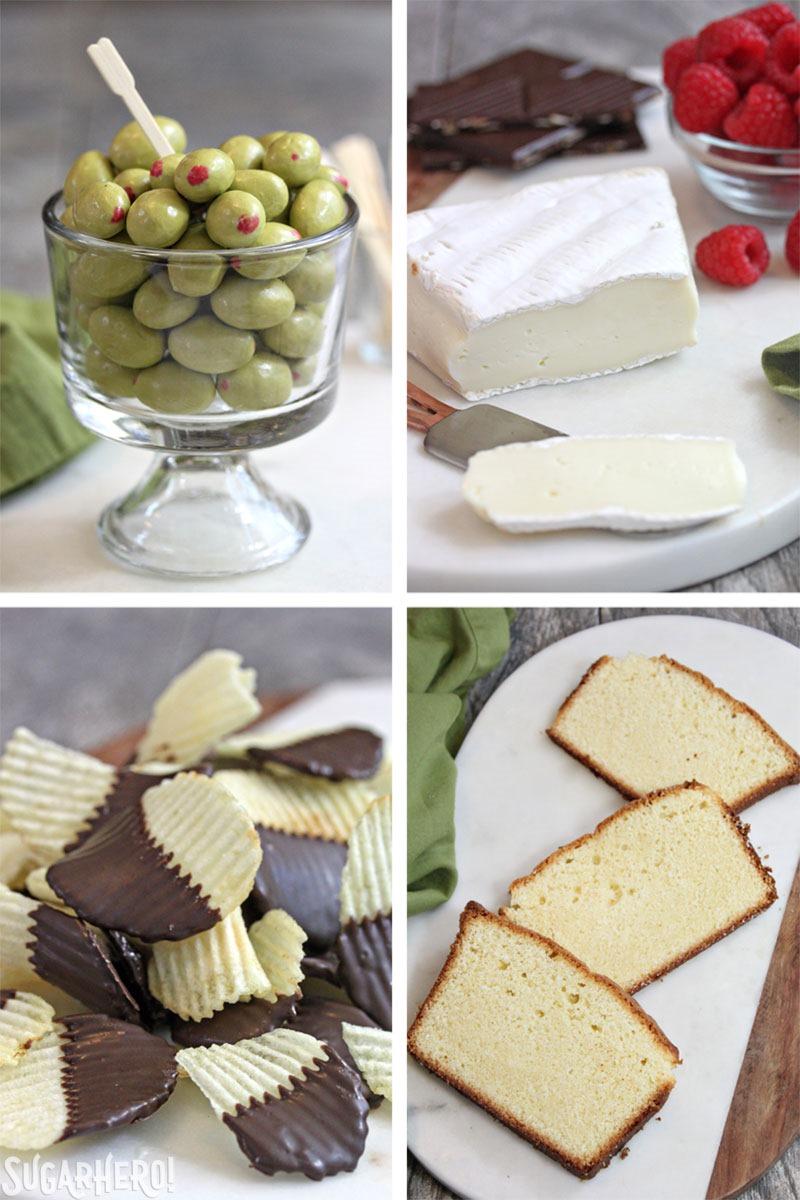 I wanted to reinforce the cute dessert-for-dinner theme, so I served my sandwiches with chocolate-dipped potato chips and THE CUTEST chocolate almonds that look like pimento olives. (You can buy them here!) The potato chips are so good, they're worthy of a whole blog post all on their own. Crunchy, salty, with just the right amount of creamy chocolate on top, they're dangerously addicting. And the almonds not only added a cute look, but they're tasty too!
This was just what I needed after a long day in the kitchen. Not counting the pound cake, they take under 5 minutes to whip up, and at the end of that time you'll have a warm treat bursting with chocolate and raspberry flavor. Speaking of pound cake, I had some left over from another project (and I've included a recipe down below), but you're also welcome to use store-bought to save yourself some time.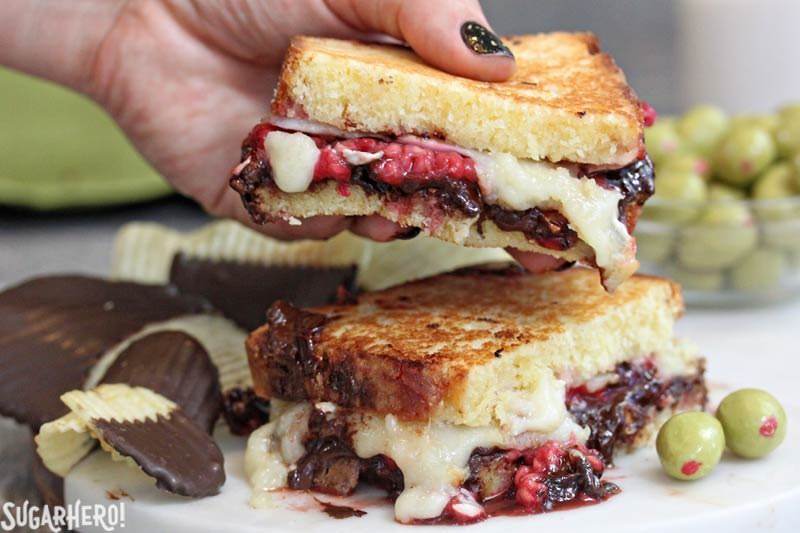 Now that I've made this recipe, I'm excited to try so many more combinations. Different berries, different cheeses, different flavors of chocolate (or Nutella!)….the possibilities are endless. I hope you'll try it and put your own spin on it, too! Cheers, my dears.
🧀More Cheese Inspired Dessert Recipes
Mascarpone Rhubarb Stuffed French Toast
This Mascarpone Rhubarb Stuffed French Toast is the what breakfast dreams are made of! The contrast between the sweet, rich mascarpone filling, tart rhubarb jam, and crunchy outer crust of the French toast is heavenly.
Get the recipe!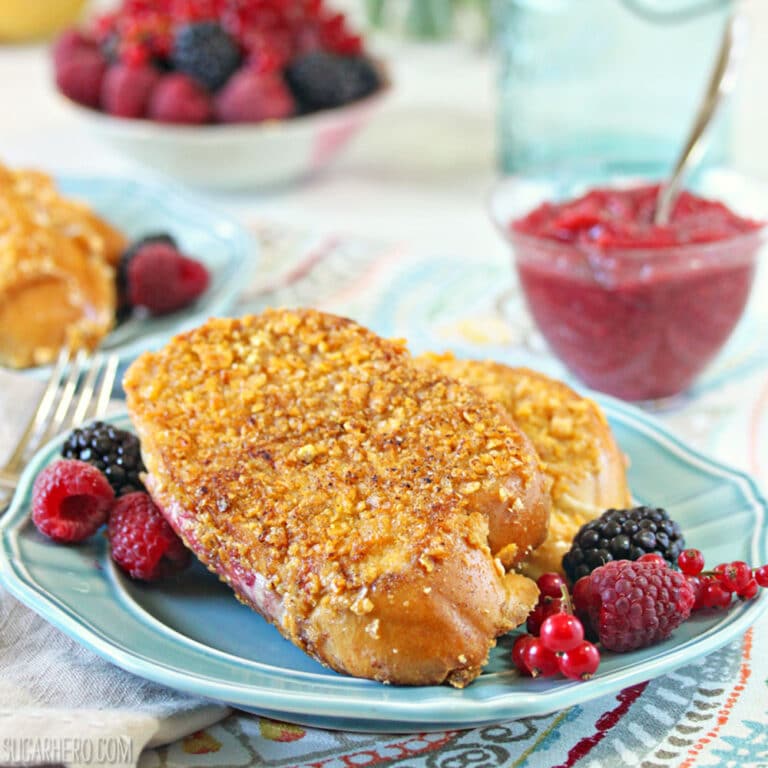 Raspberry, Brie, and Chocolate Puff Pastries
These pastry squares are so elegant, you won't believe how easy they are to make! Store-bought puff pastry is filled with fresh raspberries, brie, and dark chocolate.
Get the recipe!
Dessert Grilled Cheese Sandwiches
Get ready for grilled cheese like you've never had it before! Dessert Grilled Cheese Sandwiches are made with pound cake, chocolate, fresh raspberries, and gooey, melted brie cheese!
Ingredients
For the Pound Cake:
8

oz

unsalted butter

,

at room temperature

4

oz

cream cheese

,

at room temperature

11.25

oz

granulated sugar,

(1 ½ cups)

4

large eggs

,

at room temperature

1

tbsp

vanilla extract

11.25

oz

all-purpose flour,

(2 ½ cups)

1 ¼

tsp

baking powder

¼

tsp

salt
For the Sandwiches:
8

oz

brie cheese

,

preferably double crème

12

oz

semi-sweet chocolate,

I love a fruity chocolate, like Lindt orange bars

12

oz

fresh raspberries

Unsalted butter
Instructions
To Make the Pound Cake:
Preheat the oven to 350 degrees Fahrenheit. Spray a 9×5-inch loaf pan with nonstick cooking spray.

In the bowl of a large stand mixer combine the softened butter, cream cheese, and sugar. Mix on medium speed until light and fluffy, about 3-4 minutes. Add the eggs one at a time, mixing well after each addition. Add the vanilla and mix it in. The batter might appear a little broken at this point—that's okay.

In a small bowl, whisk together the flour, baking powder, and salt. Add the dry ingredients to the wet ingredient and mix just until they're combined. Finish stirring everything together with a spatula, scraping down the bottom and sides of the bowl.

Pour the batter into the prepared pan and smooth it into an even layer. Set the pan on a baking sheet, and bake the loaf for about 55-60 minutes, until golden and a toothpick inserted into the center comes out with just a few moist crumbs attached. If the top seems to be getting too dark toward the end, cover it with loosely tented aluminum foil after about 40 minutes of baking.

Let the pound cake cool completely before assembling the sandwiches.
To Make the Sandwiches:
Slice off the ends of the pound cake, and cut the cake into 12 even slices. Cut the rind off the brie (if you prefer your brie without rinds) and cut it into thin slices, about 1/4-inch thick. To assemble a sandwich, place slices of brie on one piece of pound cake, and place slices of a chocolate bar on a second piece of pound cake. They don't have to cover the entire surface, but try to get most of the cake covered. Place the cake on a plate and microwave for 30 seconds, until the chocolate and cheese start to melt but aren't entirely melted yet.

Press some raspberries into the surface of the cheese—I used about 12 berries per sandwich. Press the slices together to make a sandwich.

Melt a pat of butter in a skillet over medium heat, and grill the sandwich until it is golden brown on both sides. Repeat with the remaining ingredients to make 6 sandwiches. Serve warm!
Recipe Notes
I always prefer homemade cake to store-bought, but if you don't have time to make the pound cake, you can substitute store-bought instead. Because the frozen pound cakes tend to be quite short, you might need two loaves to get the same yield.
MEASURING TIPS
Our recipes are developed using weight measurements, and we highly recommend using a kitchen scale for baking whenever possible. However, if you prefer to use cups, volume measurements are provided as well. PLEASE NOTE: the adage "8 oz = 1 cup" is NOT true when speaking about weight, so don't be concerned if the measurements don't fit this formula.
Click here to learn more about baking measurements and conversion.
Nutrition
Calories:
1268
kcal
|
Carbohydrates:
132
g
|
Protein:
22
g
|
Fat:
73
g
|
Saturated Fat:
43
g
|
Cholesterol:
252
mg
|
Sodium:
715
mg
|
Potassium:
702
mg
|
Fiber:
9
g
|
Sugar:
77
g
|
Vitamin A:
1630
IU
|
Vitamin C:
14.9
mg
|
Calcium:
216
mg
|
Iron:
7.3
mg
Share by Email
Share on Facebook
Share on Pinterest