This Carrot Cake with Coconut Cream Cheese Buttercream has 6 layers of the moistest carrot cake you've ever tasted sandwiched between layers upon layers of Coconut Cream Cheese Buttercream. It's packed with pecans, coconut and carrots, then covered from head to toe in large flakes of shredded coconut!
Sometimes, when working on a blog post, I want to skip the writing entirely. No cute stories, no poetic descriptions, no embarrassing confessions about late-night munching. Just a few in-your-face pictures, and a recipe.
Because some recipes, and some pictures, need no other accessories.
BAM.
…okay, you know I love yapping way too much to really follow through on that threat. (Or promise?) But really, if ever there was a food that could stand without narrative, it would be this monster carrot cake.
It got its start as a short notation in my "recipe ideas" file. Some of my recipe entries are super-specific, and I'll write long, detailed lists about ingredients or decorations or photo ideas. Others are short and cryptic, a few words jotted down as they flit through my mind. The entries that birthed this beast?
"Really tall cake."
"Carrot cake—lots of coconut."
Yep, that's it. I wanted to make a really tall cake, and I wanted to make a coconutty-carrot cake. From humble beginnings…
I blame my tall cake cravings on Half Baked – The Cake Blog. If you haven't checked out this site, you must visit—they share the most gorgeous tiered cake designs and tutorials! Some wedding cakes, yes, but also lots of fun celebration cakes too. And since extra-tall cakes are on trend right now, they are popping up everywhere, and I've been lusting after them for months. They're imposing and extravagant—perfect for a bit of fun or a special occasion!
This cake is only 6" in diameter, but because it is so tall, it can feed the same number of people your typical 9" cake can feed—plus it has even more visual impact. I added large flaked coconut in an ombre pattern on the outside, and topped it with a not-at-all-appropriate orange candy. Seriously, it didn't add anything to the flavor, but I thought it looked awesome, so I regret nothing.
This recipe was sort of a gift to Jason, who adores carrot cake. I rarely make it, so I wanted to ensure that everything about it suited him perfectly. Consequently, this is his ideal carrot cake—heavy on the carrots, with extra coconut and pecans inside. If you'd like, you can add some drained pineapple, cranberries, raisins, or walnuts to the batter. It's very forgiving, and can handle lots of mix-in shenanigans.
My real triumph with this recipe, though, was the cream cheese swiss meringue buttercream. If you've ever tried to cream cheese-ify meringue buttercream, you might know that it doesn't work very well. You can't just substitute cream cheese for some of the butter, since they have different moisture contents, and it tends to cause your buttercream to separate and break. Instead, the secret is to make the buttercream, then add it little by little to whipped cream cheese, and finish off with a bit of powdered sugar.
The result is a frosting that has the lightness and smooth, silky texture of a meringue buttercream, but with the characteristic tang of cream cheese. It also doesn't get rock-hard in the refrigerator, so you can enjoy a slice of this cake straight from the fridge! I added a little coconut flavoring to mine, but you can stick with vanilla, or use almond or orange extract instead.
Obviously I need to work on presenting pictures and a recipe without commentary. In the meantime, I'll stick to what I'm good at.
BAM.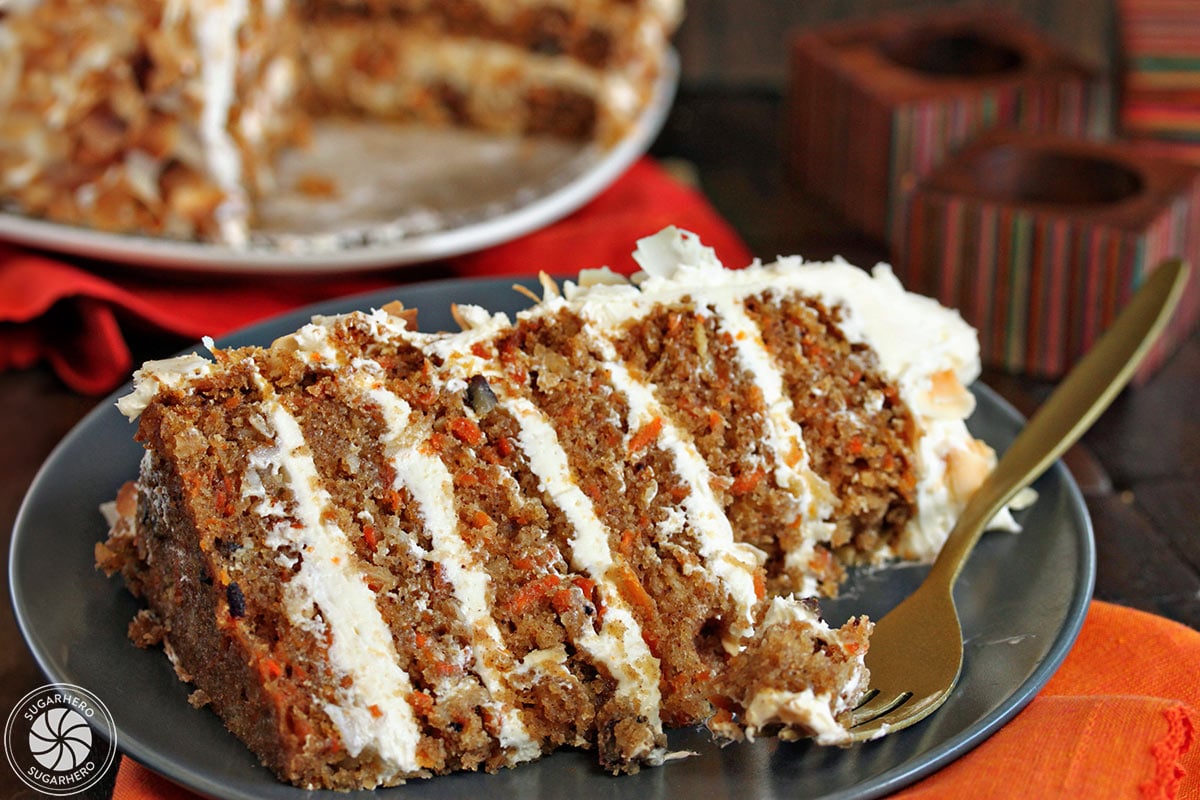 Recommended Equipment: