This post may contain affiliate links. As an Amazon Associate I earn from qualifying purchases. Please see my disclosure policy for more information.
As I type this, there is a tell-tale smudge of chocolate above my lip, and a plastic container that's been licked clean near my left hand. There's an empty space in my freezer, a faint whiff of chocolate on my breath, and the smallest, blink-and-you'll-miss-it pang of guilt as I think of my sleeping husband, who also likes ice cream but who lacks the stamina to stay up late and eat it in the wee hours.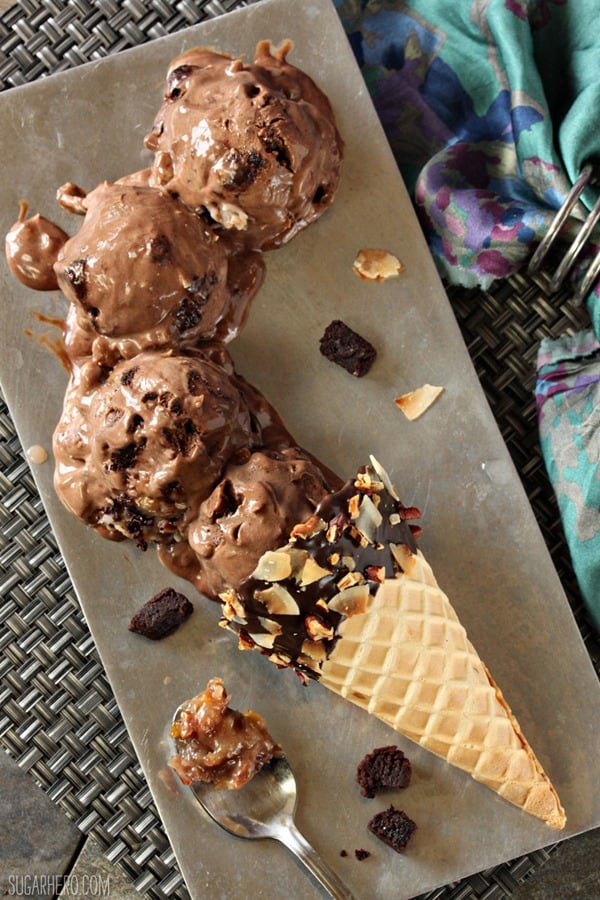 That's right, I'm the inconsiderate spouse who eats the good snacks late at night, then shrugs innocently when asked about their whereabouts the next day. (I mean, "freezer poltergeist infestation" is a perfectly reasonable theory for missing ice cream, right?) In my defense, who goes to bed at 10pm expecting the last bowl of ice cream to survive the night? That's just foolishness.
Jason is a bigger ice cream fan than I am, so I usually try not to hog all the ice cream in the house. All bets are off when it comes to this German Chocolate Brownie Ice Cream, however. It hits all of my pleasure buttons: rich, creamy dark chocolate ice cream? Check. Gooey chocolate-pecan frosting? Check. Fudgy brownie pieces sprinkled liberally throughout? Check and mate.
When talking about homemade ice cream, I am strictly a custard base sort of girl. I can't hang with the Philadelphia-style ice creams that are basically churned milk and cream. I demand yolks, and lots of them! If we're going to make our own ice cream, let's do it up right and make it super rich and creamy, mmmkay? So this chocolate base has yolks, yes ma'am, and also two kinds of chocolate: cocoa powder and finely chopped unsweetened chocolate. Twice the chocolate, double the fun.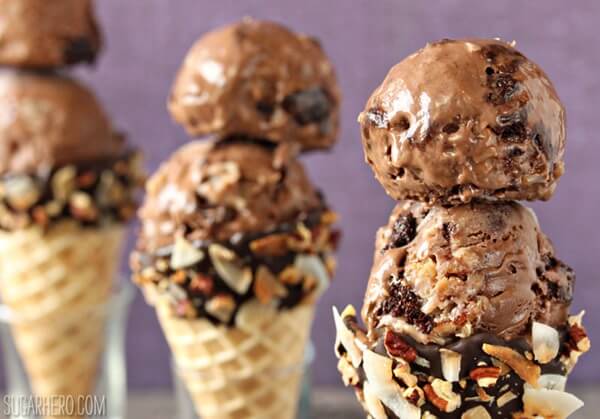 The "German chocolate" name comes from the coconut-pecan frosting that threads its way through the chocolate ice cream. It's a typical topping for an American cake known as "German chocolate cake," which is completely unrelated to the country of Germany. (Many folks might know this, but the last time I posted a "German chocolate" dessert I got a few very confused comments, so consider this a PSA for anyone who has never been blessed to taste the holy union of coconuts, pecans, and chocolate known as a German chocolate cake.)
German chocolate cake was often my birthday cake of choice growing up, so I have nothing but love and eager tastes buds when it comes to this flavor combination. The mix of dark chocolate, toasted nuts, sweet coconut, and moist brownie bites is amazing, delicious, stay-up-till-2am-worthy. And I'm not saying you have to serve it in waffle cones dipped in chocolate and coated with coconut and pecans, but it certainly wouldn't hurt anything.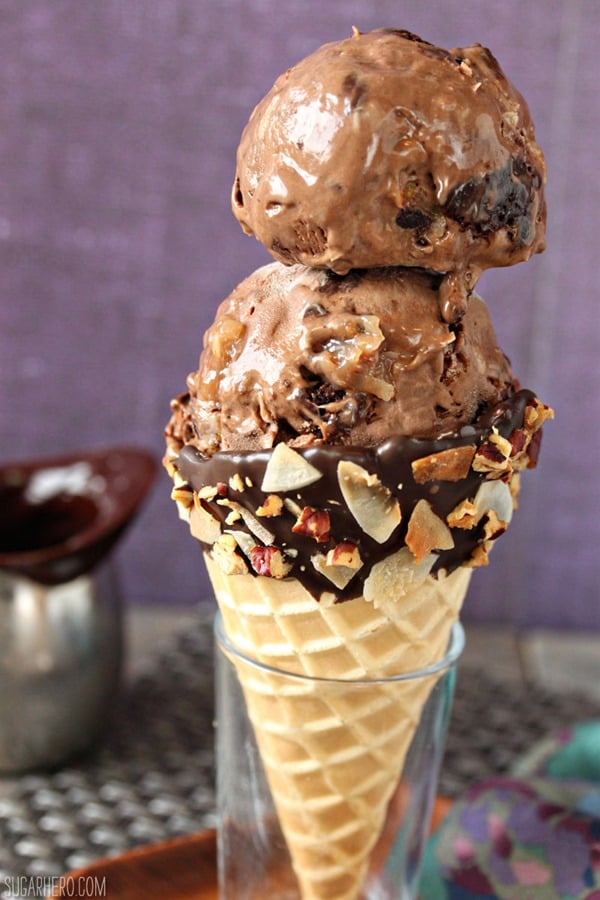 Cannoli Cones
Cannoli Cones are a fun and easy twist on traditional cannoli! No need to make your own dough or deep-fry anything here–ice cream cones take the place of cannoli shells, so all you need to do is make the cream filling and you're good to go!
Get the recipe!
No-Churn Circus Animal Ice Cream
No-Churn Circus Animal Ice Cream is a sweet pink-and-white swirled ice cream, with LOTS of sprinkles and circus animal cookies mixed in! The best part is, you don't need an ice cream maker to make this treat.
Get the recipe!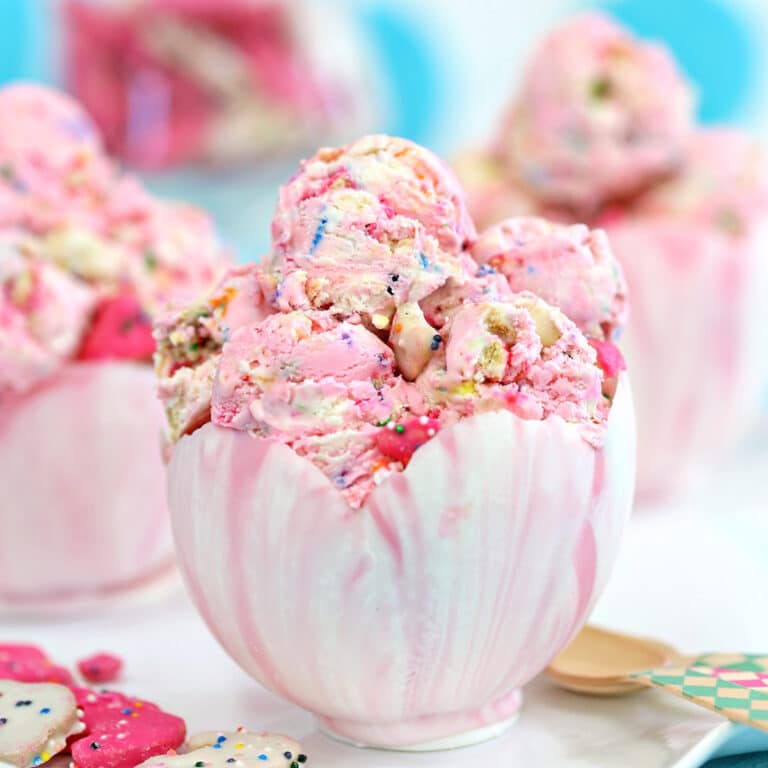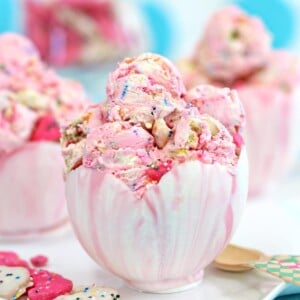 German Chocolate Brownie Ice Cream
If you like German chocolate cake, you'll love this rich and luxurious ice cream! Dark chocolate ice cream is swirled with a coconut-pecan frosting and studded with chunks of moist brownies.
Ingredients
For the Chocolate Ice Cream:
For the Coconut-Pecan Frosting:
To Assemble:
3

cups

brownie chunks

,

cut into 1/2-inch squares

8

waffle cones

8

oz

semi-sweet chocolate

1/2

cup

toasted pecans

,

coarsely chopped

1/2

cup

toasted shredded coconut
Instructions
To Make the Chocolate Ice Cream:
Place the egg yolks in a medium bowl, whisk briefly to break up the yolks, then set them aside.

Combine the cream, cocoa powder, and chopped chocolate in a medium saucepan over medium heat, and whisk together while the cream heats up. Continue to cook the mixture, whisking frequently, until the cocoa and chocolate are blended in and the cream starts to boil. Let the cream simmer and boil for about a minute, whisking constantly, and scraping the bottom of the pan so that it doesn't scorch. The mixture will get thicker. After a minute, pour the cream through a strainer into a large bowl or container.

Combine the milk, sugar, and salt in the same medium saucepan (no need to wash it first.) Bring the milk to a simmer, then when it just starts to come to a boil, remove the pan from the heat. Whisk the egg yolks while you slowly pour in about a third of the hot milk mixture, whisking constantly so the eggs heat up but don't cook during the process.

Now return the saucepan to the heat and start whisking the milk while you pour in the hot egg mixture. Continue to whisk as the custard cooks, and cook it until it thickens slightly and coats the back of a spoon. If you want to use a candy/deep fry thermometer, you're shooting for 175 F (80C).

Take the pan from the heat and strain the ice cream custard through a fine mesh strainer into the bowl of chocolate cream. Whisk in the vanilla extract, then continue to whisk occasionally as it cools. Once at room temperature, press a layer of cling wrap on top of the custard and refrigerate it until it's completely chilled. (To speed up the process, you can place the bowl over an ice bath and whisk it as it cools down.) The custard can be made several days in advance and kept in the refrigerator until you're ready to churn it.

When the custard is chilled, place a 9×5 loaf pan in the freezer. Churn the ice cream according to your ice cream maker's instructions until it is a soft-serve consistency.
To Make the Coconut-Pecan Frosting:
Combine the cream, sugar, and butter in a medium saucepan over medium heat. Heat the mixture almost to boiling, stirring often so it doesn't scorch. While it heats, whisk the yolks together in a medium bowl.

Once the cream mixture is at a simmer, begin whisking the yolks while you slowly stream about half of the cream into the yolks. Then, return the saucepan to the heat and whisk the cream while you pour the yolks into the pan. Continue to cook, whisking often, until the custard thickens and coats the back of a spoon, about 170 F (77 C) on a candy thermometer (about 4-5 minutes of cooking).

Remove the custard from the heat and stir in the salt, vanilla, coconut, and pecans. Cool to room temperature, then press a layer of cling wrap on top and refrigerate until you're ready to use it. The frosting can be made several days in advance. Bring it to room temperature before assembly, since it will be softer and easier to work with if it's not cold.
To Assemble:
Add the brownie chunks to the churned chocolate ice cream and stir them in until well-mixed. Scrape about a third of the ice cream into the chilled 9×5-inch pan, then spread it into an even layer. Scrape about half of the coconut-pecan frosting on top, and swirl it in. Continue to layer ice cream and frosting, swirling the frosting into the ice cream, until all of the components are layered in the pan. Press a layer of cling wrap on top and freeze the pan for 2-3 hours, until the chocolate ice cream is firm.

While you wait, prepare the cones: melt the semi-sweet chocolate in a microwave-safe bowl. Dip the cones into the chocolate so that the top is covered with about an inch of chocolate. While the chocolate is still wet, sprinkle it liberally with toasted coconut and chopped pecans. Set the cones on a baking sheet covered with parchment or waxed paper, and refrigerate until the chocolate is set. Serve the cones with scoops of ice cream. If the ice cream is too hard to scoop straight from the freezer, let it sit on the counter for 10-15 minutes, or microwave it in short 10-second bursts until it softens slightly.
Recipe Notes
Make sure that the frosting is assembled and chilled, and the brownies are prepared, before you begin churning the chocolate ice cream, so that everything can be assembled once the ice cream is churned.
MEASURING TIPS
Our recipes are developed using weight measurements, and we highly recommend using a kitchen scale for baking whenever possible. However, if you prefer to use cups, volume measurements are provided as well. PLEASE NOTE: the adage "8 oz = 1 cup" is NOT true when speaking about weight, so don't be concerned if the measurements don't fit this formula.
Click here to learn more about baking measurements and conversion.
Nutrition
Calories:
894
kcal
|
Carbohydrates:
186
g
|
Protein:
16
g
|
Fat:
67
g
|
Saturated Fat:
33
g
|
Cholesterol:
279
mg
|
Sodium:
659
mg
|
Potassium:
399
mg
|
Fiber:
4
g
|
Sugar:
128
g
|
Vitamin A:
1385
IU
|
Vitamin C:
0.2
mg
|
Calcium:
141
mg
|
Iron:
8.3
mg
Share by Email
Share on Facebook
Share on Pinterest