Nougat-Stuffed Brownie Bites feature dark, fudgy mini brownies filled with soft honey nougat and topped with chocolate glaze and your choice of gorgeous decorations. They're elegant and delicious!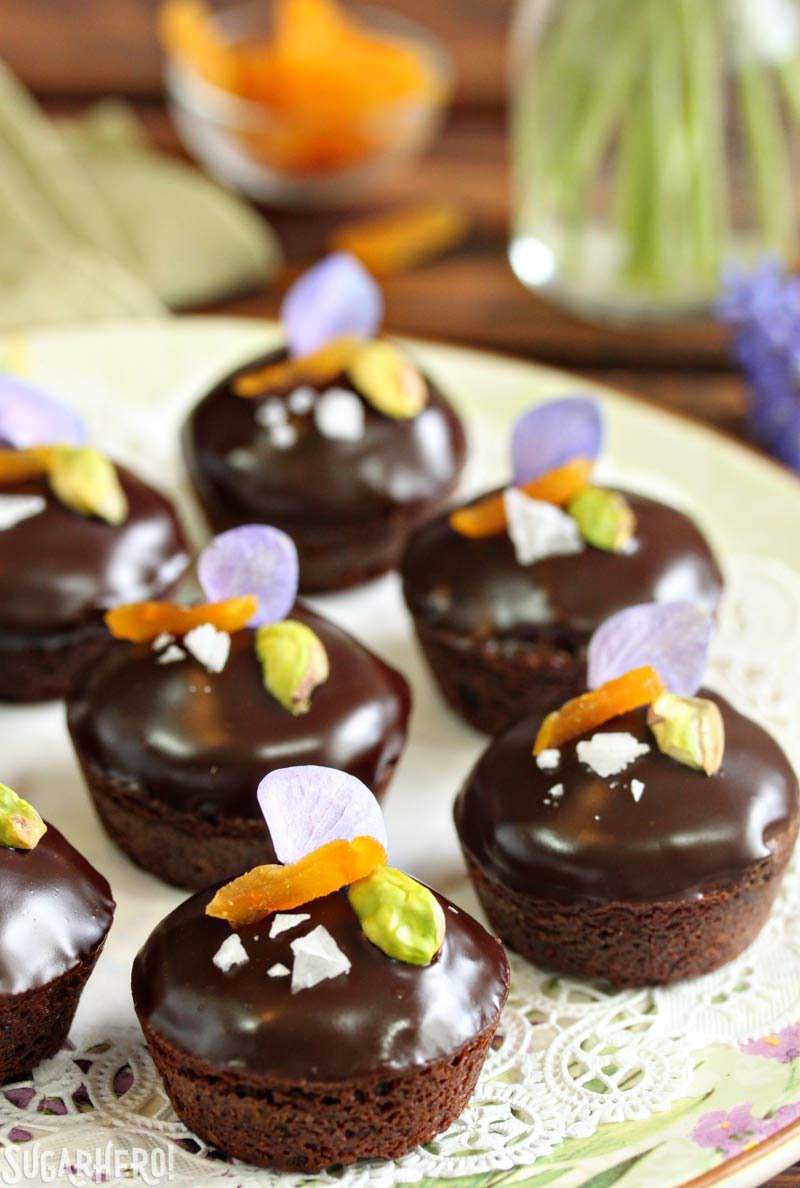 Let this be the recipe that convinces you to love nougat.
I know, I know—nougat is weird. It's old-fashioned. Its main claim to fame (at least in the US) is being the mysterious chewy material in candy bars like Snickers and 3 Musketeers. No one quite knows what it is but they know it's necessary for candy bar happiness. There's also the bricks of European-style nougats that are filled with nuts and can be tooth-achingly tough to chew.
Folks, it's time to reclaim the nougat.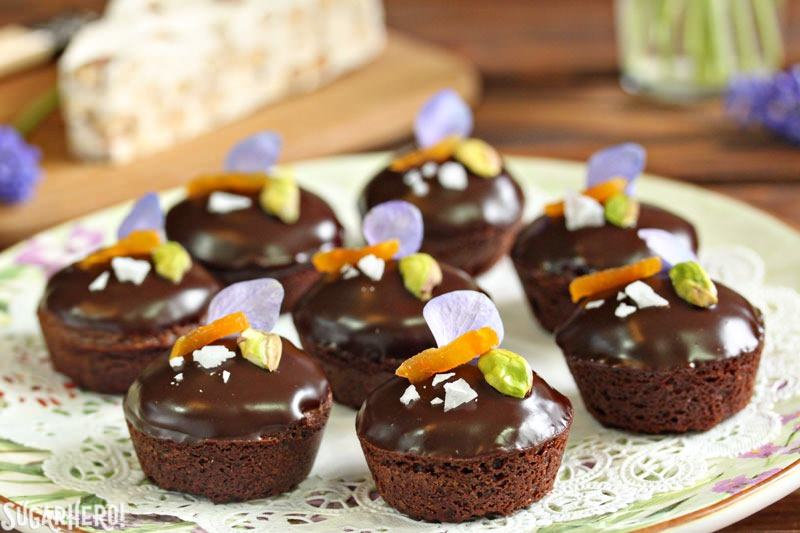 Here's the deal. Nougat is a close cousin to marshmallow. Marshmallow! You know, the friendly s'mores buddy. Not scary at all! Nougat is usually cooked and beaten so that it's harder and chewier than marshmallow, and it doesn't have gelatin in it—but in sentiment and method, they're very similar. So when you think about brownies stuffed with nougat, mentally replace the word "nougat" with "soft and fluffy honey-flavored marshmallowy yumminess" and you'll be very close to what we have going on here.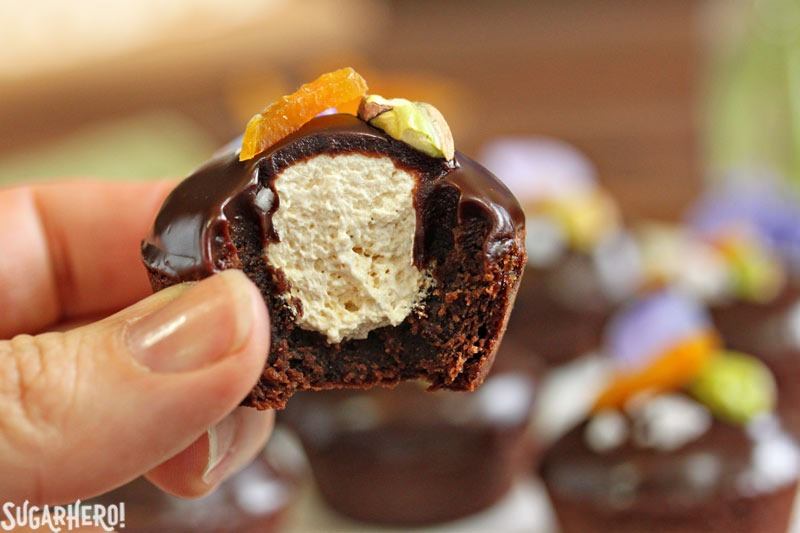 Let's start at the very beginning. (A very good place to start…)
The brownies are baked in mini muffin cups until they're almost done but still quite fudgy and soft in the middle. While they're baking, you're hard at work making the honey-flavored nougat. Once the brownies come out of the oven, give them little indentations and pipe the soft nougat into the holes. A quick minute in the oven gives the nougat a bit of a crust on top, making them easier to handle and dip. Finally, they're dunked in chocolate glaze and topped with whatever strikes your fancy—I went for an "edible rainbow" and chose pistachios, apricots, sea salt, and flower petals.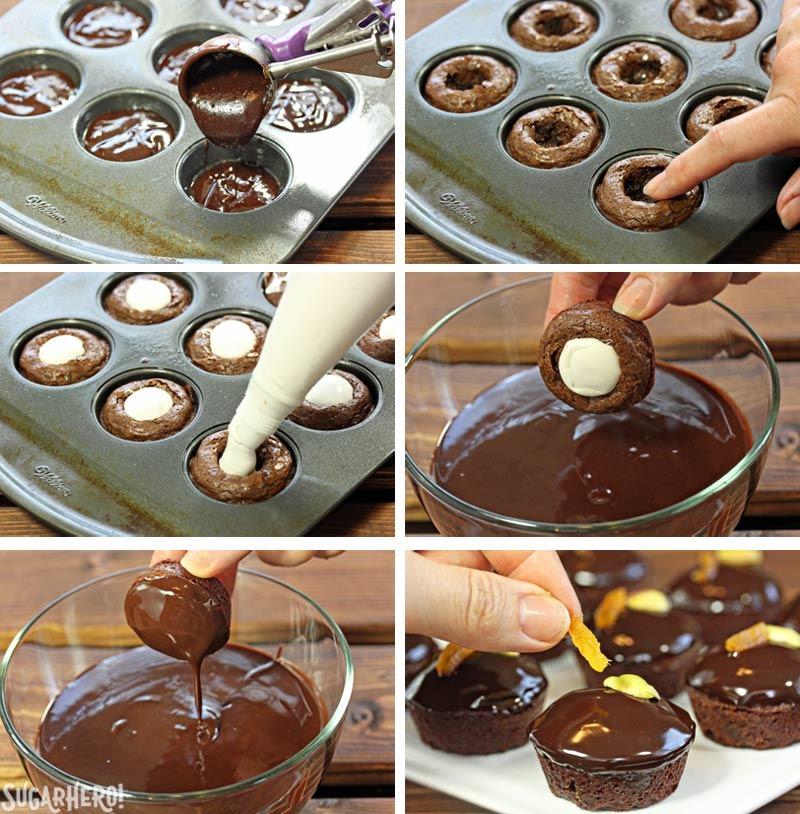 I wish I had thought of a snappier title for these, because I don't think "Nougat-Stuffed Brownie Bites" really conveys how amazing and addicting these are. The brownies stay moist and fudgy, with just enough bite around the edges to provide a fun texture contrast. The nougat in the center doesn't have an overpowering flavor—it's really more of a creamy filling substitute, but because it's nougat and not whipped cream or similar, it's stable at room temperature and keeps for days and days.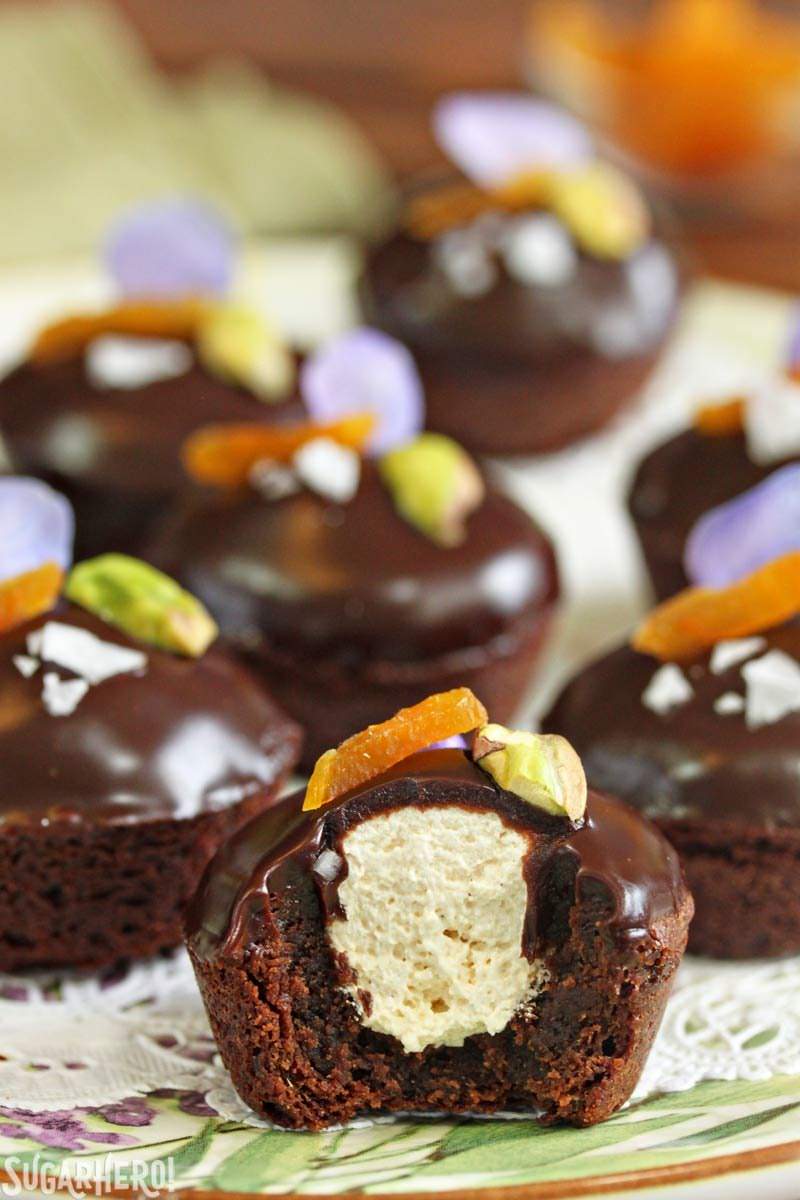 I chose to top the bites with an assortment of colors and textures, and I thought the salt, the nuts, and the tangy, chewy dried fruit worked really well together. But you could use sprinkles, coconut, or even chopped candy bars to make these your own! I also think they'd be great at birthday parties or on holiday plates.
If you wanted to take a shortcut, you could use prepared marshmallow cream in the center, but it's a little softer and tastes sweeter than the nougat, so it'll be a little different—but I think it would still be tasty!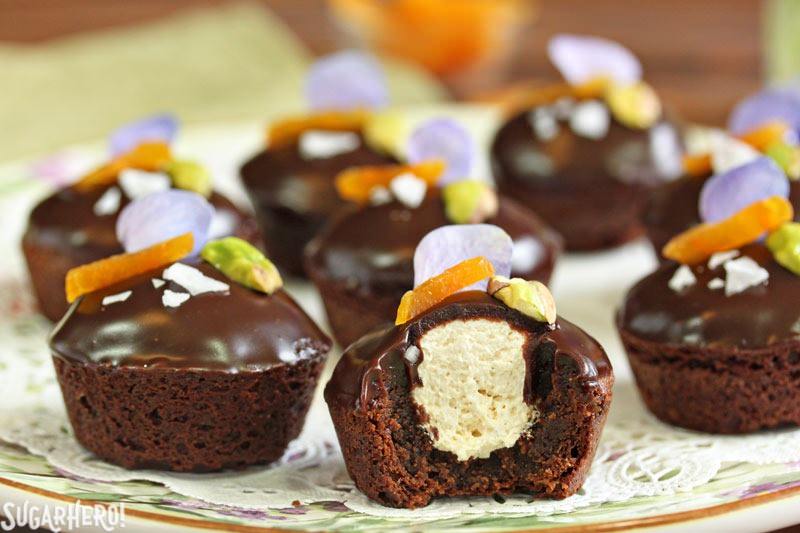 🤎More Dessert Recipes You'll Love!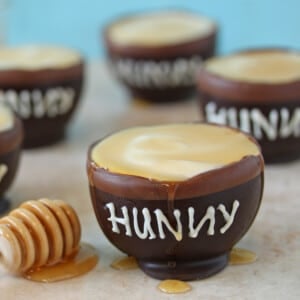 Chocolate Hunny Pots
These Chocolate Hunny Pots are entirely edible, made of chocolate and decorated with a Pooh-inspired "HUNNY" label. The filling is a quick and simple honey-white chocolate mousse. It is fluffy, completely delicious, AND kid friendly!



View Recipe
Salted Honey Walnut Bars
These Salted Honey Walnut Bars are addicting cookie bars made of a shortbread base covered in chewy honey walnut filling. I like to top them with a drizzle of chocolate, and a big pinch of sea salt on top is a must!
View Recipe
Nougat-Stuffed Brownie Bites
Nougat-Stuffed Brownie Bites feature dark, fudgy mini brownies filled with soft honey nougat and topped with chocolate glaze and your choice of gorgeous decorations. They're elegant and delicious!
Ingredients
To Assemble:
4

oz

semi-sweet chocolate

chopped

4

fl oz

heavy cream

Assorted toppings

chopped pistachios, dried apricot slivers, sea salt, edible flower petals, or other decorations – optional
Instructions
To Make the Brownies:
Preheat the oven to 350 F. Spray 24 mini muffin cavities with nonstick cooking spray.

Combine the cubed butter, chopped chocolate, and brown sugar in a large microwave-safe bowl. Microwave in 30-second increments, stirring after every 30 seconds, until the chocolate and butter are melted.

Add the eggs one at a time to the bowl, whisking for 20-30 seconds after each addition. Add the vanilla extract and mix it in.

Sift the flour and salt over the bowl, and stir it in with a spatula. At first, the brownies might seem a little "broken," with a loose texture and a grainy appearance. Keep stirring with the spatula until they come together and look glossy and satiny. This might take 2-3 minutes of stirring, but keep going until the brownie batter has a pudding texture.

Scoop the batter into the prepared mini muffin tins and bake for 14 minutes, until they're puffed and dry on top but a toothpick inserted into the center comes out with very moist crumbs. While the brownies are baking, prepare the nougat filling.
To Make the Nougat Filling:
Combine the water, honey, and sugar in a small saucepan. Place the pan over medium heat, and stir while the sugar melts and the mixture comes to a boil. Brush down the sides of the pan with a wet pastry brush several times, to remove any stray sugar crystals.

When the sugar comes to a boil, insert a candy thermometer and start monitoring the temperature. When it reaches 230 F, place the egg white in the bowl of a stand mixer fitted with a whisk attachment and begin beating on medium-high speed.

When the sugar-honey syrup reaches 245 F, take the pan from the heat and pour the hot syrup into a measuring cup with a spout. With the mixer running, stream the hot sugar syrup into the mixer with the beaten egg whites. Continue to beat the whites until the mixture becomes thick, shiny, lighter in color, and somewhat stiff (this should take about 4-5 minutes). Stop when the nougat is thick and streams from the whisk in a slow ribbon, but is still warm to the touch. Add the salt and vanilla bean paste and beat them in as well.

Transfer the nougat to a piping bag fitted with a large round tip and wait until the brownies are done baking.
To Assemble:
Once the brownie cups are baked, let them cool for several minutes until they're still warm but not scalding hot. Use the handle of a wooden spoon or your finger to press a hole in the center of each brownie cup, about 1/2-inch wide and at least 1/2-inch deep. Fill each hole with nougat. You may have extra nougat left over depending on how large your brownie holes are.

Return the brownies to the oven for just 1 minute. This is optional but it forms a "crust" on top of the nougat and makes them a little easier to dip. Cool the brownie cups completely before proceeding. Once the brownie cups are cool, run a knife around the edges and pop them out of the pans.

Make the chocolate glaze by putting the semi-sweet chocolate into a small bowl, and pour the heavy cream into a small saucepan. Heat the cream until it comes to a simmer and bubbles appear along the sides of the pan. Pour the hot cream over the chocolate, and let it sit for 1 minute to soften the chocolate. Gently whisk them together until you have a shiny, glossy chocolate glaze. Let it cool until it thickens up and is barely warm to the touch.

Dip the top of each brownie bite in the glaze, letting the excess drip back into the bowl. If you want a thicker layer of glaze on top, you can refrigerate the brownie bites for about 10 minutes and then dip them a second time. While the chocolate is still wet, top them with your decorations of choice—I used a pistachio half, a sliver of dried apricot, a pinch of sea salt, and an edible flower petal. Refrigerate the brownie bites just until the chocolate on top is no longer tacky.

For the best taste and texture, serve these brownie bites at room temperature. Extras keep well and can be stored in an airtight container at room temperature for 4-5 days.
Recipe Notes
Make sure that the honey you use is liquid and not grainy. Grainy honey will lead to grainy nougat. If your honey has has crystallized, warm it up briefly in the microwave, so that any crystals are melted before beginning the recipe.
To make these faster and easier, you can substitute marshmallow cream for the homemade nougat in the center of the brownies. The filling will be softer and sweeter, but it's a good substitute in a pinch!
Measuring Tips
Our recipes are developed using weight measurements, and we highly recommend using a kitchen scale for baking whenever possible. However, if you prefer to use cups, volume measurements are provided as well. PLEASE NOTE: the adage "8 oz = 1 cup" is NOT true when speaking about weight, so don't be concerned if the measurements don't fit this formula.
Want to learn more about baking measurements and conversion?
Nutrition
Calories:
200
kcal
|
Carbohydrates:
25
g
|
Protein:
1
g
|
Fat:
10
g
|
Saturated Fat:
6
g
|
Cholesterol:
31
mg
|
Sodium:
49
mg
|
Potassium:
89
mg
|
Fiber:
1
g
|
Sugar:
19
g
|
Vitamin A:
215
IU
|
Vitamin C:
0
mg
|
Calcium:
19
mg
|
Iron:
1
mg
Tried this recipe?
Snap a pic and hashtag it #SugarHero. We love to see your creations on our Instagram @elabau.