This post may contain affiliate links. As an Amazon Associate I earn from qualifying purchases. Please see my disclosure policy for more information.
Mini Buche de Noel are festive no-bake cakes that are fast and easy, with a delicious chocolate-raspberry flavor. They're the perfect make-ahead holiday dessert, and you'll find yourself craving them year-round!

I didn't have a chance to post these before Christmas-time, and I debated hanging on to them and waiting until next year to share them. "Will the people even be interested in yule log cakes on December 29?" I asked myself, eating another Christmas chocolate. "Are they passe? Are they, in the words of a young Hilary Duff, so yesterday?"
Today we're talking about cake! No-bake cake, to be precise. No-bake CAKES, to be preciser. Mini no-bake chocolate and raspberry buche de noel, to be most precisest! These adorable little yule log cakes require zero oven time, take just a few ingredients, and can be held in the hand and munched like a summer sausage, if you so desire. (Ask me how I know…)
Ultimately, I decided that yule logs are acceptable any time in December, and might even be a fine dessert for New Year's Eve. "Happy New Year! Let's eat a tree! Cheers to 2016!" I mean, that works, right?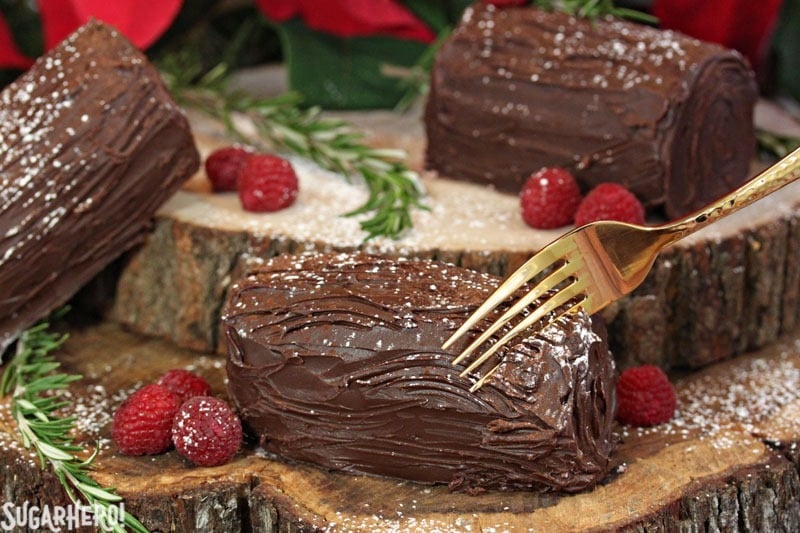 These no-bake cakes are based on the idea of an old-fashioned icebox cake. They're just layers of chocolate wafer cookies and whipped cream, sandwiched together and chilled so that the cookies absorb some moisture from the cream, soften, and get amazingly cake-like.
To give these a little more interest, I added some freeze-dried raspberry powder to change it from plain cream into raspberry whipped cream. The cream has a sweet-tart raspberry flavor that pairs perfectly with the not-too-sweet chocolate wafers.
The cakes are finished with a layer of chocolate ganache, intentionally left rough and nubbly to look like tree bark. A few swirls of fork tines, a light dusting of powdered sugar, and the bouches are ready to serve! I garnished mine with fresh raspberries and a few sprigs of fresh rosemary.
Sometimes fast and easy recipes sacrifice taste for convenience, but these mini cakes do not disappoint. I'm a huge fan of creamy desserts, so any recipe where whipped cream is a big component is automatically going to be a favorite of mine. I especially love eating these right after they're assembled, when the ganache on the outside is still soft and melts into the cake and the raspberry and it's all just so hrmfblaksdjfljb…. (that would be the sound of me doing a Homer Simpson drool)
So if you're craving dessert but don't want to bust out the cake pans and measuring spoons, make these mini cakes! If you're still in denial over the end of Christmas, make these mini cakes! And if you're having a raging NYE party, then OF COURSE you should make these mini cakes!
🎅🏻More Christmas Cake Recipes You'll Love
Chocolate Rasperry Mini Crepe Cakes
These Chocolate Raspberry Mini Crepe Cakes are so beautiful and elegant! Miniature crepes are layered with chocolate and fresh raspberries to make a unique and delicious dessert. 
Get the recipe!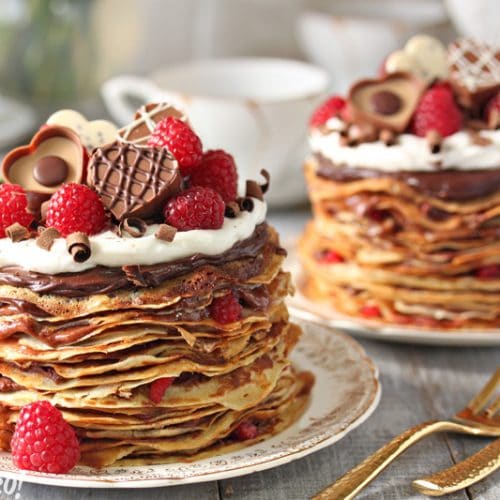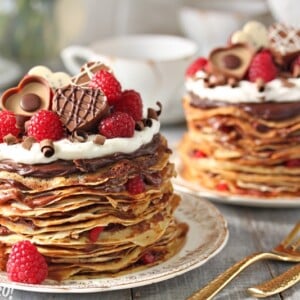 Raspberry Almond Chocolate Chunk Cookies
Calling all almond lovers! These soft, moist cookies have a delicate almond flavor from almond paste and toasted almonds. The almond flavor pairs perfectly with tart and tangy dried raspberries and rich semi-sweet chocolate.
Get the recipe!
Mini Buche de Noel
Mini Buche de Noel are festive no-bake cakes that are fast and easy, with a delicious chocolate-raspberry flavor. They're the perfect make-ahead holiday dessert, and you'll find yourself craving them year-round!
Instructions
Place the freeze-dried fruit in a food processor and process until they have become a fine powder.

Combine 2 1/2 cups of cream, powdered sugar, and raspberry powder in the bowl of a large stand mixer fitted with a whisk attachment. Whip until the cream holds stiff peaks. Transfer the raspberry whipped cream to a piping bag fitted with a large round tip.

Place a chocolate wafer on a flat surface and pipe a ring of raspberry whipped cream on top. Don't make it too thick—thinner is better since there will be so many layers of cream in the cake. Press a second wafer on top, and add more cream on top of that. Continue layering until you have a stack of 14 chocolate cookies.

Cover a baking sheet with waxed paper or parchment paper. Pipe a thin line of whipped cream on the sheet, and press the stack of cookies down on top of it securely. (Alternately, you can place the mini buche directly onto the serving plates.) Spread a thin layer of raspberry whipped cream all over the outside of the cake. Repeat two more times, until you've assembled three mini cakes. Refrigerate the tray for at least 4-6 hours, or overnight, to soften the cookies.

While the cakes are chilling, prepare the ganache. Place the chopped semi-sweet chocolate in a medium bowl. Pour the remaining 3/4 cup cream into a small saucepan and heat it over medium heat until it comes to a simmer and small bubbles appear all along the sides of the pan. Pour the hot cream over the chocolate and let it sit for one minute to soften, then gently whisk together until the chocolate melts and the mixture is shiny and smooth. Press a layer of cling wrap on top of the ganache and let it sit at room temperature for 2-3 hours until it's cooled and thickened, and has the texture of peanut butter. If you need to speed up the process, refrigerate it for 45-60 minutes until thick.

Once the cakes are chilled, use a small offset spatula or flat knife to spread the chocolate ganache along the outsides of the cakes. The idea is to look like tree bark, so the more imperfections, the better! Once the cakes are covered, take a fork and gently drag the tines along the sides to give them some ridges. If you've assembled them on a baking sheet, transfer them to serving plates using a spatula. Finish with a light dusting of powdered sugar "snow" and a garnish of a few fresh raspberries, if desired.

The cakes can be served immediately, or refrigerated to be served later. If saving for later, it's best to let them sit at room temperature for 20 minutes before serving, to give the ganache a little time to warm up and lose some stiffness from the refrigerator.
Recipe Notes
This recipe yields 3 mini buche de noel, but they're very substantial, so in most cases each cake can serve 2 adults. This recipe can be easily doubled or tripled. You can also make your bouches smaller to get a larger yield, but I thought using 14 wafers per cake gave them the best proportions.
MEASURING TIPS
Our recipes are developed using weight measurements, and we highly recommend using a kitchen scale for baking whenever possible. However, if you prefer to use cups, volume measurements are provided as well. PLEASE NOTE: the adage "8 oz = 1 cup" is NOT true when speaking about weight, so don't be concerned if the measurements don't fit this formula.
Click here to learn more about baking measurements and conversion.
Nutrition
Serving:
9
g
|
Calories:
553
kcal
|
Carbohydrates:
42
g
|
Protein:
4
g
|
Fat:
41
g
|
Saturated Fat:
24
g
|
Cholesterol:
113
mg
|
Sodium:
226
mg
|
Potassium:
277
mg
|
Fiber:
2
g
|
Sugar:
24
g
|
Vitamin A:
1215
IU
|
Vitamin C:
46.7
mg
|
Calcium:
74
mg
|
Iron:
3.2
mg
Share by Email
Share on Facebook
Share on Pinterest