These Chocolate Raspberry Mini Crepe Cakes are so beautiful and elegant! Miniature crepes are layered with chocolate and fresh raspberries to make a unique and delicious dessert.
I don't go for many Valentine's Day traditions. I have no love for diamonds or gold jewelry, I'm not a big fan of red roses, and I need more boxes of chocolate like I need a hole in the head. You know that clichéd sitcom situation when someone opens a closet and a giant pile of junk falls down on top of them? That is basically my life, except replace "closet" with "kitchen cupboards" and replace "pile of junk" with "bars of chocolate." It's delicious but slightly deadly.
Lest you think I'm a total Valentine's Day scrooge, Jason & I do have our own very special V-Day tradition we enjoy every year. Rather than go out, we stay in and have crepes for dinner. I'm not talking moderately healthy savory crepes, though. We have dessert crepes, complete with a big buffet of topping choices like fresh fruit, whipped cream, jams, curds, Nutella, and even candy bars. (Chopped Kit Kats were his genius addition one year. Try it!)
This tradition started the first year we were dating. I was still in the trying-to-impress-my-boyfriend stage of our relationship, which also involved wearing makeup on the regular and pretending to be much less of a high-strung stress monkey than I actually am. For Valentine's Day, I planned a romantic picnic in my dorm room, complete with decorations, candles, and as the grand finale, dessert crepes that were cooked one by one in our dorm's pitifully equipped kitchen.
I'm not saying crepes are a magical key to romantic bliss, but he did put a ring on it and we've now been married for a decade, sooooo….you draw your own conclusions.
Since then, we've made crepes our yearly Valentine's Day tradition. We rarely have them at other times of the year, so I always enjoy the ritual of standing by the stove, flipping crepe after crepe, and remembering how it all started. And of course, we both love the ritual of stuffing our faces with endless crepes rolled with chocolate, fruit, and cream.
I've experimented with crepe cakes before—a few years ago I made a large Nutella Crepe Cake which you can read about here. This time, I wanted to make something appropriate for Valentine's Day, so I decided to go with mini cakes, perfect for two people to share together. (If you love mini cakes, check out my Chocolate-Covered Strawberry Cakes, Black Forest Mini Cakes and Radiant Orchid Mini Cakes!)
If you're not familiar with crepe cakes, it's exactly what it sounds like—many layers of crepes, stacked on top of each other and layered with cream or frosting to form a cake. Some people like to trim the edges and frost the sides so it looks like a more traditional cake, but for this version I wanted to leave the sides open so the crepe-iness was emphasized.
One big batch of batter makes about 50 mini (5 –5.5 inch) crepes, perfect for two tall crepe cakes. Be aware that if you make the full batch, you are going to be flipping crepes for a loooong time. If you are like me and can't stand to be alone with your thoughts, I recommend getting cozy with some Netflix on your gadget of choice while you cook them!
The crepes can be layered with whatever you like. I've used whipped cream or jam in the past, but for this batch, I made a whipped chocolate ganache that I laced with mashed raspberries. It has a light texture but a deep chocolate taste, with some fruity tanginess from the berries.
💗More Chocolate Raspberry Desserts You'll Love
Nutella Crepe Cake
This Nutella Crepe Cake is such a fun and unusual dessert and is a nice twist on the traditional slice of cake! Its layer upon layer of soft crepes and rich Nutella whipped cream!
View Recipe
Chocolate-Raspberry Tarts
These Chocolate-Raspberry Tarts have a crunchy chocolate shell and an intensely fruity chocolate-raspberry ganache filling that is soft, rich, and creamy at room temperature.
View Recipe
Don't miss our collection of the 10 Best Valentine's Day Cakes – see the whole web story here!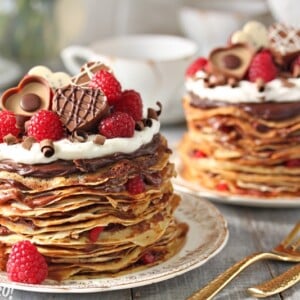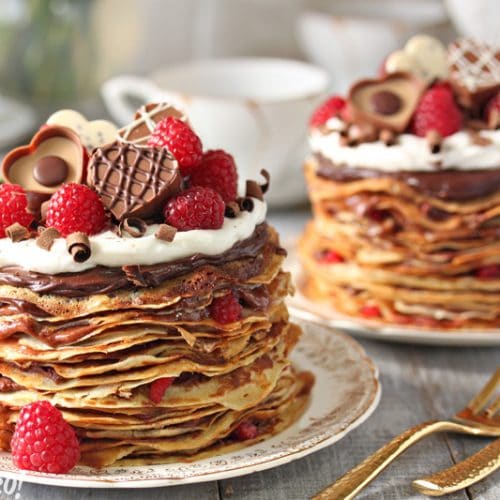 Chocolate Rasperry Mini Crepe Cakes
These Chocolate Raspberry Mini Crepe Cakes are so beautiful and elegant! Miniature crepes are layered with chocolate and fresh raspberries to make a unique and delicious dessert.
Ingredients
For the Chocolate-Raspberry Whipped Ganache
To Assemble
4

oz

heavy cream

1/2 cup

2

TBSP

powdered sugar

Fresh raspberries

Chocolate curls

optional

Heart-shaped candies

optional
Instructions
To Make the Crepes:
In the bowl of a large blender, combine all of the ingredients. Mix first on slow speed, and then once everything is incorporated, turn the speed to medium-high. Blend for 10 seconds, then stop and scrape down the sides of the blender with a spatula. Blend for 10 more seconds.

Pour the crepe batter through a strainer into a bowl or other container. Cover and chill it in the refrigerator for at least 1 hour (overnight is okay.) If it has been refrigerated overnight and looks separated, gently whisk to bring it back together and make it a homogenous batter.

Heat a small nonstick skillet over medium heat. (A crepe pan makes things extra-easy but definitely isn't necessary.) If your nonstick coating is a little old, add a bit of butter to the pan to make sure the crepes are easy to flip. Pour a tablespoon of batter into the pan and quickly swirl it around to make a circle 5 – 5.5 inches wide. The pan should be hot enough that the batter starts to cook immediately once it's swirled, but not so hot that it sizzles on contact and doesn't swirl easily. You'll want to experiment with the first few crepes to discover the right temperature for your particular stove and pan. Cook until the top of the crepe loses its raw shine and takes on color along the edges. Flip the crepe over and cook just until the bottom is set. Slide the crepe out of the pan and onto a plate, and repeat with more batter. This recipe should yield about 50 mini crepes, and you can speed things up by making them simultaneously in two pans if you feel comfortable juggling that.

If you have trouble making round crepes, and if you have a large ring mold about 5 inches across, you can place the mold in the pan and pour the batter in the center, then swirl it around until it covers the whole center area. Remove the mold and cook the crepes as described above. This isn't necessary, but it can help you to make round crepes.

Once all the crepes are made, let them cool completely before assembling the crepe cake. They can be made in advance and kept, well-wrapped, for several days in the refrigerator or freezer.
To Make the Chocolate-Raspberry Whipped Ganache:
Place the chopped chocolate in a medium bowl. Pour the cream into a small saucepan and heat over medium heat until it is at a simmer and bubbles appear along the sides of the pan.

Pour the hot cream over the chocolate and let it sit for one minute to soften. After a minute, gently whisk the cream and chocolate together until the mixture is smooth and shiny. Press a layer of cling wrap on top of the chocolate and let it cool completely to room temperature, at least 1 hour. The ganache can be made several days in advance and kept in the refrigerator. Bring it to room temperature before whipping it.

To whip the ganache, transfer room-temperature ganache to the bowl of a stand mixer fitted with a whisk attachment. Whip on medium speed until the ganache lightens in color, increases in volume, and has a fluffy texture. Again, this is best done with ganache that is neither warm nor cold. Do not overwhip, or it will become grainy. Stop when the ganache is light and has the texture of softly whipped cream—it will not become as stiff as most buttercreams, but it will thicken as it sets, so don't worry if it seems a bit soft.

Mash the raspberries with the sugar, and stir them into the ganache. The mixture should be like soft whipped cream, but it shouldn't be too runny—you should be able to easily spread it with a knife.
To Assemble:
Place two crepes on two serving plates. Top each with a generous spoonful of the chocolate raspberry ganache. Spread it out to the edges of the crepes in an even layer, then add another crepe on top of each, lining up the sides so they're even. Continue to stack layers of crepes and chocolate until you've used all the crepes. If you have more extra raspberries, chop a few and scatter them in between every few layers of crepes to increase the raspberry flavor.

Spread a thin layer of chocolate on the top crepe of each crepe stack. Combine the heavy cream and powdered sugar in the bowl of a mixer and whip them together until the cream holds firm peaks. Decorate the top of the crepe cakes with a big pile of whipped cream, fresh raspberries, chocolate shavings, and heart-shaped chocolates. Chill the assembled cakes the refrigerator for 1-2 hours, to make them easier to slice neatly.

Slice the cakes when they are well-chilled. They are best the day it is made, but can be kept for several days, with plastic wrapped tightly around the sides, in the refrigerator.
Recipe Notes
This recipe yields two 5-inch layer cakes, and each cake can make 3 generous servings.
Measuring Tips
Our recipes are developed using weight measurements, and we highly recommend using a kitchen scale for baking whenever possible. However, if you prefer to use cups, volume measurements are provided as well. PLEASE NOTE: the adage "8 oz = 1 cup" is NOT true when speaking about weight, so don't be concerned if the measurements don't fit this formula.
Want to learn more about baking measurements and conversion?
Nutrition
Calories:
889
kcal
|
Carbohydrates:
78
g
|
Protein:
14
g
|
Fat:
57
g
|
Saturated Fat:
33
g
|
Cholesterol:
225
mg
|
Sodium:
359
mg
|
Potassium:
558
mg
|
Fiber:
6
g
|
Sugar:
35
g
|
Vitamin A:
1490
IU
|
Vitamin C:
5.2
mg
|
Calcium:
169
mg
|
Iron:
6.2
mg
Tried this recipe?
Snap a pic and hashtag it #SugarHero. We love to see your creations on our Instagram @elabau.