This post may contain affiliate links. As an Amazon Associate I earn from qualifying purchases. Please see my disclosure policy for more information.
This Hazelnut White Hot Chocolate starts out with toasted hazelnuts steeped in milk and finished with the combo of cream and white chocolate to make a super rich and smooth treat with a great nutty flavor.
Brace yourselves and get your rotten tomatoes ready. Things are about to get whiny.
See, it has been cold in Los Angeles this past week. Seriously. The city is freaking out. And yes, I can hear you rolling your eyes from here, and yes, I am dodging those tomatoes you are so unkindly pitching my way as I type this.
I know that LA isn't actually cold, comparatively, and most of the country is suffering through much lower temperatures right now. I mean, I have a cousin who lives in North Pole, Alaska, and her facebook statuses regularly give me frostbite just by reading them. (No one should ever be glad it's "only" zero degrees.)
But. But! We spoiled Angelenos are unprepared for this nonsense. Our jackets and scarves are for looks only—they're not meant to actually protect us from the weather. We're soft. We're climatically naïve. We're not like the rest of you hardy folks, and we tremble at the thought of highs in the 50s.
So with chilly temperatures and brisk winds outside, I have been hunkering down inside. Sweatshirts have been burrowed in. Slippers have been worn on errands in lieu of regular shoes. Space heaters have been spooned. I'm not proud, but desperate times, man.
I've also been drinking more hot chocolate and tea, but let's be honest—it's been about a 4:1 ratio of chocolate to tea around here. I was craving something a little different, so I came up with this recipe for Hazelnut White Hot Chocolate. It starts with freshly toasted hazelnuts that are steeped in milk before being strained out. The resulting hazelnut milk is so amazing, you will probably want to drink it on its own…but resist! Instead, combine it with cream and white chocolate, for a super rich and smooth treat with a great nutty flavor. It's almost good enough to make me wish for permanently cold weather…almost.
Giant Ferrero Rocher Hazelnut Mousse Cakes
These Giant Ferrero Rocher Hazelnut Mousse Cakes are incredible! The extra-large chocolate shells are studded with hazelnuts and filled with layers of chocolate cake and rich hazelnut mousse.

Get the recipe!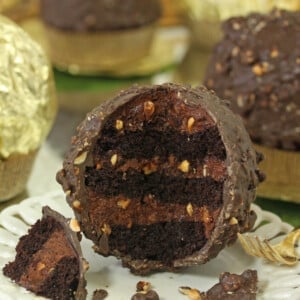 Hazelnut Hot Chocolate On A Stick
This Hazelnut Hot Chocolate On A Stick is perfect for gifting! Decadent chunks of fudge infused with toasted hazelnut are placed on a stick, topped with crushed hazelnuts and then dipped into hot milk to make dreamy hot cocoa.
Get the recipe!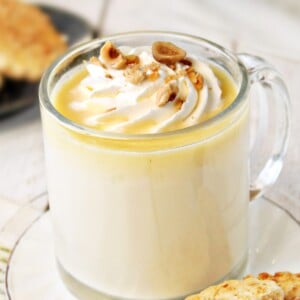 Hazelnut White Hot Chocolate
This Hazelnut White Hot Chocolate starts out with toasted hazelnuts steeped in milk and finished with the combo of cream and white chocolate to make a super rich and smooth treat with a great nutty flavor. Sounds heart and body warming just thinking about it!
Ingredients
1/2

cup

hazelnuts,

skinned

1

vanilla bean

, can substitute

1 tsp

vanilla extract

1 1/2

cups

milk

,

any fat percentage

1/2

cup

heavy cream

3

oz

white chocolate,

(1/2 cup)

, chopped

pinch

salt
Instructions
Preheat the oven to 350 degrees Fahrenheit. Spread the hazelnuts out on a baking sheet and toast them in the oven for about 15 minutes, stirring after every 5 minutes to prevent burning. Toast them until they are brown and fragrant.

Cool them to room temperature, then put them in a food processor or blender. Pulse the nuts until they are in small pieces. Scrape the seeds from the vanilla pod, and combine the chopped nuts, the scraped seeds, the pod, and the milk in a medium saucepan over medium heat on the stove. Bring the milk to a simmer, then remove it from the heat and cover the pan with a lid.  Let the mixture sit and infuse for at least an hour. If you want to let it sit longer, refrigerate the pan until you're ready to continue. The milk mixture can even sit overnight if desired.

Once it has infused, line a wire strainer with cheesecloth and pour the milk through, straining out the chopped nuts and vanilla bean. Gather the cheesecloth into a bag and squeeze the contents to get out all the excess milk. Combine the strained milk, cream, chopped white chocolate, and salt in a saucepan, and place it over medium-low heat.

Heat, whisking frequently, until the chocolate melts and the mixture is smooth. Taste and add additional white chocolate or milk to taste. Garnish with whipped cream, melted chocolate, or additional chopped hazelnuts, as desired. Serve immediately. It might start to separate as it cools, with a layer of white chocolate on top, so if it has been standing, be sure to heat and whisk well before serving.
Recipe Notes
I've only made this recipe with white chocolate, but I suspect it would also work well with milk or semi-sweet chocolate, if you wanted to go for a Nutella-inspired flavor. If you're using a darker chocolate, make sure to taste it before serving, since it may benefit from a little added sugar.
MEASURING TIPS
Our recipes are developed using weight measurements, and we highly recommend using a kitchen scale for baking whenever possible. However, if you prefer to use cups, volume measurements are provided as well. PLEASE NOTE: the adage "8 oz = 1 cup" is NOT true when speaking about weight, so don't be concerned if the measurements don't fit this formula.
Click here to learn more about baking measurements and conversion.
Nutrition
Calories:
703
kcal
|
Carbohydrates:
41
g
|
Protein:
14
g
|
Fat:
55
g
|
Saturated Fat:
24
g
|
Cholesterol:
99
mg
|
Sodium:
138
mg
|
Potassium:
635
mg
|
Fiber:
2
g
|
Sugar:
35
g
|
Vitamin A:
1220
IU
|
Vitamin C:
1.9
mg
|
Calcium:
379
mg
|
Iron:
1.5
mg
Share by Text
Share by Email
Share on Facebook
Share on Pinterest