This post may contain affiliate links. As an Amazon Associate I earn from qualifying purchases. Please see my disclosure policy for more information.
These Slice and Bake Halloween Cookies are easy, fun Halloween sugar cookies with surprise designs hidden inside!
I have a love-hate relationship with the slice-and-bake cookies you can buy at the grocery store. I LOVE the idea of them—the fact that you can slice into a tube of ordinary sugar cookie dough and discover a pumpkin, or a Christmas tree, or a heart on the inside absolutely delights my inner child. It's magical!
But the fact is, I usually like the IDEA of these cookies more than the final product. What can I say? I'm a sucker for home-made desserts, and there's no way that cookies from a tube can compare to sugar cookies that have been made with real butter, the best vanilla extract, and love, sweet love. (Whoops, did I just give away my secret ingredient?)
FREE HALLOWEEN DESSERTS E-BOOK!
Subscribe to the SugarHero mailing list and get a free recipe book!
13 Scary Sweets and Creepy Candies the whole family will love!
That's why I'm thrilled to share this recipe with you today! I've cracked the code on making SUPER FUN slice and bake sugar cookies, with hidden designs inside! These are Halloween themed, obviously, but you can absolutely use this technique for any theme, any holiday, any shape, any color scheme…you get the idea. It's a little time consuming because there are a few chilling periods involved, but it's not hard, and if you like to play with your food, it's ridiculously fun. Plus, I made a video showing you exactly how it's done!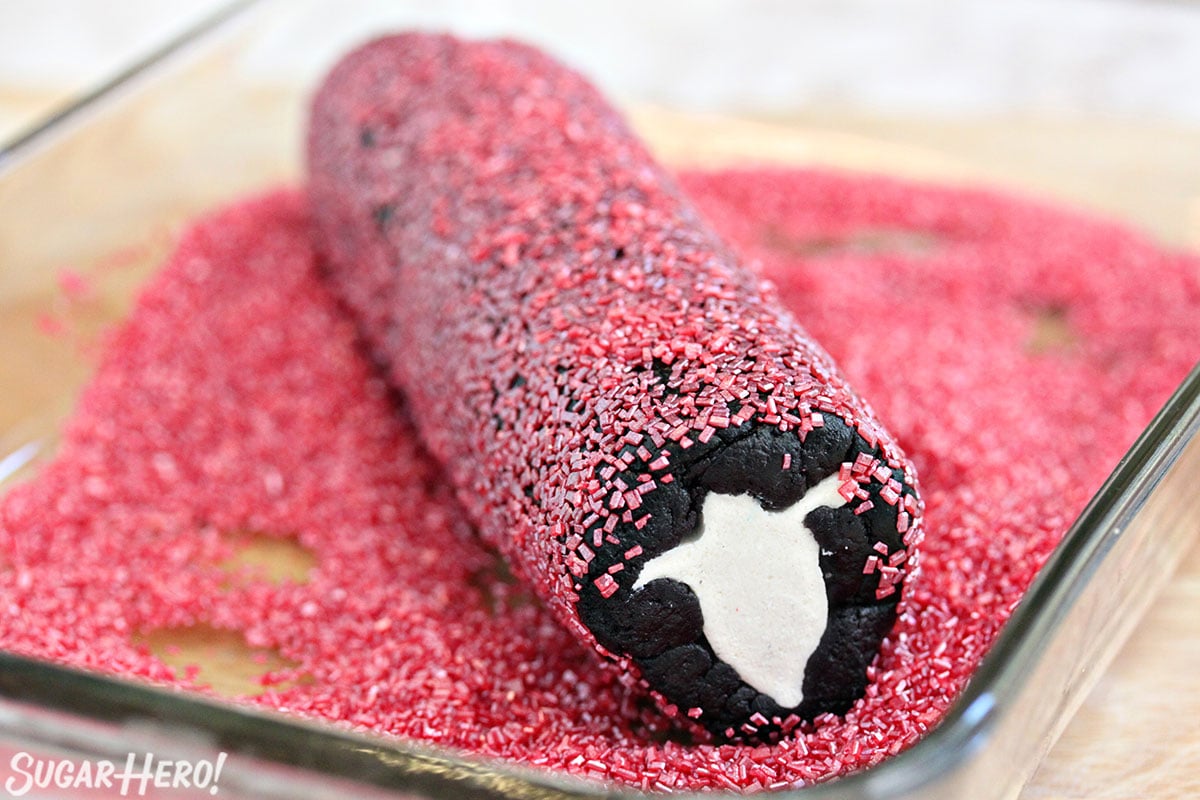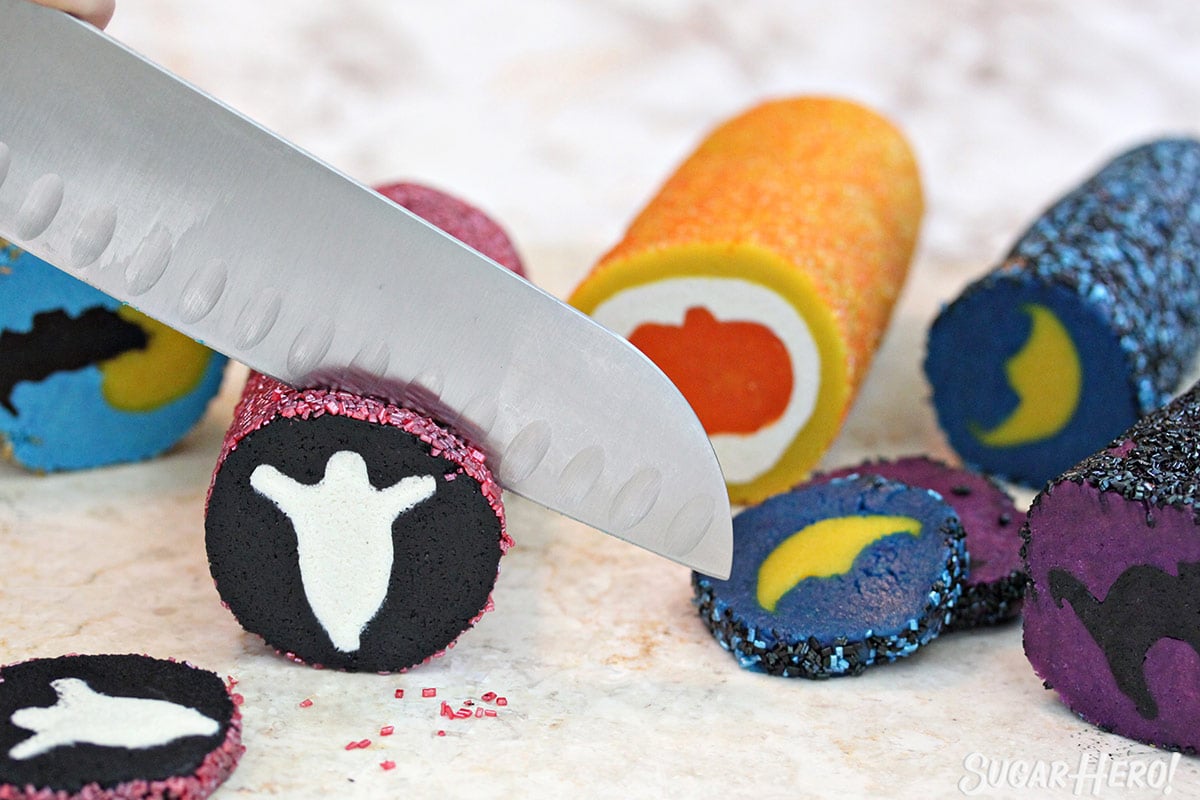 Originally, I was just going to do the black and white ghost ones. But then I picked up a full set of mini Halloween cutters, and they were ALL so cute. Cats! Bats! Crescent moons! Each one begging to be made into its own unique cookie. How could I say no?! So I made a triple batch of cookie dough, busted out ALL the cutters and food coloring, and went to town.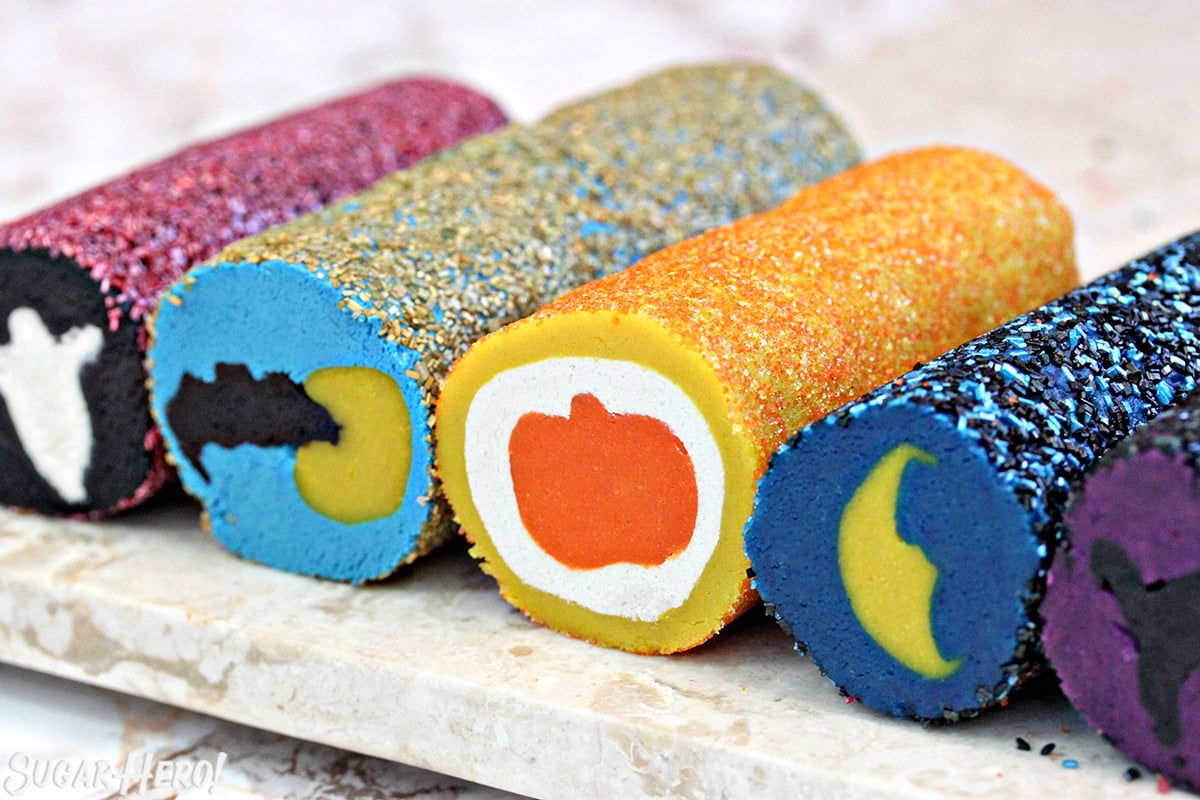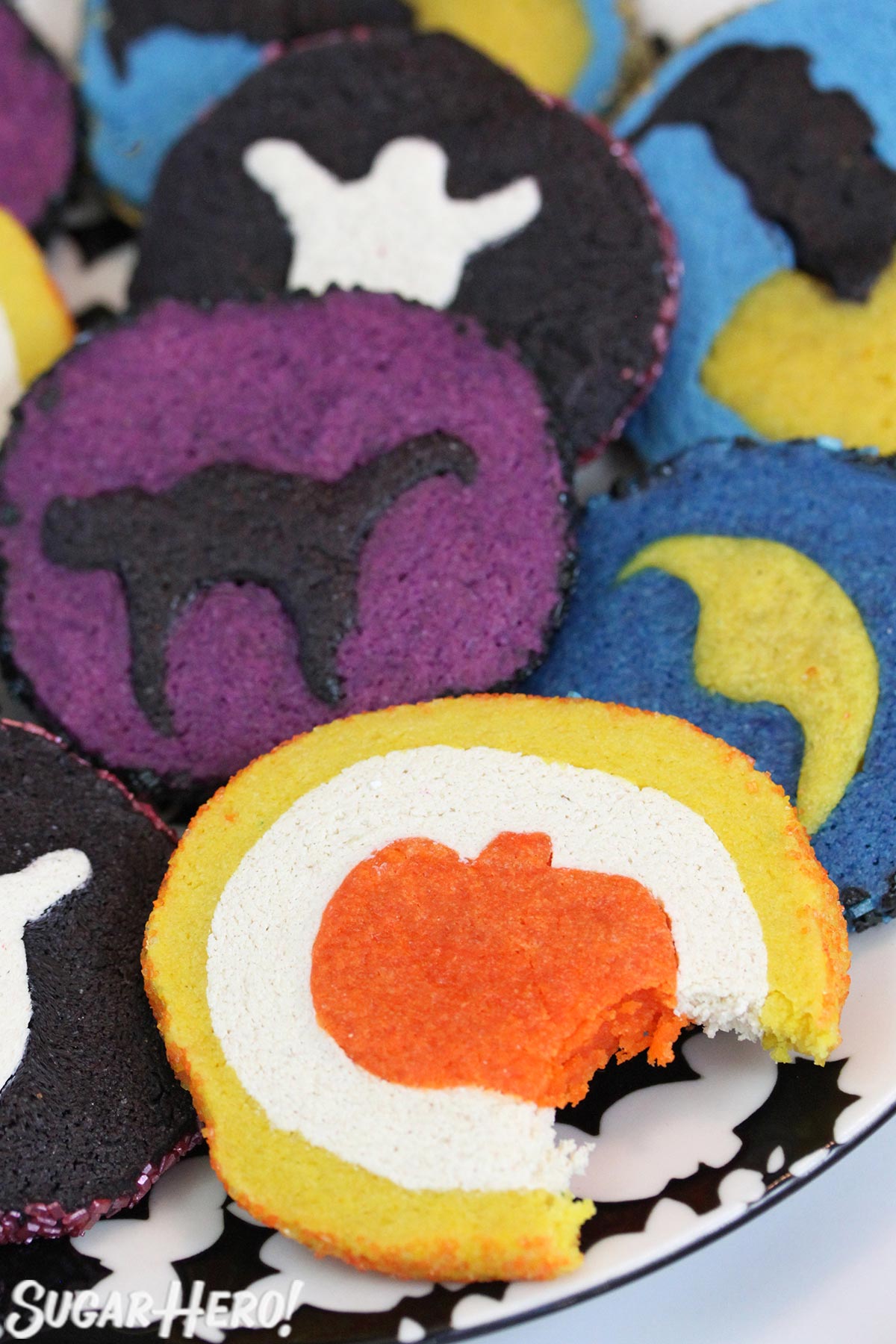 And honestly, I have no regrets. I think each design is great on its own, but when taken together, it's an absolutely amazing Halloween spectacle. In the recipe, I've provided instructions for making the black cat cookies (the ones that are primarily demonstrated in the video).
But I used the same technique for all of these cookies, so once you get the basics down, you can make literally anything! (The pumpkin and bat cookies are slightly different, so there's a note at the bottom of the recipe explaining how I got that cool bat-and-moon effect.)
And how do the cookies taste? Like a delicious sugar cookie! Buttery, sweet, with a hint of vanilla, they have a crunchy edge from the sprinkles and a soft interior. I would only recommend using gel food coloring to make these, because if you use liquid you're going to have to use a TON and you will get a food coloring aftertaste, as well as possibly a weird texture. I used only Americolor food coloring and had no aftertaste, although I did have a bluish-black tongue! NO REGRETS.
If you make these, you MUST share on my social media or tag me so I can see them! I want to see an army of slice-and-bake cookies take over the holidays! And tell me: which design is your favorite? What kind of slice-and-bake cookies would YOU make?
Slice and Bake Halloween Cookies
These Slice and Bake Halloween Cookies are easy, fun Halloween sugar cookies with surprise designs hidden inside! This recipe provides instructions for making the black cat cookie design, just as an example, but you can use the same basic concept to make an endless variety of designs, just by swapping out the colors and shapes! Please see the note at the bottom for additional instructions for making the bat and pumpkin variations.
Ingredients
18

oz

all-purpose flour

,

(4 1/4 cups)

½

tsp

salt

8

oz

cold unsalted butter

,

cubed

12 ¼

oz

granulated sugar

,

(1 ¾ cups)

2

tsp

vanilla extract

2

large eggs

black gel food coloring,

(I used Americolor Super Black)

purple gel food coloring,

(I used Americolor Electric Purple and Regal Purple)

1

egg white

small Halloween cookie cutters

,

(I used Fox Run's Halloween cookie cutter set)

black sugar sprinkles
Instructions
In a bowl, whisk together the flour and salt and set aside for now.

Combine the cold cubed butter and the sugar in the bowl of a large stand mixer fitted with a paddle attachment. Beat them on medium speed just until they're mixed together and there are no longer any chunks of butter. The key is to get a homogenous texture, but not beat until it's light and fluffy—we don't want to beat too much air into the dough, because that will cause the cookies to spread!

Add the vanilla extract and one egg, and beat to combine. Add the second egg and beat until it's incorporated.

Stop the mixer and add the flour, and mix on low speed until most of the flour is incorporated and just a few streaks remain. Finish mixing the dough with a spatula, scraping the bottom and sides of the bowl.

Separate out about a fifth of the dough. It doesn't have to be precise, anything between a fifth and a quarter of the dough will work fine. Mix purple gel food coloring into the larger portion of the dough—you can either use your mixer, or knead it in by hand. If you're using your hands, I HIGHLY recommend wearing plastic gloves to keep your hands clean! I used mostly Americolor Electric Purple, mixed with a small amount of Regal Purple, to get the color you see in the photos. Note that the dough will be a lighter color once it bakes. Wrap the purple dough in cling wrap and leave it at room temperature.

Mix the black gel food coloring into the smaller portion of dough. Roll it out between two sheets of Reynolds parchment paper until it is between ¼-1/2 inch thick, and refrigerate until firm.

Use a small cookie cutter to cut out black cat shapes from the black dough. Space them together as close as possible, and once you've cut out as many black cats as you can, re-roll the dough and cut out more. Place the cats on a baking sheet lined with parchment and freeze briefly until firm, 10-15 minutes.

Whisk the egg white with a teaspoon of water. Once the cats are firm, lightly brush one with egg white and press another cat on top. Continue to press the cats together until you have a long column of black cats. If it gets unwieldy, you can make several smaller columns, or return the cats to the freezer for a few minutes to firm up again. As you're stacking them, make sure you press them together well, and pinch any extremities, like their legs and tails, together as well. Once all the cats are in one column, freeze again until very firm, 20-30 minutes.

When the cats are firm, pinch off a section of the purple dough and roll it into a long skinny rope. Press the rope onto the cats, pushing it into any crevices and making sure that there are no air pockets between the black dough and the purple dough. Pinch, roll, and press the purple dough all around the cats until the cat column is completely surrounded. Now roll the cookie dough log on your work surface until it becomes round.

Put the black sugar sprinkles in a shallow pan, and roll the cookie dough log around in the sprinkles until the outside is covered. Wrap the log tightly in cling wrap, and refrigerate until completely firm, about 2 hours.

Preheat the oven to 350 F. Cover your baking sheets with parchment paper. Slice the end off of the cookie dough log (the end will always be misshapen—more for you to snack on!) then slice cookie rounds a little more than ½-inch thick. Place the cookies on the baking sheets and bake for 9-10 minutes, until slightly puffy and set around the edges. Don't wait for them to take on any color, and don't overbake! These are best when still soft in the middle. Let cool for 5 minutes on the baking sheet, then move to a wire rack to cool completely.

Bat variation: After the dough is made, take out 1/5 of it and dye it black for the bats. Take a quarter of the remaining dough and dye it yellow for the moon, then dye the rest of the dough dark blue. Make a column of bats just as you would for the black cats. Once the column is firm, roll the yellow dough into a fat tube the length of the bats. Take a knife and cut a slit along the length of the tube, going to about the center of the circle. Paint one edge of the bat's wings with egg whites. Insert the wings into the slit in the yellow tube, to make it seem as if the bats were flying in front of the moon. Press the tube firmly around the bat wings, then freeze everything until firm. Cover the bat/moon with blue cookie dough and proceed with the rest of the instructions.

Pumpkin Variation: After the dough is made, take out 1/5 of it and dye it orange for the pumpkins. Divide the remaining dough in half and color half of it white and half of it yellow. Make a column of pumpkins just as you would for the black cats. Once the column is firm, roll out the white dough into a rectangle the length of the column, and wrap it around the pumpkins, pressing firmly to get it in any crevices. Roll to make the log round, then freeze for just 5-10 minutes. Then roll out the yellow dough in a similar way and wrap that around the white dough, rolling the log again to make it round. Sprinkle, chill, slice, and bake as usual.
MEASURING TIPS
Our recipes are developed using weight measurements, and we highly recommend using a kitchen scale for baking whenever possible. However, if you prefer to use cups, volume measurements are provided as well. PLEASE NOTE: the adage "8 oz = 1 cup" is NOT true when speaking about weight, so don't be concerned if the measurements don't fit this formula.
Click here to learn more about baking measurements and conversion.
Nutrition
Calories:
130
kcal
|
Carbohydrates:
13
g
|
Protein:
2
g
|
Fat:
7
g
|
Saturated Fat:
4
g
|
Cholesterol:
29
mg
|
Sodium:
49
mg
|
Potassium:
27
mg
|
Fiber:
0
g
|
Sugar:
0
g
|
Vitamin A:
220
IU
|
Vitamin C:
0
mg
|
Calcium:
6
mg
|
Iron:
0.9
mg
Share by Text
Share by Email
Share on Facebook
Share on Pinterest
Tools and Ingredients Used: