This Witch's Brew Halloween Punch will make all your goblins grin! It's an easy sparkling lime punch the whole family will love. Add dry ice to the punch bowl for an extra-spooky effect!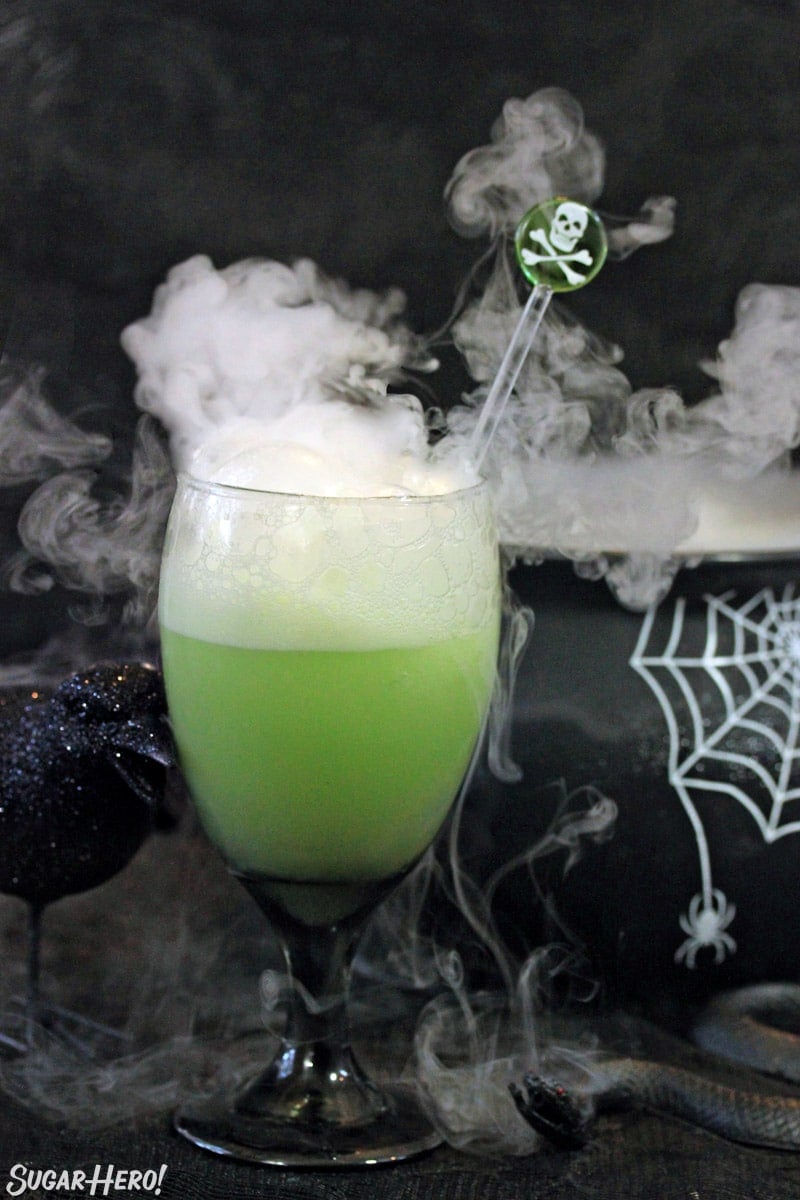 Easy, Spooky Halloween Punch
Halloween isn't just about costumes and candy–it's also a prime excuse to enjoy some fun Halloween desserts and drinks! One of my family's favorite drinks for spooky season is this super easy Witch's Brew Halloween Punch. Over the years, it has become a reader favorite too, with hundreds of people making it every year!

My Halloween punch is a tangy mix of ginger ale, pineapple juice, fresh lemon juice (to keep it from being too sweet) and lime sherbet. The punch is a gorgeous, if slightly repulsive, green color, with chunks of melting sherbet that grosses out (and delights) kids and adults alike. Add a little dry ice, and poof! You've got an awesome smoking cauldron, full of delicious punch. Read on for tips and tricks before you make it!
[lwptoc depth="2″]
Ingredients
Most of the ingredients in this punch are pretty standard, and can be found at any grocery store:
ginger ale
pineapple juice
lemon juice (preferably fresh)
lime sherbet
This recipe is very flexible, so you can omit the lemon juice, swap in lemon-lime soda, or make other changes depending on what's available to you. If you can't find lime sherbet, you can swap in orange or rainbow, and add a few drops of green food coloring if you want to keep the witchy green color.
The WOW factor in this punch comes from adding dry ice, which causes the punch to bubble and smoke like a witch's brew. Dry ice isn't familiar to everyone, so I'm including an FAQ below to help you use it safely. But if you can't find it or don't want to use it, don't worry–your punch will taste just as good without it!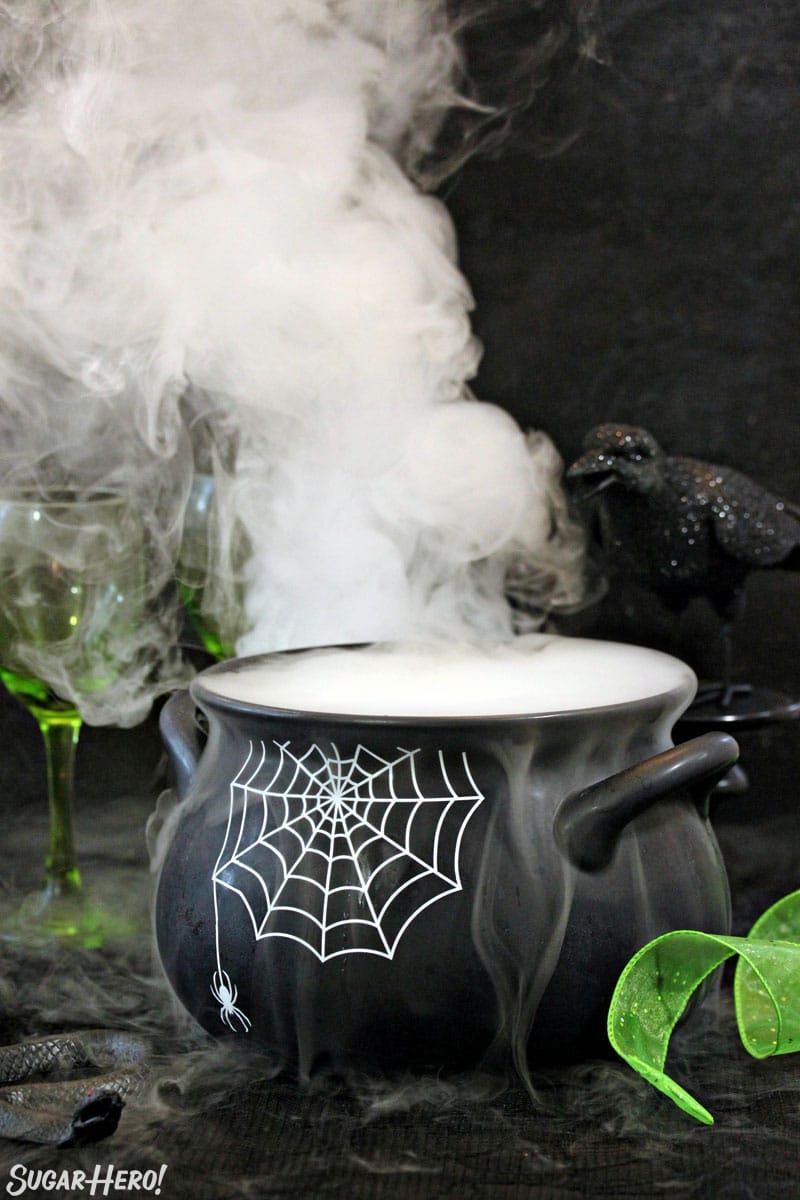 Dry Ice FAQ
Dry ice can be tricky to handle correctly, so please be sure to read the following section before using it!
What is dry ice?
Dry ice is SUPER COLD ICE! Okay, that's not a scientific explanation, but hey, I was an English major. Wikipedia tells me it's the solid form of carbon dioxide. It's notable for going from a solid to a gas with no liquid stage in between. It is much colder than regular ice (estimated temp −78.5 °C, or −109.3 °F), so it's great when you want to keep things really cold.
For home purposes, dry ice is usually used to keep things very cold, or for adding to drinks. It carbonates liquids, and in the process, produces extremely cool looking smoke and bubbles in the liquid. That's why we use it here!
Where can you find dry ice?
I buy mine at a large grocery store. Not every store carries it, but if you have a large chain grocery store near your house, chances are they might have some. In my experience, it is kept in a special freezer near the check-out lanes, not in the regular freezer aisles accessible to customers. I always have to ask someone to bring me dry ice.
It is usually sold by weight, not by volume. For this recipe, I used 5 lbs of dry ice over the course of a 3-hour party, but most of that was because I wanted to keep the smoke going consistently. 1-2 lbs is probably fine for most uses.
Do not buy dry ice more than an hour or two before you need it, because it will evaporate. It's best purchased shortly before you will use it. Store it in a cooler with the lid cracked so the gas can't build up.
How do you handle dry ice?
Very carefully! (ba-dum-ching) Because dry ice is so cold, it can cause severe frostbite if you handle it with your bare hands. Always make sure you have something in between you and the dry ice: gloves or a kitchen towel are my go-tos. You can also handle the ice with tongs to be extra-safe.
Make sure you are using the dry ice in a well-ventilated area. The release of carbon dioxide gas in a small, stuffy space can make it difficult for people to get enough oxygen, leading to unconsciousness or even death. Using it in a typical home environment is not a problem, but this is just something to be aware of.
Is dry ice safe to eat?
Nope! The two main concerns are the damage from extreme cold, or carbon dioxide gas building up quickly in your body. Please, please do not eat dry ice.
How do you use dry ice in punch?
THAT BEING SAID…you can safely use it in punch, as long as you are careful not to ingest it! You have a few different options available to you, depending on what effect you want, and your comfort level:
No dry ice ever touches the punch. This is a good option if you have kids who will be enjoying the punch, and you want to be sure they won't accidentally ingest any dry ice. In this case, fit a punch bowl inside a large cauldron. Pour water around the outside of the punch bowl, in the cauldron, and add the dry ice to the water. This will produce smoke, but the punch itself will not have any dry ice in it.
Dry ice in the punch bowl. If you keep the dry ice in a large block, you can add it to the bowl of punch in one big piece. This piece is large enough that no one can accidentally drink it, and it will make the punch itself bubble and smoke. Very cool!
Dry ice in each cup. This is what I did to get the cool smoky goblets in the pictures! Only do this method if you trust your family or guests to not drink dry ice. Drop a large chunk of dry ice into the bottom of each glass to make the glasses smoke. Be sure to warn everyone not to swallow the ice.
Adding Alcohol
This Halloween punch is non-alcoholic, so it's great for kids and adults alike. However, if you want to kick things up a notch and make an adult-only version, it is great with alcohol too!
My recommendation is to add 2 cups of vodka to the punch while mixing everything together. Plain vodka works, but I like citrus vodka even better! You could also use a whipped cream vodka to enhance the creaminess of the lime sherbet. Mix everything, then add more to taste if needed.
I have never tried this recipe with other alcohols, but a reader below commented that they used Captain Morgan's, and it was delicious! So please feel free to experiment with your favorite booze, and come back and let us know how it turned out!
Don't miss the step-by-step tutorial showing how to make Witch's Brew Halloween Punch – check out the web story here! And check out all of my delicious Halloween recipes here!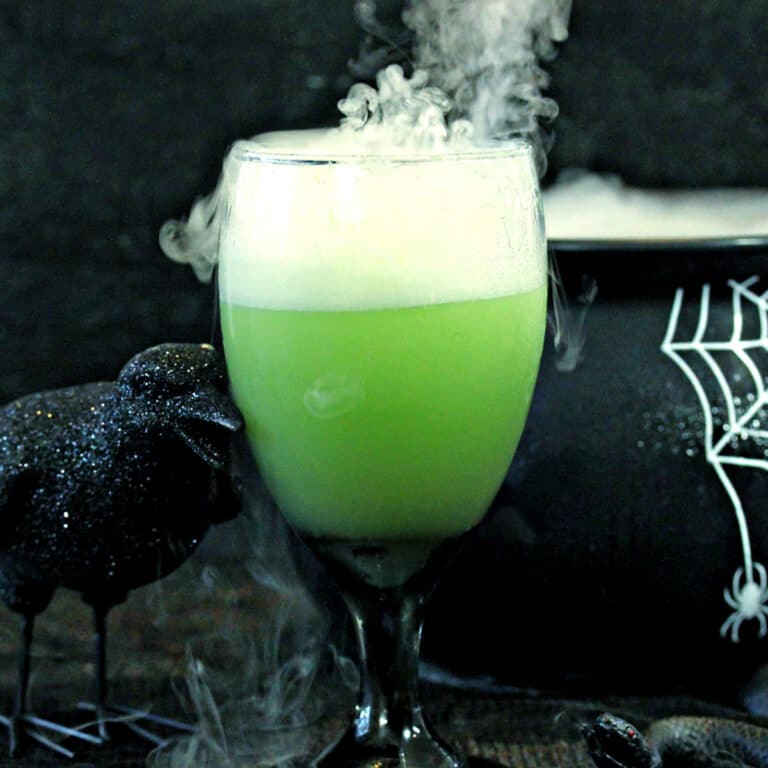 Witch's Brew Halloween Punch
This Witch's Brew Halloween Punch will make all your goblins grin! It's an easy sparkling lime punch the whole family will love. Add dry ice to the punch bowl for an extra-spooky effect!
Ingredients
2

liters

ginger ale

chilled

4

cups

pineapple juice

chilled

1/3

cup

lemon juice

fresh (optional)

1

tub

lime sherbet

(~48 oz)

1

block dry ice

I used 5 lbs for a 3-hour party

Large cauldron

Punch bowl that fit inside cauldron
Instructions
Break the dry ice into large pieces using a mallet or other tool. Be careful that you use gloves when handling it, since it can cause burns if it comes into contact with your skin. Place some of the dry ice in the bottom of your cauldron. Put the remaining dry ice in a cooler nearby. Pour some hot water on top of the ice so that it starts to smoke.

Place the punch bowl on top of the dry ice inside the cauldron. Combine the ginger ale, pineapple juice, and lemon juice in the punch bowl, and stir to combine. Add scoops of lime sherbet, mix it for a few minutes until the sherbet starts to melt, then serve! Replenish the dry ice and hot water as necessary, to keep the smoke effect going.

Note: dry ice can be harmful if swallowed, so do not put it directly in the punch bowl or beverage cups.
Measuring Tips
Our recipes are developed using weight measurements, and we highly recommend using a kitchen scale for baking whenever possible. However, if you prefer to use cups, volume measurements are provided as well. PLEASE NOTE: the adage "8 oz = 1 cup" is NOT true when speaking about weight, so don't be concerned if the measurements don't fit this formula.
Want to learn more about baking measurements and conversion?
Nutrition
Calories:
185
kcal
|
Carbohydrates:
41
g
|
Protein:
2
g
|
Fat:
0
g
|
Saturated Fat:
0
g
|
Cholesterol:
0
mg
|
Sodium:
84
mg
|
Potassium:
43
mg
|
Fiber:
2
g
|
Sugar:
31
g
|
Vitamin A:
0
IU
|
Vitamin C:
4.1
mg
|
Calcium:
6
mg
|
Iron:
0.2
mg
Tried this recipe?
Snap a pic and hashtag it #SugarHero. We love to see your creations on our Instagram @elabau.