This sweet two-tiered Bumblebee Cake is perfect for birthday parties! It's a vibrant lemon layer cake with a sweet-tart lemon meringue buttercream.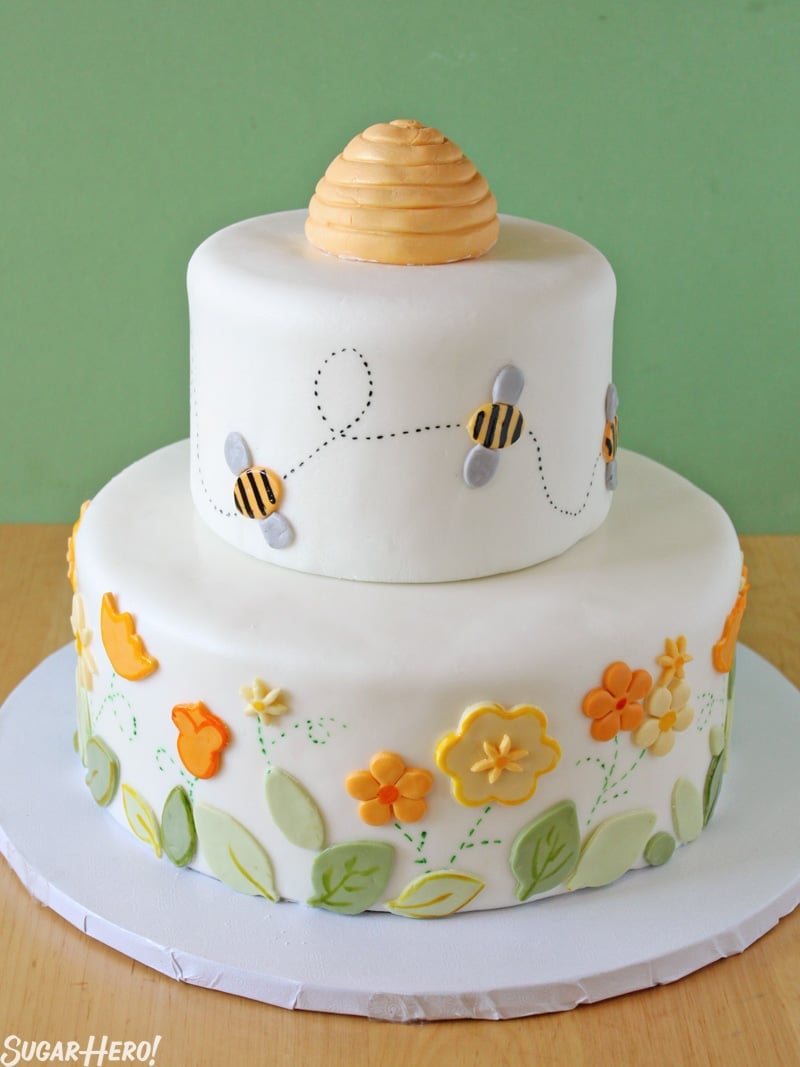 I made this sweet little bumblebee cake for a friend's daughter's birthday last week. I don't do too many special occasion cakes any more, so it's always fun to dust off the old fondant rolling pin and get down to business.
The party was bee themed, and I took my design inspiration from the super-cute invitations. [Below, with personal information removed.] The cake itself was a lemon cake with lemon buttercream. I used fondant to cover the cake and make the decorations. Scale can sometimes be hard to tell from pictures, but the bottom tier is 10", the top is 6", and the beehive topper is about 3".
With simple designs like these, I honestly think half the work is coloring the fondant. (How is it possible that such an easy thing always takes so long?) Three different yellows, an orange, two greens, a gray, and pretty soon hours have passed and I'm just getting started. As soon as I figure out how to trick a culinary school student into interning for me for free, I am going to make them do all my fondant coloring.
The giant recipe is below, just in case you too want to make a big ole layered lemon bee cake, but here are a few quick close-ups of the layers.
The bottom tier was simply flowers and leaves. I used a variety of fondant cutters—some that were flower-shaped, and some that were repurposed, like the yellow and orange acorns below, or the "tulip" you can see above that is actually a half-moon. One thing I've learned from reading different cookie decorating blogs is to be creative with cookie (and fondant) cutters—no one will know what it was originally intended for, so think outside the box and play with different shapes!
The flowers & leaves were randomly painted and outlined with food coloring, and the green dotted tendrils were done with food coloring markers. Those markers are a lazy girl's best friend.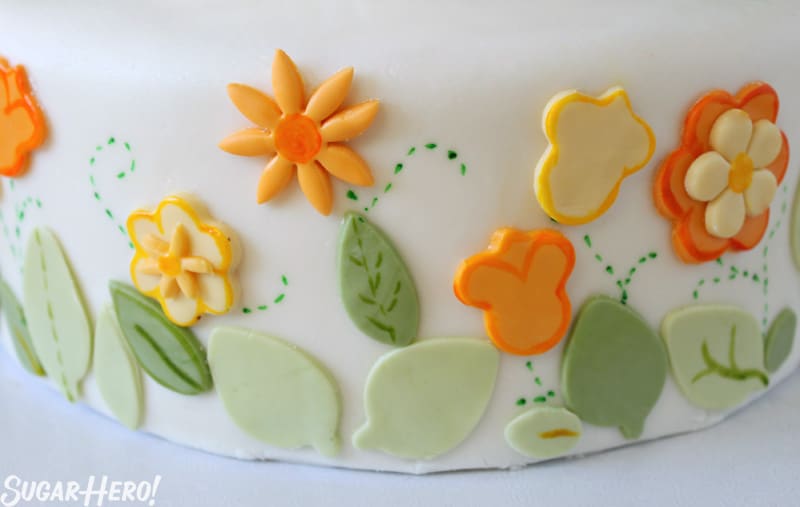 The bees were even easier than the flowers. I cut them out with oval cutters, pulled them slightly to make them longer, and painted them with thick stripes of black food coloring. The dotted trails between them were done with food markers as well. (Food coloring and a brush would also work, it would just take longer.)
Finally, the beehive on top is pure fondant. I debated making a marshmallow crispy treat to cover with fondant, but that seemed like an awful lot of work for something that would probably be tossed, so I just kneaded together a bunch of yellow-orange fondant, patted it into a rough cone shape, and used a veining tool to press indentations around the cone. (An orange peeler or even a toothpick/skewer would also work.) Finished off with a light layer of gold luster dust, and boom. The beehive is done, and this bee cake is ready to party.
Recipe Notes: If this is your first time making a tiered cake, I highly recommend watching video tutorials of how to cover a cake with fondant and assemble it, instead of simply reading a recipe. It's a visual process, and you will learn more by watching someone else do it than by reading these instructions. I've included assembly instructions for the sake of completeness, but beginners should absolutely watch tutorials before attempting to assemble the cake.
🍋More Lemon Desserts You'll Love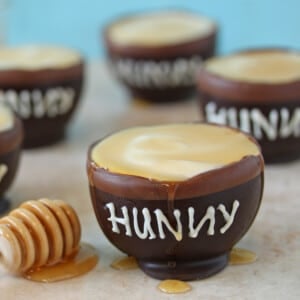 Chocolate Hunny Pots
These Chocolate Hunny Pots are entirely edible, made of chocolate and decorated with a Pooh-inspired "HUNNY" label. The filling is a quick and simple honey-white chocolate mousse. It is fluffy, completely delicious, AND kid friendly!



View Recipe
Lemon Meringue Teacup Cakes
Lemon Meringue Teacup Cakes are elegant lemon cakes, baked right in teacups! Filled with raspberry and topped with lemon curd and toasted meringue. They are perfect for special occasions!
View Recipe
Bumbleblee Cake
This Bumblebee Cake is a delicious lemon layer cake with lemon buttercream, and topped with fondant! It's the perfect cake for any occasion and all your bee needs!
Ingredients
(two 6" cake pans)
1

TBSP

lemon zest

(from approximately

1

large lemon)

7

oz

granulated sugar

7

oz

cake flour

sifted

1

TBSP

baking powder

1/2

tsp

salt

4

oz

unsalted butter

cubed and at room temperature

2/3

cup

whole milk

at room temperature

4

large egg yolks

2

tsp

vanilla extract

1

tsp

lemon extract
(two 10" cake pans)
2

TBSP

lemon zest

(from approximately

2

large lemons)

17.5

oz

granulated sugar

17.5

oz

cake flour

sifted

6 2/3

tsp

baking powder

1 1/4

tsp

salt

10

oz

unsalted butter

cubed and at room temperature

1 2/3

cup

whole milk

at room temperature

10

large egg yolks

4

tsp

vanilla extract

1

TBSP

lemon extract
Lemon Italian Meringue Buttercream
(You will need to make this recipe twice)
Instructions
To Make the Cake Layers:
Preheat the oven to 350 F. Line each cake pan with parchment rounds, and spray the parchment and pan sides with nonstick cooking spray.

Begin by making the 6" batch. Combine the lemon zest and sugar in the bowl of a large stand mixer, and rub them together between your fingers until the sugar is moist and very fragrant. Add the cake flour, baking powder, and salt to the bowl of the stand mixer, and fit the mixer with a paddle attachment. Mix on low speed for about a minute.

Lightly whisk together the egg yolks and about a quarter of the milk (it doesn't have to be a precise measurement) and both extracts, and set aside for now.

Add the remaining milk and the softened butter to the large mixing bowl and mix on low speed until the dry ingredients are moistened. Turn the mixer to medium speed and mix for a minute and a half.

Add the egg yolk mixture in three batches, mixing for 20-30 seconds after each addition, until you have a smooth batter. Scrape the bottom and sides of the bowl with a rubber spatula, and give the batter a few quick turns to make sure everything is incorporated. Divide the batter between the two pans and bake at 350 F for 25-30 minutes, until the top is golden, the sides just start pulling away from the pan, and a toothpick inserted into the center comes out clean.

Repeat this process with the 10" batch, baking the 10" layers at 350 F for 35-40 minutes. Let the cakes cool on a wire rack for 10 minutes, then gently turn them out and let them cool completely. I find it's easiest to cut and stack cakes that have been chilled, so if you have time, wrap them with plastic wrap and put them in the freezer for at least 30 minutes, until they are firm but not frozen all the way through. If you are making these in advance, they can stay in the freezer for up to several weeks. Let them partially defrost, until they are firm but not rock-hard, before assembling.
To Make the Lemon Italian Meringue Buttercream:
Place the room temperature egg whites in the *very clean* bowl of a large stand mixer fitted with the whisk attachment. Place the water, lemon juice, and sugar in a medium saucepan over medium-high heat and stir until the sugar dissolves. Insert a candy thermometer and cook until it reaches 245 degrees F.

While you are waiting for the sugar syrup to reach the proper temperature, begin beating the egg whites. (I usually start beating them when the temperature is around 225 degrees.) Turn the mixer to medium speed and beat until the whites look foamy. Stop the mixer briefly and add the cream of tartar. Turn the mixer back on and begin to beat on medium-high speed until the whites are stiff but not crumbly. You can turn the mixer off if the egg whites are finished before the syrup is ready.

When the whites are stiff and the sugar syrup is 245 degrees, turn the mixer back on to medium-high and pour the syrup into a cup or pitcher with a spout. Slowly and carefully pour the hot syrup down the sides of the bowl into the egg whites while the mixer is running. The whites will rise in volume. After all of the syrup is added, let the mixer run on medium speed until the sides of the bowl feels barely warm, which may take anywhere from 10-20 minutes.

Once the egg white mixture has cooled, gradually add the softened butter bit by bit until it is all incorporated. Scrape down the sides of the bowl with a spatula. The egg white mixture will deflate and might look soupy. If it looks soupy or broken, continue to beat the mixer on low or medium speed until it comes back together. (This is why it's important to use butter that's soft but cool: butter that is too warm will just liquefy and make soupy buttercream.) If it resists coming together, refrigerate the bowl briefly, for about 10 minutes, then continue beating until it smooths out.

Once the frosting has come together, add the salt and lemon extract to taste. The buttercream can be made in advance and kept at room temperature if you're going to use it the same day, or refrigerated. If it's been chilled, let it sit at room temperature until it softens, then re-whip it to get the fluffy texture back before you use it.
To Assemble the Cake:
Assemble the 10" tier first. Using a large serrated knife, cut each cake layer in half. Place one layer face-up on a cake cardboard.

Scoop about 1 cup of buttercream into the center, and spread it in an even layer until it covers the cake and reaches the outer edge. Top the cake round with a second round, and repeat the process of spreading frosting on the layers, until you have a 4-layer cake with 3 layers of buttercream. Spread buttercream along the sides and top of the cake in a very, very thin layer—this is just to hold the crumbs in. Refrigerate the layer while you assemble the 6" cake in the same fashion. Refrigerate all the layers until they're firm, at least 45 minutes.

Once firm, go back and add another layer of buttercream on the outside of the cakes, this time trying to get it even and smooth. The smoother the buttercream is, the smoother the fondant coating will be. I like to use a bench scraper to go around the sides and get them very straight and clean. To do this, hold the bench scraper in your dominant hand, straight against the sides of the cake. With your other hand turn the cake turntable so the scraper removes any excess frosting from the sides. Use an offset spatula to smooth the frosting on the top of the cake. Once all of the cakes are frosted, refrigerate them again until they're very firm, at least 1 hour or more for the larger cakes.

To cover the cakes with fondant, I used these approximate amounts: 10" cake: about 2 1/4 lbs fondant 6" cake: about 1 lb fondant

Dust your work surface with powdered sugar, and roll out the fondant until it is a round a little less than 1/4-inch thick. Drape it over the cake and smooth it evenly against the top and sides—if you are unfamiliar with covering a cake with fondant, there are many excellent video tutorials to demonstrate this step. Trim the excess fondant from the bottom, and refrigerate the cakes until you're ready to decorate and stack them. To refrigerate them, wrap them in plastic wrap to prevent them from getting sticky in the refrigerator.

Use excess fondant to make decorations of your choice. Glue them on with glue made from tylose powder (preferred) or corn syrup. Make a small fondant beehive as a topper.

To stack the rounds, insert a boba tea straw (or other type of dowel) into the center of the 10" cake. Hold scissors flush against the top of the cake, and cut off the top of the straw so that it is now even with the height of the cake. Add four more straws in a circle around the straw in the center, each about 2" from the center (so that they don't extend past a 6" radius) and cut those straws so that their height is the same as the cake. These straws will be used to support the 6" cake. Smear a generous amount of buttercream in the center of the 10" cake, and put the 6" cake on top, so it's secured by the buttercream and resting on the dowels. There should be no gap between the cakes.

Smear some buttercream on the 6" cake to secure the beehive, and place it on top. If you'd like, finish your cake by piping buttercream or tying ribbon around the bottom of the cakes to make them look polished.
Recipe Notes
The cake recipes are lightly adapted from The Cake Bible
by Rose Levy Beranbaum. I've written the instructions in my own words and added a lemon twist, but otherwise the basic recipe is hers. I really can't recommend this book enough—every recipe I've tried works, and it's a huge help in making large tiered cakes. Two frosting-covered thumbs up!
This is a large cake, you will need to make the cake batter and buttercream in batches. You will need to make the buttercream recipe given above TWICE.
Measuring Tips
Our recipes are developed using weight measurements, and we highly recommend using a kitchen scale for baking whenever possible. However, if you prefer to use cups, volume measurements are provided as well. PLEASE NOTE: the adage "8 oz = 1 cup" is NOT true when speaking about weight, so don't be concerned if the measurements don't fit this formula.
Want to learn more about baking measurements and conversion?
Nutrition
Calories:
520
kcal
|
Carbohydrates:
70
g
|
Protein:
4
g
|
Fat:
25
g
|
Saturated Fat:
13
g
|
Cholesterol:
115
mg
|
Sodium:
268
mg
|
Potassium:
200
mg
|
Fiber:
1
g
|
Sugar:
55
g
|
Vitamin A:
645
IU
|
Vitamin C:
5.1
mg
|
Calcium:
85
mg
|
Iron:
0.5
mg
Tried this recipe?
Snap a pic and hashtag it #SugarHero. We love to see your creations on our Instagram @elabau.
To Assemble the Cake:
Supplies:
10″ cardboard cake rounds

6″ cardboard cake rounds

Dowels—I like to use boba tea straws

Cake turntable
(optional but makes decorating easier)
Bench scraper

Offset spatula