This post may contain affiliate links. As an Amazon Associate I earn from qualifying purchases. Please see my disclosure policy for more information.
These Brown Butter Heart Cookies are a gourmet twist on sugar cookies! They have a deep, rich, caramelized taste, and are decorated with beautifully painted fondant designs that are also SUPER easy to make!
Brown Butter Sugar Cookies
At first glance, these simple hearts may look like standard sugar cookies, but they're actually much more exciting. These roll-out cookies are made with brown sugar and brown butter, which gives them a caramelized, nutty, ever so slightly savory flavor.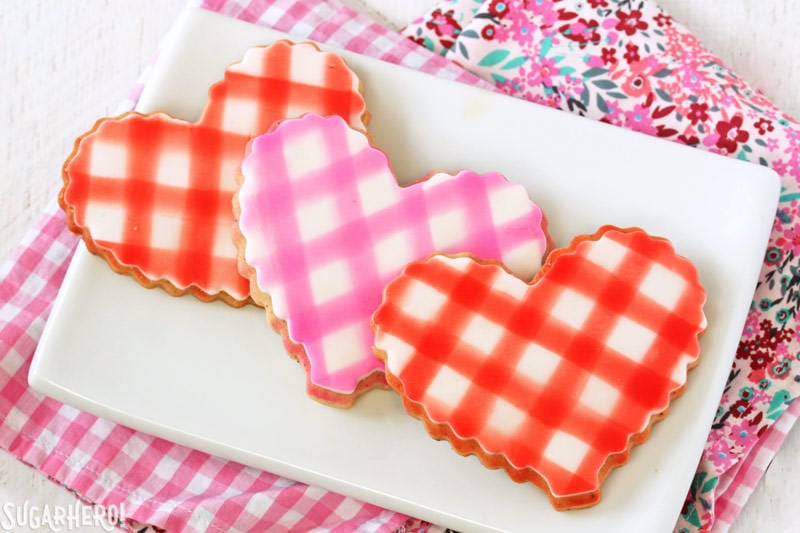 The depth of flavor and the richness from the brown butter is especially important, since they're topped with (cute! adorable!) fondant decorations. Fondant can quickly become too sweet if it's not balanced out with other flavors, so pairing these toppers with a brown butter cookie base helps keep the fondant from becoming too cloying.
To deepen the flavor, this dough also contains brown sugar. Not only does it give the cookies a delicious caramel flavor, but it also produces a really tender dough, and helps the cookies stay soft for days!
Just look at those flecks of brown butter love!
The dough holds its shape beautifully during baking, and the resulting cookies are crisp around the edge and wonderfully tender in the center (I can't hang with sugar cookies that are crisp all the way through.) I imagine this dough might work well as a tart crust, too, and you can bet I'll be testing that hypothesis soon.
These cookies are topped with fondant plaques–I used homemade marshmallow fondant, but any type would work. Royal icing may seem like the obvious choice, but I wanted the top layer to be really clean and have perfect edges, and fondant seemed like the faster, easier option for a royal icing avoider such as myself. It's also great at protecting the cookies and keeping them softer for longer periods of time.
But enough about the components, let's talk about this sexy paint job these cookies are sporting! It's my favorite part of this recipe, and it's SO easy to do, because they're made with Wilton's Color Mist sprays. and I love how it looks like they've been airbrushed, when really all it took was a $3 can of edible food spray from the craft store.
The ombre effect is the simplest. I first saw it done on the Sweet Sugar Belle blog, and there's a great tutorial there if you're interested in recreating the look. Basically, you just cover a portion of your cookies–I started about 1/2 inch down from the top–with a sheet of paper, and spray the rest of the cookie with a light mist of color.
Next, move the sheet up another 1/2-inch or so, and spray again, so the cookie gets a bit darker. Continue to move the sheet of paper up the cookie and spraying, creating gradually darkening layers of color. It looks fancy, but it seriously takes less than 5 minutes!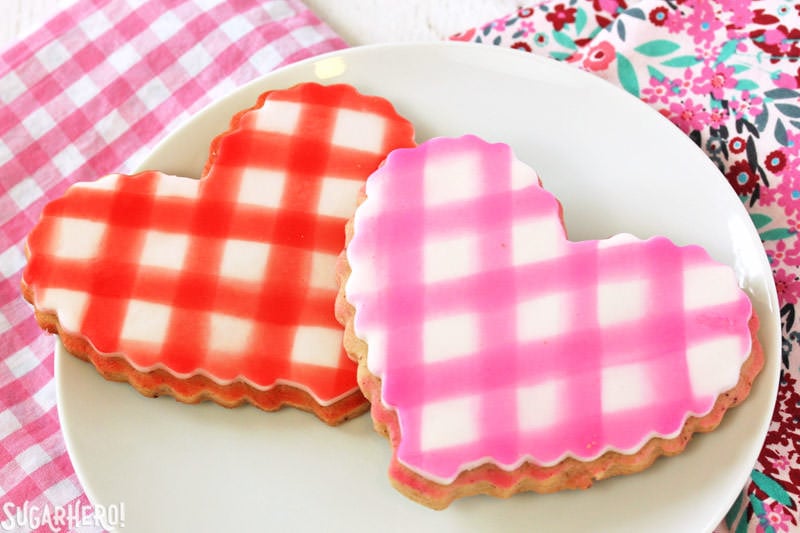 The gingham design also uses Color Mist sprays, for a quick and easy effect. Start by cutting thick horizontal lines–almost like bars–out of very stiff cardstock, or thin cardboard. You want to be able to really press it down on top of the cookie and keep the spray from sneaking underneath the stripes where it doesn't belong.
Then lay your template at an angle across a cookie and spray. Switch the template to the opposite angle, spray again, and voila! Instant gingham. Here's a photo tutorial showing how it's done:
Also, with both of these designs, make sure that you cover your work station well! I ended up with a pink tinge to my entire tabletop and the surrounding floors, even though I thought I did a good job of covering them. Pink coloring belongs on cookies, NOT the soles of my feet.
There you have it–cookies with a fun and easy decorating trick! You can use these techniques with other shapes and colors, too, and if you experiment, I'd love to see what you come up with!
Don't miss our collection of the 10 Best Valentine's Day Cookies – see the whole web story here!
Brown Butter Heart Cookies
These Brown Butter Heart Cookies are a gourmet twist on sugar cookies! They have a deep, rich, caramelized taste, and are decorated with beautifully painted fondant designs.
Ingredients
For the marshmallow fondant:
Instructions
To make the cookies:
Place the butter in a medium saucepan over medium heat. Allow it to melt and come to a gentle boil. Continue to cook it, stirring occasionally and scraping the bottom of the pan, as it grows darker in color. After about 8-10 minutes it should be golden brown and fragrant, with brown bits on the bottom. Remove the pan from the heat and pour the butter into a large mixing bowl. Let it cool to room temperature.

While you wait for the butter to cool, mix together the flour, corn starch, and salt in a small bowl. Set aside.

Once the butter is cool, add the sugars to the mixing bowl and mix everything together on medium speed until fluffy and well-mixed. Add the egg and vanilla, and mix again. Finally, stop the mixer and add the dry ingredients. Mix together on low just until the drys are nearly incorporated and just a few streaks of flour remain. Finish mixing everything with a spatula, scraping the bottom and sides of the bowl.

Divide the dough in half and press each into a thin disc, wrapping well with plastic wrap. Refrigerate until firmer but not hard, about 30 minutes.

When you're ready to bake the cookies, preheat the oven to 350 degrees Place a disc of dough between two sheets of parchment or waxed paper, and roll out until it is 1/4-inch thick. (I did not need to add any extra flour during the rolling process, but you may find a light dusting helps.) Cut out your shapes and place them on a parchment-lined baking sheet. Put the sheet in the freezer for 10 minutes before baking to help the cookies hold their shape.

Bake the trays of cookies for 10-12 minutes, until the edges are golden and they have lost the raw shine in the middle. Let the cool on the baking sheet for 5 minutes, then remove to wire racks to cool completely. Re-roll scraps of dough together to cut out more cookies. If at any point it becomes too warm to work with, chill it briefly in the refrigerator until you can once again roll and cut cookies easily.
To make the fondant:
Combine the marshmallows and water in a large microwave-safe bowl. Microwave for 1 minute, then stir well. If the marshmallows are not fully melted after this time, microwave again in short increments until it's melted and smooth.

Add the powdered sugar and stir well. The mixture will be sticky and stiff, and it will seem as if there's too much powdered sugar. Dump the contents of the bowl out onto your work surface, and knead it together by hand. The fondant will gradually smooth out and incorporate more and more of the powdered sugar. If it is still too sticky once all of the powdered sugar is used, continue add small amounts until you get a smooth, pliable paste. Marshmallow Fondant can be made days in advance and kept, well-wrapped in cling wrap, at room temperature until ready to use.

To top the hearts, dust a work surface with powdered sugar. Roll the fondant out until it is about 1/8-inch thick. Use the same cutter you used for the cookies to cut the fondant into shapes. Brush a cookie with a very thin layer of corn syrup, and press the fondant on top to get it to adhere. If desired, spray it with ColorMist spray in an ombre or checkerboard pattern.

Let the food coloring dry before storing. Store cookies in an airtight container at room temperature for up to a week.
MEASURING TIPS
Our recipes are developed using weight measurements, and we highly recommend using a kitchen scale for baking whenever possible. However, if you prefer to use cups, volume measurements are provided as well. PLEASE NOTE: the adage "8 oz = 1 cup" is NOT true when speaking about weight, so don't be concerned if the measurements don't fit this formula.
Click here to learn more about baking measurements and conversion.
Nutrition
Calories:
207
kcal
|
Carbohydrates:
37
g
|
Protein:
1
g
|
Fat:
6
g
|
Saturated Fat:
3
g
|
Cholesterol:
22
mg
|
Sodium:
83
mg
|
Potassium:
22
mg
|
Fiber:
0
g
|
Sugar:
26
g
|
Vitamin A:
185
IU
|
Calcium:
8
mg
|
Iron:
0.6
mg
Share by Email
Share on Facebook
Share on Pinterest