Emojis aren't just for your phone anymore! These adorable Mini Emoji Cakes are made with chocolate cake, buttercream, and lots of sass. Recreate your favorite emoji expressions in mini cake form!
Lots of people like to complain about cell phones. No one wants to hear them in public spaces! Text-speak is producing a generation of terrible spellers! (Do U think so 2?) They're maybe-probably killing us with brain-liquefying radiation!
To which I say: Perhaps those are true (except for that last one). But have you considered the single greatest gift cell phones have given us?
BEHOLD. The humble emoji! The single best way to express complex emotions with minimal effort. Do you want to convey "I'm so embarrassed right now and also I really want a taco"? That's like 2 emojis right there. What about "I'm feeling fine fresh fierce, like a lady dancing in a foxy red dress"? There's an emoji for that too!
My favorite emojis, though, are the heart-eyes and kissy face. I use heart-eyes for everything from cute little babies to delicious chocolate cakes, and everything in between. And kissy face? That one's good for finishing sarcastic retorts AND sincere expressions of love. Emojis: versatile, fun, and now…delicious!
There's nothing wrong with making traditional Valentine's sweets like a truffle cake or chocolate-covered strawberries. But if you want to shake things up a little, and really delight your valentine this year, show them how you really feel with a sincere expression of love, 2017-style: edible emojis.
Since it's Valentine's season, I naturally chose to use the love-iest of emojis, but you can you can switch things up and use your personal favorites as inspiration instead. And hey, if you're really mad at someone this year, I think the angry purple devil would also make a cute and delicious cake design!


These mini emoji cakes are made from 3 basic elements: homemade chocolate cake, yellow buttercream, and a shiny yellow glaze. The decorations are easy, too: red fondant hearts and black candy coating. They're like a gourmet and trendy version of everyone's favorite guilty pleasure, Hostess snack cakes!

I love these because they're not only cute, but they also taste AMAZING. The glaze does a wonderful job of sealing the cakes and keeping them moist, so they have a longer shelf life than just individual slices of cake. I kept things simple and just went with chocolate and vanilla, but the buttercream can be flavored with any extract, so you can make these chocolate/lemon cakes, chocolate/almond, chocolate/coconut….you get the idea. Customize them to your own tastes!
And of course, the chocolate cake can also be switched out…but if you're not a chocolate fan, I'm not sure that you can be my valentine.

This recipe makes 8 mini cakes, but each cake is sizable enough that I think you could easily split them and not have anyone go hungry. You'll also have a lot of cake + frosting scraps left after assembling the cakes, so save those and make cake truffles out of them! Or just eat them over the sink like an animal…not like I'd know anything about that. (Imagine the monkey covering eyes emoji here)

Enjoy! And tell me—what emoji would best describe you? I want to say mine's a friendly, smiling emoji, but if we're being honest, it's probably the sassy emoji rolling its eyes. I should probably work on my attitude. Kissy face emojis to you all!
💓More Valentine's Day Recipes
Don't miss the step-by-step tutorial showing how to make Emoji Cakes – check out the web story here!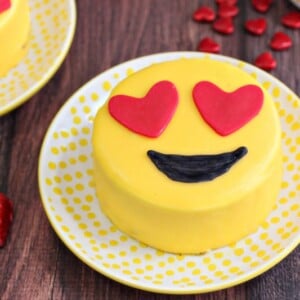 Emoji Mini Cakes
These adorable Mini Emoji Cakes are made with chocolate cake, buttercream, and lots of sass. Recreate your favorite emoji expressions in mini cake form!
Ingredients
For the buttercream:
4

oz

pasteurized liquid egg whites

,

(1/2 cup)

1

lb

powdered sugar

,

(4 cups)

¼

tsp

salt

1

lb

unsalted butter

1 ½

TBSP

vanilla extract
Instructions
To Make the Cake:
Line a half sheet pan (13×18") with parchment or foil, and spray it with nonstick cooking spray. Preheat the oven to 350 F.

Add the butter and both sugars to the bowl of a large stand mixer fitted with a paddle attachment. Beat them together on medium-high speed, until light and fluffy, about 5 minutes. Add the eggs one at a time, beating well after each addition. Add the vanilla extract and mix it in.

In a different bowl, sift together the flour, cocoa powder, baking soda, and salt. With the mixer running on low, add a quarter of the sifted flour mixture. When the flour streaks have almost all disappeared, add a third of the buttermilk to the mixing bowl. When that's incorporated, continue to add the drys and wets in an alternating pattern, ending with the dry ingredients.

When the dry ingredients are nearly incorporated, stop the mixer. Scrape down the bottom and sides of the bowl with a rubber spatula, and finish mixing the cake by hand. Pour the batter into the prepared pan and smooth it into an even layer. Bake the cake for 15 minutes, until a toothpick inserted into the center comes out with just a few moist crumbs attached. Cool the cake completely before using.
To Make the Buttercream:
Combine the whites, powdered sugar, and salt in the bowl of a large stand mixer fitted with a paddle attachment. Mix everything together on low speed, until the sugar is moistened and no dry patches remain. Turn off the mixer, scrape down the sides and bottom of the bowl with a spatula, then turn the mixer to medium speed. Beat on medium for 5 minutes.

After 5 minutes, turn the mixer to medium-low and start adding the softened room temperature butter, 1-2 tablespoons at a time. Once all of the butter is incorporated, add the vanilla extract and mix it in. Stop the mixer and scrape down the bottom and sides once more. Turn the speed to medium and beat the buttercream for 10 minutes. At the end, you'll have a frosting with a wonderfully light and creamy texture. Add the yellow gel food coloring, a few drops at a time, until you get a bold yellow color you like.
To Assemble:
Cut the cooled cake in half widthwise, and transfer one half to a sturdy cake cardboard or cutting board. Spread a layer of frosting about ½-inch thick on the cake, and top with the second half of the cake. Refrigerate the cake for about an hour to firm up the frosting and make it easier to get clean cuts.

Use a 3-inch circular cutter to cut 8 circles out of the cake—you'll need to space them closely together to get them all to fit. Use a paring knife to cut all the way down around the cutter if you have trouble getting it through the thickness of the cake.

Place each cake on a little cardboard circle, to make it easier to transfer, and spread a thin layer of frosting on the outside of each cake. This traps the crumbs and prevents them from showing through the yellow glaze. Refrigerate the cakes briefly to firm up the frosting while you prepare the hearts and glaze.

Dust a work surface with a thin layer of powdered sugar and roll the fondant to less than 1/8-inch thick. Use a small heart cutter to cut hearts out of the fondant—you'll need 2 hearts per cake if you want to make heart-eye emojis, and 1 heart/cake if you want to make the kissy face emoji.

Combine the yellow candy coating and the cream in a bowl, and microwave for 1 minute. Whisk, and continue to stir and microwave in short increments until the coating is completely melted and smooth. At first it will be very thin, so let it cool at room temperature for 15-20 minutes, until it has thickened a bit. It should still flow like maple syrup—don't wait until it's too thick to be fluid. If it's gotten too thick, reheat it in 5-second increments and whisk until it's fluid again.

Cover your work surface with waxed paper or parchment, place a wire rack on the paper, and put the frosted cakes on the wire rack. Pour the glaze over the cakes. Pour it right in the center so that it flows down and covers the sides. Touch up any bald spots with a spatula, and let them sit at room temperature until the yellow coating is set.

Melt the black candy coating in the microwave, and transfer it to a piping bag or paper cone. Pipe a dab of coating on the back of a fondant heart to affix it to the cake, and decorate the top with the emoji design of your choice.
Video
Recipe Notes
The yellow glaze recipe will make more than you need for just covering the mini cakes. I find it's easiest to work with a surplus of glaze, so you don't have to worry about running out and scraping the extra off the work surface. The extra can be stored in the refrigerator for up to 2 weeks and used for another project.
Measuring Tips
Our recipes are developed using weight measurements, and we highly recommend using a kitchen scale for baking whenever possible. However, if you prefer to use cups, volume measurements are provided as well. PLEASE NOTE: the adage "8 oz = 1 cup" is NOT true when speaking about weight, so don't be concerned if the measurements don't fit this formula.
Want to learn more about baking measurements and conversion?
Nutrition
Calories:
570.8
kcal
|
Carbohydrates:
57.56
g
|
Protein:
3.37
g
|
Fat:
37.11
g
|
Saturated Fat:
23.19
g
|
Cholesterol:
121.89
mg
|
Sodium:
328.57
mg
|
Potassium:
80.59
mg
|
Fiber:
0.37
g
|
Sugar:
46.07
g
|
Vitamin A:
1202.9
IU
|
Vitamin C:
0.07
mg
|
Calcium:
53.56
mg
|
Iron:
0.82
mg
Tried this recipe?
Snap a pic and hashtag it #SugarHero. We love to see your creations on our Instagram @elabau.