This post may contain affiliate links. As an Amazon Associate I earn from qualifying purchases. Please see my disclosure policy for more information.
This Chocolate-Hazelnut Mousse Trifle is made with homemade hazelnut butter! Cubed cake is layered with hazelnut mousse, chopped hazelnuts, and a whipped chocolate ganache that adds an even more intense chocolate flavor.
After the sock monkey cake I made last week, I had mucho chocolate cake left over in the form of cake tops and excess batter. I follow the "better safe than safe-ish" rule of cake making, so if a recipe calls for 3 pounds of batter, you can bet I'll make 4 pounds or more, just to be safe.
This always seems like a good idea, until I remember that I'm apparently a child of the Great Depression who can't throw anything away, and thus I find myself in front of the refrigerator at odd hours, gnawing on refrigerated cake scraps clutched between my hands like a sea otter.
There is no dignity in that kind of life, my friends.
So this time, instead of just pounding back the cake straight, no chaser, I used the leftover cake scraps to make this Chocolate-Hazelnut Mousse Trifle. The idea was that we'd give away the trifle and thus eat less cake ourselves, but we both loved it so much I'm not sure the plan actually worked. We decimated this trifle through a series of small, strategic forkfuls over the course of a few days…although we did manage to share some with friends! It's the little victories, right?
I've been wanting to make a hazelnut version of this Chocolate-Peanut Butter Pie for awhile now. This trifle is built on a similar concept, and the mousse recipe is closely related to the peanut butter filling. Instead of using peanut butter, though, I made my own hazelnut butter with toasted hazelnuts and hazelnut oil. It's honestly much better than the peanut version, because of the fresh nuts and the loose texture of the nut butter, which makes the mousse lighter and airier.
The cubed cake is layered with hazelnut mousse, chopped hazelnuts, and a whipped chocolate ganache that adds an even more intense chocolate flavor. If that seems like too much chocolate for you, you can use whipped cream instead of the ganache, or omit it entirely and have just cake and mousse layers.
If the directions seem a little loosey-goosey, that's because trifle is by nature incredibly hard to screw up. Truly, all you need to do is toss things together in a bowl. Putting them in discrete layers is a bonus, but it's not required. It all looks like a hot, glorious mess once you spoon it out onto serving plates anyhow, so I recommend not worrying too much about the process and just enjoying the ride. If you find yourself overthinking anything, keep calm, have a spoonful of mousse, and carry on.
I've provided a recipe for chocolate cake down below, but you can always use your favorite recipe, a box mix, scraps from another cake project or a pan of brownies instead! The ganache will need to be made at least an hour before you assemble the trifle, so factor that in if you're planning on using it.
Chocolate Cake With Banana and Hazelnut Filling
This Curious George Birthday Party Cake will thrill the little monkeys in your life! It features layers of chocolate cake sandwiched between layers of banana-white chocolate ganache, chocolate mousse filling, and hazelnut frosting.
Get the recipe!
Giant Ferrero Rocher Hazelnut Mousse Cakes
These Giant Ferrero Rocher Hazelnut Mousse Cakes are incredible! The extra-large chocolate shells are studded with hazelnuts and filled with layers of chocolate cake and rich hazelnut mousse.

Get the recipe!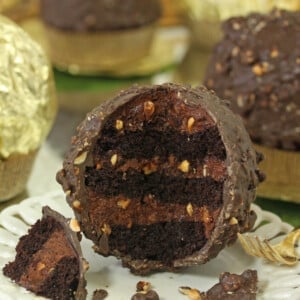 Chocolate-Hazelnut Mousse Trifle
This Chocolate-Hazelnut Mousse Trifle is made with homemade hazelnut butter! Cubed cake is layered with hazelnut mousse, chopped hazelnuts, and a whipped chocolate ganache that adds an even more intense chocolate flavor.
Ingredients
For the Hazelnut Mousse
8

ounces

hazelnuts ,

skinned and toasted

1

tbsp

hazelnut oil

,

or vegetable oil

3/4

cup

heavy cream

1

cup

powdered sugar

1

tsp

vanilla extract

1/2

tsp

salt

8

ounces

mascarpone cheese

,

can substitute cream cheese
To Decorate (optional)
1

cup

heavy cream

1/4

cup

powdered sugar

1/2

tsp

vanilla extract

Additional toasted hazelnuts

,

chocolate-covered nuts, chocolate curls, etc
Instructions
To Make the Cake:
Preheat the oven to 350 degrees Fahrenheit (180 C). Spray a 9×13 pan with nonstick cooking spray.

Sift all dry ingredients into the large bowl of an electric mixer fitted with a paddle attachment. Add the rest of the ingredients and mix on low speed until the drys are moistened. Turn the speed to medium and mix the batter for 2 minutes. Scrape down the bottom and sides of the bowl, and mix for 30 seconds more until your batter is homogenous and smooth. It will be thin.

Pour the cake batter into the prepared pan and bake it at 350 until the top springs back when pressed gently and a toothpick inserted into the center comes out clean, about 25 minutes. Let it cool completely. Once cool, cut the cake into small 1-inch cubes.

To Make the Mousse:

Make sure you start with hazelnuts that have their skins removed and that are toasted golden brown—this will ensure your mousse has the best flavor. Place the nuts in the bowl of a food processor and turn the processor on. When they have turned to powder, gradually stream in the hazelnut oil and continue processing the nuts. Stop the processor periodically to scrape down the bottom and sides. Continue to process the nuts until they have turned into a very fluid butter with a smooth texture. Depending on your processor this could take 3-8 minutes. If the nut butter has become warm, let it cool to room temperature.

Whip the heavy cream until stiff peaks form, then transfer it from the mixing bowl to another bowl. In the same mixing bowl, combine the hazelnut butter and the powdered sugar and mix on medium speed until well-incorporated. (It might be quite stiff.) Add the vanilla extract, salt, and mascarpone cheese. Beat on medium speed until everything is well-combined. Mascarpone breaks easily, so don't overwhip the mousse or leave the mixer running unattended.

Fold in 1/3 of the whipped cream to lighten the hazelnut mixture, then add the rest and gently fold everything together.

To Make the Whipped Ganache:

Place the chopped chocolate in a medium bowl, and pour the heavy cream into a small saucepan. Heat the cream until it comes to a simmer and bubbles appear around the edges. Pour the hot cream into the chopped chocolate and let it sit and soften the chocolate for one minute.

Whisk the cream and chocolate together until the mixture is smooth and shiny. Press a layer of cling wrap on top of the chocolate. If you have the time, leave the ganache at room temperature for an hour or two to cool down and thicken. If not, speed up the process by putting it in the refrigerator for 30-45 minutes, until it is the texture of peanut butter.

Once cooled, whip it in a mixer using a whisk attachment until it is lightened and thickened, like frosting.

To Assemble & Decorate the Trifle:

Whip the 1 cup of heavy cream with the powdered sugar and vanilla until stiff peaks form.

Scatter a layer of cake cubes in the bottom of a large glass bowl. Spoon half of the hazelnut mousse on top and spread it evenly across the cake. Pour half of the whipped ganache on top of that, and spread it out, then top it with a layer of toasted hazelnuts. Repeat the layers, adding cake, hazelnut mousse, whipped ganache, and chopped hazelnuts. Finish with a layer of cake, then top the cake with the whipped cream. You can either spread it on, or put it in a pastry bag and pipe rosettes or swirls on top.

Decorate the top of the trifle with additional hazelnuts, chocolate-covered nuts, and chocolate curls.
MEASURING TIPS
Our recipes are developed using weight measurements, and we highly recommend using a kitchen scale for baking whenever possible. However, if you prefer to use cups, volume measurements are provided as well. PLEASE NOTE: the adage "8 oz = 1 cup" is NOT true when speaking about weight, so don't be concerned if the measurements don't fit this formula.
Click here to learn more about baking measurements and conversion.
Nutrition
Calories:
543
kcal
|
Carbohydrates:
45
g
|
Protein:
5
g
|
Fat:
38
g
|
Saturated Fat:
21
g
|
Cholesterol:
92
mg
|
Sodium:
501
mg
|
Potassium:
226
mg
|
Fiber:
2
g
|
Sugar:
31
g
|
Vitamin A:
855
IU
|
Vitamin C:
0.2
mg
|
Calcium:
92
mg
|
Iron:
1.8
mg
Share by Email
Share on Facebook
Share on Pinterest