These Black Forest Mini Cakes are covered with a full layer of chocolate curls, then topped with a whipped cream rosette and a shiny fresh cherry. Elegant, gorgeous, and completely irresistible!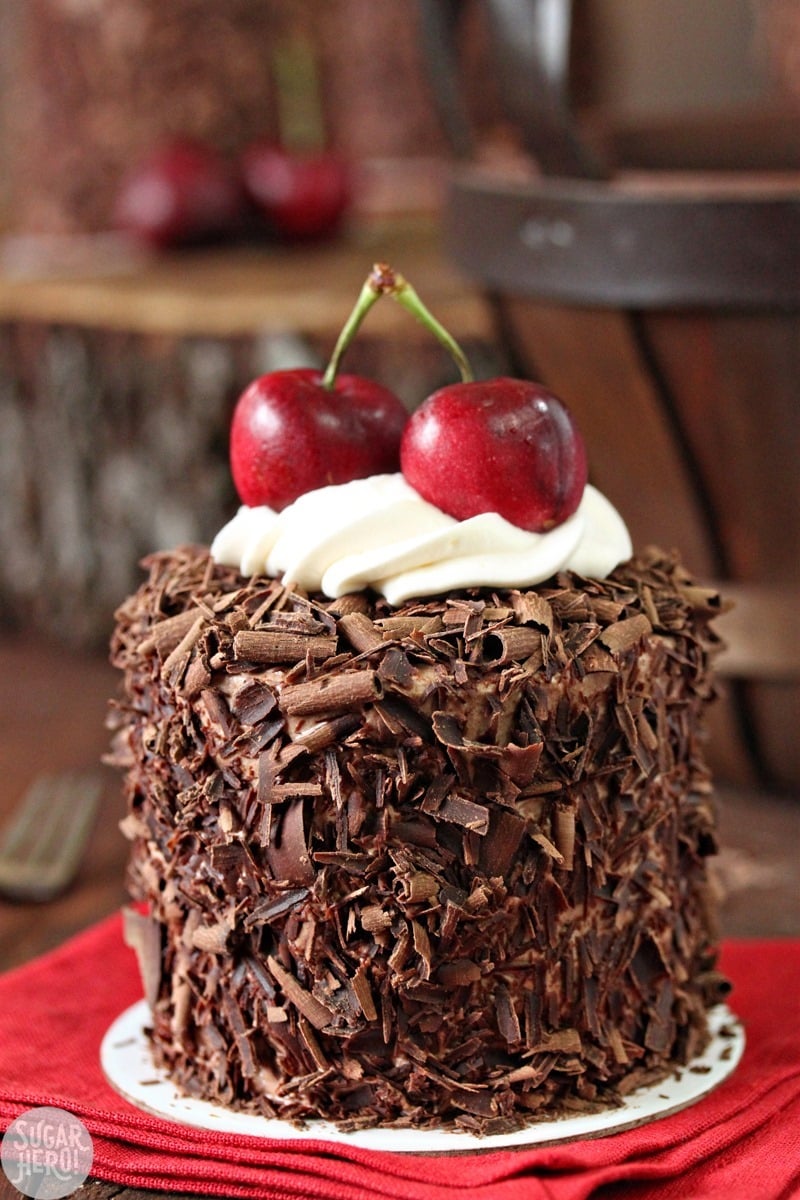 It's time to come clean about some big life changes happening behind the SugarHero scenes. If you follow me on Instagram, then you already know that next month, my family and I will be moving to Utah.
*pauses for dramatic effect*
*wipes single tear from eye*
*takes bracing bite of chocolate*
There's a long background to this move, but the short version is that my husband Jason got a great job offer at a wonderful school in Sandy, so come August, this California girl will be packing up her many (many) kitchen gadgets and trading the ocean for mountain views.
To say I have mixed feelings is an understatement. I'm so excited for Jason to be able to work at a job he loves, and in many ways, I think this move will be good for our family. It will be nice to live somewhere where we can afford a house without first acquiring and then killing off a rich uncle. I'm excited to find out if I like skiing. (Can you believe I've never been?) And we'll be much closer to family, which is something I've missed dearly.
However, California has been my home all my life, and we've lived in LA for our whole marriage. It's where we grew into each other, and it's been the backdrop for all of our adventures and friendships and date nights. From paddleboarding in the ocean to long training runs in Griffith Park to finding the best fusion burritos in Silver Lake, we've made this city our home, and I already miss it terribly. I've even been getting nostalgic about all the gross tourist traps and rage-inducing traffic. (Oh, 405/101 interchange, I think I'll miss you most of all!)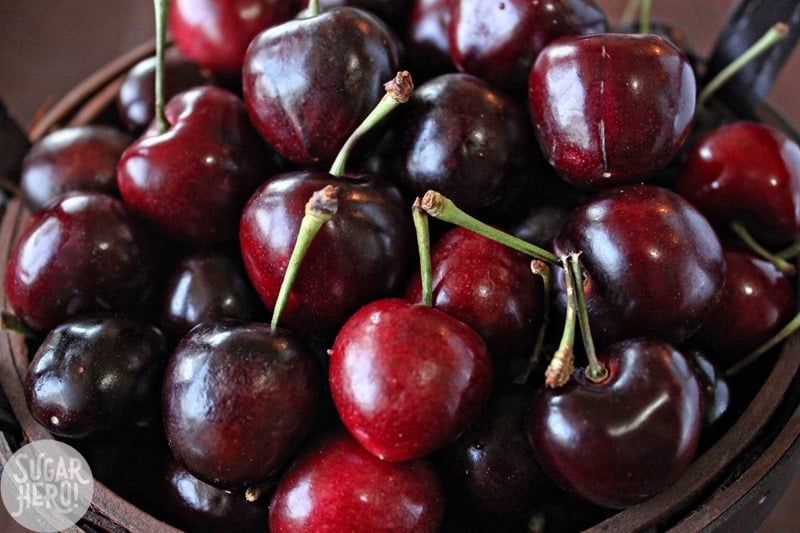 Last month we drove from LA up to San Francisco for a friend's wedding. This is a drive I did dozens of times in college, driving from school back up to my parent's house. Back then, it was just a matter of getting from point A to point B, a few boring hours in the car, listening to music to stay awake and trying not to breathe in the cow smell of Highway 5. This time, though, it was tinged with nostalgia as I realized that it might be my last time driving through the Grapevine, my last time seeing the San Juan Reservoir, my last time smelling those stinky cows. (I never knew I would feel so strongly about the stench of manure.)
As much as I'd like to talk on and on about cow dung on my dessert blog, the point I'm getting at is that on this last road trip, we passed lots of roadside farm stands selling fresh berries, peaches, and cherries. Whenever we got bored, we'd pull over, hop out of the car, and sample some fruit, warm and sticky from the sun. We bought flats of berries and pounds and pounds of ripe cherries.
Once we got home, I knew that I had to create a dessert with some of these cherries, a sort of farewell-to-California last hurrah. (And yes, I know they have cherries in Utah…but let a girl mope awhile, would ya?) I came up with these Black Forest Mini Cakes—three layers of moist chocolate cake, brushed with kirsch syrup and filled with chopped cherries and chocolate pastry cream.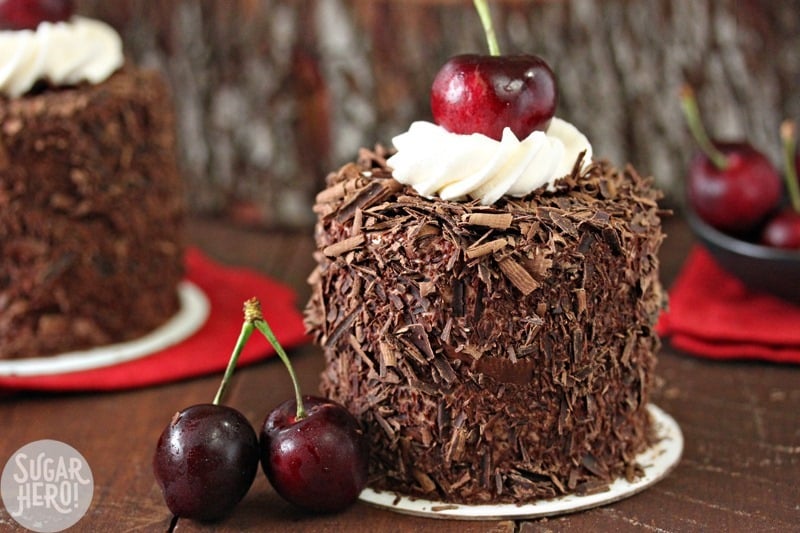 This isn't my first time at the mini cake rodeo. (Exhibits one, two, three, and four.) They're a little more work than making one big cake, but for presentation, the sight of a tiny layer cake, a complete single serving dressed to impress, just can't be beat.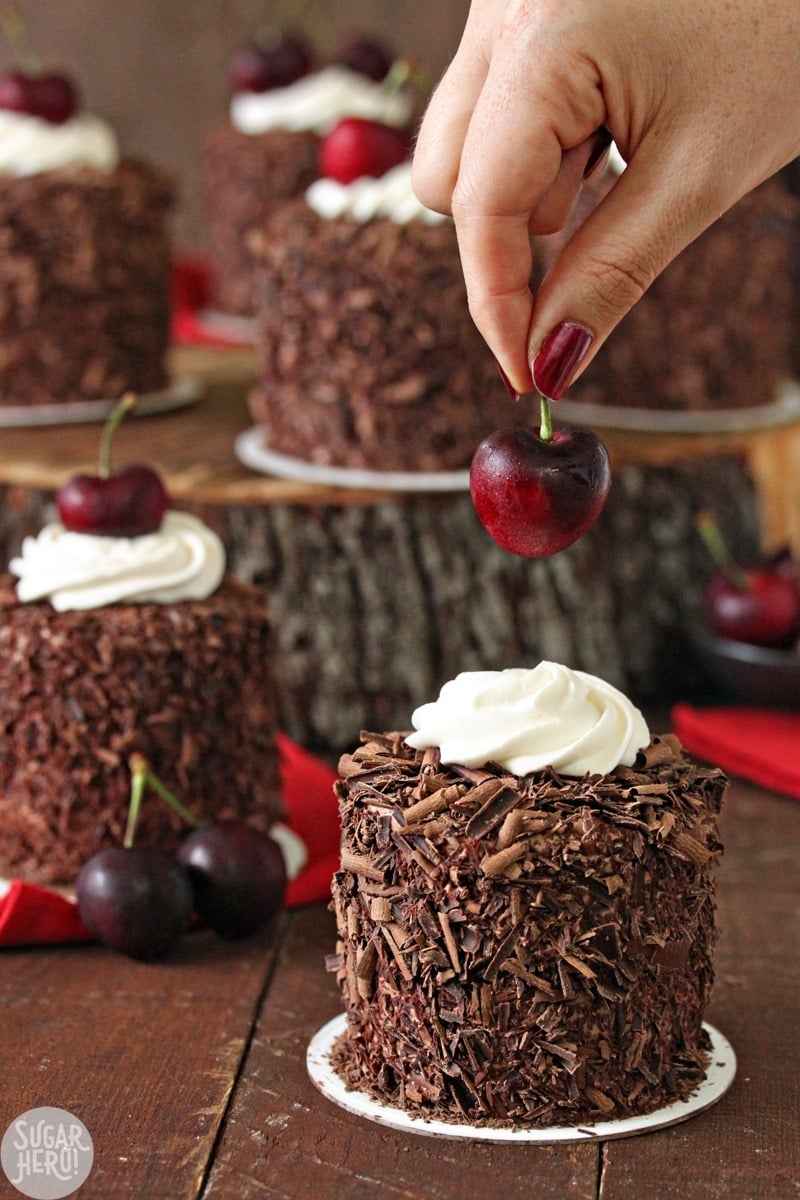 Each cake was covered with a full layer of chocolate curls that I made by hand, using a big block of chocolate and a vegetable peeler. Topped with a whipped cream rosette and a shiny fresh cherry, they were elegant, gorgeous, and completely irresistible.
If you don't have fresh cherries, you can swap in raspberries, strawberries, or blackberries—any fresh berry-ish fruit should work! The pastry cream keeps them really moist, so they can last for days in the fridge and still taste fresh when you're ready to serve them.
Although we're still so sad to say goodbye to our home here, these mini cakes are helping to make the transition a little…wait for it…sweeter. Ba-dum-ching!
🍒More Cherry Desserts to Try!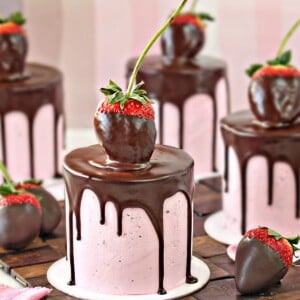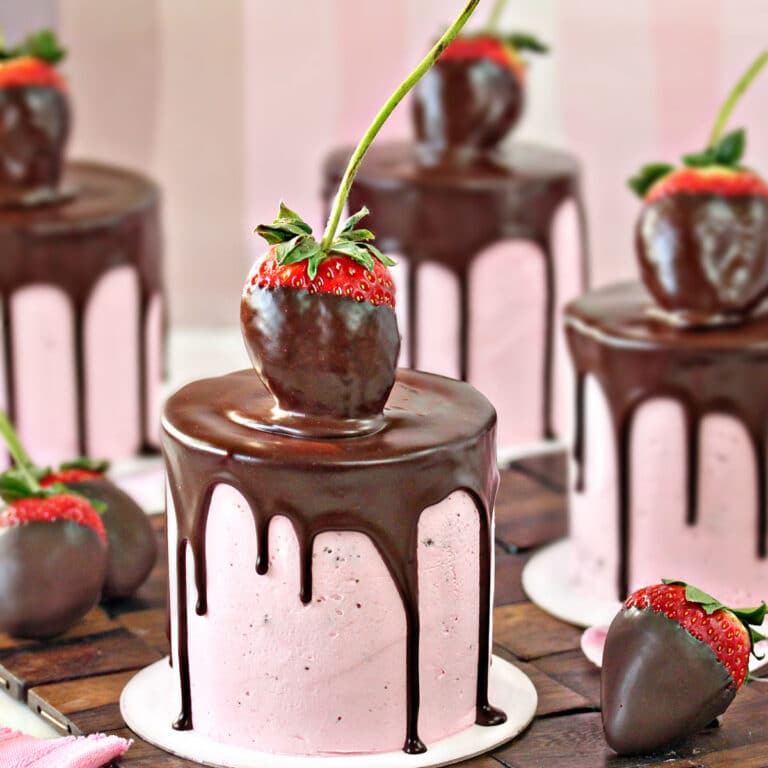 Chocolate-Covered Strawberry Mini Cakes
These Chocolate-Covered Strawberry Mini Cakes are made with rich chocolate cake, strawberry buttercream, glossy chocolate ganache, and fresh chocolate-dipped strawberries on top. They're beautiful, romantic, and perfect for any special occasion.
View Recipe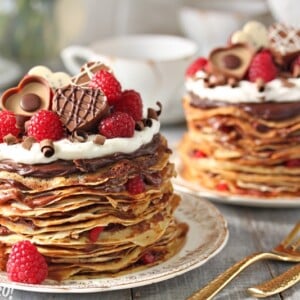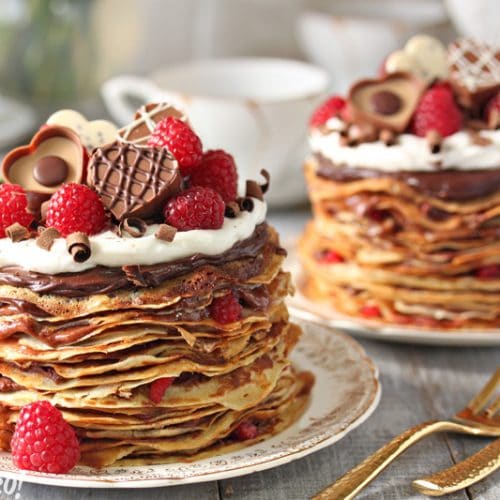 Chocolate Rasperry Mini Crepe Cakes
These Chocolate Raspberry Mini Crepe Cakes are so beautiful and elegant! Miniature crepes are layered with chocolate and fresh raspberries to make a unique and delicious dessert.
View Recipe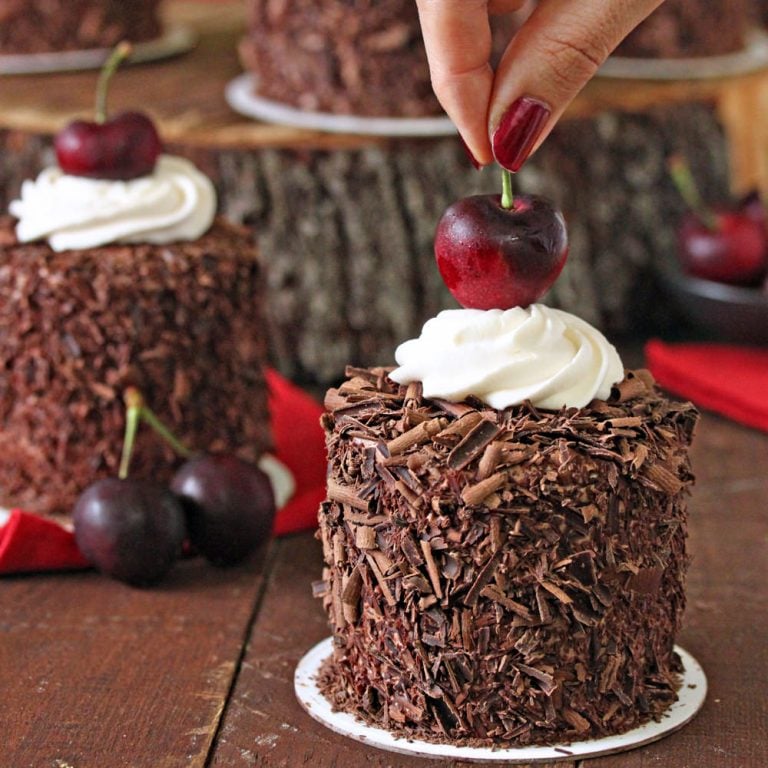 Black Forest Mini Cakes
These Black Forest Mini Cakes are covered with a full layer of chocolate curls, then topped with a whipped cream rosette and a shiny fresh cherry. Elegant, gorgeous, and completely irresistible!
Ingredients
Instructions
To Make the Chocolate Cake:
Line a 13×18-inch baking sheet with parchment and spray it with nonstick cooking spray. Preheat the oven to 350 F.

Add the butter and both sugars to the bowl of a large stand mixer fitted with a paddle attachment. Beat them together on medium-high speed, until light and fluffy, about 5 minutes. Add the eggs one at a time, beating well after each addition. Add the vanilla extract and mix it in.

In a separate bowl, whisk together the buttermilk, sour cream, and water (or coffee, if using). In a different bowl, sift together the flour, cocoa powder, baking soda, and salt. With the mixer running on low, add a quarter of the sifted flour mixture. When the flour streaks have almost all disappeared, add a third of the liquid to the mixing bowl. When that's incorporated, continue to add the drys and wets in an alternating pattern, ending with the dry ingredients.

When the dry ingredients are nearly incorporated, stop the mixer. Scrape down the bottom and sides of the bowl with a rubber spatula, and finish mixing the cake by hand. Pour the batter into the prepared baking sheet, and spread it into a thin layer. Bake the cake for 15-18 minutes, until a toothpick inserted into the center comes out with just a few moist crumbs attached. Cool the cake completely before using.

The cake can be made several days in advance and kept, well-wrapped and refrigerated or frozen, until ready to use.
To Make the Kirsch Syrup:
Combine the sugar and water in a small saucepan over medium heat. Stir while the sugar dissolves. Bring the liquid to a boil, then remove it from the heat. Let it cool to room temperature, then stir in the kirsch or cherry extract. Syrup can be made up to a week in advance and stored in the refrigerator until ready to use.
To Make the Chocolate Pastry Cream:
In a medium bowl, whisk together the yolks, cornstarch, and 1/4 cup of sugar. In a medium saucepan, combine the milk, remaining 1/4 cup sugar, and salt. Heat the milk over a medium burner until it just starts to boil. Start whisking the egg mixture, and while you're whisking, drizzle a little hot milk into the eggs. Continue to whisk and drizzle until you've added about half of the milk. Switch to whisking them milk, then pour the eggs into the milk mixture while whisking.

Return the pan to the burner and heat the cream, whisking constantly. Use a rubber spatula to periodically scrape the bottom of the pan so it doesn't scorch. Cook until the pastry cream thickens and starts a very gentle bubbling, then cook for about 2 minutes longer. Remove the pan from the heat and add the melted chocolate, whisking it until it's incorporated and the mixture is smooth. Finally, add the vanilla extract and butter and whisk them in.

Pour the cream through a wire mesh strainer into a bowl. It will be somewhat thick, so use a spatula to help work it through, straining out any clumps of egg that have developed. Press a layer of cling wrap directly on top of the pastry cream, and refrigerate until cold and firm, at least 2 hours.
To Assemble:
First, make the chocolate shavings for the decorations. Hold the chocolate block in one hand, and scrape a vegetable peeler down the side with the other hand to make thin chocolate curls. Repeat until you've turned the whole chocolate block into shavings.

Combine the cream with the powdered sugar and vanilla, and whip on medium-high speed until it holds firm peaks. Set aside 1/2 cup of the cream in the refrigerator, and gently fold the rest of the whipped cream into the chocolate pastry cream.

Use a 3-inch cutter to cut 21 rounds out of the sheet cake. In order to get them all to fit, some of them may not be perfectly round—that's okay, it will all be covered up eventually! Cut 7 small circles of cardboard to the same size as the 3-inch cutter.

Place a cake round on a cardboard circle. Brush the top with some kirsch syrup. Spread a thin layer of pastry cream on top of the cake, and sprinkle the top with a layer of chopped cherries. Add a second cake layer, and repeat the process of Kirsch syrup, pastry cream, and cherries. Add a third cake layer on top, and spread a very thin layer of pastry cream on the sides and top of the cake, to lock the crumbs in. Refrigerate the cake while you assemble the rest of them in the same way. Let the assembled cakes chill for 20-30 minutes, to get them a little firmer before finishing them.

Once the mini cakes have firmed up a bit, add a second, thicker layer of chocolate pastry cream on the sides and top of the cake. Press chocolate shavings all over the top and sides. One all of the cakes are assembled, pipe a swirl of whipped cream on top of each, and finish with a fresh cherry on top. If not serving immediately, keep the cakes in the refrigerator until shortly before serving. They do keep well, so they can be made a day or two in advance.
Measuring Tips
Our recipes are developed using weight measurements, and we highly recommend using a kitchen scale for baking whenever possible. However, if you prefer to use cups, volume measurements are provided as well. PLEASE NOTE: the adage "8 oz = 1 cup" is NOT true when speaking about weight, so don't be concerned if the measurements don't fit this formula.
Want to learn more about baking measurements and conversion?
Nutrition
Serving:
14
g
|
Calories:
665
kcal
|
Carbohydrates:
75
g
|
Protein:
8
g
|
Fat:
38
g
|
Saturated Fat:
22
g
|
Cholesterol:
155
mg
|
Sodium:
372
mg
|
Potassium:
435
mg
|
Fiber:
5
g
|
Sugar:
52
g
|
Vitamin A:
995
IU
|
Vitamin C:
1.3
mg
|
Calcium:
135
mg
|
Iron:
3.8
mg
Tried this recipe?
Snap a pic and hashtag it #SugarHero. We love to see your creations on our Instagram @elabau.