This Candy Cane Mousse Cake is a knockout Christmas dessert! It has alternating layers of moist chocolate cake and candy cane mousse, covered with a shiny chocolate glaze and a spectacular candy cane topping.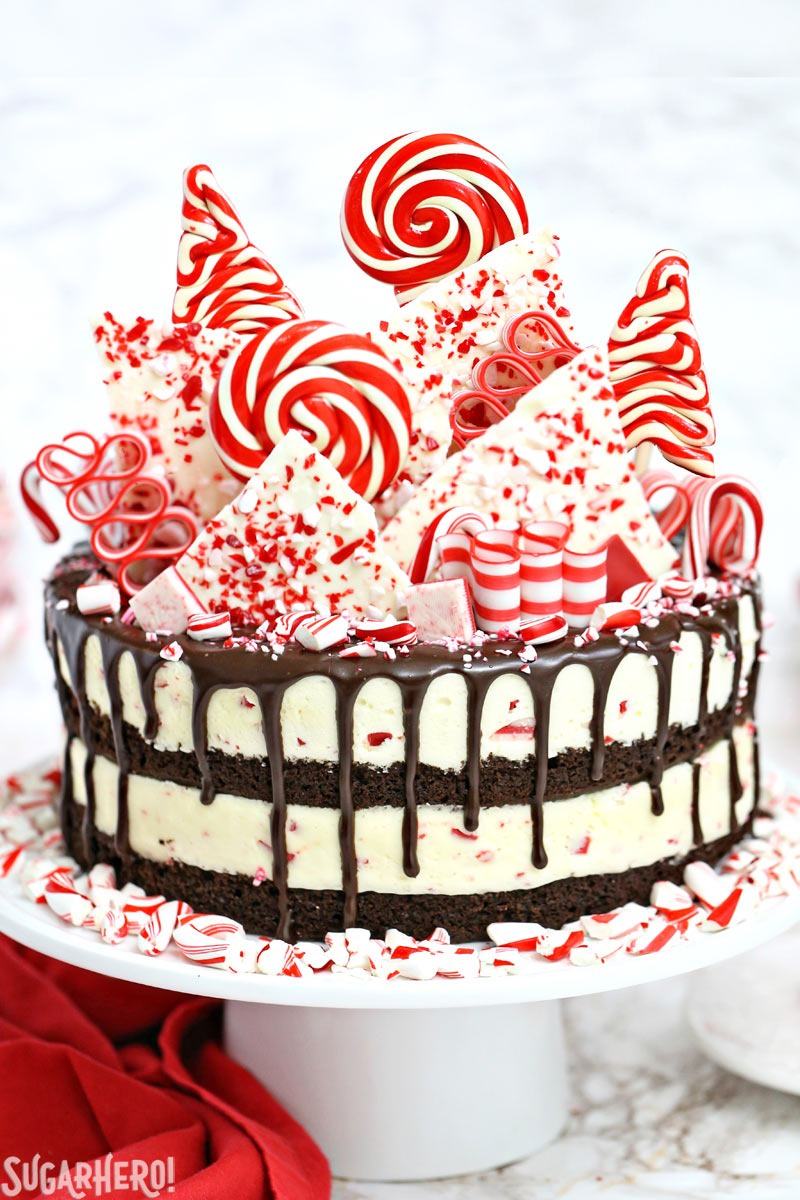 My Very Favorite Christmas Cake
At the risk of bragging, this is one of the best Christmas cakes I've ever made.
To say I am obsessed with this Candy Cane Mousse Cake is an understatement. I've made it four times in the last two weeks, and I'm not tired of it yet! (Don't worry—in addition to gorging on it ourselves, we've also shared it with family, coworkers, and neighbors.)
[lwptoc depth="2″ skipHeadingLevel="h3,h4,h5,h6″ skipHeadingText="✨ JOIN THE PARTY! ✨|FREE HALLOWEEN DESSERTS E-BOOK!"]
This cake just hits all of my pleasure spots. Rich, dark chocolate cake? Check! Light and fluffy mousse? Check! Minty flavor that's refreshing but not too strong? Checkity check check! Subtle, understated decorations? Che—wait, no. You didn't forget the SugarHero motto, did you? "Go big, and then go bigger." That's the SugarHero way!
So let's talk about what's really going on with this beast of a candy cane cake.
This is another cake based on my popular Chocolate Raspberry Mousse Cake. (I also have a Pumpkin Chocolate Mousse Cake, if you want to see an autumn-themed version as well!) That cake is one of my very favorites, and I've decided I'm not going to be happy until I've tried new variations of it for every season and every holiday. Repeat with me: Go big, and then go bigger! Should I embroider that on a throw pillow for my house? Asking for a friend.
If you love peppermint, you will also love my Candy Cane Cheesecake, Chocolate Candy Cane Cake, Candy Cane Cake, Peppermint Lava Cakes, and Peppermint Mocha Mousse Cake!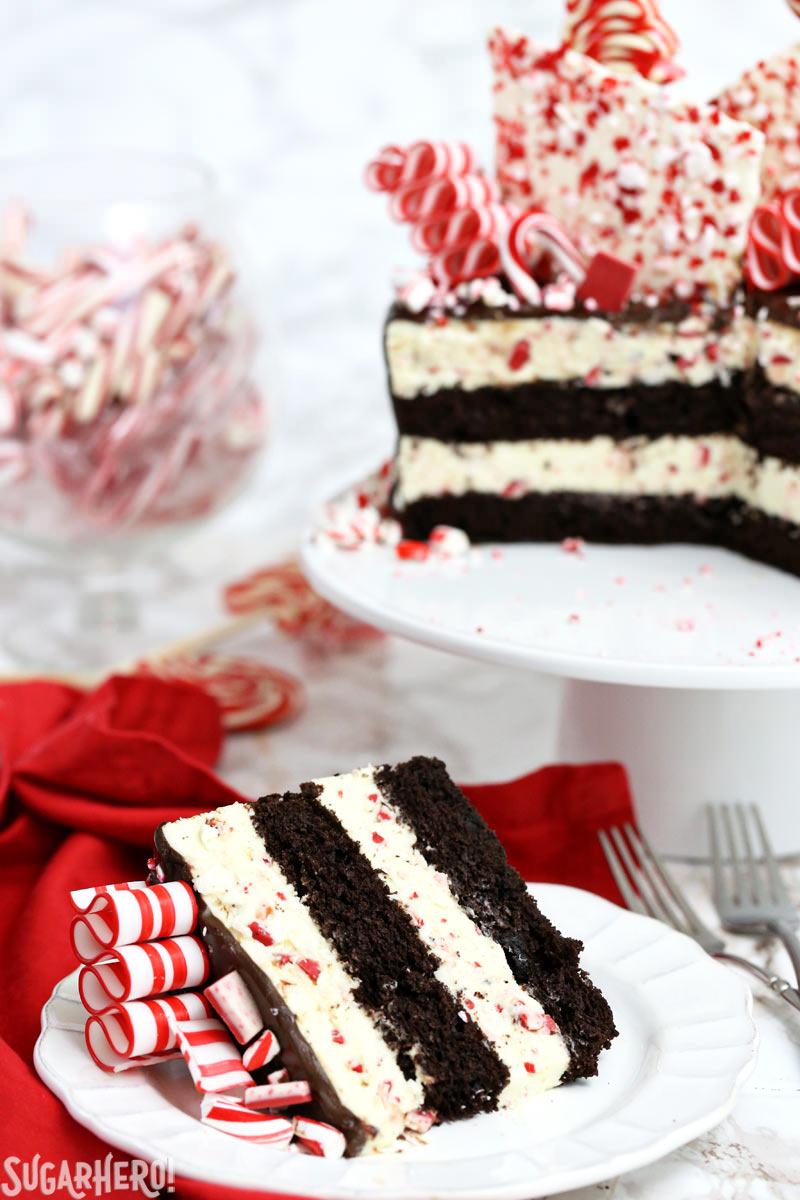 This cake has two layers of my moist, flavorful chocolate cake, and two layers of light, fluffy, minty candy cane mousse. It's white chocolate-based, and it gets its flavor from a bit of mint extract, as well as a bunch of Andes peppermint crunch chips.
I recommend Andes chips instead of candy cane bits, because candy cane bits get soft and sticky very quickly. They wouldn't stand a chance when mixed into the mousse! If you can't find the peppermint crunch chips, any pieces of chocolate-mint candy will do. As long as you avoid hard mint candies in the mousse, you'll be fine!
So let's talk about the decorations. After the mousse cake was set, I added a top layer of shiny chocolate ganache dripping down the sides. And on top? A winter candy wonderland, of course!
I used every red and white candy cane treat I could find! Homemade peppermint bark, lollipops, ribbon candy, mini candy canes, and crushed candy cane pieces all got scattered on the top in a wild display of sugar and stripes. Of course this is optional, and you can keep things as simple as leaving the chocolate ganache plain, or go as crazy as I did and add a whole candy cane forest.
A quick word of warning: everything I said about candy canes getting sticky still applies to the toppings, so I would recommend not adding all of these decorations until shortly before serving. (I'd give them an hour or two in advance, tops.) You can make the cake and ganache in advance, but as soon as you add that sugar candy, you'll want to serve the cake soon.
This truly is one of my very favorite holiday desserts, and I hope you'll give it a try!
If you make this recipe, please let me know! Leave a
rating on this recipe below and leave a comment, take a photo and tag me on Instagram @elabau or use #sugarhero.