This Cream Cheese Cake with Red Velvet Fudge Frosting is an inside-out red velvet cake. The cream cheese bundt cake has a dense, moist texture and tangy flavor that's magnified by soft, fudgy frosting.
Fun fact: if you look up "showstoppers" on Google images, you get a lot of pictures of girls in lingerie, marquee lights, Barry Manilow references (??), and at least one My Little Pony picture. What's missing from these results?
No, not more My Little Pony Pictures. This gorgeous showstopper of a cake:
Okay, so you may not quite know what you're looking at yet. Please don't be scared of the shiny, shiny red frosting. That's just a little something I like to call Red Velvet Fudge Frosting, and it's enveloping a moist cream cheese pound cake with a cream cheese swirl. It's like an inside-out red velvet cake, and it is so delicious and so fun.
Red Velvet cake has been A Thing for long enough—I thought it was time to turn the tables and experience the cake in an entirely new way! The cream cheese bundt cake has a dense, moist texture and a tangy cream cheese flavor that's magnified by a swirl of cheesecake through the center. I actually thought the cream cheese swirl was a little much, and I would have preferred the cake without it, but Jason loved it and begged for it to stay in the recipe—so I'm including it as an optional addition! Add or omit it as your cream cheese preferences dictate.
And the frosting. The frosting! It was inspired by the salted caramel frosting from this cake. I just loved the candy-like texture of that frosting and knew I wanted to play around with it and try new variations. It's made with powdered buttermilk and a bit of cocoa, so it does taste very much like red velvet cake.
The soft, fudgy texture is a perfect match for the pound cake, and I found that when combined, they made this cake one of those rare baked specimens that actually tastes better as it ages. Really. It's good the first day, but let it sit overnight, so that the frosting and cake can meld into each other and soften each other up, and oh mama. You have one sexy dessert right there.
The bright red presentation makes this a perfect celebration cake. Fill the center with poinsettias and you have a great Christmas cake. Add some heart-shaped sprinkles and you're set for Valentine's Day. And hey, isn't there some red, white and blue holiday coming up? This would be a great addition to a Fourth of July party table too! Or you can declare any day National I Like to Eat Cake Day, and make it whenever the heck you want. I've been known to celebrate that day myself.
Orange Bundt Cake
If you like big bundts, you'll love this Orange Bundt Cake! This classic homemade bundt cake has a tender texture, a bright orange flavor, and is drenched in a tangy orange glaze.
View Recipe
Roasted Banana Bundt Cake
This Roasted Banana Bundt Cake is a fun twist on a traditional banana bundt cake! Pieces of Banana are roasted with butter and brown sugar, then the golden bruleed bananas and their syrupy juices are added to the cake.
View Recipe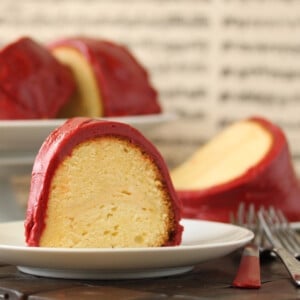 Cream Cheese Cake with Red Velvet Fudge Frosting
This Cream Cheese Cake with Red Velvet Fudge Frosting is an inside-out red velvet cake. The cream cheese bundt cake has a dense, moist texture and tangy flavor that's magnified by soft, fudgy frosting.
Ingredients
For the Cream Cheese Pound Cake:
8

oz

unsalted butter

at room temperature

8

oz

cream cheese

at room temperature

1 3/4

cups

granulated sugar

4

large eggs

at room temperature

1

tbsp

vanilla extract

2 1/4

cups

all purpose flour

1 1/2

tsp

baking powder

1/2

tsp

salt

10-12

cup

Bundt pan
For the Optional Cream Cheese Swirl:
For the Red Velvet Fudge Frosting:
Instructions
To Make the Cream Cheese Pound Cake:
Preheat the oven to 350 degrees Fahrenheit (176 C). Spray the bundt pan with nonstick cooking spray, and dust the inside lightly with flour. Knock excess flour out.

If you're going to be adding a cream cheese swirl, make that first. Combine the cream cheese and sugar in the bowl of a stand mixer fitted with a paddle attachment, and beat on medium until creamy. Add the vanilla and egg—it might separate at first, but beat gently until incorporated. Transfer the mixture to a small bowl nearby, and make the cake batter—no need to clean the mixing bowl first!

Combine the room temperature butter, cream cheese, and sugar in the large bowl of a stand mixer. Mix on medium speed until light and fluffy, about 3-4 minutes. Add the eggs one at a time, mixing well after each addition. Add the vanilla and mix it in. The batter might appear a little broken at this point—that's okay.

In a small bowl, whisk together the flour, baking powder, and salt. Add the dry ingredients to the wet ingredient and mix just until they're combined. Finish stirring everything together with a spatula, scraping down the bottom and sides of the bowl.

Scrape about half of the batter into the prepared bundt pan. Spread it into an even layer, and spread a little of the batter up the sides of the pan to form a little indent in the middle. Pour the cream cheese swirl into the indent, trying to keep it from touching the edges of the pan. Pour the remaining cake batter on top, and spread it into an even layer.

Bake the bundt cake at 350 F (176 C) for 60-70 minutes, or until the top springs back when lightly touched and a toothpick inserted into the center comes out clean. If the top of the cake seems to be getting too dark before it's done baking, cover it loosely with foil.

Let the cake cool on a wire rack for 15-20 minutes, then carefully invert it, remove the cake pan, and let it cool completely before frosting.
Frosting and Assembly:
Combine the granulated sugar, water, corn syrup, 6 ounces of butter, and salt in a large saucepan. Place the pan over medium-high heat, and stir until the butter melts and sugar dissolves. Bring the mixture a boil, and insert a candy thermometer. Continue to cook the mixture, stirring occasionally, until it reaches 240 degrees Fahrenheit (115 C).

Once at 240 F, remove the pan from the heat and pour the hot mixture into the bowl of a large stand mixer fitted with a whisk attachment. Whip the mixture on medium speed until the candy has slightly cooled and thickened, about 5 minutes. It might start to look a little grainy; that's okay. While it's mixing, sift together the cocoa powder, dry buttermilk, and 1 cup of powdered sugar.

Add the remaining 3 ounces of butter, the salt, and the vanilla extract, and mix well. Add the powdered sugar mixture in 2 batches, mixing well after each addition. Once all the ingredients are added, add 1/2 teaspoon of red gel food coloring and mix it in. Add more if desired to get your ideal color, then whip the frosting on medium-high speed for about 10 seconds, until it's light and fluffy. It should be fluid but thick, like warm fudge. If it seems too thin, add a little more powdered sugar.

Spread frosting over the outside of the cake, using a spatula to spread it evenly. To get the surface smooth, you can wet your hands with hot water and gently press them on the frosting to smooth it out. Let the cake sit at room temperature until the frosting sets.

This cake keeps very well—as it ages the cake and frosting seem to meld together more, and the frosting helps the cake stay moist for days. If it's well-wrapped, the cake can keep for up to a week at room temperature.
Recipe Notes
This recipe calls for powdered buttermilk, which helps give the frosting the characteristic tang of red velvet cake. It can often be found in the baking aisle of stores like Target, Walmart, and Fresh & Easy, or you can purchase it online. If you can't find powdered buttermilk, you have 2 options. First, you can omit it entirely and replace it with an equal amount of powdered sugar. Your frosting will still have a great texture, but it won't be quite as flavorful. Secondly, you can replace the water in the recipe with liquid buttermilk. In the course of cooking the frosting, the milk proteins will cook as well, giving your frosting a caramel color and flavor. It will still be delicious, but it will be more like a caramel frosting and less like a red velvet flavor.
Measuring Tips
Our recipes are developed using weight measurements, and we highly recommend using a kitchen scale for baking whenever possible. However, if you prefer to use cups, volume measurements are provided as well. PLEASE NOTE: the adage "8 oz = 1 cup" is NOT true when speaking about weight, so don't be concerned if the measurements don't fit this formula.
Want to learn more about baking measurements and conversion?
Nutrition
Calories:
1189
kcal
|
Carbohydrates:
128
g
|
Protein:
12
g
|
Fat:
71
g
|
Saturated Fat:
43
g
|
Cholesterol:
296
mg
|
Sodium:
967
mg
|
Potassium:
343
mg
|
Fiber:
1
g
|
Sugar:
99
g
|
Vitamin A:
2420
IU
|
Vitamin C:
0.2
mg
|
Calcium:
177
mg
|
Iron:
2.6
mg
Tried this recipe?
Snap a pic and hashtag it #SugarHero. We love to see your creations on our Instagram @elabau.