Easter Egg Doughnuts are a fun Easter breakfast recipe! Everyone will love decorating the glazed doughnuts to look like Easter eggs. Fill them with jam, lemon curd, or your favorite cream filling!
By now you might already have OD'd on Cadbury eggs. Or you may be completely sick of looking at cutesy Easter goodies. Or you may be one of those rare organized creatures I have heard so much about—but never encountered in the wild—who is so organized, you already have your Easter feast completely planned out and at least 85% prepared. In which case: move along, there's nothing to see here.
But! If you're still in the mood for something sweet, or if you're looking for juuuuust the right recipe to serve at a Sunday brunch, have I got a doozy for you.
Can I tempt you with homemade Easter egg doughnuts, with a bittersweet chocolate glaze and a filling of homemade lemon curd or raspberry jam? Oh good.
These doughnuts were a labor of love. I have gradually made my peace with the concept of deep-frying, but I'm still pretty new to the world of the fryer, and I'm always a little worried I'm going to end up covered in scalding oil or that my food is going to be a greasy, soggy mess.
Growing up we never deep-fried things at home (although I was no stranger to the fast-food french fry) and it wasn't until a few years ago that I tried it myself, when I made these deep-fried candy bars. Since then I've fried a few more things, including cauliflower (surprisingly awesome!) and Cadbury eggs, which I made just a few weeks ago.
Although I will never buy deep-frying as a healthy cooking method, and I hate the way my house smells like oil the rest of the day, I'm okay with it as an occasional indulgence, and I can't argue with the deliciousness of the results! I mean, baked doughnuts are all well and good, but let's be honest: they're basically muffins with a hole in the middle. If you want to make the genuine article, you have to embrace the bubbling oil. And that's just what I did.
If we're Instagram friends(*) then you know I actually made these doughnuts twice. The first time, I got a little carried away and accidentally made giant doughnut eggs the size of my face. They were fun for novelty value, but they were also kind of absurdly huge and NOT the look I was going for.
So here's a little tip from hard-won experience. The doughnuts will rise after you cut them, and they'll puff up even more once they're fried. So unless you want ridiculous ostrich-sized doughnut eggs, stick with a cutter that's between 2-2.5" long. The eggs will look teensy, but they'll be the perfect 4-bite doughnuts that will make people feel okay about eating 2, 3, or 4 of them in a row.
After they were fried, I filled some with lemon curd and some with homemade raspberry jam, leftover from the Raspberry Kumquat Sugar Cookie Cake. These would also be awesome with passion fruit curd, pastry cream, coconut cream…basically anything light and springy!
Not all of the doughnuts turned out perfectly egg-shaped, so for those that tended on the round side, I took the cheater's way out and decided to top them with sprinkles instead of taking the time to decorate them like Easter eggs. And when I got tired of rolling and cutting egg shapes, what did I do?
Doughnut holes, of course! You can take the scrap dough and cut it into small pieces, then once they're fried immediately toss them in a cinnamon-sugar mixture. Super simple and way too easy to pop in your mouth as you're endlessly piping egg decorations. Not that I know anything about that.
So happy Easter, friends! I hope you all have a sweet day filled with love, family, and maybe a little bit of bubbling oil.
🥚 More Cute Easter Egg Recipes
Chocolate Blackout Doughnuts
These doughnuts are chocolate overload! Chocolate doughnuts, filled with chocolate pastry cream, topped with a chocolate glaze and chocolate sprinkles or chocolate doughnut crumbs.
View Recipe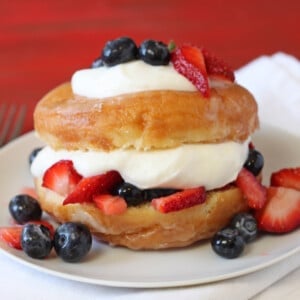 Doughnut Strawberry Shortcakes
These Doughnut Strawberry Shortcakes have a combination of sweetly glazed yeasted doughnuts, juicy berries, and softly whipped cream, pretty much perfect, right? The doughnuts don't have the crunchy exterior of traditional shortcakes, but I actually love that they stay soft and pillowy.
View Recipe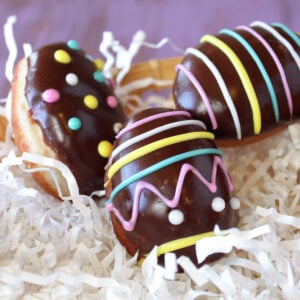 Easter Egg Doughnuts
These Easter Egg Doughnuts were fried, then filled some with lemon curd and some with homemade raspberry jam. These would also be awesome with passion fruit curd, pastry cream, coconut cream…basically anything light and springy!
Ingredients
For the doughnuts:
3/4

cup

whole milk

1

TBSP

shortening

1.5

TBSP

unsalted butter

.75

oz

active dry yeast

(

1 package

)

1/3

cup

warm water

1

large egg

lightly beaten, at room temperature

3

TBSP

granulated sugar

1/2

tsp

salt

1

tsp

ground cinnamon

11.5

oz

all-purpose flour (

about 2 1/2 cups

), plus more for dusting

1

gal

vegetable oil

or peanut oil, for frying

raspberry jam

to fill the doughnuts, optional

pastry cream

to fill the doughnuts, optional

lemon curd

to fill the doughnuts, optional
For the white decorating glaze:
Instructions
To make the doughnuts:
Warm the milk in a small saucepan on the stove just until it start to simmer. Place the shortening and butter in the bowl of a large stand mixer and pour the warm milk over them, letting the milk melt the shortening and butter.

In a small bowl, combine the warm water (you're looking for 95-105 degrees F, so it should be warmer than body temperature) and the packet of yeast, and mix briefly. Let it set for about 5 minutes, so the yeast can bloom.

Once the milk has cooled to lukewarm and the yeast has bloomed, add it to the large mixing bowl that contains the milk and butter/shortening. Then add the beaten egg, granulated sugar, salt, cinnamon, and half of the flour. (This will be 5.75 oz (about 1 ¼ cups). Use the paddle attachment and beat the mixture on medium speed for 5 minutes, until it's very smooth.

Now add the rest of the flour and beat for an additional 2 minutes until thick and smooth. Switch to the dough hook and beat the dough on medium speed for 5 minutes, until the dough forms a soft, smooth ball around the hook and pulls away from the sides of the bowl. If it seems a little sticky while it's mixing, add a touch more flour, but only another tablespoon or two. Let the mixing do most of the work and resist the temptation to add too much flour, or else you will have tough doughnuts. When the dough is smooth, supple, and pulling away from the sides of the bowl, turn off the mixer.

Generously oil a large bowl and turn the doughnut dough into the oiled bowl. Cover with a cloth and set it in a warm place to rise for 1 hour, until doubled in size.

After an hour, dust your work surface with flour, punch down the dough, and turn it out onto your work surface. Roll it into a thin layer less than 1/2 inch thick. Use a small egg-shaped cookie cutter (approximately 2-2.5" long) to cut shapes out of the dough. Place the eggs on a baking sheet covered with parchment and lightly dusted with flour. Once you have cut out all the shapes you can, re-roll the dough and cut out more, until you get about 24 egg shaped doughnuts. (Alternately, you can just cut the leftover dough into small pieces to fry as doughnut holes.)

Cover the sheets of doughnuts with a light cloth and let them rise for 30 minutes, until doubled in size.

Heat the oil in a heavy pot or a deep fryer until it reaches 365 F. You will definitely want to use a deep-fry thermometer to monitor the temperature and make sure that it stays within the range of 360-370 F, so your doughnuts don't cook too quickly or too slowly.

Once the doughnuts have risen and the oil is the right temperature, gently place 3-4 doughnuts at a time in the oil and fry them for 50-60 seconds per side, until they are puffed and golden brown. Once cooked, remove them from the oil using a slotted spoon or frying tool, and place them on a paper-towel lined wire rack to cool. Repeat with the remaining doughnuts. If the oil gets too hot, turn the heat down, and if it gets too cool, pause your frying until it has a chance to heat up again. Let the doughnuts cool at room temperature for 30 minutes before filling them.

To fill the doughnuts, use a dowel at least 1/4 inch wide to poke a hole in one end of the doughnuts, but don't poke all the way through to the other side! Instead, wiggle the dowel around the center of the doughnut to make space for the filling. (Alternately, you can cover the end of a pencil or pen with plastic wrap to make a sanitary dowel substitute. If you have a Bismarck tip, the kind used for filling cupcakes, you can forget the dowel entirely and use that instead.)

Fit a piping bag with a 1/4 inch round tip and fill it with your jam, curd, pastry cream, or other filling of choice. Stick the tip in the hole that you've made and squeeze to fill the doughnuts. Stop squeezing when you start to encounter resistance, and remove the tip. If some filling leaks out, clean off the outside of the doughnuts before glazing and decorating them.
To make the chocolate glaze:
Place the butter, milk, light corn syrup, and vanilla in a medium saucepan over medium heat. Cook the mixture, whisking frequently, until the butter melts and it begins to simmer along the edges.

Remove the pan from the heat and add the chopped chocolate. Whisk it until the chocolate is completely melted, then add the sifted powdered sugar and whisk until mixed in.

Dip the doughnuts in the glaze immediately. If it's a little thick, add room temperature milk, a spoonful at a time, to thin it out. It will thicken as it cools, so you can periodically put it over low heat and whisk it until it loosens up again. If you want to add sprinkles, nuts, or other garnishes, sprinkle them on top while the glaze is still wet. Let the doughnuts sit for about 30 minutes to set the glaze before serving.

Note: The glaze might have small bubbles when you dip the doughnuts. This is normal and they become much less apparent as the glaze sets.
To decorate the doughnuts:
Place the sifted powdered sugar in a large bowl. Add the light corn syrup and 2 TBSP of milk, and whisk until you have a thick glaze. It should be thick enough that when you pipe it in a thin line, it holds its shape and does not become too runny. If it seems too thick to work with, add a bit more milk, just until it can be easily piped.

Divide the glaze into smaller bowls and add your gel food coloring of choice. Place the glazes in piping bags fitted with small round attachments (I used #2 tips) and pipe on your designs of choice. Let the doughnuts sit for 20 minutes to set the decorations before serving them.
Measuring Tips
Our recipes are developed using weight measurements, and we highly recommend using a kitchen scale for baking whenever possible. However, if you prefer to use cups, volume measurements are provided as well. PLEASE NOTE: the adage "8 oz = 1 cup" is NOT true when speaking about weight, so don't be concerned if the measurements don't fit this formula.
Want to learn more about baking measurements and conversion?
Nutrition
Calories:
329
kcal
|
Carbohydrates:
59
g
|
Protein:
7
g
|
Fat:
8
g
|
Saturated Fat:
4
g
|
Cholesterol:
20
mg
|
Sodium:
139
mg
|
Potassium:
395
mg
|
Fiber:
7
g
|
Sugar:
25
g
|
Vitamin A:
8180
IU
|
Vitamin C:
16.4
mg
|
Calcium:
61
mg
|
Iron:
2.5
mg
Tried this recipe?
Snap a pic and hashtag it #SugarHero. We love to see your creations on our Instagram @elabau.