This post may contain affiliate links. As an Amazon Associate I earn from qualifying purchases. Please see my disclosure policy for more information.
This Hazelnut Hot Chocolate On A Stick is perfect for gifting! Decadent chunks of fudge infused with toasted hazelnut are placed on a stick, topped with crushed hazelnuts and then dipped into hot milk to make dreamy hot cocoa.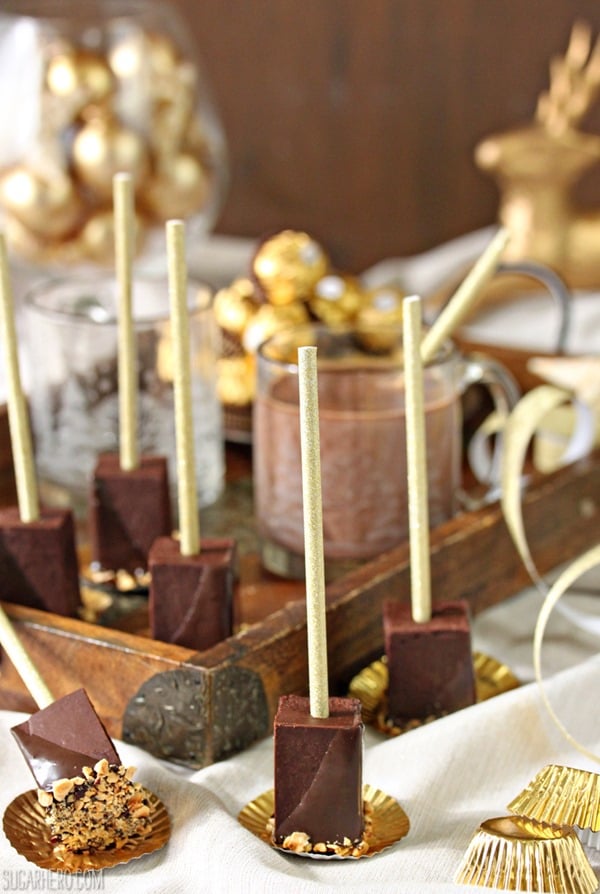 December is winning, you guys. Not in the "#winning!" sense, but in the "I feel like I've been beaten with the big heavy holiday stick, and I am not fighting back" sense. Real talk? I'm bushed.
Whining about work has got to be tied with weather talk in the competition for Things No One Cares About, so rather than complain at length about how overwhelmed I am, I'll just share that I accidentally took a 2-hour "nap" last night at 8:30 pm. (Not recommended: I was pretty discombobulated afterward.)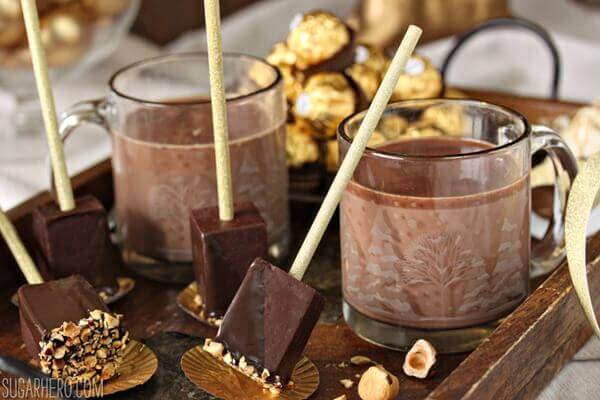 I'm sure we're all feeling varying degrees of strain and stress this month. Between family and work and school and holiday obligations, December is a pressure cooker decked out with twinkling lights. Fortunately, it's also full of nostalgic traditions and many excuses to eat cookies and repeated viewings of Elf and lots of hot chocolate, so maybe it all equals out.
Hot chocolate on a stick isn't a new idea, but it's still one of my go-to's for gifting at Christmas. Who could resist big hunks of fudge on a stick that magically turn hot milk into hot chocolate? Package them with cute mugs and hot chocolate toppers like marshmallows, candy canes, and candies or nuts, and you have a super sweet homemade gift that's easy and cheap!
This recipe was inspired by my love of chocolate-hazelnut Ferrero Rocher candies. (Is there anything better than getting the big tray of Rochers as a Christmas gift? I think not.) I infused the milk and cream for the fudge with toasted, chopped hazelnuts overnight, to give it a strong nutty flavor before mixing it with chocolate for the fudge cubes. I also added a bit of hazelnut flavoring oil to boost the hazelnut taste, but that part is optional.
After cutting the squares and adding the sticks, I dipped them partially in chocolate and rolled the bottoms in crushed hazelnuts. This is also optional, but I think it makes them extra-polished, a little bit fancy, and perfect for a holiday party or gift-giving.
To enjoy the hazelnut hot chocolate, stir a cube into a 6 oz mug of hot milk, and whisk until it dissolves. Enjoy with a Ferrero Rocher (…or three…) on the side. Here's to surviving the rest of the month! Cheers!
Chocolate-Hazelnut Mousse Trifle
This Chocolate-Hazelnut Mousse Trifle is made with homemade hazelnut butter! Cubed cake is layered with hazelnut mousse, chopped hazelnuts, and a whipped chocolate ganache that adds an even more intense chocolate flavor.
Get the recipe!
Giant Ferrero Rocher Hazelnut Mousse Cakes
These Giant Ferrero Rocher Hazelnut Mousse Cakes are incredible! The extra-large chocolate shells are studded with hazelnuts and filled with layers of chocolate cake and rich hazelnut mousse.

Get the recipe!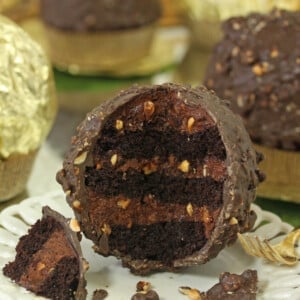 Hazelnut Hot Chocolate On A Stick
This Hazelnut Hot Chocolate On A Stick is perfect for gifting! Decadent chunks of fudge infused with toasted hazelnut are placed on a stick, topped with crushed hazelnuts and then dipped into hot milk to make dreamy hot cocoa.
Instructions
Line an 8×8-inch pan with foil, and spray the foil with nonstick cooking spray. Finely chop the hazelnuts, or place them in a food processor and pulse them in several long bursts until they're in small pieces, but not hazelnut dust. Set aside about a quarter of the hazelnuts for decoration.

Combine the remaining three-quarters of chopped hazelnuts with the cream and condensed milk in a saucepan. Place the pan over medium heat, and warm the cream up until it comes to a simmer, stirring occasionally so it doesn't scorch on the bottom. Once it simmers, remove the pan from the heat and cover it with a lid. Leave the pan to infuse the cream with hazelnut flavor for at least an hour. If you have the time, you can even infuse it overnight to give it a stronger flavor—just be sure to place the pan in the refrigerator if you'll be infusing it that long!

When you're ready to make the fudge, place both chopped chocolates in a large bowl. Return the saucepan to medium heat and stir while the cream heats up again. Once it is almost boiling, pour it through a fine mesh strainer over the chopped chocolate, straining out the hazelnut pieces. Let it sit for a minute to soften the chocolate, then whisk the chocolate and hot cream together. Add the vanilla extract, salt, and hazelnut flavoring (if using). If any of the chocolate is unmelted, microwave the mixture in 10-second bursts just until the chocolate is completely smooth.

Scrape the chocolate into the prepared pan and smooth it into an even layer. Refrigerate until firm, about 45 minutes. Once it's hard, remove the fudge from the pan using the foil as handles. Cut into 24 rectangles. Stick a skewer or lollipop stick into each stick.

If you want to decorate them with chocolate and hazelnuts, melt the additional 4 oz of chocolate or candy coating in a small bowl. Dip each rectangle halfway into the chocolate, then roll the bottom in crushed hazelnuts. Refrigerate until the chocolate is set.

To gift these, wrap them individually so they don't dry out. To make hot chocolate, mix one cube with about 6 oz of hot milk and stir or whisk until dissolved.
MEASURING TIPS
Our recipes are developed using weight measurements, and we highly recommend using a kitchen scale for baking whenever possible. However, if you prefer to use cups, volume measurements are provided as well. PLEASE NOTE: the adage "8 oz = 1 cup" is NOT true when speaking about weight, so don't be concerned if the measurements don't fit this formula.
Click here to learn more about baking measurements and conversion.
Nutrition
Calories:
248
kcal
|
Carbohydrates:
22
g
|
Protein:
4
g
|
Fat:
16
g
|
Saturated Fat:
8
g
|
Cholesterol:
13
mg
|
Sodium:
74
mg
|
Potassium:
258
mg
|
Fiber:
2
g
|
Sugar:
17
g
|
Vitamin A:
130
IU
|
Vitamin C:
0.7
mg
|
Calcium:
74
mg
|
Iron:
2.4
mg
Share by Email
Share on Facebook
Share on Pinterest
This post contains Amazon affiliate links. For more information, see my Affiliate and Advertising Policy.