Hot Chocolate Floats upgrade regular hot chocolate by adding ice cream, hot fudge sauce, and other gourmet toppings. Hot chocolate has never tasted so good!
Three words: Hot. Chocolate. Floats. Did I just blow your mind, or what?
Maybe the rest of the world has been enjoying hot chocolate floats for years, but for some reason this concept had literally never occurred to me before. I don't know why not—I like ice cream, I love hot chocolate, and I adore anything that I can put in a cute mug and douse in fudge sauce. This is obviously my culinary soul mate.
But I had never heard of hot chocolate floats until my friend Jane threw a party last week. I arrived, she handed me a mug filled with peppermint ice cream and rich, steaming hot chocolate, and then the heavens opened and a choir of angels sang. That Jane, she knows what's up.
You know how, when you add marshmallows or whipped cream to hot chocolate, they melt and create a sweet, rich foam on top of the chocolate that you can scoop up and slurp with a spoon? And if you're really lucky, the marshmallows or cream will keep producing that foam and you can get a good half-mug's worth before it's gone and you're left to drink the chocolate? Well, hot chocolate floats are like that, but are so much better because the frothy foamy goodness is actually melted ice cream, which is 65% more delicious than anything else.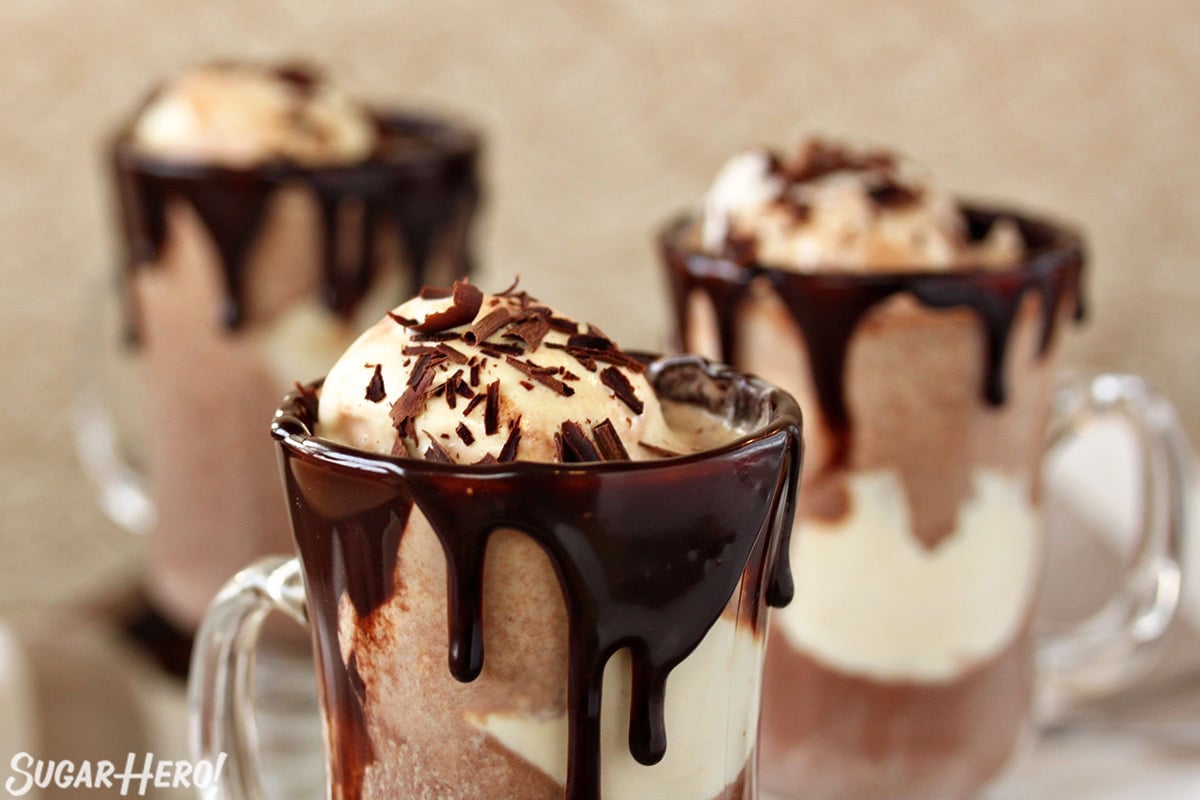 Obviously, the idea behind hot chocolate floats is so simple that you don't really need a recipe. Ice cream + hot chocolate = done. A reasonably competent monkey could make them, provided they had the ingredients and the wherewithal to work an ice cream scoop. I'm sure you can figure out the logistics yourselves.
But I am sharing a recipe for a good, thick cup of hot chocolate, because I do think that they're much improved by using a homemade version. You're turning these into a dessert extravaganza, for crying out loud, now is not the time to use that sorry powdered stuff! If you have a favorite hot chocolate of your own, feel free to substitute it, or make it with the powdered stuff and thumb your nose in my direction. It's cool. As long as I can enjoy another hot chocolate float of my own, all's right in the world.
Frozen Hot Chocolate
Frozen Hot Chocolate is an easy and delicious soft-serve treat! Blend softened ice cream and chilled hot chocolate to make this endlessly customizable delicacy.
View Recipe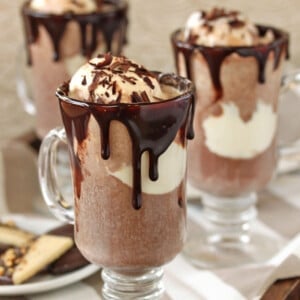 Hot Chocolate Floats
Hot chocolate has never tasted so good! Regular hot chocolate gets an upgrade by adding ice cream, hot fudge sauce, and other gourmet toppings.
Ingredients
1

cup

heavy cream

3

cups

milk

,

I used whole milk

2-3

tbsp

brown sugar,

to taste

1

tsp

vanilla extract

Pinch of salt

6

oz

bittersweet chocolate

,

good quality, finely chopped

4

oz

milk chocolate,

good quality, finely chopped

1

quart

ice cream

,

vanilla, peppermint, and coffee all work well!

Fudge sauce

,

see Note below

Chocolate shavings

,

or other decorations, optional
Instructions
Whisk together the cream, milk, 2 tbsp brown sugar, vanilla, and salt in a medium saucepan. Place the pan over medium heat and cook it, whisking occasionally, until it starts to simmer. Remove the pan from the heat and whisk in the chopped chocolates, stirring until they're melted. Carefully taste the mixture and add more sugar, if desired.

Place 2-3 scoops of ice cream into mugs. Pour hot chocolate on top of the ice cream, and garnish with whipped cream, fudge sauce, chocolate shavings, or other toppings. Serve with spoons for maximum slurping.
Recipe Notes
I love making these hot chocolate floats with rich, creamy hot chocolate made from scratch, but if you prefer, you can substitute 4 cups of prepared hot chocolate instead.
Measuring Tips
Our recipes are developed using weight measurements, and we highly recommend using a kitchen scale for baking whenever possible. However, if you prefer to use cups, volume measurements are provided as well. PLEASE NOTE: the adage "8 oz = 1 cup" is NOT true when speaking about weight, so don't be concerned if the measurements don't fit this formula.
Want to learn more about baking measurements and conversion?
Nutrition
Calories:
646
kcal
|
Carbohydrates:
71
g
|
Protein:
10
g
|
Fat:
37
g
|
Saturated Fat:
18
g
|
Cholesterol:
76
mg
|
Sodium:
208
mg
|
Potassium:
440
mg
|
Fiber:
2
g
|
Sugar:
45
g
|
Vitamin A:
890
IU
|
Vitamin C:
0.2
mg
|
Calcium:
236
mg
|
Iron:
2
mg
Tried this recipe?
Snap a pic and hashtag it #SugarHero. We love to see your creations on our Instagram @elabau.