This post may contain affiliate links. As an Amazon Associate I earn from qualifying purchases. Please see my disclosure policy for more information.
Being a procrastinator is awesome. I made these Peanut Butter and Jelly Brownie Sandwiches last week and fully intended to post them over the weekend. Well, things happened—things like running 18 miles on Saturday (yes, long distance training is back!) and not-coincidental things like zonking out at 9pm on Sunday night and sleeping for 10 hours. My point is, this post was a little longer in the making than I intended, but in a wonderful bit of serendipity, today is National Peanut Butter and Jelly Day!
Look at me and my bad self! I am no longer a procrastinator; instead, I'm a psychic super-planner with a knack for posting the perfect recipe for any given made-up food holiday. Yeah, you'd better believe I've already ordered those business cards.
Now, I haven't tested every peanut butter & jelly dessert ever, but I feel pretty confident in saying that these brownie sandwiches are one of the most delicious ways you could choose to consume this time-honored combination. Two dense, fudgy salt-topped brownies are the "bread" that sandwiches two layers of chocolate ganache: one a salted peanut butter ganache, and one a sweet-tart fresh raspberry ganache.
Although it's hard to see the two distinct layers of ganache in the pictures, you absolutely taste each individual flavor in every bite. It's a wonderful mix of salted peanutty goodness, fruity raspberries, and of course, rich chocolate in both the ganache and brownies.
I gave the sandwiches a quick "crust" of crushed honey-roasted peanuts and freeze-dried berries. (Yes, my very favorite ingredient makes another appearance! As regular readers know, I'm freeze-dried fruit's #1 fan, and I basically try to cram it into as many dishes as possible. Sorry not sorry.) Spread a little chocolate on the edges, press the nuts and fruit into the sides, and you have a beautiful, striking decoration that also adds a great flavor and texture to the dish.
In the interest of science, I tried serving these sandwiches with vanilla bean ice cream, and after a few grueling taste tests, I can officially give this combination two thumbs up. I also recommend microwaving the sandwiches for 10-15 seconds, until the brownies are warm and the ganache layers are gooey and start to melt ever so slightly.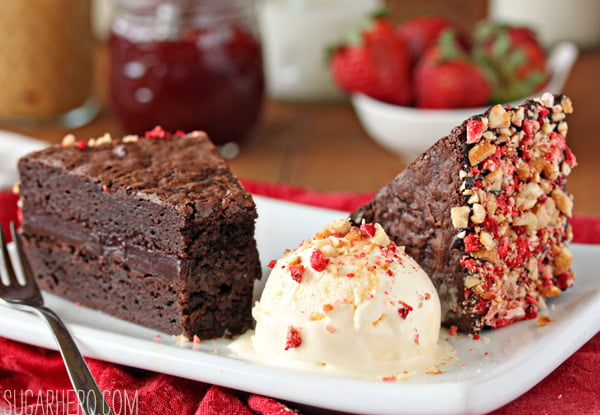 This dish was inspired by one I saw at Dandelion Chocolates in San Francisco a few weeks ago. They serve something with a similar description—I was so stuffed with ice cream I didn't have a chance to try it (or one of their $8 chocolate bars, indignant cough)—so I can't say how my version compares to the original. Although I'm sure my recipe/construction is different, I do have to give them credit for inspiring this dish. I'd love to hear from anyone who's tried their version—it's on my must-eat list for my next visit to SF!
Happy Peanut Butter and Jelly Day! How are you celebrating?
If you need to get in a PB&J mood, here are a few more of my favorite peanut butter desserts:
Gooey Chocolate Peanut Butter Cookies
Peanut Butter and Jelly Brownie Sandwiches
These Peanut Butter and Jelly Brownie Sandwiches are a dessert riff on PB&J sandwiches. Fudgey brownies are paired with peanut butter ganache and raspberry ganache to make a sandwich that anyone would love to have in their lunchbox!
Ingredients
For the Peanut Butter Ganache:
8

oz

semi-sweet chocolate,

finely chopped

1/2

cup

heavy cream

1/2

cup

peanut butter

,

creamy or crunchy is fine
For the Raspberry Ganache:
10

oz

frozen raspberries

,

defrosted

1/2

cup

heavy cream

8

oz

semi-sweet chocolate,

finely chopped

3

tbsp

powdered sugar
For the Optional Garnishes:
1

cup

honey-roasted peanuts

,

coarsely chopped

1

cup

freeze-dried raspberries or strawberries

,

coarsely chopped

1/2

cup

chocolate candy coating
Instructions
To Make the Brownies:
Preheat the oven to 350 F. Line two 9x13-inch baking pans with foil that extends up over the sides, and spray the foil with nonstick cooking spray.

Combine the chocolate and butter in a large microwave-safe bowl. Microwave in 30-second increments, stirring after every 30 seconds, until the chocolate and butter are melted and smooth. Let cool until lukewarm.

Add the cocoa and sugar and whisk well. Add the eggs one at a time, whisking well after each addition. Finally, add the vanilla extract and then the flour, and stir with a spatula until everything is combined.

Divide the batter equally between the two pans. If you want to use a scale, place about 32 oz of batter in each pan. Sprinkle half of the flaked sea salt generously over the top of each pan. Bake the pans for 20-25 minutes, until a toothpick inserted into the center comes out with just a few moist crumbs attached. Cool the brownies completely before assembly. While you wait for them to cool, prepare the ganaches.
To Make the Ganaches and Assemble:
To make the peanut butter ganache, combine the chopped chocolate and the cream in a microwave-safe bowl. Microwave in 30-second increments, stirring after every 30 seconds, until the mixture is melted and smooth. Add the peanut butter and whisk it in. Press a layer of cling wrap on top of the ganache and keep it at room temperature until you're ready to use it.

To make the raspberry ganache, puree the defrosted raspberries in a blender or food processor. Strain them through a fine wire mesh strainer to remove most of the seeds—a few stray seeds is okay! Pour the raspberry puree into a small saucepan and heat it over medium-low heat until it reduces down to 1/4 cup—this will give your ganache a very intense raspberry flavor.

Once the puree is down to 1/4 cup, add the 1/2 cup of cream and the powdered sugar and turn the heat to medium. Place the chopped chocolate in a medium bowl nearby. Bring the cream/raspberry mixture to a simmer, then pour it over the chopped chocolate. Let it sit for 1 minute to soften the chocolate, then whisk together until smooth. Press a layer of cling wrap on top of the ganache and keep it at room temperature until you're ready to use it.

Once the brownies are cool, scrape the peanut butter ganache on top of one of the brownie pans, and spread it into an even layer. Refrigerate the pan until the ganache is partially set, about 20 minutes. Pour the raspberry ganache on top of the peanut butter ganache, and again spread it into an even layer. Refrigerate the pan again to set the ganache until it is firm enough to support the weight of the second brownie layer, for about 20-30 minutes.

Remove the second brownie layer from the pan using the foil as handles, and peel the foil off the back. Carefully slide the second brownie on top of the ganache layer. Refrigerate the pan for several hours to make sure the brownies and ganache are firmly sealed together.

Remove the slab of brownie sandwich from the tray using the foil as handles. Cut them into small triangles (to mimic sandwiches) or squares. If you want to decorate the sides of the sandwiches like I did, melt the chocolate candy coating in the microwave. Mix the chopped peanuts and freeze-dried fruit together. Spread a thin layer of coating on the side of a triangle, and quickly press a thick layer of nuts and fruit onto the coating before it dries.

This recipe yields about 18 4x3-inch triangle "sandwiches." They can be kept in an airtight container in the refrigerator for up to a week. For the best taste and texture, serve them either at room temperature or warmed for 10-15 seconds in the microwave.
Recipe Notes
If you want to substitute kosher salt for the sea salt, use only 3/4 tsp. I do not recommend using table salt instead. The brownie recipe was adapted from Food & Wine magazine.
MEASURING TIPS
Our recipes are developed using weight measurements, and we highly recommend using a kitchen scale for baking whenever possible. However, if you prefer to use cups, volume measurements are provided as well. PLEASE NOTE: the adage "8 oz = 1 cup" is NOT true when speaking about weight, so don't be concerned if the measurements don't fit this formula.
Click here to learn more about baking measurements and conversion.
Nutrition
Calories:
805
kcal
|
Carbohydrates:
90
g
|
Protein:
10
g
|
Fat:
47
g
|
Saturated Fat:
26
g
|
Cholesterol:
114
mg
|
Sodium:
208
mg
|
Potassium:
460
mg
|
Fiber:
6
g
|
Sugar:
68
g
|
Vitamin A:
765
IU
|
Vitamin C:
4.1
mg
|
Calcium:
85
mg
|
Iron:
4.8
mg
Share by Email
Share on Facebook
Share on Pinterest