If you like chocolate-dipped strawberries, you'll love this strawberry hot chocolate recipe! It's a rich and creamy homemade hot chocolate with real strawberries blended right in. There's also a crock pot option if you want to make large quantities!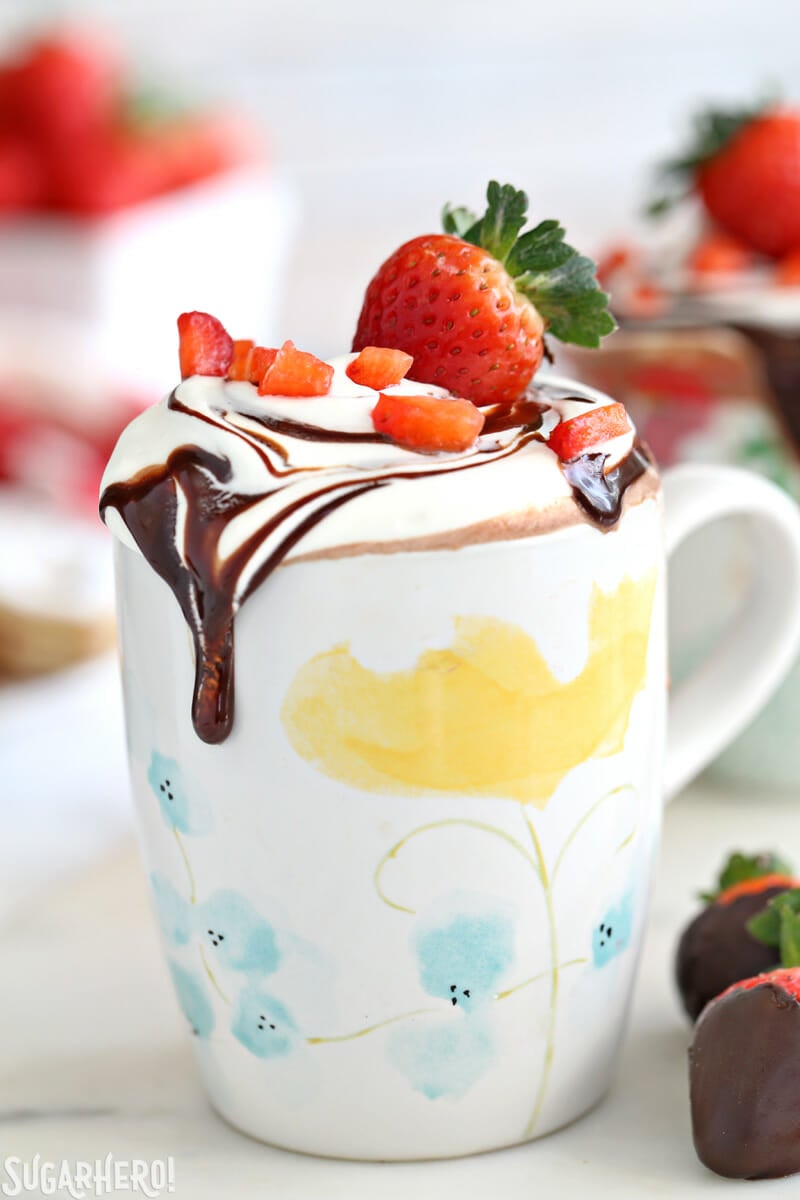 It's mid-January. It's a bit of a dreary time–we're past the holidays but still bundled up for the next few months. (And if you're in Utah like me, we're "enjoying" clear, snowless skies that bring terrible pollution and breathing problems.) In short, we're gonna need some chocolate up in here. Lots and loooooots of chocolate.
This Strawberry Hot Chocolate is just the thing to get us through the next few months. It's based on my favorite hot chocolate formula–more on that below–and includes real strawberry puree, blended right in! It's got that chocolate-dipped strawberry thing going on, and the fresh berry flavor is just the thing to lighten and brighten the indulgent hot chocolate.
If you love fruity drinks, you'll also want to try my Love Potion Valentine's Day Drink, Unicorn Milkshakes and Raspberry White Hot Chocolate!
I have 2 personal rules for homemade hot chocolate:
Use REAL chocolate
Use heavy cream
The first is non-negotiable. Using chocolate candy coating or cheap chocolate chips will give you a disappointing result. All of the flavor of the hot chocolate comes from the chocolate you choose, so don't you want to choose a chocolate that tastes really, REALLY good? It doesn't have to be $15/bar, but please don't use waxy generic chips and then wonder why the hot chocolate is mediocre.
I always keep a stack of Trader Joe's dark chocolate Pound Plus bars on hand. They're about $5/lb and really good quality for the money–and they make amazing hot chocolate! But really, any bar that you enjoy eating should work just fine. If you use milk chocolate, the flavor will be more subtle (and more sweet), so you might want to adjust the chocolate/dairy ratios in the recipe to get a taste you like.
As far as the cream goes, you CAN swap it for half-and-half or even milk if you'd like. But for the smoothest, richest, most enjoyable taste, I always reach for cream. (And don't be fooled by these pictures–because my hot chocolate is pretty indulgent, I usually serve it in smaller portions because a little bit is very satisfying!) That said, feel free to play with the milk and cream amounts too.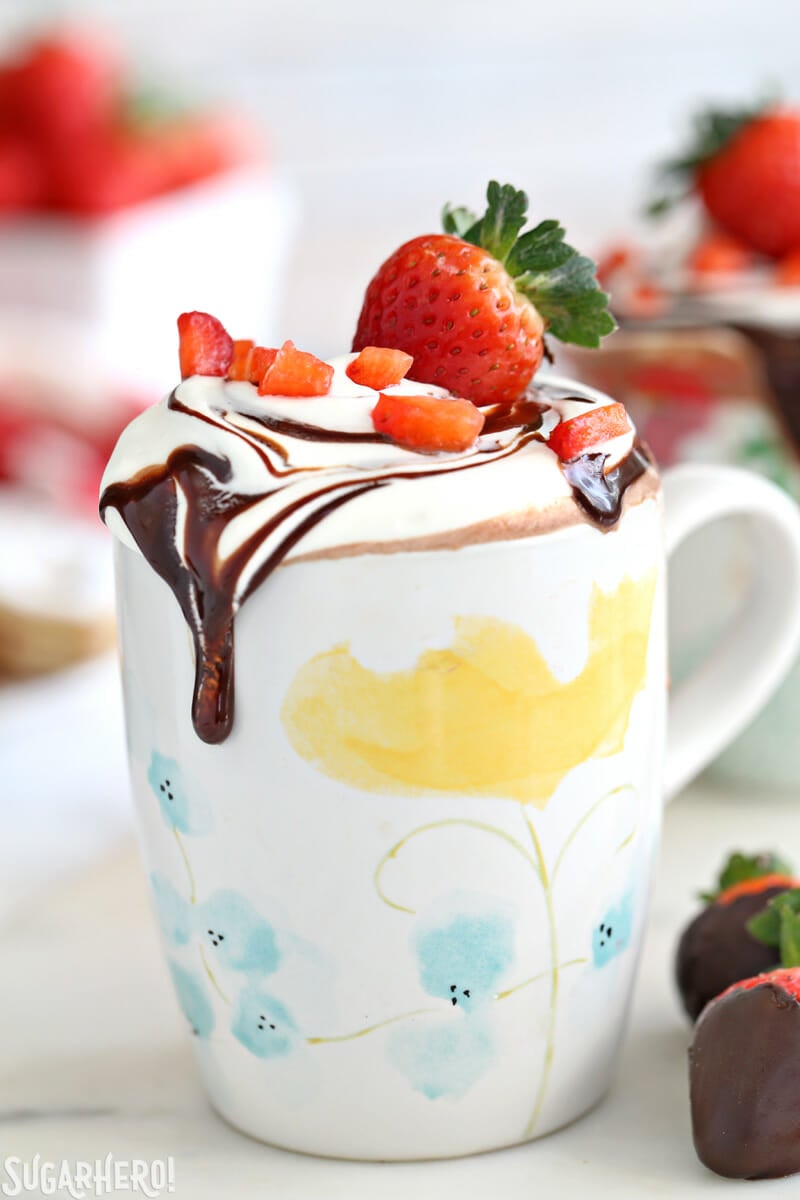 For the strawberry flavor, I first tried this recipe with fresh, ripe strawberries, blended and then strained. Since berry quality and availability can be really hit-or-miss in winter, I also tried it with frozen (defrosted) berries, and that worked too. I thought the flavor of the fresh berries was better, but if frozen is what you have, go for it!
Finally, any hot chocolate recipe is improved with a dollop of whipped cream and a drizzle of fudge sauce on top!
Because it's winter, and because we all need a crock pot full of SOMETHING delicious simmering on our counter tops, I'm also including notes for how to make this in a slow cooker. It's super easy, just make sure you're around to whisk every now and then. Enjoy!
🍓More Strawberry Recipes
Orange Hot Chocolate
This Orange Hot Chocolate is a rich, creamy homemade hot chocolate with a vibrant orange flavor! Real orange rind is used to make this hot chocolate, so the citrus taste is fresh and authentic.
View Recipe
Cherry Hot Chocolate
Cherry Hot Chocolate is a thick, rich homemade hot chocolate that tastes like a cherry cordial!
View Recipe
Strawberry Hot Chocolate
If you like chocolate-dipped strawberries, you'll love this strawberry hot chocolate recipe! It's a rich and creamy homemade hot chocolate with real strawberries blended right in.
Ingredients
1

lb

strawberries

,

washed and hulled (can use defrosted frozen berries)

2

cups

heavy cream

,

(can substitute half and half)

6

cups

milk

12

oz

semi-sweet chocolate,

finely chopped

1

pinch

salt
Instructions
Place the washed and hulled berries in a blender or food processor, and blend until they are a smooth puree.

Pour the strawberry puree through a fine mesh strainer into a large saucepan, to remove the strawberry seeds and any large berry solids.

Add the cream, milk, finely chopped chocolate, and salt, and place the pan over medium heat.

Whisk often as the mixture heats up, and continue to whisk and cook the hot chocolate until the chocolate is melted and everything is smooth and homogenous.

Serve in small cups, topped with the garnishes of your choice. Whipped cream, fudge sauce, and a sprinkle of chopped fresh strawberries are my favorites!
Recipe Notes
This recipe is rich, so I typically serve it in small 1-cup portions.
To make this in a crock pot, blend and strain the berries as described above. Combine all ingredients in a crock pot, and cook on Low for 2.5-3 hours. Whisk about every 30-45 minutes if you remember. This recipe can easily be doubled in a crock pot.
Measuring Tips
Our recipes are developed using weight measurements, and we highly recommend using a kitchen scale for baking whenever possible. However, if you prefer to use cups, volume measurements are provided as well. PLEASE NOTE: the adage "8 oz = 1 cup" is NOT true when speaking about weight, so don't be concerned if the measurements don't fit this formula.
Want to learn more about baking measurements and conversion?
Nutrition
Calories:
543
kcal
|
Carbohydrates:
37
g
|
Protein:
10
g
|
Fat:
40
g
|
Saturated Fat:
24
g
|
Cholesterol:
92
mg
|
Sodium:
105
mg
|
Potassium:
637
mg
|
Fiber:
4
g
|
Sugar:
27
g
|
Vitamin A:
1250
IU
|
Vitamin C:
33.7
mg
|
Calcium:
295
mg
|
Iron:
3
mg
Tried this recipe?
Snap a pic and hashtag it #SugarHero. We love to see your creations on our Instagram @elabau.