Sugar Cookie Pinwheels are a fun twist on traditional sugar cookies! Sugar cookie dough is rolled around a delicious chocolate filling, and decorated with fun Halloween sprinkles.
I love classic sugar cookies as much as the next girl, but sometimes I crave something a little different. A little cuter. A little more exciting. A little–no, a lot–more chocolatey. That's why I'm so glad to have these Sugar Cookie Pinwheels in my life.
The idea behind sugar cookie pinwheels is nothing new. Most recipes involve making a portion of the dough in a different color or flavor, then rolling them together. I've always loved the look of those cookies, but the taste is often a disappointment. The second layer, be it chocolate, mint, or whatever, is usually mildly flavored and doesn't stand out against the plain sugar cookie dough.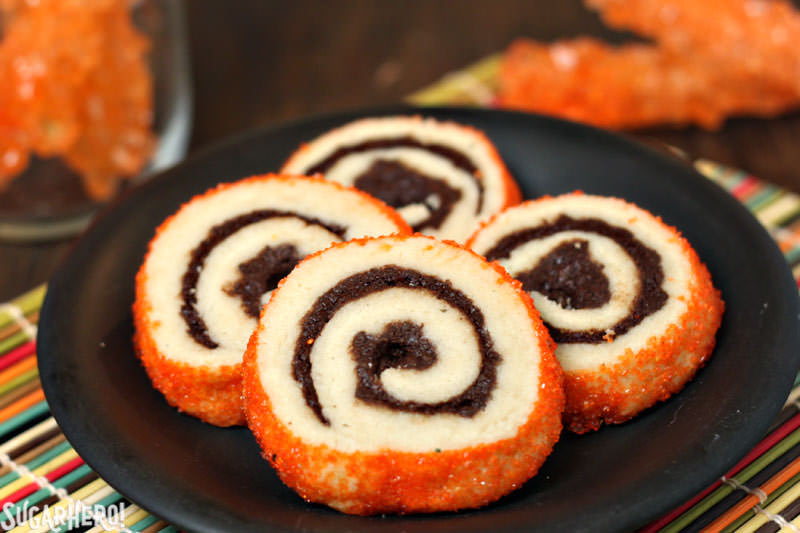 That's where these cookies are different! For these pinwheels, I made a chocolate "shmear" filling (made with real bittersweet chocolate and cocoa) and rolled the sugar cookie dough around the shmear. It may not be as neat and tidy as the pinwheels that use contrasting cookie doughs, but the rich chocolate flavor was much more pronounced. Not to toot my own horn, but these are downright delicious.
These are obviously Halloween themed, but they actually don't have to be Halloweenie at all! They could easily be translated into Thanksgiving treats (roll the sides in green, orange, yellow, and/or brown sprinkles). Christmas? Red and green. Valentine's Day? Pink and red. You get the idea. Let's make Sugar Cookie Pinwheels year-round!