This post may contain affiliate links. As an Amazon Associate I earn from qualifying purchases. Please see my disclosure policy for more information.
Real talk. These brownies taste awesome, but they're kind of ugly.
Shhh, shhh. No need to tell one of those nice little white lies. I have eyes, you know.
You might have to make these for your favorite friends, the ones who have seen you ugly-cry with makeup running down your face, the ones who have gone with you to the grocery store while you wear your college sweatpants with frayed holes in unseemly places. Those friends, the ones who don't judge? They are the ones who get these so-ugly-but-so-good brownies. Bless their hearts.
These brownies are made with two special ingredients: chocolate marshmallows and chocolate-covered almonds. I called them "Triple Chocolate Rocky Road Brownies" because of these chocolate additions, but when you do the math, they also include two types of chocolate and cocoa powder in the brownie batter, so it's more like Quintuple Chocolate Rocky Road Brownies. Sorry I'm not sorry.
Looks aside, these are one of my favorite brownie batches I've made this year. The marshmallows melt into the batter, leaving little gooey pockets of chocolate sweetness, while the chocolate around the almonds liquefies, giving you melted chocolate and crunchy almond in each bite. Your favorite friends are going to love them! This will totally pay them back for all those times they listened to you play that song they can't stand over and over and over again.
I use homemade chocolate marshmallows in these, because I had them left over from another project. (And yes, I know how ridiculous my life is.) If you want to try your hand at making them, here's my recipe for homemade chocolate marshmallows.
However, that's a lot of work for a cup of marshmallows, so you are welcome—no, encouraged!—to use store-bought chocolate marshmallows instead. I don't know about you, but I'm always suckered into buying different novelty flavors of marshmallows. Sometimes it works out for me (pina colada, purrr) and sometimes it really doesn't (German chocolate, you were disgusting.) Point being, chocolate marshmallows are (hopefully) pretty easy to find in stores now—no need to make your own unless you're a culinary overachiever!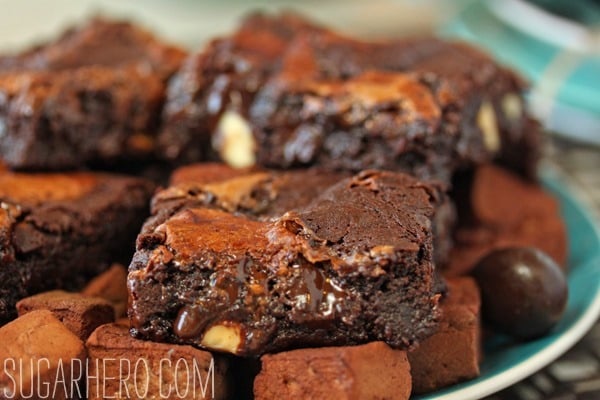 One last note before the recipe. This Wednesday, July 17, blogger Kita from Pass the Sushi is holding an online bake sale. She's adopting a pit bull named Muffin who was horrifically abused, and is raising money for the dog's care and medical bills. The event is called Muffins for Muffin, and it features all kinds of baked goods and other goodies bloggers have donated.
The way it works is, on July 17, you can visit PasstheSushi.com and bid on baked goods through the comments. She'll keep a running tally of what each item costs. You can see a preview of what people are donating here, and here's the facebook page for the latest updates. It's for a great cause and you might end up winning something delicious!
I'll be donating a personalized copy of my book, as well as a batch of candy from the book—winner's choice. I'll be back with another post on Wednesday but I wanted to give a head's up in advance. This is a cause that's close to my heart, and I'm so glad to be able to help in a small way!
More Brownie Recipes to Enjoy:
Triple Chocolate Rocky Road Brownies
These Triple Chocolate Rocky Road Brownies taste awesome, let's just be real. I mean they might be a tad ugly but does that really matter when the browny is melting in your mouth!?

Instructions
Preheat the oven to 350 F (177 C). Line a 9x-13-inch pan with foil and spray the foil with nonstick cooking spray. Whisk together the flour, cocoa powder, and salt in a small bowl.

Combine the butter, chopped semi-sweet chocolate, and chopped unsweetened chocolate in a large saucepan. Melt them together over low heat, stirring frequently until the mixture is melted and smooth. Remove from the heat and let it cool to lukewarm. (Alternately, you can melt the mixture in the microwave, stirring frequently until melted. Let cool until it is barely warm to the touch.)

Whisk the sugar into the melted chocolate. It will be grainy. Add the eggs one at a time, whisking well after each addition. Whisk until the batter becomes smooth and shiny. You'll notice a distinct change—it will no longer be grainy, it will be thick and shiny like pudding. This may take 2-3 minutes of whisking. Once smooth and shiny, add the vanilla and coffee powder, and whisk it in.

Finally, add the dry ingredients and fold them in just until the streaks of flour disappear. Add 1 cup of the marshmallows and 1 cup of the almonds and stir them in. Spread the batter into the prepared pan. Top wit the remaining marshmallows and almonds.

Bake brownies for 25-30 minutes, until a toothpick inserted into the center comes out with just a few moist crumbs attached. The brownies taste best when slightly warm, but they cut much nicer if they're cool, so consider chilling them before cutting into squares, then warming up the squares slightly in the microwave to serve.
MEASURING TIPS
Our recipes are developed using weight measurements, and we highly recommend using a kitchen scale for baking whenever possible. However, if you prefer to use cups, volume measurements are provided as well. PLEASE NOTE: the adage "8 oz = 1 cup" is NOT true when speaking about weight, so don't be concerned if the measurements don't fit this formula.
Click here to learn more about baking measurements and conversion.
Nutrition
Calories:
308
kcal
|
Carbohydrates:
30
g
|
Protein:
3
g
|
Fat:
20
g
|
Saturated Fat:
12
g
|
Cholesterol:
62
mg
|
Sodium:
93
mg
|
Potassium:
153
mg
|
Fiber:
2
g
|
Sugar:
21
g
|
Vitamin A:
405
IU
|
Calcium:
23
mg
|
Iron:
2.3
mg
Share by Email
Share on Facebook
Share on Pinterest