Things have been a little quiet around here lately. I've been working on an exciting non-SugarHero project that I get to talk about soon, and it turns out there is just not enough Liz to go around. (And not enough sleep either…but I'll let my incoherent sentences speak for themselves on that one. Typewriter licoricemobile?)
During this unintended hiatus, it's been killing me to not be able to post all the fall/Halloween desserts I've had planned. Pretty soon the season for disgusting desserts will be over and I won't have posted a single moldy tart or eyeball-filled recipe! At least I'm here now, fulfilling my contractual obligations as a blogger to flood the internet with pumpkin recipes during the great month of Pumptober.
Sara from Cake Over Steak  is totally down with flooding the internet with pumpkin recipes too, so she's organized a Virtual Pumpkin Party by rallying a bunch of bloggers to all post pumpkin recipes on the same day. So if you feel like you're drowning in a sea of orange food today, you can thank/blame her! There are some amazing-sounding dishes in this pumpkin party, and you can find all the links to the participating bloggers down at the bottom of this post.
My contribution to the Virtual Pumpkin Party is a Cinnamon Swirl Pumpkin Pound Cake. I already have a recipe for pumpkin bundt cakes on the site, but those are a little different, with more of a traditional pumpkin cake texture, plus a different flavor from brown butter. This cake is more closely related to a pound cake in texture, but with a cinnamon-pumpkin flavor. To spice things up further (see what I did there?) It has a thick cinnamon swirl running through it, and a brown sugar frosting that just might be my FAVORITE FROSTING EVER. I know I say that about once a month (ummmm it's possible I eat entirely too much frosting….) but I might really mean it this time. It's fudgy and thick and richer than DTrump and forms the most irresistible crackling crust that is so dreamy on top of the soft cake.
Oh, those edible decorations on top? Just a little something I whipped up with some candy coating, luster dust, and leaves from my yard. I did them in 10 minutes in between looking for my neighbor's lost cat in our backyard. That is not a brag (well, not much of one) but it is meant to illustrate how easy these chocolate leaves are! I have a tutorial over on About.com Candy if you want to make some chocolate leaf magic yourself.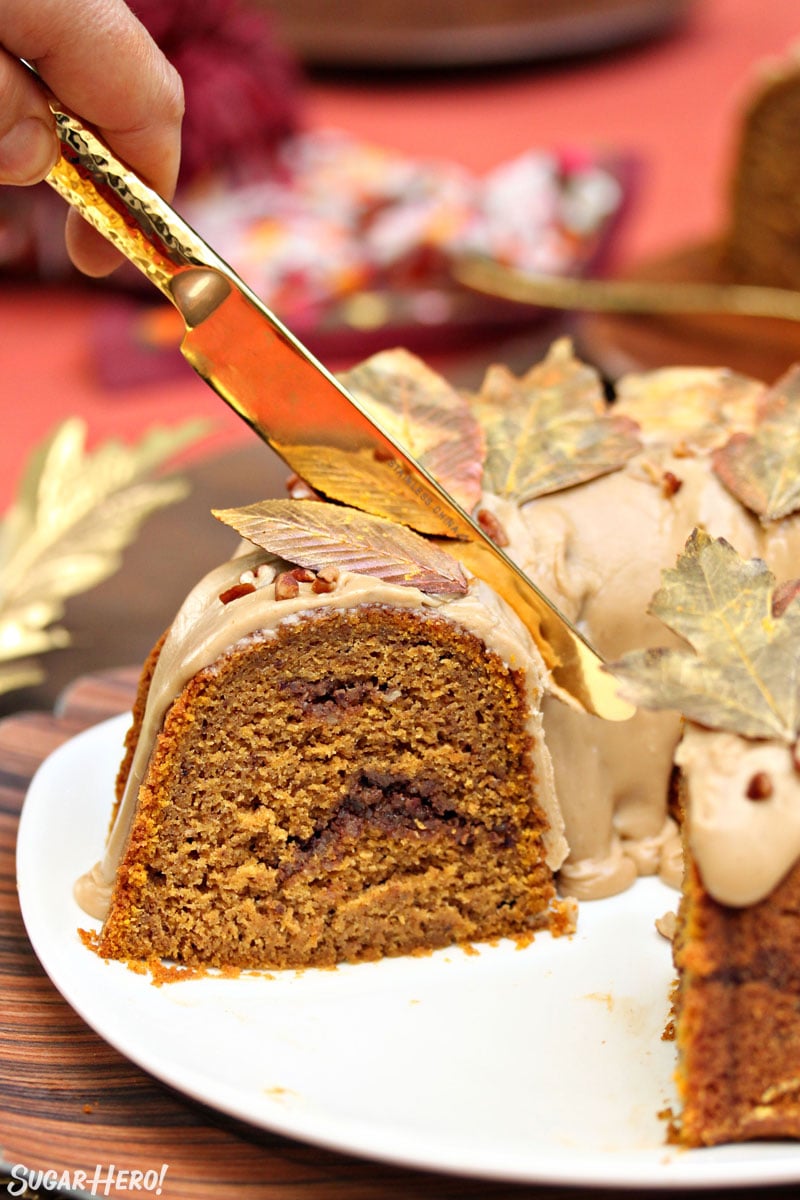 This might sound strange, but I'm experiencing a real autumn for the first time, maybe ever. In Southern California, Octobers were always unbearably hot and muggy, so it's strange but wonderful to live somewhere where things like "crisp falling leaves" and "brisk winds" and "chilly temperatures" are more than just urban legends. My scarves and I are having a love affair with October, and this cake is really the perfect accompaniment. It just tastes like a big mouthful of fall, and I could not be happier about it.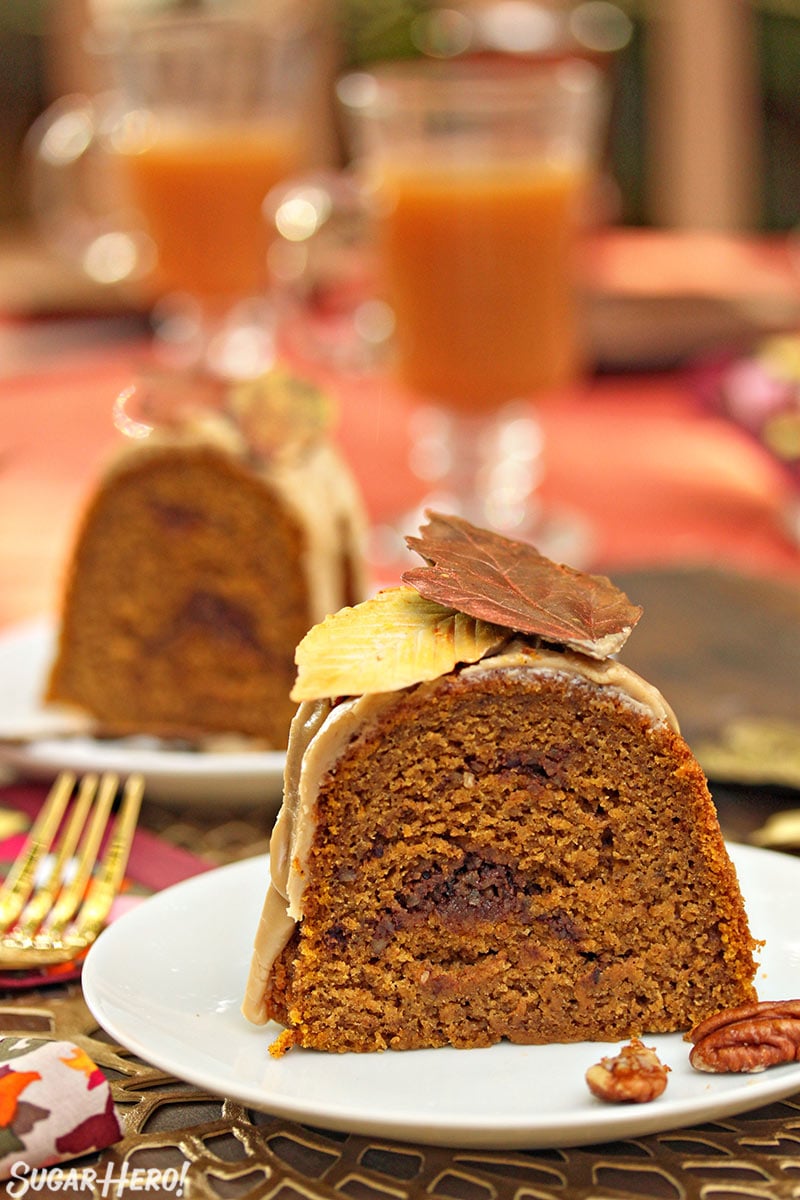 If you are ready to get your pumpkin on, brace yourself. Here's the full list of everyone at the #virtualpumpkinparty. I mean, can you even handle this much pumpkin goodness? You're gonna need a bigger boat pumpkin.
Cake Over Steak • Pumpkin Ginger Cookies with a Vanilla Glaze
B. Britnell • Pumpkin & Goat Cheese Macaroni
A Couple Cooks • Pumpkin Spice Almond Butter
I Am a Food Blog • Roasted Pumpkin and Pork Stuffed Shells
Well and Full • Harissa-Spiced Pumpkin Gnocchi
Loves Food, Loves to Eat • Pumpkin Pork Burrito Bowls
Girl Versus Dough • Pumpkin Challah
Snixy Kitchen • Black Sesame Pumpkin Mochi Cake
Hungry Girl por Vida • Pumpkin Chocolate Crumb Cake
Donuts, Dresses and Dirt • Pumpkin Spice Latte Truffles
Two Red Bowls • Pumpkin & Caramelized Onion Galette
The Frosted Vegan • Dark Chocolate Pumpkin Gingersnaps
Warm Vanilla Sugar • Dulce de Leche Pumpkin Ice Cream + Affogato
An Edible Mosaic • Pumpkin Spice Latte Snack Cake with Brown Butter Buttercream
Kitchen Konfidence • Yeasted Pumpkin Waffles with Candied Ginger
Chocolate + Marrow • Pumpkin Scones with Cinnamon Butter Swirl
The Pig & Quill • Pumpkin Pie Milkshakes with Pumpkin Spice Caramel + Coconut Cream
Salt & Wind • Apple Cinnamon Pumpkin Muffins with Pepita Streusel
With Food + Love • Creamy Pumpkin Polenta with Balsamic Roasted Beets
A Cookie Named Desire • Pumpkin Crepes with Cinnamon Ginger Cheesecake
Nommable • Pumpkin Moon Pies
Feed Me Phoebe • Thai Pumpkin Curry with Shrimp and Bok Choy
The Yellow Table • Coconut-Curry Pumpkin Soup
Ginger & Toasted Sesame • Pumpkin Ricotta Gnudi
The Crepes of Wrath • Pumpkin Pie Cake
The Swirling Spoon • Pumpkin Hand Pies
Erin Made This • Pumpkin Rye Waffles with Coconut Caramel
Beard and Bonnet • Pumpkin Spice Pizzelle Ice Cream Sandwiches
My Name is Yeh • Pumpkin Slice and Bake Cookies
Earthy Feast • Pumpkin-Stuffed Turnip-Ravioli with Pepita Pesto
Broma Bakery • Pumpkin Pie White Chocolate Brownies
Floating Kitchen • Pumpkin Beertail with Tequila and Spiced Rum
The Sugar Hit • Pumpkin Everything Bagels
The Bojon Gourmet • Pumpkin Flatbread with Gruyére and Crispy Sage (gluten-free)
Sprinkled with Jules • Pumpkin Spice French Macarons
Feast + West • Dark Chocolate Pumpkin Seed Toffee Bark
Jojotastic • Pumpkin Cinnamon Rimming Sugar
Fix Feast Flair • Pumpkin Spice Japanese Cheesecake
Appeasing a Food Geek • Pumpkin Ale Cake
Tending the Table • Roasted Pumpkin with Tamarind and Coriander Chutney
Long Distance Baking • Pumpkin Pie Ice Cream + Pumpkin Pancakes
My Blue & White Kitchen • Roasted Pumpkin Risotto with Crispy Prosciutto
Fork Vs. Spoon • Pumpkin Buttermilk Pudding
Alyssa & Carla • Pumpkin Tea Bread (in a Coffee Can!)
Twin Stripe • Pumpkin Spice Toffee
Le Jus d'Orange • Lentil-Stuffed Acorn Squash, Crispy King Oyster Bacon + Aged Goat Cheese
The Scratch Artist • Japanese Pumpkin Temaki with Ginger Kale Chips
Brewing Happiness • Caramelized Apple Pumpkin Muffins
Blogging Over Thyme • Homemade Candied Pecan Pumpkin Ice Cream Drumsticks
Heartbeet Kitchen • Pumpkin Swirled Mashed Potatoes
The Speckled Palate • Pumpkin Brown Butter Streusel Muffins with Maple Cream Cheese Glaze
Cookie Dough and Oven Mitt • Pumpkin Gingersnap Pie
Style Sweet CA • Chocolate Stout and Pumpkin Checkerboard Cake
Fork to Belly • Pumpkin Orange Brulee Pie
Tasty Yummies • Grain-Free Pumpkin Spice Pancakes
Påte á Chew • Pumpkin Almond Cake with Almond Butter Frosting
Holly & Flora • Pumpkin Pie Martini with Coconut Cream + Homemade Pumpkin Spice Syrup
Southern Soufflé • Sorghum Pumpkin Soufflés
Okie Dokie Artichokie • Creamy Pumpkin and Chorizo Pasta Bake, Cheese Tortellini, Sage-Mascarpone Sauce, Toasted Hazelnuts
Kale & Caramel • Pumpkin Goat Cheese Polenta with Brown Butter Thyme Mushrooms & Kale
The Little Epicurean • Maple Pumpkin Butter Brioche Toast
Vigor and Sage • Maple Pumpkin Harvest Smoothie
Tried and Tasty • Whole Wheat Pumpkin Sugar Cookies
Sprouted Routes • Creamy Vegan Pumpkin Risotto with Sweet & Spicy Roasted Pepitas (gluten free)
The Fauxmartha • Baked Pumpkin Donuts
So… Let's Hang Out • Grain-Free Apple Crumble Pumpkin Pie
Wit & Vinegar • Pumpkin Flaxseed Dog Treats
Dunk & Crumble • Pumpkin Roundup
Biscuits and Such • Pumpkin Pound Cake
A Little Saffron • Spiced Pepita Brittle

Cinnamon Swirl Pumpkin Pound Cake
Ingredients
For the Cinnamon Swirl:
2 oz (1/2 cup) toasted pecans
2 tbsp granulated sugar
1 tsp cinnamon
For the Pumpkin Pound Cake:
15 oz canned pumpkin puree (not pumpkin pie filling)
4 oz (1/2 cup) buttermilk
1 tsp vanilla extract
10.12 oz (2¼ cups) all-purpose flour
2 tsp baking powder
1 tsp baking soda
1 tbsp ground cinnamon
1 tsp ginger
½ tsp nutmeg
½ tsp allspice
6 oz (3/4 cup) unsalted butter, at room temperature
5.25 oz (3/4 cup) granulated sugar
3.75 oz (1/2 cup) brown sugar
3 large eggs, at room temperature
For the Brown Sugar Frosting:
2.5 oz (5 tbsp) unsalted butter
3.5 oz (1/2 cup) packed brown sugar
1.5 oz (3 tbsp) heavy cream
6 oz (1½ cups) powdered sugar
1 tsp vanilla extract
Pinch salt
Instructions
To Make the Pumpkin Pound Cake:
Preheat the oven to 350 F. Generously grease a bundt pan and dust it with flour, then tap out the excess flour.
Combine the ingredients for the cinnamon swirl in a food processor and process them until they're in fine crumbs. Set aside for now.
Whisk together the pumpkin, buttermilk, and vanilla in a small bowl, and in a separate bowl, sift together the flour, baking powder, baking soda, salt, and spices.
Combine the butter and both sugars in the bowl of a large mixer fitted with a paddle attachment. Beat on medium-medium high speed until light and fluffy, for about 3-5 minutes. Add the eggs one at a time, beating well after each addition. Turn the mixer speed to low and add a third of the flour, then when that's almost mixed in, add half of the pumpkin mixture. Continue to alternate adding wets and drys, ending with the dry ingredients. When just a few streaks of flour remain, turn the mixer off and finish mixing by hand, scraping down the bottom and sides with a rubber spatula.
Spoon about a third of the batter into the bundt pan and smooth it out. Add half of the cinnamon swirl mix, then top with more batter. Add the rest of the cinnamon mix, and finish by spreading the rest of the batter on top. Bake the cake for about 45 minutes, until a toothpick inserted into the center comes out clean.
Cool the cake on a rack for 15 minutes, then invert it out of the pan and cool completely before frosting.
To Make the Brown Sugar Frosting:
Melt the butter in a small saucepan over medium heat. Stir in the brown sugar and cook, stirring, until the sugar melts. It might look separated, but that's okay. Stir in the cream, and it should all come together. Bring the mixture to a boil, then pour it into a mixing bowl fitted with a paddle attachment to cool for 10 minutes.
After 10 minutes, add the powdered sugar, vanilla, and salt. Beat well on medium speed for 30-45 seconds, until there are no lumps of sugar and the frosting is satiny and smooth. If the mixture appears too thin, add more confectioners' sugar, if it's too thick, add a spoonful of hot water. Be aware that it sets up QUICKLY, so as soon as you're finished mixing it, pour it over the cake while it's still warm. Know that it's hard to go back and correct mistakes because it starts setting and crusting soon after being poured, so one option is to put it in a large Ziploc bag and cut off a corner. Pipe the frosting over the top so it drips down where you want it to. Add any toppings or decorations before the frosting crusts over.