These Churro Ice Cream Sandwiches feature two round churros, fried till crispy and tossed in cinnamon sugar. Sandwich rich and creamy homemade horchata ice cream between them for an amazing summer dessert packed with cinnamon flavor!
It's time to give churros a makeover. Obviously, as a fried dough enthusiast, I'm fond of them. They're comforting and familiar and taste like my childhood—warm summer days spent at amusement parks, eating churros between bites of cotton candy and caramel apples. (I was a sugar hero from an early age.) But since then, I've grown up, embraced a slightly more sensible diet, and expanded my culinary sensibilities. Isn't it time churros grew up a little too?
Good news, churro (and ice cream) fans! Say hello to Churro Ice Cream Sandwiches—two round churros, fried until golden brown and tossed with cinnamon sugar, sandwiching rich, creamy homemade horchata ice cream. The official dessert of summer has arrived!
I don't know why we've spent all these years making our ice cream sandwiches with sad little chocolate cookies like chumps. Churros are obviously the superior method of ice cream delivery. I really can't imagine anything better than freshly-fried dough, crispy on the outside and a little tender on the inside, coated with cinnamon and sugar, with a fat scoop of smooth horchata ice cream tucked inside. Perfection? I'd say so. Let us never speak of those other ice cream sandwiches again.
I wish I could take credit for this amazing idea, but honesty and easily google-able facts prevent me from lying to you. The concept of churro ice cream sandwiches originated (as far as I can tell) from an LA dessert company called The Churro Borough, and after seeing approximately a billion articles about them, I needed to recreate the concept in my kitchen immediately.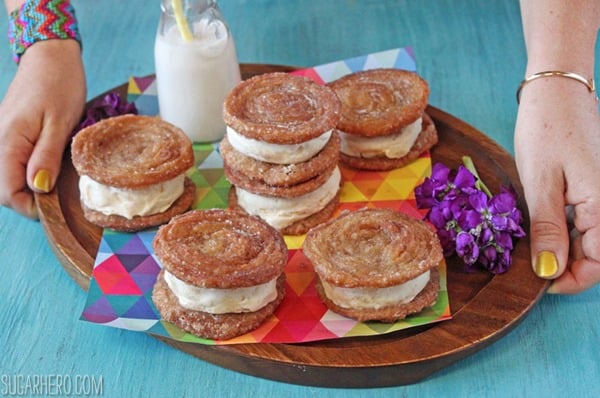 Reading about churro ice cream sandwiches was one thing, but figuring out the best way to make them was quite another. I started with my trusty churro recipe, but I soon learned that round churros that look like the proper size and width when going into the fryer turn into unwieldy dough-beasts when coming out of the fryer. After a few experiments with different piping styles and tip sizes, I learned that using a smallish star tip, and piping very thin discs of dough, produces the best results.
It's a balancing act: I wanted my churros to puff up, and have that recognizable churro texture, but they also had to be thin enough so the sandwich was easy to hold, and so the ice cream didn't get totally overshadowed. The winning churros were thinner than "normal" churros, but dang if I didn't like them just as much! They were just the right size for holding a scoop of ice cream. I had to stop myself from munching on the plain ones….okay, I barely tried to stop myself from munching on the plain ones. What happens in my kitchen stays in my kitchen.
The ice cream can seem like an afterthought, after the excitement of frying churros, but it's still a wonderful recipe! It has a remarkably strong horchata flavor that goes perfectly with the cinnamon-coated churros.
To get that authentic horchata taste, I started with my basic method for making horchata, but I swapped milk and cream for the water–nobody is here for thin, watery ice cream, am I right? A quick horchata primer: it's made with rice and cinnamon, and in my method, I blend these two ingredients with the rest of the liquids and let it sit overnight in the refrigerator to infuse the flavors. After straining, it's ready to be churned! It's just that easy. The starch from the rice makes the ice cream thick and creamy, no yolks, cornstarch, or other tricks required.
I love this horchata ice cream recipe, and I want you to fall in love with it too! It's summertime, it's hot, and we all need a churro ice cream sandwich in our lives right about now.
If you want more churros in your life, check out these Churros!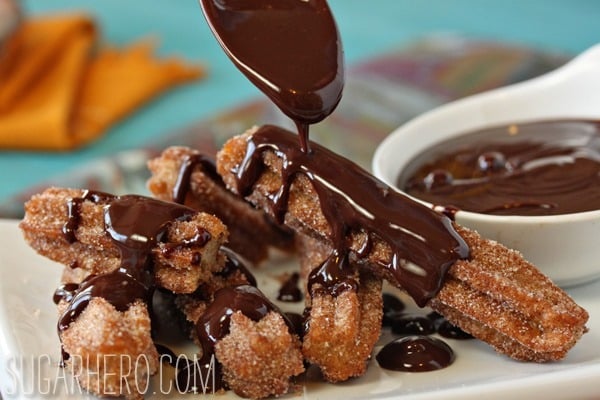 Churros with Three Dipping Sauces
🍦More Cool Treats
Croissant Salted Honey Ice Cream Sandwiches
These Croissant Salted Honey Ice Cream Sandwiches are ice cream sandwiches like you've never had before! Buttery toasted croissants sandwich a delicious salted honey ice cream for a dessert that's sweet, salty, and crunchy.
View Recipe
Cinnamon Roll Ice Cream Sandwiches
These Cinnamon Roll Ice Cream Sandwiches are a fun twist on traditional ice cream sandwiches! Rich cream cheese ice cream is sandwiched between homemade cinnamon rolls to make a treat that's entirely delicious.
View Recipe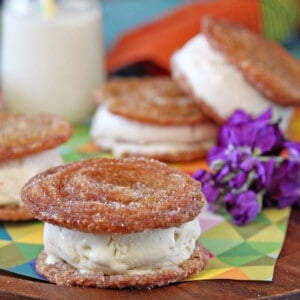 Churro Ice Cream Sandwiches
These Churro Ice Cream Sandwiches feature two round churros, fried till crispy and tossed in cinnamon sugar. Sandwich rich and creamy homemade horchata ice cream between them for an amazing summer dessert packed with cinnamon flavor!
Ingredients
For the Horchata Ice Cream:
Instructions
To Make the Horchata Ice Cream:
Combine the rice and cinnamon stick in a blender. Blend on medium-high speed for 1-2 minutes, until the rice and cinnamon are finely ground. (It's okay if your blender produces a coarser mixture—you just want to break them down a little.) Add the cup of milk and blend the milk with the rice until you have a thick, slushy mixture. Pour it into a large container and add the cream, condensed milk, salt, and vanilla. Whisk well, then refrigerate it overnight, or at the minimum 3-4 hours.

Line a strainer with 4 layers of cheesecloth, and pour the ice cream mixture through the cheesecloth to strain out the rice and cinnamon stick. Churn it in an ice cream maker according to the manufacturer's directions. When it is finished it will probably have a soft-serve consistency, so place it in the freezer to firm up before scooping and assembling the sandwiches.
To Make the Churros:
Sift together the flour and 1 teaspoon cinnamon, and set aside for a moment.

Combine the water, sugar, vegetable oil, and salt in a medium saucepan over medium-high heat. Bring it to a boil, and once boiling, add the flour mixture all at once and stir it in quickly. It will be thick. Continue to stir until the streaks of flour are gone, and the whole thing comes together in a rough, shaggy ball in the middle.

Transfer the hot ball of dough to the large bowl of a stand mixer fitted with a paddle attachment. Begin to beat on medium speed, and add one of the eggs. At first it won't come together, but continue to beat until it's incorporated and the mixture smooths out. Add the other egg and beat until your dough is combined and smooth.

Fit a pastry bag with your star tip, and fill the bag with churro dough. Cover two baking sheets with parchment or waxed paper. Pipe the dough in a spiral shape into 3-inch circles, keeping the tip close to the baking sheet so the dough is in a very thin layer. You should get about 18-20 circles from one batch.

Transfer the sheets to the freezer for 10 minutes to chill the dough and make it easier to handle. While the churros are freezing, heat the oil for frying. Pour the oil into a large skillet, so that it's 1 1/2 – 2 inches deep, and turn the heat to medium. Insert a candy/deep fry thermometer and let the oil heat to 350 F (175 C). Line a baking sheet with several layers of paper towel, and toss the granulated sugar and remaining 3 tsp (1 tbsp) of cinnamon together in a shallow pie pan.

Once at 350 F, slide a spatula under the frozen churros to release them from the pan. Transfer 2-3 churros to the hot oil and fry them, turning them occasionally so that they brown on all sides.

When they're finished, they will be puffed and golden brown on all surfaces. Transfer them to the paper towel-lined baking sheet using a slotted frying spatula, then quickly move them to the cinnamon-sugar bowl and toss them with the sugar until they're coated. Let the oil come back up to 350 F before frying the next batch. If it gets too hot during the cooking process, remove it from the heat until it cools down again. The goal is to always keep it around 350 F.

Continue to cook the churros in small batches until they're all fried and coated with cinnamon sugar. While the churros can be made a few hours in advance, for the best taste and texture, they should be enjoyed on the same day they're made. To make the ice cream sandwiches, top one with a scoop of ice cream, place another churro on top, and serve immediately!
Recipe Notes
For the best flavor, I recommend letting the ice cream base sit overnight before churning it. If you don't have that time, it should sit for at least 3 hours to really let the flavors infuse. If you don't want to make ice cream at all, any store-bought variety can be substituted instead!
Measuring Tips
Our recipes are developed using weight measurements, and we highly recommend using a kitchen scale for baking whenever possible. However, if you prefer to use cups, volume measurements are provided as well. PLEASE NOTE: the adage "8 oz = 1 cup" is NOT true when speaking about weight, so don't be concerned if the measurements don't fit this formula.
Want to learn more about baking measurements and conversion?
Nutrition
Calories:
545
kcal
|
Carbohydrates:
71
g
|
Protein:
8
g
|
Fat:
25
g
|
Saturated Fat:
16
g
|
Cholesterol:
113
mg
|
Sodium:
182
mg
|
Potassium:
261
mg
|
Fiber:
0
g
|
Sugar:
45
g
|
Vitamin A:
895
IU
|
Vitamin C:
1.3
mg
|
Calcium:
191
mg
|
Iron:
1
mg
Tried this recipe?
Snap a pic and hashtag it #SugarHero. We love to see your creations on our Instagram @elabau.