This post may contain affiliate links. As an Amazon Associate I earn from qualifying purchases. Please see my disclosure policy for more information.
These bonbons are so easy, and irresistible! Minty Oreos are filled with peppermint ice cream, dunked in chocolate, and topped with crushed candy canes.
As I write this, we are less than 8 hours away from leaving to see family for Christmas. I still have a few work-related things to finish, I haven't even started packing, I'm pretty sure the wee one is coming down with an ear infection based on his yowling tonight, and oh yes, I'd like to sleep for a few hours before we hit the road. Dang, this entire month has kicked.my.booty.
I am so looking forward to taking a few days off and relaxing. Of course, my version of relaxation involves cutthroat games of Settlers of Catan and long midday runs, but still! I can't wait to distance myself from my to-do list for a few days.
Are you like me? Tired, overworked, a bit of a stress monkey, but still rocking those dirty pajamas like a boss? I thought so! Don't worry, my sweet (and good-looking!) twin, I have a perfectly easy, perfectly Christmasssy dessert for you. Bonus: there is ice cream. Let that soothe your weary soul.
These "bonbons" are nothing more than minty Oreos, filled with peppermint ice cream, dunked in chocolate, and finished with a scattering of crushed candy canes on top. So simple, so fast, so freakin' delicious. You can make them in advance, keep them in the freezer, and then take them out as the situation requires. Unexpected visitors? Late-night munchies? To-do-list-related stress eating? These bonbons are here for you, and they are whispering, "Come. Partake of our refreshing, minty deliciousness. We have your back."*
*You know, it's not my best work, but it's not my worst. Let's hope 2014 brings more sleep and more sensible blog writing.
And with that, I'm off to go throw hopefully-clean clothes into a suitcase! Happy weekend, friends. I hope it brings you Oreos and ice cream and chocolate. I'll be back Monday with one last Christmas dessert!
If you find yourself with extra Oreos after making these bonbons, put them to good use in Oreo Fudge, Cookies and Cream Cake, Dirt Pudding Cups, Oreo Milkshake, or Mini Oreo Icebox Cakes!
Peppermint Lava Cakes
Chocolate lovers will go crazy for these Peppermint Lava Cakes – mini chocolate cakes with a hint of peppermint and a molten chocolate center. They make a great holiday dessert!
Get the recipe!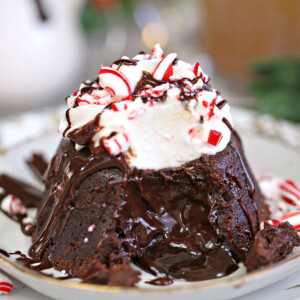 Peppermint Hot Chocolate
This Peppermint Hot Chocolate recipe is made the old-fashioned way, with real melted chocolate for a rich texture and deep chocolate flavor. The bright minty flavor makes this the perfect holiday drink.
Get the recipe!
Oreo Peppermint Ice Cream Bonbons
These bonbons are so easy, and so delicious! Minty oreos are filled with peppermint ice cream, dunked in chocolate, and topped with crushed candy canes. Try varying the flavors of the cookies, ice cream, and toppings to completely customize this dessert!
Instructions
Take the ice cream out of the freezer and let it sit on the counter and soften at room temperature, for about 10 minutes. While you wait, prepare the candy canes and Oreos.

Unwrap the miniature candy canes and place them in a zip-top plastic bag. Use a rolling pin to crush them into small pieces in the bag. Twist the Oreos apart. You can scrape out the cream fillings if you'd like—they get slightly hard (but not painfully so!) when frozen. I liked the extra creaminess and mint flavor, so I left the fillings in when I made my bonbons. Cover a baking sheet with parchment or waxed paper.

Use a small candy or cookie scoop to scoop up 1 1/2" balls of softened ice cream. Place a ball of ice cream on one Oreo cookie, top it with a second cookie, and press down gently so that the ice cream squeezes out to the edges of the cookie. If necessary, run a knife around the edge quickly to make a clean line, and place it on the prepared baking sheet. Repeat with the remaining cookies, working quickly so the ice cream doesn't get too melted. Once all of the bonbons are assembled, place the tray in the freezer to firm up the ice cream, for about 30 minutes.

Chop the semi-sweet chocolate, and place it into a microwave-safe bowl. Microwave in 30-second increments, stirring after every 30 seconds, until melted and smooth. Take the frozen bonbons from the freezer. Use dipping tools or a fork to dip a bonbon in the melted chocolate. Let the excess drip back into the bowl, scrape the bottom against the lip of the bowl to remove excess chocolate, and place it back on the baking sheet. While the chocolate is still wet, sprinkle the top with a pinch of crushed candy canes.

Store Oreo Peppermint Ice Cream Bonbons in an airtight container in the freezer. For the best taste and texture, let them sit for just a few minutes at room temperature before serving, so the ice cream is slightly softened but not melted.
MEASURING TIPS
Our recipes are developed using weight measurements, and we highly recommend using a kitchen scale for baking whenever possible. However, if you prefer to use cups, volume measurements are provided as well. PLEASE NOTE: the adage "8 oz = 1 cup" is NOT true when speaking about weight, so don't be concerned if the measurements don't fit this formula.
Click here to learn more about baking measurements and conversion.
Nutrition
Calories:
180
kcal
|
Carbohydrates:
19
g
|
Protein:
2
g
|
Fat:
10
g
|
Saturated Fat:
6
g
|
Cholesterol:
14
mg
|
Sodium:
31
mg
|
Potassium:
191
mg
|
Fiber:
1
g
|
Sugar:
16
g
|
Vitamin A:
170
IU
|
Vitamin C:
0.2
mg
|
Calcium:
53
mg
|
Iron:
1.4
mg
Share by Email
Share on Facebook
Share on Pinterest