When you want to go big, this American Flag Layer Cake is the cake for you! This ultra tall cake mimics the American Flag on the inside with layers of red and white stripes and even a white star baked right inside. It feeds a big crowd so it's perfect for barbecues or Fourth of July celebrations.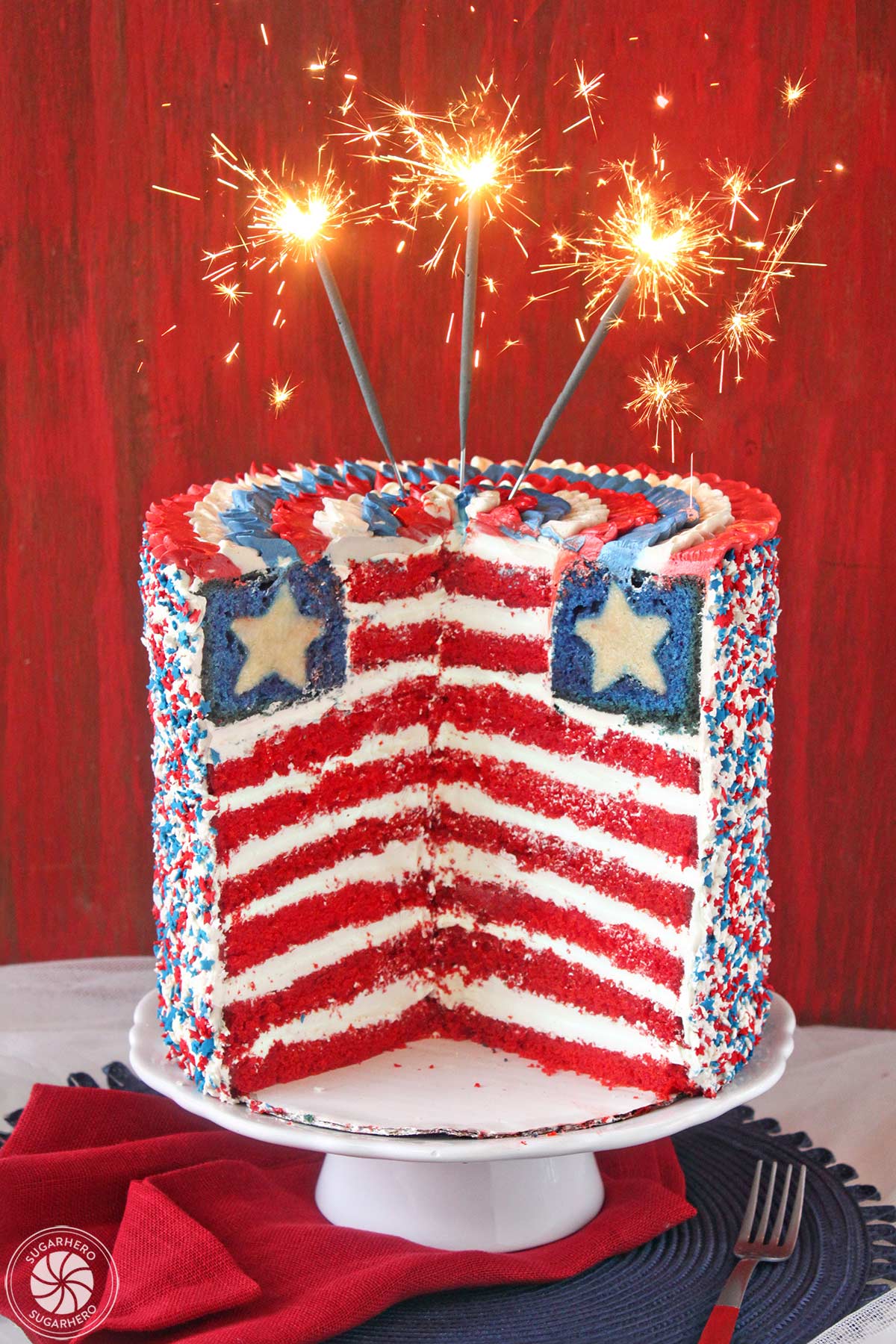 Last year I only posted one measly Fourth of July recipe on SugarHero. Boooo! Why so skimpy on the patriotic desserts, SugarHero? This year I wanted to make up for that omission, so I decided to go big…really really big.
Is there a better way to celebrate our country than with a larger-than-life American flag layer cake? Absolutely not! This monster of a cake has over a dozen red and white layers, a blue corner, and a white star baked right into the cake. It can easily feed 30-40 people (but I'll show you how to reduce it for smaller groups!) and is an absolute show-stopper. If you want to wow your guests and totally overshadow the fireworks display this Fourth of July, you need to make this cake! Don't forget these adorable Stars and Stripes Sugar Cookies for the ultimate dessert showdown!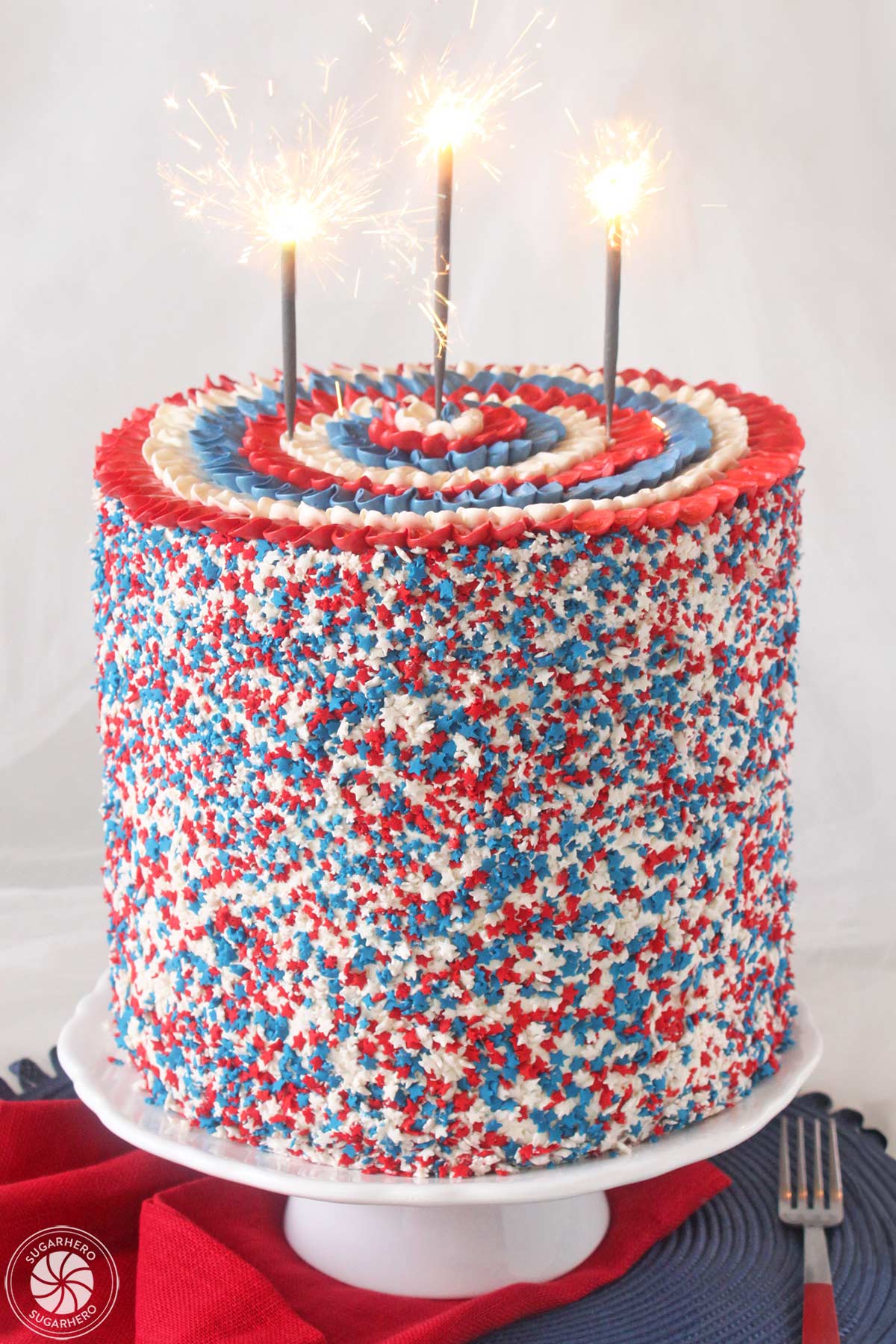 I wanted to make the outside of the cake as beautiful as the inside, but I am also a lazy cake decorator. So for maximum impact with minimal work, I turned to my good friends, the sprinkles family. An assortment of star-shaped sprinkles saved the day and made the cake look colorful and festive, and I didn't have to do much more than press them along the outside. (I used star sprinkles similar to these—you will probably need close to 12 oz for the full-sized cake.)
What really made the cake pop, of course, were the sparklers on top! After a wild goose chase than involved driving to the nearest town where sparklers are legal (because apparently they can't be sold in my town…shhhh don't squeal on me), scouring all the sketchy parking lot fireworks stands, and STILL not finding any sparklers, a friend took pity on me and gifted me some leftovers from her wedding. They are extra-long and burn extra-bright, and they were extra-perfect! Asher and I had fun playing with them, too. Nothing like some mother-son bonding over pyromania.
[A note about the sparklers: they are not intended for food use, and while burning they threw off a little ash on the top of the cake. I scraped that frosting off and re-frosted the top before we served it to people. But if you want a similar effect, look for cake sparklers, which are food-safe!]
This is hardly my first time at the Unnecessarily Tall Cake Rodeo. I think my obsession started when I made this Carrot Cake with Coconut Cream Cheese Buttercream. Sure, tall cakes are awkward to slice, and sure, you'll be hating life when you're trying to cram one into your overstuffed refrigerator, but there's something so striking about an extra-tall cake, I'm willing to forgive all sorts of annoyances. Since then, I've made an 8-layer Pink and Red Velvet Cake, and a 9-layer Chocolate Salted Caramel Cake. Those cakes were fun, and definitely tall, but this might just be my masterpiece. My edible Sistine Chapel, if you will.
This cake is made with vanilla buttercream and my favorite yellow cake recipe. I was planning on having thirteen red and white layers (for accuracy in flag depiction, naturally) but I mis-counted and ended up with 15. D'oh! You can either see this as a mistake, or an endorsement of how awesome our country is. New National Motto: So Rad It Needs Another Two Flag Stripes. You're welcome, America.
Oh, you're wondering about that star baked into the blue layer? Just a little something I like to call a sugar cookie. (Crazy, right?!) I got the idea from Once Upon A Pedestal, who makes all kinds of amazing hidden design cakes, and who has used cookie dough in the past to get really crisp designs. You definitely can make the stars with white cake instead of cookies (more on substitutions and simplifications below!) but I wanted a sharp, well-defined star shape, and thought cookies were my safest bet. The trick is to use a dough that doesn't spread, and then to barely bake the cookies—just enough so that you can handle them.
You'll also want to do some planning and make sure that your star shape can easily fit around the outside of the cake, leaving plenty of room to cut a circle out of the center. I used a large round cutter to help position my star cookies, to make sure I had an even margin from the edge on both sides of the star. The last trick is to partially bake the bottom layer of cake before you place the cookies, so they don't sink down to the bottom. It's a lot of steps, and it's fiddly for sure, but I think it's worth it when you cut into the cake and hear the oohs and aahs.
So how does it taste? Just as amazing as it looks! I kept it simple and flavored everything with vanilla, but this would also be good with orange, lemon, or almond extracts (just be sure to use something clear, so the white buttercream doesn't change color). The stars are a little denser than the surrounding cake, so it's easiest and neatest to cut the slices when the cake is cold. They're definitely not hard and crispy, though, and they blend nicely with the cake texture. I should add that not every slice had a perfectly shaped star, but even the ones with a more "abstract" star shape looked completely awesome.
Ready to rumble? Let's do this thing!
This is a long recipe, and although the individual steps aren't complicated, please be sure to read the notes and entire recipe through before beginning! While it might be possible to make this in one day, I recommend spreading it over 2 days: make the cookies, cake layers, and (maybe) the frosting one day, then assemble it the second day.
Serving Size: The full cake, pictured here, will easily serve 30-40 people if you give them small-to-average slices. If you do make the full cake, I recommend slicing it in half before cutting the slices, so you're serving from two average-height cakes instead of one really tall one. You'll get the cleanest cuts if you slice the cake while it's cold. I assume that many folks might not want to make such a giant cake, so the recipe is written to produce half the amount of red cake and frosting. This will get you a cake with 5 red layers instead of 8. If you want the full 8, be sure to follow the instructions and double the portions that say they should be doubled.
Equipment: I have included a list of equipment at the end of the recipe. Some of it is optional (but recommended, to make your life easier!) and some of it is necessary. The absolute musts are gel food coloring (don't use liquid! You won't get the bright colors you need!) and tall 9-inch cake pans. I like using 9×3-inch pans, but 9×2-inch pans will work as well. Do not use 9×1.5-inch pans, they might not be tall enough for the cake to bake.
Simplifying: I won't lie, this is a big project. One way to make it easier is to omit the stars from the blue layer entirely. You'll still have a striking design, but won't have to spend time on the cookies. If you want to keep the stars, but don't want to mess with cookie dough, consider using pound cake instead. Pound cake is denser than most cake, so it should hold the star shape better, and it's readily available in many grocery freezers. Cut the cake when it's semi-frozen to get the cleanest slices and shapes. You will probably need at least 3 frozen pound cakes to get enough stars for this cake. While you might be able to use a regular homemade white cake, I haven't tried it and can't guarantee that the stars will hold their shape during the cutting or baking process.
💓More Dessert Recipes You'll Love
Fourth of July Layer Cake
Celebrate Independence Day with a bang by making this Fourth of July Layer Cake! Four tall layers of red and blue velvet cake are finished with silky-smooth buttercream and a fun assortment of red, white, and blue candy on top. It's the perfect party cake!
View Recipe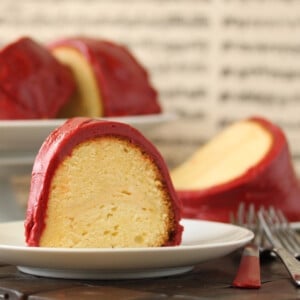 Cream Cheese Cake with Red Velvet Fudge Frosting
This Cream Cheese Cake with Red Velvet Fudge Frosting is an inside-out red velvet cake. The cream cheese bundt cake has a dense, moist texture and tangy flavor that's magnified by soft, fudgy frosting.
View Recipe
American Flag Layer Cake
When you want to go big, this American Flag Layer Cake is the cake for you! This ultra tall cake mimics the American Flag on the inside with layers of red and white stripes and even a white star baked right inside. It feeds a big crowd so it's perfect for barbecues or Fourth of July celebrations. 
Ingredients
Instructions
To Make the Sugar Cookie Stars:
Preheat the oven to 350 F, and line two baking sheets with parchment paper. Combine the cold cubed butter and sugar in the bowl of a large stand mixer fitted with the paddle attachment. Beat them together on medium speed until the butter is worked into the sugar and you have a smooth mixture. Don't beat until light and creamy, like you would with many cookie recipes—you don't want to beat too much air into it, or the cookies will spread!

Add the egg and beat until it's incorporated, then mix in the vanilla extract. Add the salt and flour, and mix on low speed until no streaks of flour remain. The dough should be thick, and not sticky. If you started with cold butter, and worked quickly, it should be cool enough to roll out and cut now. If it seems too soft to roll and cut, form it into a disc, wrap it with plastic wrap, and refrigerate for 30-40 minutes.

Roll the dough between two sheets of parchment until it is 1/4-inch thick. Cut small (2-inch) stars out of the dough and place them on the parchment-lined baking sheets. They won't spread much, so you can place them close together. Bake the cookies at 350 F for 4-5 minutes, just until they lose the raw shine in the middle. Do NOT cook them until they're fully baked! They should still be completely pale and just barely set when you take them out. If they have lost their sharp edges, press the cutter into them while they are still warm. Let them cool on the baking sheet before moving them. Re-roll the scraps of dough together and cut and bake more stars, until you've used all the dough. You'll need about 50-60 stars for this recipe.
To Make the Red Cake Layers:
[Follow this whole procedure TWICE if you want the full-sized cake!]

Preheat the oven to 350 F. Line two 9×2 or 9×3-inch cake pan with parchment rounds, and spray the parchment and pan sides with nonstick cooking spray.

Combine the sugar, cake flour, baking powder, and salt in the bowl of the stand mixer fitted with a paddle attachment. Mix on low speed for about a minute to combine the dry ingredients.

Lightly whisk together the egg yolks and about a quarter of the milk (it doesn't have to be a precise measurement) and the vanilla extract, and set aside for now.

Add the remaining milk and the softened butter to the large mixing bowl and mix on low speed until the dry ingredients are moistened. Turn the mixer to medium speed and mix for a minute and a half.

Add the egg yolk mixture in three batches, mixing for 20-30 seconds after each addition, until you have a smooth batter. Add the red gel food coloring and mix it in. Scrape the bottom and sides of the bowl with a rubber spatula, and give the batter a few more stirs to make sure everything is incorporated. Divide the batter between the two pans and bake at 350 F for 35-40 minutes, until the sides just start pulling away from the pan, and a toothpick inserted into the center comes out clean.

Let the cakes cool on a wire rack for 10 minutes, then gently turn them out and let them cool completely. I find it's easiest to cut and stack cakes that have been chilled, so if you have time, wrap them with plastic wrap and put them in the freezer for at least 30 minutes, until they are firm but not frozen all the way through. If you are making these in advance, they can stay in the freezer for up to several weeks. Let them partially defrost, until they are firm but not rock-hard, before assembling.
To Make the Blue Cake Layer:
Prepare the blue batter as described above, using blue food coloring instead of red. Line a 9×3-inch cake pan with parchment and spray it well with nonstick cooking spray.

Spread a thin layer of cake batter (about 1/2-inch thick) in the bottom of the pan. Bake the cake for 10-15 minutes, until it puffs up and starts to set around the edges. Chill it in the refrigerator for 15 minutes until the pan is cool to the touch.

Arrange the star cookies in a ring around the outer edge of the cake, leaving a small margin at the edge. If you have a 3 1/2-inch circle cutter, it might help to place that in the middle of the cake pan, and use that as a guide to evenly space your cookies. Stand them upright (the partially baked cake should help prevent them from sinking) and press them as close together as possible. You will have some gaps between the outer edges of cookies—cut some cookies in half and press them into the gaps, to make the cookie ring stable and secure.

Scrape the remaining cake batter on top of the cookies and spread it around, making sure that the tops of the cookies are well-covered. It's better to have less batter in the center of the pan, since that will be cut out anyhow, than to skimp on batter on top of the cookies.

Bake the cake for 60-70 minutes, until a toothpick inserted in the center comes out clean. If it starts to get too dark on top, cover it loosely with foil. Let the cake cool on a wire rack for 10-15 minutes, then turn it out of the pan and let it cool completely.
To Make the Buttercream:
[For the full cake, make TWO batches of the full batch, and ONE batch of the half batch. For a half-sized cake, make ONE batch of the full batch and ONE batch of the half batch.]

Combine the egg whites and the granulated sugar in the bowl of a large stand mixer, and whisk them together. Choose a small saucepan that lets you fit the base of the stand mixer snugly into the top of the saucepan—this is your makeshift hot water bath. (Alternately, you can use a different bowl or an actual bain marie and then transfer the mixture to a mixing bowl once it's heated.) Add an inch of water to the bottom of the saucepan, and bring the water to a simmer.

Place the mixing bowl on top of the saucepan, making sure that the bottom isn't in contact with the water, and heat the egg white mixture. Whisk frequently so that the egg whites don't cook. Continue to heat the whites until they are hot to the touch, and when you rub a bit between your fingers, you don't feel any grittiness from the sugar. Once the whites are hot, transfer the mixing bowl to your mixer and fit it with a whisk attachment.

Beat the whites on medium-high speed until they are no longer warm to the touch—feel the outside of the bowl, and make sure that it is around room temperature. Depending on your mixer and the temperature of your environment, this may take 15-20 minutes, or more. Reduce the speed to medium-low and add the softened but cool butter in small chunks, a tablespoon at a time, making sure to wait in between additions. It may separate or look a little gloopy at this point—fear not. Once all of the butter is added, increase the speed again and whip until it comes together and is light and fluffy. If, after 5 minutes, it hasn't come together, refrigerate the mixing bowl for 5-7 minutes, to cool the mixture down, and whip it again. Add the vanilla extract and salt.

The buttercream can be made in advance and kept at room temperature if you're going to use it the same day, or early the next day. If it has been refrigerated, let it sit at room temperature until completely soft, then re-whip it to get the smooth texture back before you use it.
To Assemble:
Using a large serrated knife, cut each red cake layer in half. You should have 4 red cake rounds now [or 8 if you're making the full-sized cake]. Place one layer face-up on a cake cardboard.

Scoop about 1 cup of buttercream into the center, and spread it in an even layer until it covers the cake and reaches the outer edge. Top the cake round with a second round, and repeat the process of spreading frosting on the layers, until you have used 3 red layers. Top the cake with another layer of buttercream. [For the full-sized cake, you can use 7 red layers.]

Use a 3 1/2-inch round circular cutter to cut a hole in the middle of the blue cake. If you don't have a cutter, trace around a similarly-sized bowl instead. Cut two 3 1/2-inch rounds out of a red cake layer. You will have red cake scraps left. Place the blue cake on top of the red layer cake. Spread a thin layer of frosting around the inside of the cake's hole, then insert one of the red mini cakes inside the blue cake. Spread a layer of frosting on top of this red cake, then add the second red cake layer. Add enough frosting on top of the red cake to make it flush with the top of the blue cake layer.

Spread buttercream along the sides and top of the cake in a thin layer—this is just to hold the crumbs in. Refrigerate the cake for at least an hour to firm up the frosting and make it easier to decorate.

To finish the cake, spread another, thicker layer of frosting along the sides. Pour star sprinkles into a shallow bowl, and scoot the cake to the edge of the cake turntable or a plate. Press the sprinkles into the sides of the cake, letting the excess fall back into the bowl below.

If desired, dye some of the frosting red and blue with gel food coloring. Pipe decorative ribbons, swirls, or rosettes on top of the cake to finish it. This cake is easiest to cut when cold, but best enjoyed at room temperature.
Recipe Notes
The cake recipe is adapted from the Golden Yellow Cake in Rose Levy Berenbaum's The Cake Bible. My inspiration for using sugar cookies in the cake comes from Once Upon A Pedestal.
Measuring Tips
Our recipes are developed using weight measurements, and we highly recommend using a kitchen scale for baking whenever possible. However, if you prefer to use cups, volume measurements are provided as well. PLEASE NOTE: the adage "8 oz = 1 cup" is NOT true when speaking about weight, so don't be concerned if the measurements don't fit this formula.
Want to learn more about baking measurements and conversion?
Nutrition
Calories:
513
kcal
|
Carbohydrates:
59
g
|
Protein:
6
g
|
Fat:
28
g
|
Saturated Fat:
17
g
|
Cholesterol:
147
mg
|
Sodium:
259
mg
|
Potassium:
171
mg
|
Fiber:
0
g
|
Sugar:
39
g
|
Vitamin A:
925
IU
|
Calcium:
78
mg
|
Iron:
0.8
mg
Tried this recipe?
Snap a pic and hashtag it #SugarHero. We love to see your creations on our Instagram @elabau.
Recommended Equipment
9×3-inch cake pans
Red gel food coloring (I like Americolor Super Red)
Blue gel food coloring (I like Americolor Royal Blue)
Star sprinkles
Star cookie cutter (I used the middle cutter in this set)
9" cardboard cake rounds
Cake turntable
(optional but makes decorating easier)
Offset spatula