This Agate Cake features gorgeous, EDIBLE candy agate slices on top of a watercolor buttercream cake! It's a special occasion cake for birthdays, showers, or any time you need a dessert that's really a show piece!
Even though it's officially October, it's not going to be nonstop pumpkin and Halloween desserts ALL the time around here. We need a little break from the orange and the edible blood every now and then, right?! (Or at least that's what I'm telling myself, since I still have a little stockpile of layer cake recipes + videos I haven't posted yet…)
This Agate Cake might not be particularly seasonal, but it doesn't need to be! We all have fun things to celebrate in EVERY season of the year, and this stunning cake would be a perfect addition to any birthday, shower, or party. No pumpkin required.
I've been wanting to try my hand at making edible agate slices ever since I saw this tutorial on Instructables a few years ago. I've used hard candies to make lots of fun things in the past–most notably these Candy Cane Cups–but it had never occurred to me to make my own agate slices until I saw the tutorial!
Gemstone cakes are so ubiquitous right now–I'm sure we've all seen the geode cakes made with rock candy–and making an agate version seemed like a fun twist on the trend. Plus, it's so easy to do!
All you need to make the agate candy slices is a bunch of hard candy. Go to the dollar store, and buy the variety bags of candy that always looks a little sketchy–you know, the ones with with weird flavors or designs or whatever. Also pick up some Jolly Ranchers, and some clear hard candies if you can find them. The bigger the variety of colors and opacities, the better!
Then get to work crushing them–a meat mallet works well, and as a bonus, you'll get out any pent-up aggression you might have. Make sure you keep the candies divided by color. Once all of the candies are crushed, you'll arrange them in concentric circles in foil molds. Because you're making the molds yourself, you can make them whatever size you want–I did a variety of round and oval shapes, to give the top of my cake some variety.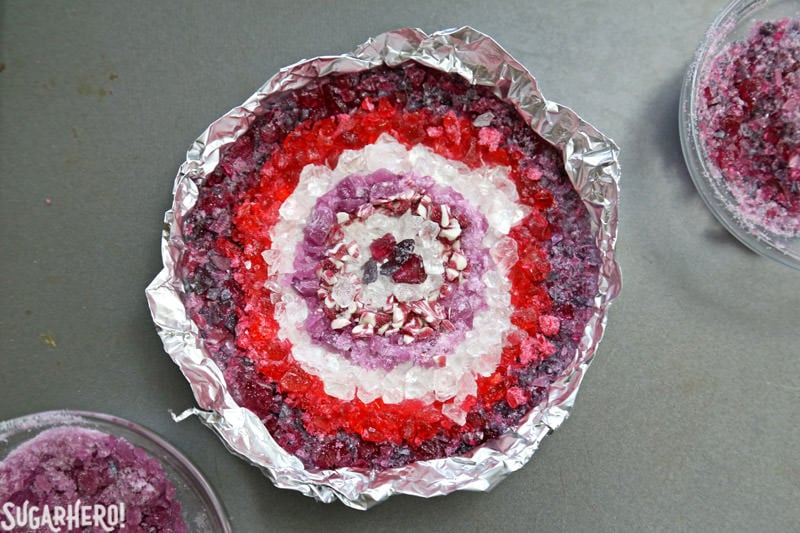 I found it easiest to use non-stick heavy-duty foil for this project–the finished candy just popped right out of the molds, no sticking and no peeling required. But if you can't find that, then a little spritz of nonstick cooking spray should help you with this part of the project.
Here's the magic of this idea: after the candy is arranged in the foil molds, it's baked for just a few minutes. In the heat of the oven the candy melts together, creating a perfect agate pattern. The clear candies are beautifully translucent, the opaque candies add a stunning contrast, and the rings all blend to create a gorgeous, natural design.
A word of warning: I have NOT been able to get this to work with rock candy. Something about the way it is formed means that it doesn't melt into liquid in the oven the way most hard candies do. So stick to hard Jolly Ranchers, peppermints, starlight mints, things like that!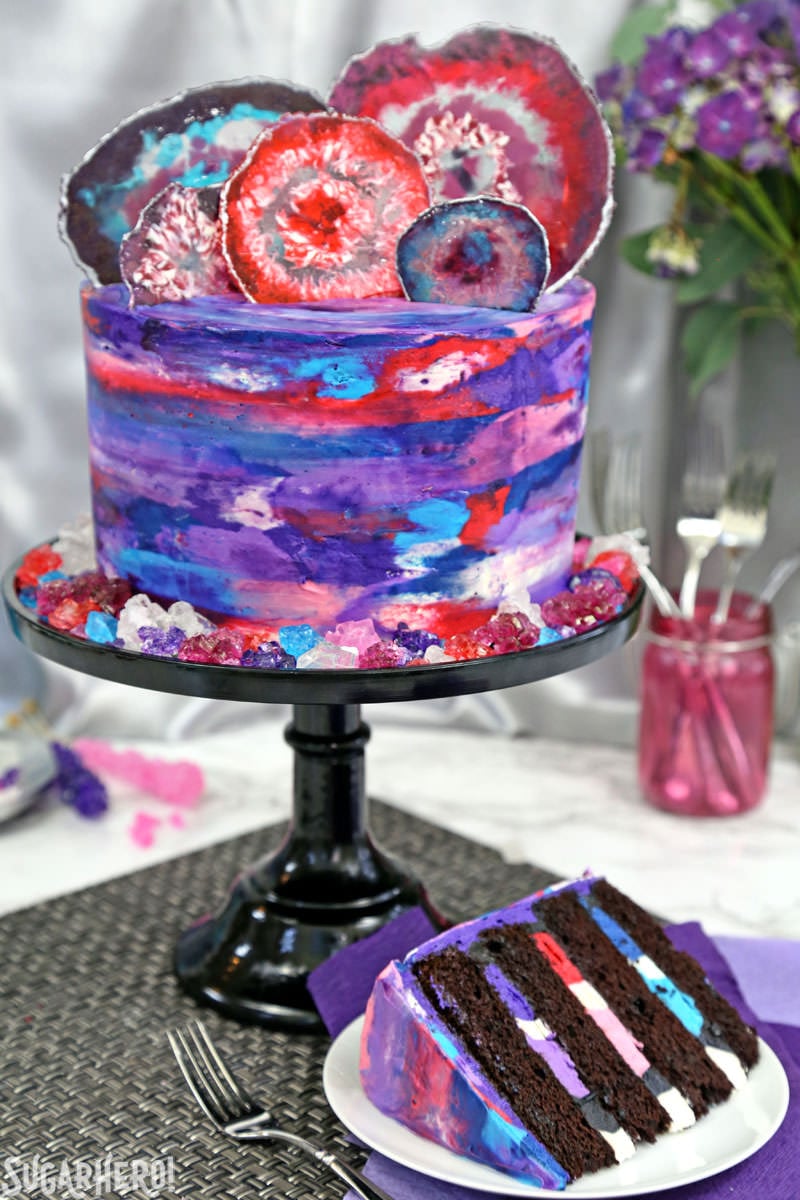 Once the candies are baked and cooled, they're just as firm as regular hard candy, and can be handled with ease. I wanted them to "pop" a little on top of the cake, so I painted the outside edges with a bit of silver luster dust. This step is optional, but since so many real agate slices have a thin band of gold or other metallic accents around the edge, it seemed appropriate.
The agate slices are my favorite part, but I really loved the watercolor buttercream effect too! I stuck to my color palette that I used for the agate, and used different shades of blue, purple, and pinkish red to frost this baby.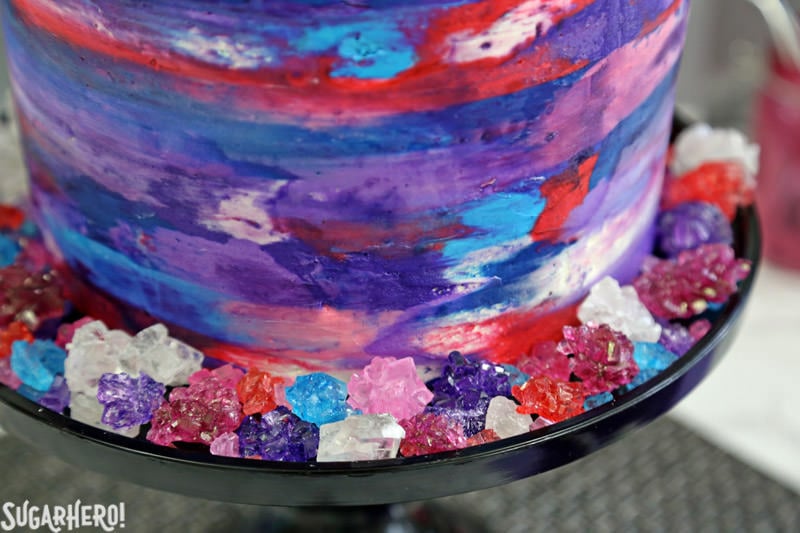 (A little smattering of rock candy around the serving plate never hurt anything either…)
The watercolor technique is easy, but can require a bit of futzing to get it right–at least in my perfectionist experience. There's a video down below that shows you exactly how to do it, and I've also linked to a Facebook Live show where I demonstrate it in real time, and go more in depth with tips and tricks for perfecting your watercolor technique!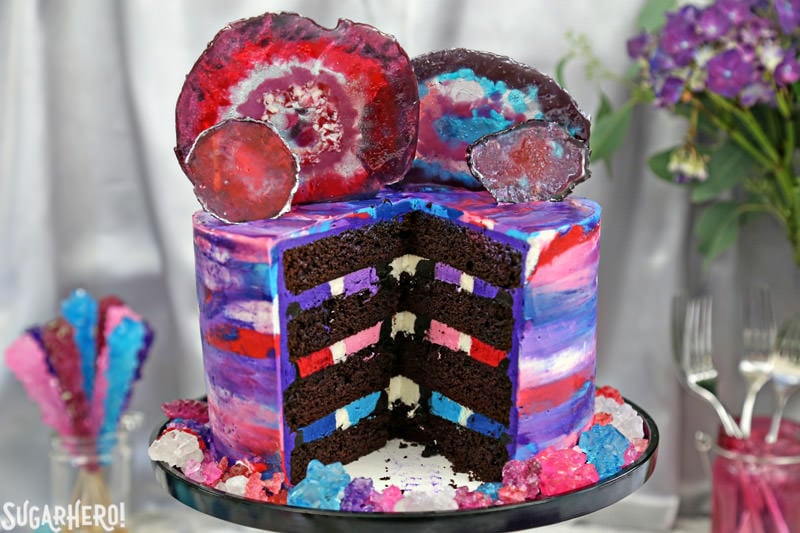 I haven't even MENTIONED the actual cake part, because I was so excited about the decorations! But it's my favorite chocolate cake recipe, filled with multi-colored stripes of vanilla buttercream. The idea was for the cake to look like an agate slice when you cut into it, too, but I'll admit it was better in my head than it was in execution. Ah well, they can't all be winners. (The taste was still A+, though…)
💜More Layer Cakes You'll Love