This post may contain affiliate links. As an Amazon Associate I earn from qualifying purchases. Please see my disclosure policy for more information.
This Agate Cake features gorgeous, EDIBLE candy agate slices on top of a watercolor buttercream cake! It's a special occasion cake for birthdays, showers, or any time you need a dessert that's really a show piece!
Even though it's officially October, it's not going to be nonstop pumpkin and Halloween desserts ALL the time around here. We need a little break from the orange and the edible blood every now and then, right?! (Or at least that's what I'm telling myself, since I still have a little stockpile of layer cake recipes + videos I haven't posted yet…)
This Agate Cake might not be particularly seasonal, but it doesn't need to be! We all have fun things to celebrate in EVERY season of the year, and this stunning cake would be a perfect addition to any birthday, shower, or party. No pumpkin required.
I've been wanting to try my hand at making edible agate slices ever since I saw this tutorial on Instructables a few years ago. I've used hard candies to make lots of fun things in the past–most notably these Candy Cane Cups–but it had never occurred to me to make my own agate slices until I saw the tutorial!
Gemstone cakes are so ubiquitous right now–I'm sure we've all seen the geode cakes made with rock candy–and making an agate version seemed like a fun twist on the trend. Plus, it's so easy to do!
All you need to make the agate candy slices is a bunch of hard candy. Go to the dollar store, and buy the variety bags of candy that always looks a little sketchy–you know, the ones with with weird flavors or designs or whatever. Also pick up some Jolly Ranchers, and some clear hard candies if you can find them. The bigger the variety of colors and opacities, the better!
Then get to work crushing them–a meat mallet works well, and as a bonus, you'll get out any pent-up aggression you might have. Make sure you keep the candies divided by color. Once all of the candies are crushed, you'll arrange them in concentric circles in foil molds. Because you're making the molds yourself, you can make them whatever size you want–I did a variety of round and oval shapes, to give the top of my cake some variety.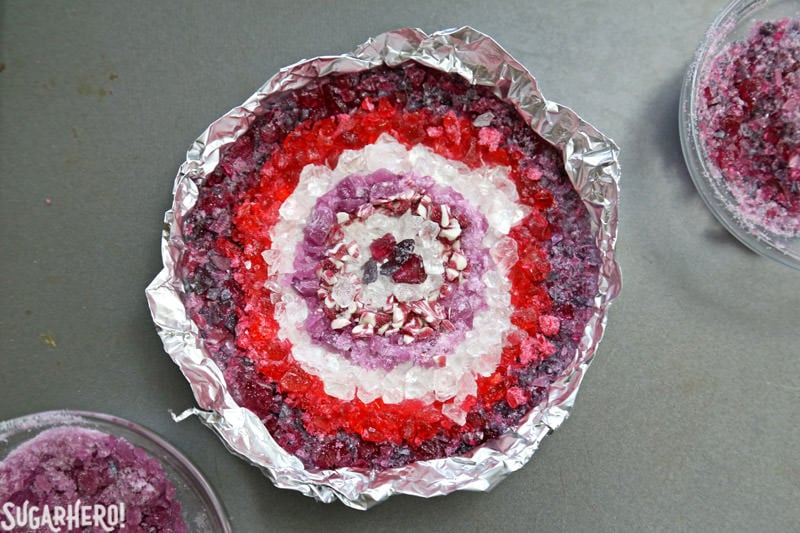 I found it easiest to use non-stick heavy-duty foil for this project–the finished candy just popped right out of the molds, no sticking and no peeling required. But if you can't find that, then a little spritz of nonstick cooking spray should help you with this part of the project.
Here's the magic of this idea: after the candy is arranged in the foil molds, it's baked for just a few minutes. In the heat of the oven the candy melts together, creating a perfect agate pattern. The clear candies are beautifully translucent, the opaque candies add a stunning contrast, and the rings all blend to create a gorgeous, natural design.
A word of warning: I have NOT been able to get this to work with rock candy. Something about the way it is formed means that it doesn't melt into liquid in the oven the way most hard candies do. So stick to hard Jolly Ranchers, peppermints, starlight mints, things like that!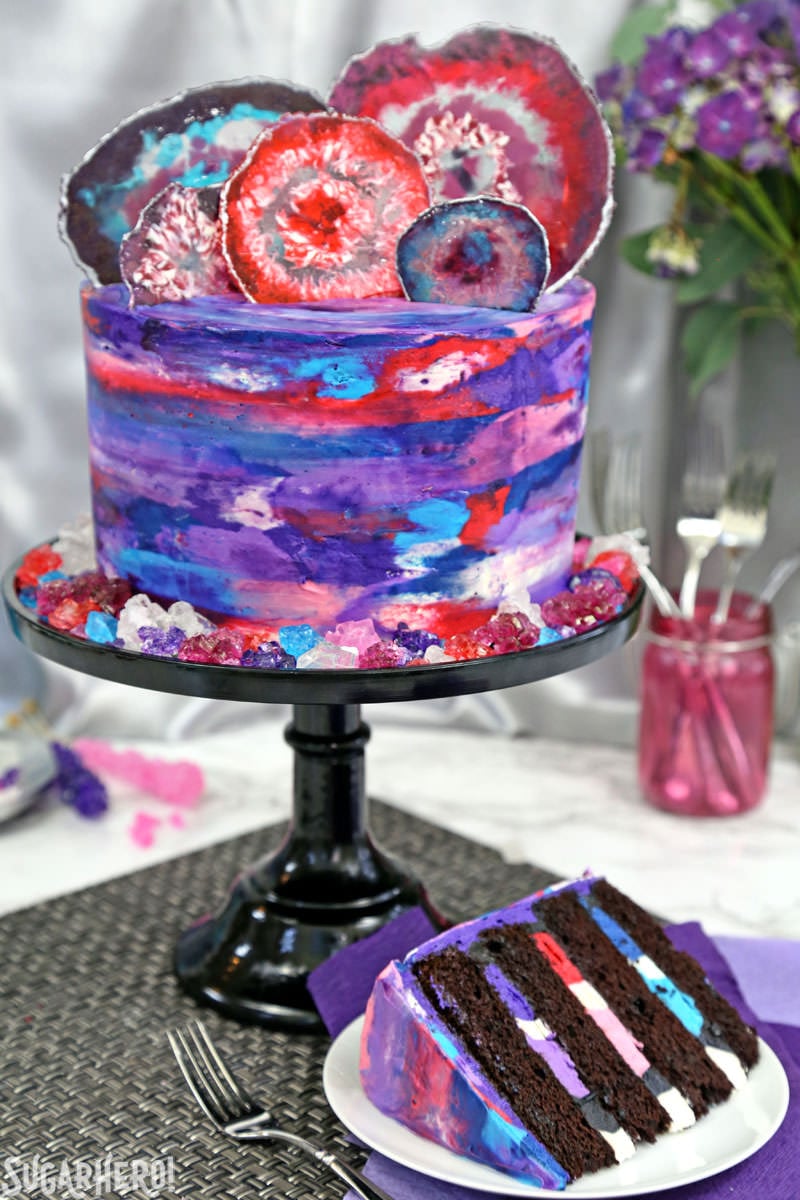 Once the candies are baked and cooled, they're just as firm as regular hard candy, and can be handled with ease. I wanted them to "pop" a little on top of the cake, so I painted the outside edges with a bit of silver luster dust. This step is optional, but since so many real agate slices have a thin band of gold or other metallic accents around the edge, it seemed appropriate.
The agate slices are my favorite part, but I really loved the watercolor buttercream effect too! I stuck to my color palette that I used for the agate, and used different shades of blue, purple, and pinkish red to frost this baby.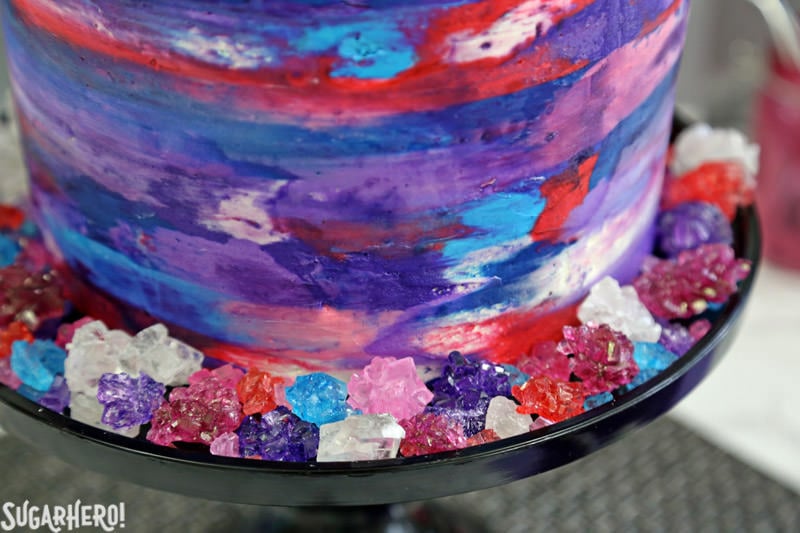 (A little smattering of rock candy around the serving plate never hurt anything either…)
The watercolor technique is easy, but can require a bit of futzing to get it right–at least in my perfectionist experience. There's a video down below that shows you exactly how to do it, and I've also linked to a Facebook Live show where I demonstrate it in real time, and go more in depth with tips and tricks for perfecting your watercolor technique!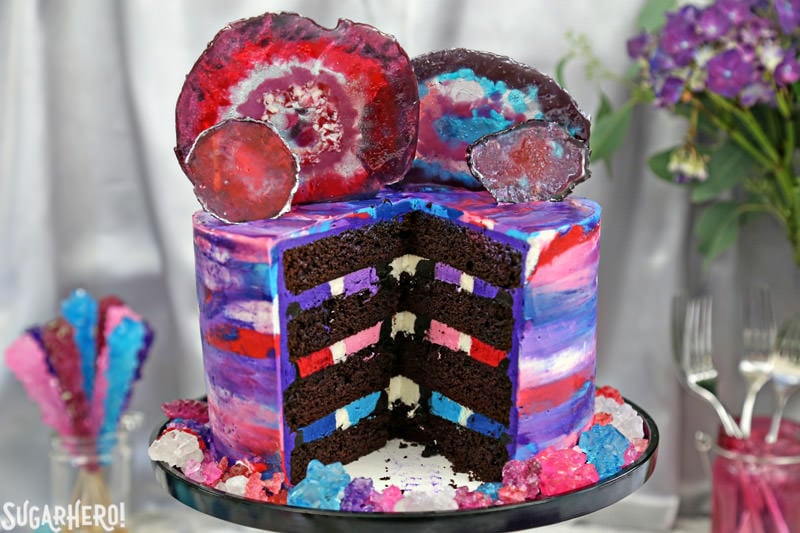 I haven't even MENTIONED the actual cake part, because I was so excited about the decorations! But it's my favorite chocolate cake recipe, filled with multi-colored stripes of vanilla buttercream. The idea was for the cake to look like an agate slice when you cut into it, too, but I'll admit it was better in my head than it was in execution. Ah well, they can't all be winners. (The taste was still A+, though…)
💜More Layer Cakes You'll Love
Easy Homemade Lollipops
Making lollipops at home could not be faster or easier than this! These Easy Homemade Lollipops use a shortcut technique to make beautiful homemade hard candy in just a few minutes. 
Get the recipe!
Agate Cake
This Agate Cake features gorgeous, edible candy agate slices on top of a watercolor buttercream cake! You can use any color scheme you like for the agate slices and buttercream.
Ingredients
For the Agate Candy Slices:
Hard candies

,

assosrted colors, about 1-2 oz per large agate slice

Non-stick heavy-duty foil

Silver edible luster dust

,

optional

Vodka

,

optional, if you're using the silver luster dust
For the Chocolate Cake:
6

oz

unsalted butter

,

at room temperature

4.75

oz

granulated sugar,

(2/3 cup)

5

oz

brown sugar,

(2/3 cup), packed

2

large eggs

,

at room temperature

2

tsp

vanilla extract

8

fl oz

buttermilk

,

(1 cup)

, at room temperature

4

oz

sour cream

,

(1/2 cup)

, at room temperature

2

tbsp

water

,

or coffee

7.8

oz

all-purpose flour,

(1¾ cups)

3

oz

unsweetened cocoa powder,

(1 cup)

1½

tsp

baking soda

½

tsp

salt
For the Buttercream:
6

fl oz

pasteurized liquid egg whites

,

(3/4 cup)

24

oz

powdered sugar

,

(6 cups)

1/2

tsp

salt

24

oz

unsalted butter

,

(6 sticks)

, at room temperature

2

TBSP

vanilla extract
Green gel food coloring – leaf green,

I used Americolor Electric Purple, Violet, Sky Blue, Navy Blue, Electric Pink, and Super Red
Instructions
To Make the Agate Candy Slices:
Take a square of nonstick heavy-duty foil, nonstick side up. Place a small bowl or cup on top, to serve as a guide, and fold up the edges to form a circular mold with at least a 1-inch lip around the center. Repeat, making different shapes and sizes, for as many candy agate slices as you want to make. Place the foil molds on a baking sheet, and preheat the oven to 350 F.

Divide the candies by color. While they are still in their wrappers, use a meat mallet, rolling pin, or other large, heavy object to crush them into small pieces—the closer you can get to candy dust, the better! Undo the wrapper and pour the crushed candies into small bowls, divided by type of candy. The more varieties of color and opacity you can get, the better! After the candy is crushed, it will start to get sticky as it is exposed to the humidity in the air, so start to form the agate slices immediately.

Place a few spoonfuls of one color into a foil mold, and use a small food-safe paintbrush to spread it out along the outer edges of the mold in an even layer. (You can use your fingers, but the candy tends to stick to skin, so a paintbrush is faster and less messy.) Make sure that the layer is not too thin—as the candy melts, it will thin out a bit, so make the layer at least ¼-inch tall if possible. Add a second, different color, and brush that one out to the edges next to the first. Continue to make concentric rings of candy pieces in the mold, alternating colors and opacities, until you've filled the whole mold with crushed candy. I found I liked it best if I worked in one color scheme (shades of blue, for instance, or warm-toned colors) for each agate slice, but you can experiment to see what works for you.

Once all of the foil molds are filled, bake them in the oven at 350 F for 4-5 minutes. Check them after 4 minutes to see if all the candy pieces have melted. If some unmelted pieces remain, bake for another 30-60 seconds—just until it's melted but the bubbling is minimal. Let the candy cool completely, then gently peel back the foil mold.

If desired, mix some edible silver luster dust with a bit of vodka to make a colored paste, and paint a thin silver line around the edges of the agate slices. Store the slices in an airtight container until you're ready to decorate the cake.
To Make the Chocolate Cake:
Line four 8-inch cake pans with parchment, and spray them with nonstick cooking spray. Preheat the oven to 350 F.

Add the butter and both sugars to the bowl of a large stand mixer fitted with a paddle attachment. Beat them together on medium-high speed, until light and fluffy, about 5 minutes. Add the eggs one at a time, beating well after each addition. Add the vanilla extract and mix it in.

In a separate bowl, whisk together the buttermilk, sour cream, and water (or coffee, if using). In a different bowl, sift together the flour, cocoa powder, baking soda, and salt. With the mixer running on low, add a quarter of the sifted flour mixture. When the flour streaks have almost all disappeared, add a third of the liquid to the mixing bowl. When that's incorporated, continue to add the drys and wets in an alternating pattern, ending with the dry ingredients.

When the dry ingredients are nearly incorporated, stop the mixer. Scrape down the bottom and sides of the bowl with a rubber spatula, and finish mixing the cake by hand. Divide the batter between the prepared pans, giving each one about 11 ounces, and smooth it into an even layer. Bake the cakes for 22-25 minutes, until a toothpick inserted into the center comes out with just a few moist crumbs attached. Cool the cakes completely before assembling.
To Make the Buttercream:
Combine the whites, powdered sugar, and salt in the bowl of a large stand mixer fitted with a paddle attachment. Mix everything together on low speed, until the sugar is moistened and no dry patches remain. Turn off the mixer, scrape down the sides and bottom of the bowl with a spatula, then turn the mixer to medium speed. Beat on medium for 5 minutes.

After 5 minutes, turn the mixer to medium-low and start adding the softened room temperature butter, 1-2 tablespoons at a time. Once all of the butter is incorporated, add the vanilla extract and mix it in. Stop the mixer and scrape down the bottom and sides once more. Turn the speed to medium and beat the buttercream for 10 minutes. At the end, you'll have a frosting with a wonderfully light and creamy texture. It can be used right away, or stored in the refrigerator for up to two weeks, or the freezer for up to two months. If you have chilled the frosting, let it come to room temperature and then beat it for several minutes to smooth it out and restore its texture before using it.
To Assemble:
Decide what colors you want to use for your cake—I used blue, purple, and pink. Reserve 1 cup of white frosting, tint ½ cup of frosting black, then use gel food coloring to make a dark and light tone for each color you're going to use (I made dark and light blue, dark and light purple, and dark and light pink.) Place each color in its own piping bag.

Put a cake layer on a cake cardboard, and place it on a cake turntable. Pipe concentric rings of frosting, inspired by the dark and light bands of agate slices. My first frosting layer had a thin line of black frosting along the outside, then dark blue, then white, then light blue, then black, then a white center. You don't have to do this exactly, just alternate colors in the same shade family to make concentric rings.

Add a second cake layer on top, and do the same thing with a different color family: I used shades of red and pink for this layer. Add a third layer, and this time, use another set of colors (I used purple shades). Finally, top with your fourth cake layer. Spread a thin layer of frosting all along the top and sides of the cake, to lock in any crumbs, and refrigerate for 30 minutes until firm.

Take the piping bags of colored frosting, and pipe dots and small lines of different colors of frosting all along the sides of the cake, until it's nearly covered with a random assortment of different colors. Take a metal spatula or bench scraper and hold it against the side of the cake while slowly turning the cake on the turn-table. It will smooth out the frosting and cause the colors to blur together in a watercolor effect. Wipe off the excess frosting from the scraper, and repeat until the sides are smooth and you are happy with the design. If there are places that look too light or too dark, pipe a few dots of another color there and go back with the bench scraper to smooth it out.

Do the same thing with the top of the cake, piping different colored dots and lines, then smooth it out with an offset spatula. Go along the edges and remove any excess buttercream from the edges of the cake. If you want to touch up the design, refrigerate the cake for 30-45 minutes, until the buttercream is hard, then go back in with a small spatula and blend in different colors onto the cake—it's easier to get a nice blend if you're working with a firm base layer of buttercream.

Finally, press skewers or long toothpicks into the top of the cake so they stick out an inch or two, and use those to support the agate slices. Arrange the candy slices on top in an overlapping pattern. Serve at room temperature, and enjoy!
Recipe Notes
The candy will get soft and sticky when exposed to humid air or moisture (like in the buttercream), so it's best to add the slices to the cake shortly before displaying and serving. They can be made days in advance and kept in an airtight container until ready to use. 
For the Agate Candy Slices, you'll want an assortment of hard candy in different colors and opacities. Each slice will only take an ounce or two of candy (depending on the size and thickness of the slices) but you'll want a good variety to choose from, so I recommend buying several variety bags of candy—the dollar store is a good place to find weird and fun choices!
MEASURING TIPS
Our recipes are developed using weight measurements, and we highly recommend using a kitchen scale for baking whenever possible. However, if you prefer to use cups, volume measurements are provided as well. PLEASE NOTE: the adage "8 oz = 1 cup" is NOT true when speaking about weight, so don't be concerned if the measurements don't fit this formula.
Click here to learn more about baking measurements and conversion.
Nutrition
Calories:
650
kcal
|
Carbohydrates:
74
g
|
Protein:
5
g
|
Fat:
46
g
|
Saturated Fat:
29
g
|
Cholesterol:
140
mg
|
Sodium:
396
mg
|
Potassium:
178
mg
|
Fiber:
2
g
|
Sugar:
60
g
|
Vitamin A:
1425
IU
|
Vitamin C:
0.1
mg
|
Calcium:
58
mg
|
Iron:
1.6
mg
Share by Text
Share by Email
Share on Facebook
Share on Pinterest