These Peppermint Crunch Brownies have a deep chocolate flavor with crunchy minty pieces of candy inside and out! They make a quick holiday dessert or gift!
You know what's overrated?
Timeliness.
Anyone can make Christmas treats in the weeks leading up to Christmas. Complete chumps can blog about Christmas goodies before the day arrives. It takes real dedication, real grit, to make and write about Christmas treats after the fact.
Fortunately, I'm about as gritty as they come.
Allow me to introduce you to these not-quite-seasonal-anymore Peppermint Crunch Brownies.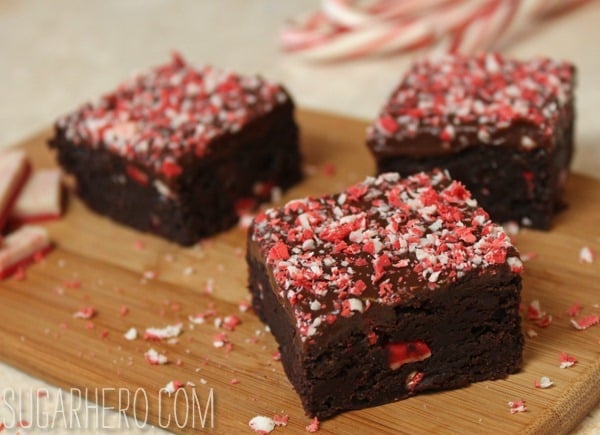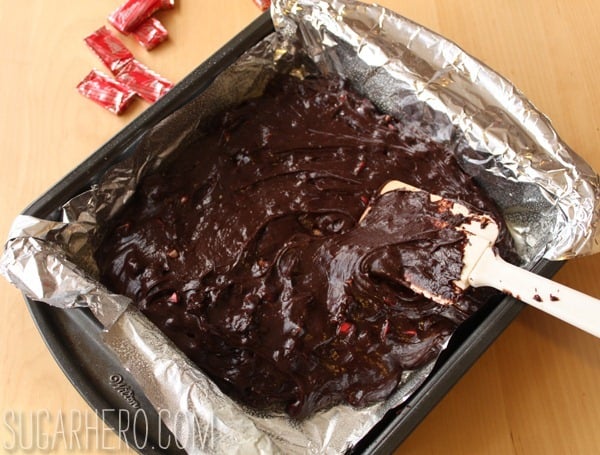 I saw these Andes Peppermint Crunch Mints in stores for the first time this year, and bought a few packages in early December, intending to use them to top a buche de noel or maybe some fun Christmas cupcakes. Weeks passed, my brain was gradually eaten, and pretty soon it was a few days before Christmas and these mints were staring at me accusingly from the kitchen counter.
Finally, I threw together a batch of brownies before caroling one evening, and tossed some chopped mints into the batter and grated a few on top. These mints are actually a lot of fun! They have crunchy candy pieces in them, so even when they melt into the batter (like regular Andes mints) they still add a little crunch to the brownies. And grating them on top makes them look a bit like chopped-up candy canes, but they don't get humid and sticky like candy cane pieces do.
So if you're doing some post-Christmas shopping and spot these mints on clearance somewhere, pick up a box and make these brownies! Then you too can thumb your nose at timely recipes like the cool kids do.
Chocolate Truffle Peppermint Crunch Cookies
Chocolate Truffle Peppermint Crunch Cookies are deep, darkly chocolatey cookies with a mint flavor and a soft, gooey texture in the center. They're topped with a white chocolate-mint ganache and crunchy mint pieces.
View Recipe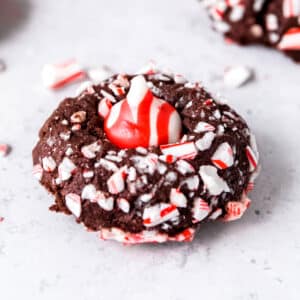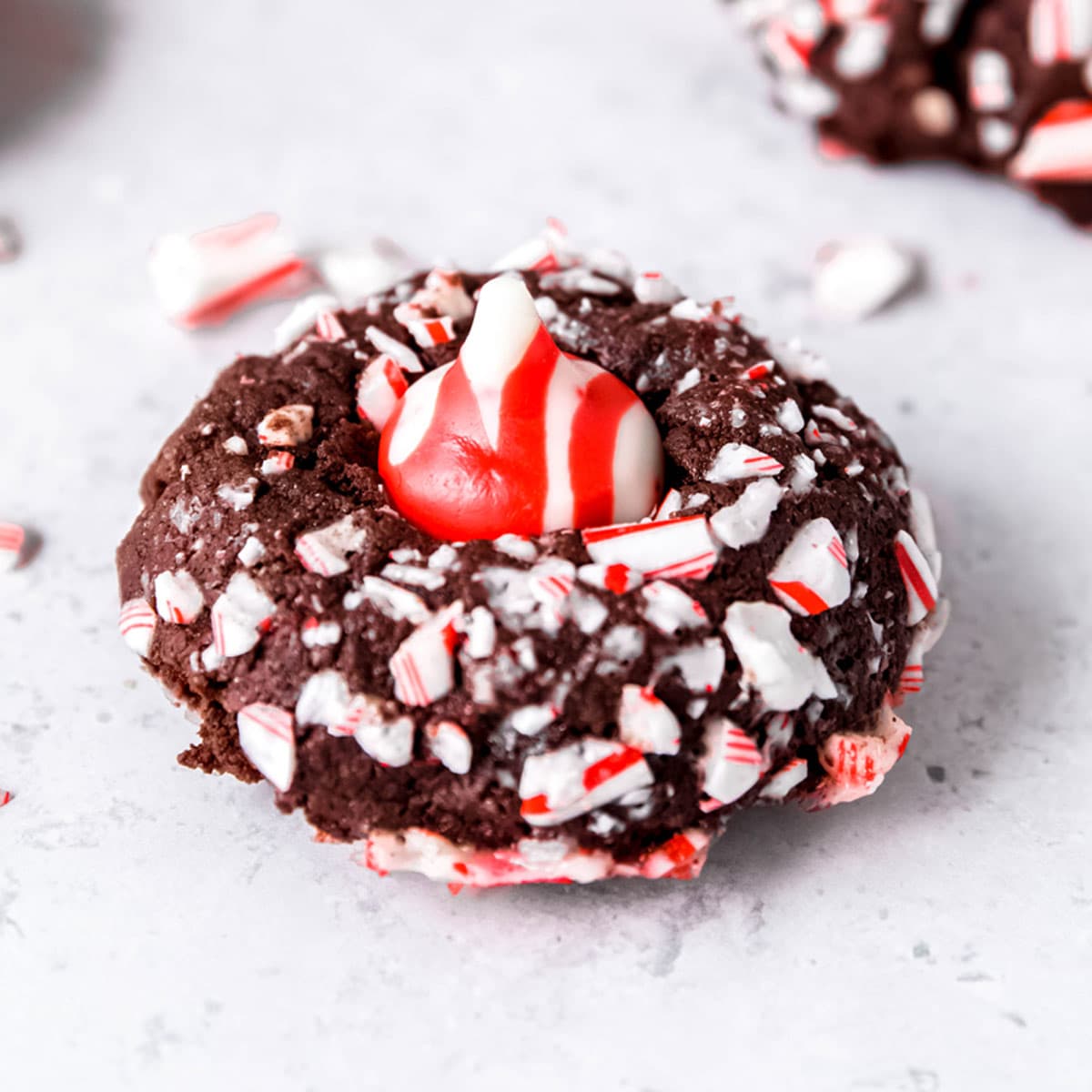 Chocolate Peppermint Kiss Cookies
These Chocolate Peppermint Kiss Cookies are the perfect combination of a deep rich chocolate cookie and crunchy sweet candy cane pieces topped with a striped Hershey's Kiss.
View Recipe
Peppermint Crunch Brownies
These Peppermint Crunch Brownies have a deep chocolate flavor with crunchy minty pieces of candy inside and out! They make a quick holiday dessert or gift!
Ingredients
For the topping:
6

oz

chocolate

,

chopped

1/3

cup

heavy cream
Instructions
Preheat the oven to 325 degrees Fahrenheit. In a small bowl, whisk or sift together the flour, cocoa powder, and salt.

Place the butter, the 3 oz unsweetened chocolate, and the 3 oz bittersweet chocolate in a large, microwave-safe bowl. Microwave it in 30-second increments, stirring after every 30 seconds, until the chocolate is melted and smooth. Set it aside to cool for five minutes. While you wait for the chocolate to cool, coarsely chop 20 of the Andes peppermints and set the remaining 8 aside for now.

Whisk the water and sugar into the chocolate/butter mixture. It will look grainy and unpleasant. Not to worry! Whisk the eggs in one at a time, whisking well after each addition. After the second egg, the batter should start to smooth out, and by the time you add the third egg and whisk it in, all the graininess should be gone. Add the vanilla and mint extracts, and whisk those in as well.

Add the dry ingredients, and use a spatula to stir them into the batter until there are no dry patches remaining. Finally, add the chopped mints and the chocolate chips and stir them in.

Pour the batter into a 9×9 pan that has been lined with foil and sprayed with nonstick cooking spray. Spread it into an even layer, then bake it for 30-35 minutes, until it is puffed around the edges and a toothpick inserted into the center comes out with just a few moist crumbs. Do not overbake!

Let the brownies cool completely before finishing them.

To make the topping, place the chopped chocolate in a heat-safe bowl. Pour the cream into a small saucepan and bring it to a simmer. Pour the hot cream over the chopped chocolate and whisk it together until the chocolate melts and you have a smooth ganache.

Pour the ganache over the cooled brownies and smooth it into an even layer. While the ganache is still wet, grate the remaining 8 Andes mints over the top, or chop them finely and sprinkle the chopped mints over the top.

Refrigerate the brownies to set the topping for about 1 hour. Bring them to room temperature before serving.
Measuring Tips
Our recipes are developed using weight measurements, and we highly recommend using a kitchen scale for baking whenever possible. However, if you prefer to use cups, volume measurements are provided as well. PLEASE NOTE: the adage "8 oz = 1 cup" is NOT true when speaking about weight, so don't be concerned if the measurements don't fit this formula.
Want to learn more about baking measurements and conversion?
Nutrition
Calories:
434
kcal
|
Carbohydrates:
45
g
|
Protein:
5
g
|
Fat:
28
g
|
Saturated Fat:
16
g
|
Cholesterol:
71
mg
|
Sodium:
123
mg
|
Potassium:
278
mg
|
Fiber:
4
g
|
Sugar:
32
g
|
Vitamin A:
400
IU
|
Calcium:
39
mg
|
Iron:
3.7
mg
Tried this recipe?
Snap a pic and hashtag it #SugarHero. We love to see your creations on our Instagram @elabau.