This Strawberry Rhubarb Pie is a summertime classic! A flaky, buttery crust is filled with the perfect combination of sweet, juicy strawberries and tart rhubarb. Top it with a scoop of vanilla ice cream or a dollop of whipped cream!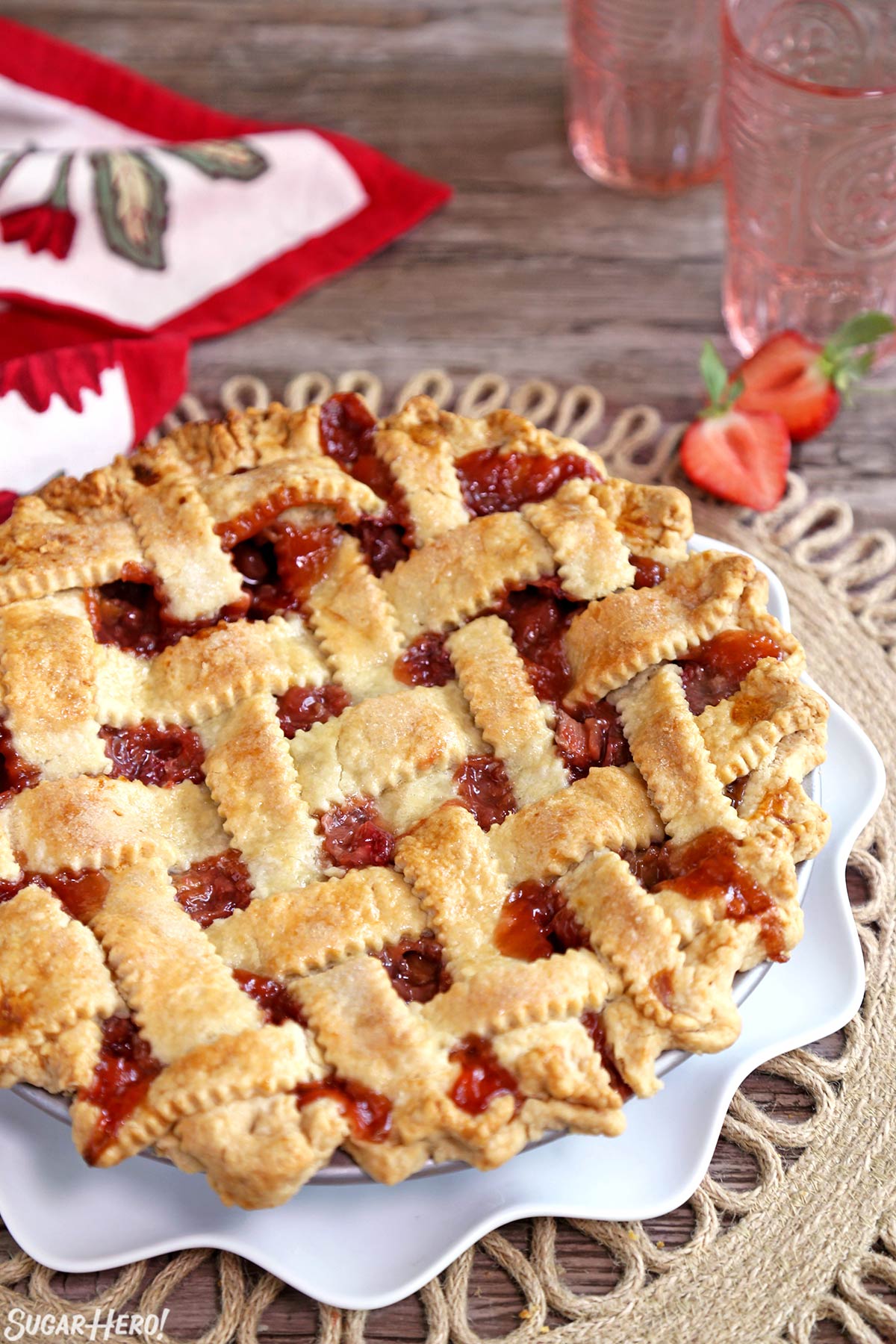 Whenever rhubarb season arrives, I try to make a Strawberry Rhubarb Pie at least once or twice. It's my husband's favorite dessert, and he's been known to request a birthday strawberry rhubarb pie instead of a cake on occasion! He likes them because they're refreshingly sweet-tart, I like them because they're simple to throw together and they highlight the best of late-spring produce.
I love fruit pies because they're so simple–just throw together some freshly-chopped fruit, some sugar, a bit of a thickener (more on this in a bit) and you're good to go! I usually make my own pie crust, but when I'm short on time, I find that the Trader Joe's all-butter pie crust is a great substitute. Easy to work with, flaky, and has a nice buttery flavor!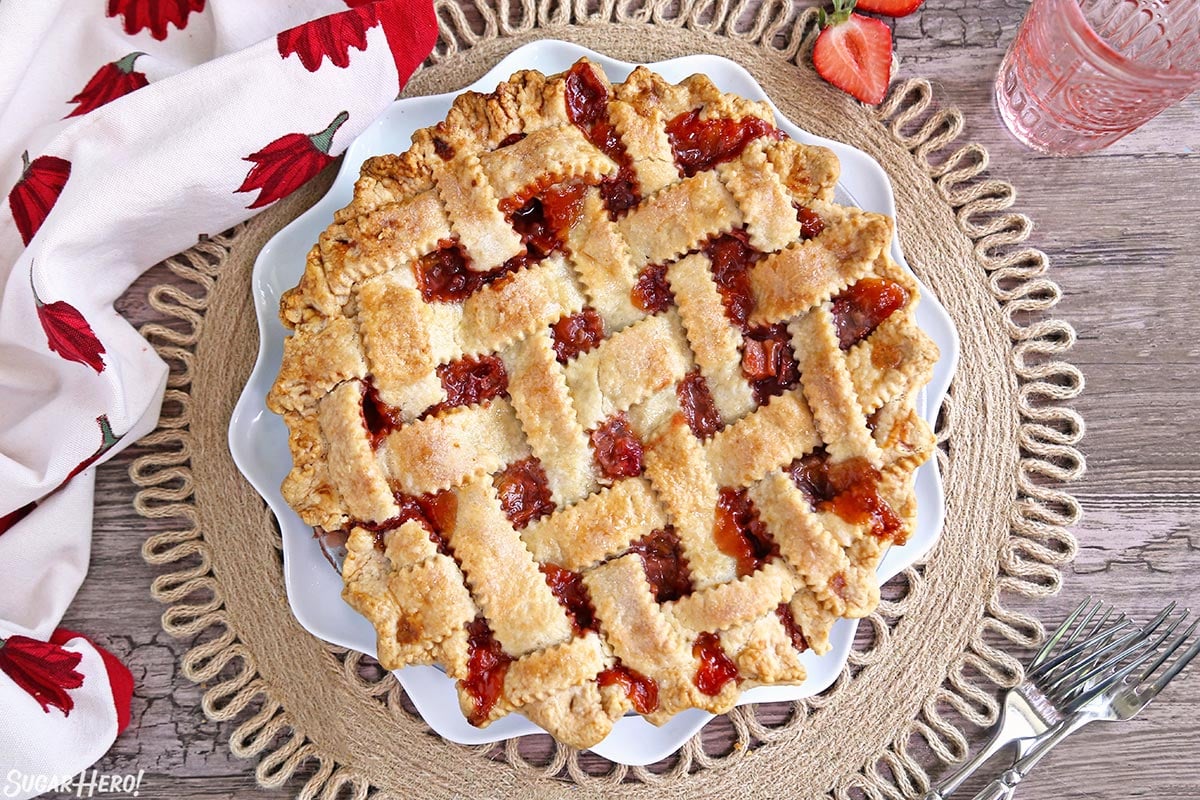 Can I Use Frozen Fruit In My Strawberry Rhubarb Pie?
Because fresh berries can be expensive, and because rhubarb (and quality strawberries!) are not always in season, it's tempting to swap in frozen rhubarb and berries–but will the taste and texture of the pie suffer? The good news is, you can definitely make a strawberry rhubarb pie with frozen fruit and rhubarb. In fact, I like to buy a lot of rhubarb when it's cheapest, slice it into small pieces, and freeze it for later use. (Remember those birthday pies I mentioned? That's all thanks to frozen rhubarb!) Just arrange the slices in a single layer on baking sheets, then once they're frozen, place them in freezer bags and you have frozen rhubarb that's easy to measure and scoop out.
Of course, frozen berries can't quite compete with the beauty of a perfectly ripe summer strawberry. But if frozen is what you have on hand, you can definitely make it work! Just allow the berries and the rhubarb to defrost completely in a strainer, so that the extra moisture from defrosting is removed, then proceed with the recipe as normal. You'll be pleasantly surprised at how well frozen produce can work in this pie!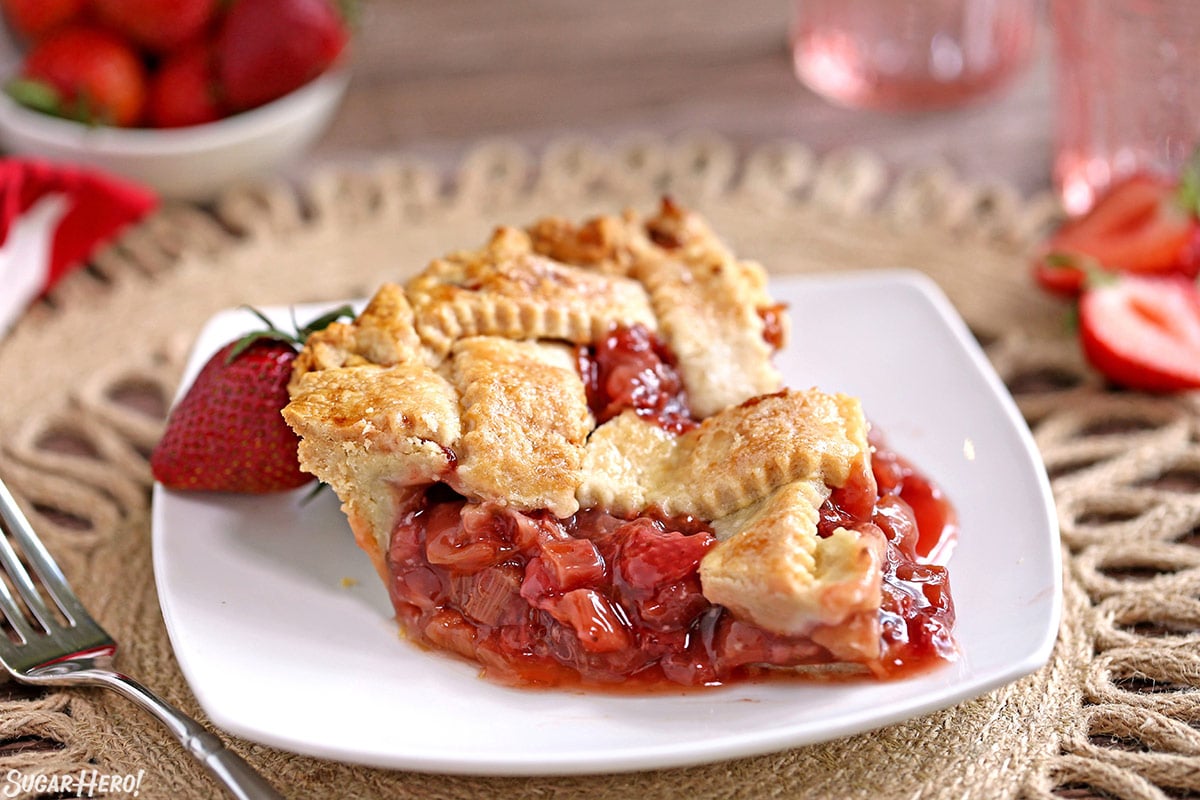 How Do I Thicken My Strawberry Rhubarb Pie?
The question of how to thicken fruit pies is hotly debated. Some people swear by tapioca pearls, others are loyal to corn starch or flour. If you scan the recipe down below, you'll see that I use a different ingredient, one you might not be familiar with: Ultra Gel. This is a starch-based thickener that's great for pie fillings, gravy, quick jams…really, any food that you need to thicken quickly! I like Ultra Gel because it doesn't require heat to set, it gels the filling without making it too thick or gloopy, and it doesn't leave a starchy taste like corn starch or flour sometimes can. There are also other products (like ClearJel) that behave similarly, but do require heat. It's been my choice for fruit pies ever since I discovered it a few years ago, and I'm never disappointed when I use it.
I can often find Ultra Gel in my local grocery store in the canning section, but I know that it's not available to everyone. If you don't want to order it online, you can easily substitute corn starch instead–just follow the Note at the bottom of the recipe.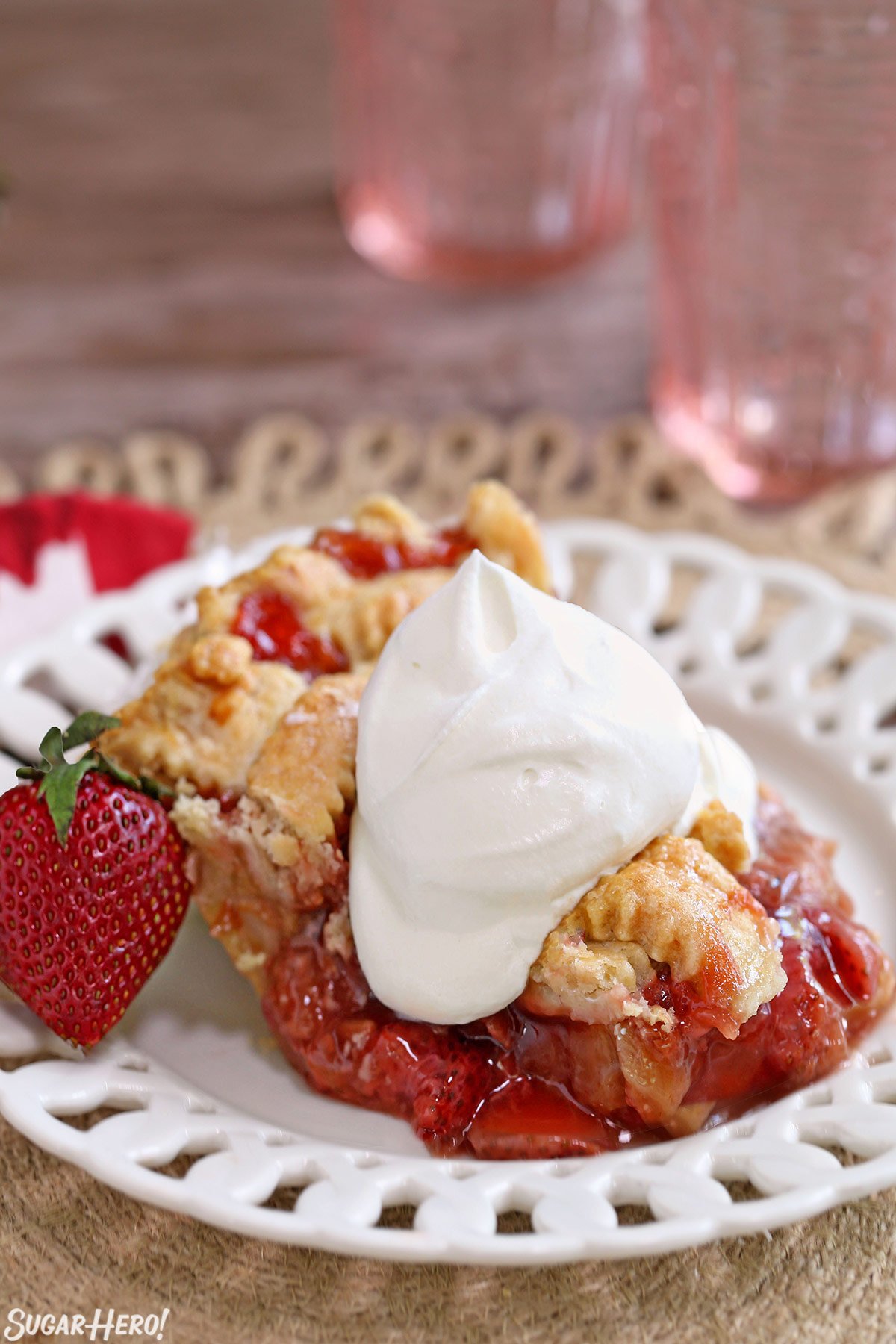 I hope you'll give this Strawberry Rhubarb Pie a try! It's the perfect blend of sweet and tart, with a bold rhubarb and berry flavor just tempered by the brown and white sugars. The filling is juicy but holds together enough to cut clean slices, and it doesn't leak a swimming pool-sized puddle of juice on the plate after the pie is gone. (My personal pet peeve!) I have a hard time imagining how it can be improved, but if you're the experimenting type, a little lemon or orange zest would probably blend nicely and add another dimension.
Don't forget to check out this fabulous collection of different Strawberry Dessert Recipes.
🍓 More Delicious Strawberry Recipes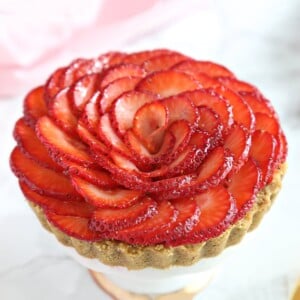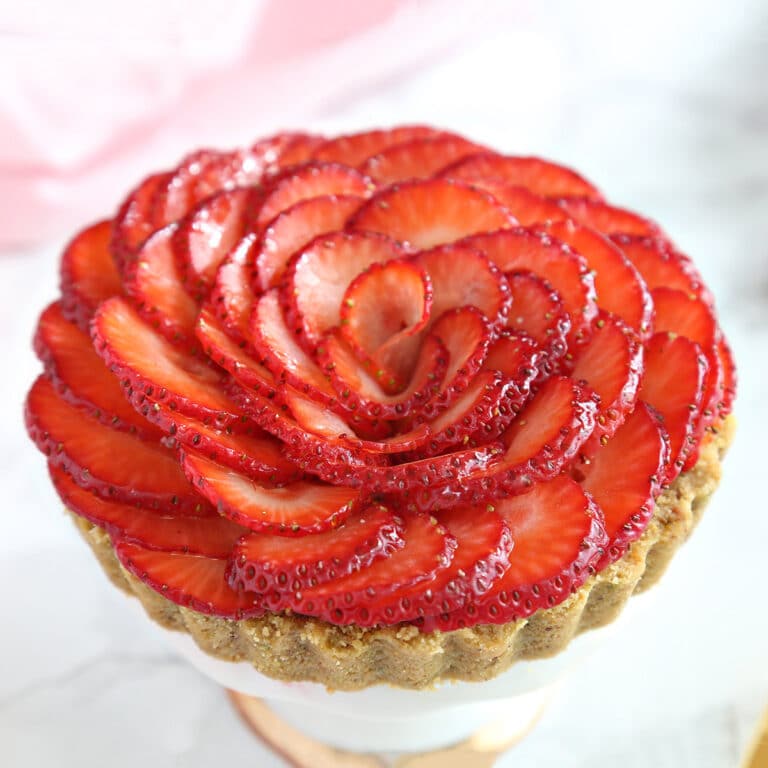 Strawberry Rose Tarts
These mini Strawberry Rose Tarts are beautiful and romantic! A crunchy pistachio shortbread crust is filled with delicious strawberry-rose cream, and topped with sliced strawberries in the shape of a rose. They're fruity, floral, and completely dreamy.
View Recipe
Leave a Review!
If you make this recipe, let us know! Leave a ⭐️⭐️⭐️⭐️⭐️ rating on the recipe below, and leave a comment, take a photo and tag me on Instagram @elabau, or use #sugarhero on IG!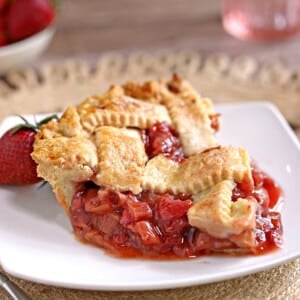 Strawberry Rhubarb Pie
This Strawberry Rhubarb Pie is a summertime classic! A flaky, buttery crust is filled with the perfect combination of sweet, juicy strawberries and tart rhubarb. Top it with a scoop of vanilla ice cream or a dollop of whipped cream!
Ingredients
For the Strawberry-Rhubarb Filling:
5

cups

rhubarb

, sliced into 1/2-inch thick slices (from

7-8

large stalks, about

1 1/4 lb

)

5

cups

strawberries

, quartered & hulled (from about

1 1/4 lb

)

3.75

oz

brown sugar,

(1/2 cup),

packed

3.5

oz

granulated sugar,

(1/2 cup)

1.6

oz

E-Z Gel,

(2/3 cup)

, see Note below

1

tsp

vanilla extract

1/4

tsp

salt

1

large egg

,

lightly beaten
Instructions
To make the crust, combine the flour, sugar, and salt in the bowl of a large food processor (10 cups or larger size) and pulse a few times to combine.

Add the cold cubed butter and shortening, and pulse in short bursts until it's cut into the dry ingredients and the mixture has the texture of coarse crumbs. Add half of the ice water and pulse in 5-second bursts, adding the rest a little more at a time just until the dough starts to come together. You may not need to use all of the water—stop when the dough starts to come together, and don't overwork it!

Turn the dough out onto a lightly floured board and knead it just enough to incorporate any dry patches of flour. Divide it in half, shape it into two discs, wrap them well in plastic wrap, and refrigerate them for an hour to chill. The crust dough can be made several days in advance and kept in the refrigerator until ready to use.

Preheat the oven to 400 F. Combine the sliced rhubarb, quartered strawberries, both sugars, E-Z Gel, vanilla extract, and salt. Toss them together, then let the mixture sit and let the berries release their juices for about 25 minutes. Drain away the liquid that has accumulated.

Flour your work surface and rolling pin, and roll half of the dough out. Transfer it to your 9" pie pan and trim any overhang from the sides. Scoop the filling into the pan, leaving any extra liquid in the bowl.

Roll the second half of the dough out until it is about 1/4-inch thick. Cut it into 1-inch strips with a pizza wheel or pastry cutter wheel. Lay the strips on top of the filling, evenly spaced, with a 1/2-inch space between each. Lay another set of strips across the first, running in the opposite direction. (If you want to weave your lattice crust, use the video as a guide.) Crimp the edges of the crust together. Brush the top with the lightly beaten egg, then sprinkle granulated sugar over the top of the crust.

Place the pie on a baking sheet covered with foil—the filling will bubble out of the crust, so spare yourself some scrubbing and make sure your surface is well-covered! Bake the pie for 20 minutes at 400 F. Reduce the oven temperature to 350 F and continue to bake. Cover the top of the pie loosely after 30-40 minutes total, once it starts to take on a dark brown color. Bake for about 60 minutes at 350 F (so 1 hr 20 minutes total baking time), and remove the foil for the last 10 minutes of baking. The pie is done when the crust is crackling and dark brown, and the filling is bubbling thickly from the pie.

Let the pie cool until it is warm but not hot, then serve with ice cream or whipped cream. It can also be enjoyed at room temperature or cold, and the filling will have a thicker texture if you chill it before cutting.
Video
Recipe Notes
The crust recipe requires a large food processor, with a minimum 10 cup capacity. If you have a smaller processor, it's best to make the crust in 2 batches, or use prepared pie dough instead.
If you can't find E-Z Gel, you can substitute 1/3 cup of corn starch or flour instead.
The recipe for the pie filling adapted from Bon Appetit's Strawberry-Rhubarb Pie.
Measuring Tips
Our recipes are developed using weight measurements, and we highly recommend using a kitchen scale for baking whenever possible. However, if you prefer to use cups, volume measurements are provided as well. PLEASE NOTE: the adage "8 oz = 1 cup" is NOT true when speaking about weight, so don't be concerned if the measurements don't fit this formula.
Want to learn more about baking measurements and conversion?
Nutrition
Calories:
436
kcal
|
Carbohydrates:
47
g
|
Protein:
4
g
|
Fat:
25
g
|
Saturated Fat:
13
g
|
Cholesterol:
64
mg
|
Sodium:
256
mg
|
Potassium:
203
mg
|
Fiber:
1
g
|
Sugar:
21
g
|
Vitamin A:
660
IU
|
Vitamin C:
4
mg
|
Calcium:
64
mg
|
Iron:
1.7
mg
Tried this recipe?
Snap a pic and hashtag it #SugarHero. We love to see your creations on our Instagram @elabau.