This post may contain affiliate links. As an Amazon Associate I earn from qualifying purchases. Please see my disclosure policy for more information.
This Chocolate Peanut Butter Cheesecake is the ultimate dessert for chocolate and peanut butter lovers! It features a chocolate cookie crust and rich stripes of luscious chocolate and peanut butter cheesecake. Top it with whipped cream and peanut butter cups for maximum indulgence!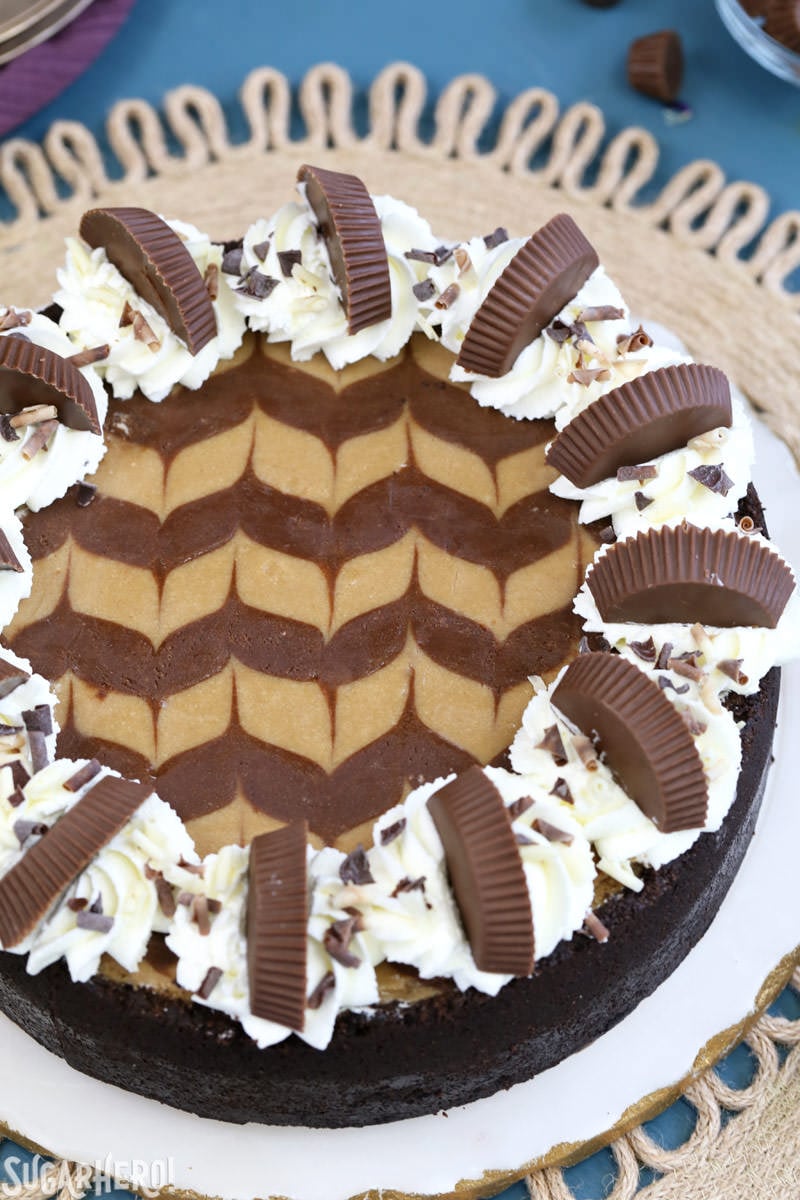 This post is sponsored by International Delight. This year I'm pleased to partner with them to bring you a series of dessert recipes featuring their products.
If you look up the definition of "Comfort Food" in the dictionary, I'm pretty sure you'll find a picture of this cheesecake. Sorry, mac & cheese, you've been bumped from top comfort food spot in favor of this Chocolate Peanut Butter Cheesecake–this big, beautiful, bountiful slice of heaven.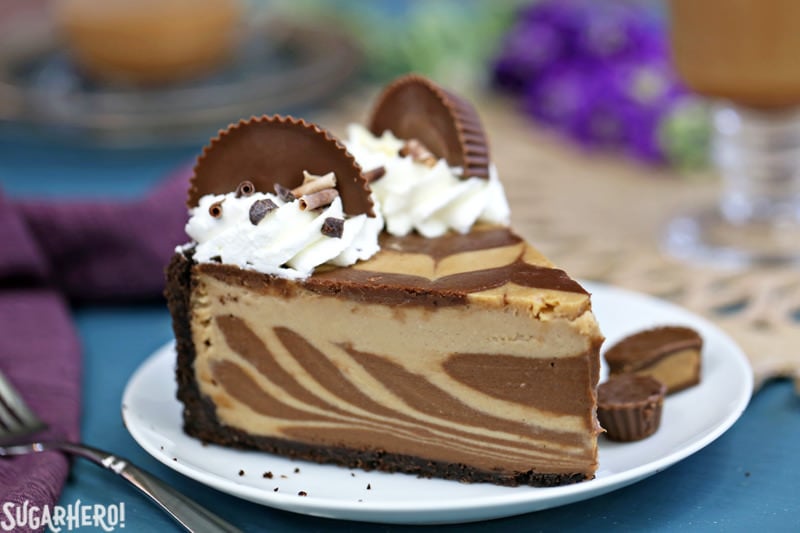 I've talked before about how I don't make cheesecakes very often, because my husband doesn't like them, and my son thinks they're "good for a few bites, and then they turn gross." (Thank you, child, for keeping it real and keeping mama humble.) I don't want to be the only one in charge of cheesecake consumption around the house–although to be honest I think it's a job I'm really, really good at–so I usually stick to desserts the whole family will eat.
But right now, with the weather turning, the cool bite in the morning air, and the first few days of fall rain, I'm craving comforting desserts in a major way, and only this cheesecake will do. Now if you can't commit to this specific cheesecake, check out this amazing 10-flavor cheesecake sampler! You won't be disappointed.
I was inspired by the newest International Delight flavor, REESE'S Peanut Butter Cups. (Sidenote: OMG. How was this not a thing before?! If you're a peanut butter fanatic like me, this should be mandatory in your coffee.) Obviously it's delish when used as intended, but I think I might have found an even better use for it: in this swirled cheesecake!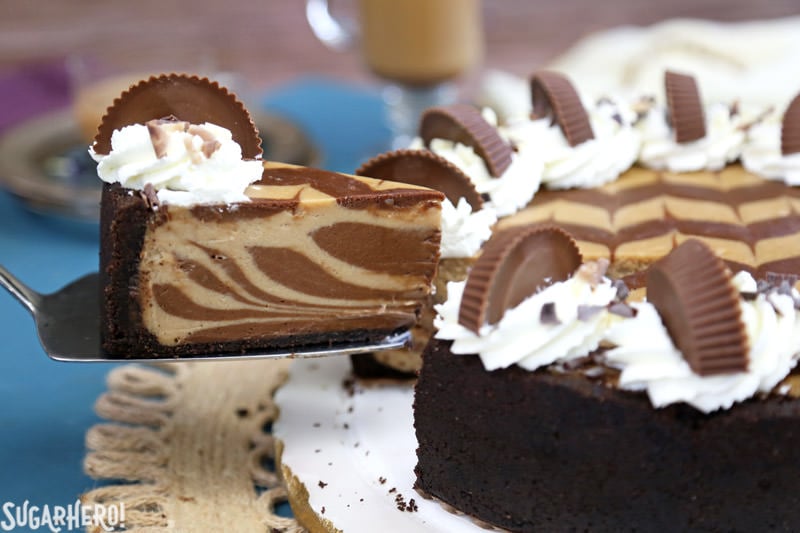 This cheesecake starts with a crunchy chocolate base–I used chocolate graham crackers, but you could also use regular graham crackers, chocolate wafers or sandwich cookies.
The cheesecake filling is made with lots of cream cheese and peanut butter (of course!) and also a healthy splash of Peanut Butter Cups creamer. Then, the filling is divided in half. One half of the filling gets melted semi-sweet chocolate folded in, to make a rich chocolate cheesecake.
You could layer the two flavors on top of each other, or do a casual swirl, but I wanted to get a more precise striped effect on the inside, so I placed alternating scoops of batter on top of each other, which produces the pretty zebra pattern you see inside the cheesecake.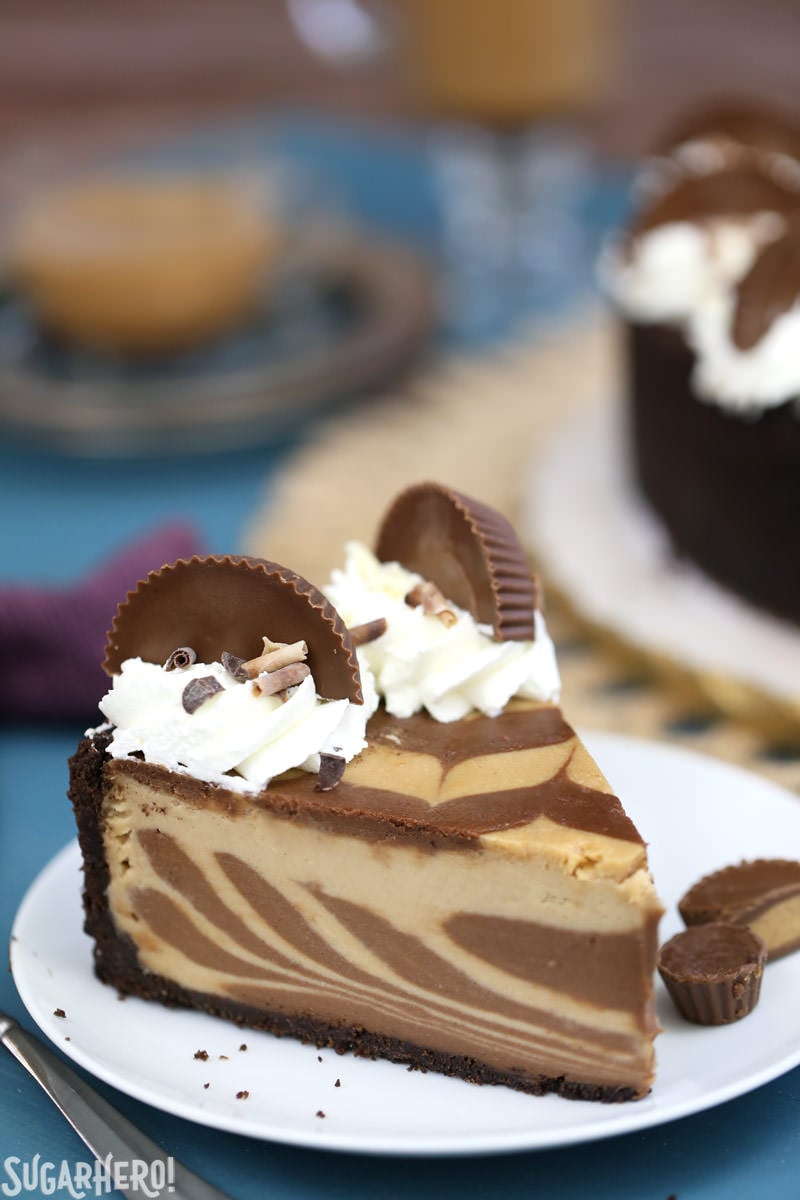 As for the design on top, I made that by piping thin lines of chocolate batter on top of the peanut butter, then dragging a toothpick through it in opposing directions. Totally easy, totally gorgeous!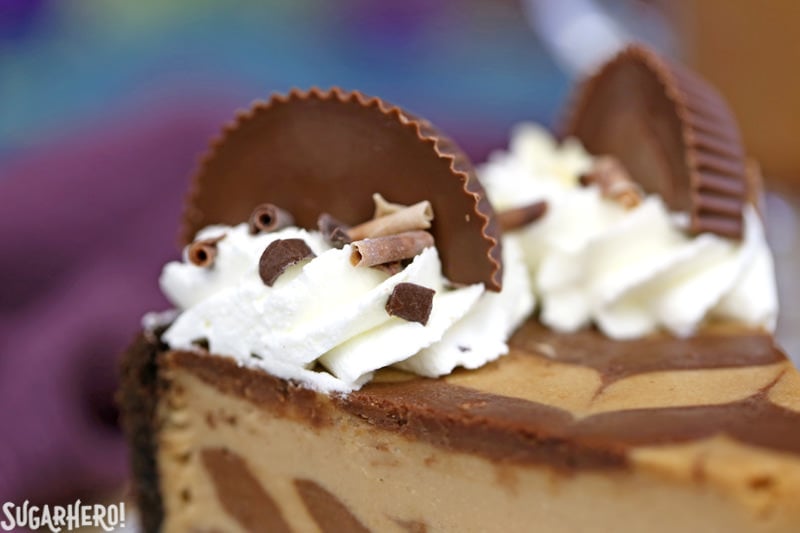 And OF COURSE, I needed to use lots of peanut butter cups as decorations. I could lie and say it's for aesthetic reasons, but that's about 10% of the truth. We all know that it's really because I want to snack on the extras while filming. Sorry not sorry, those suckers are delicious!
Because cheesecakes can be tricky, here are a few tips to getting the perfect cheesecake, every time:
Use a water bath. I know they're a pain, but they really will improve the texture of your cheesecake. To avoid soggy bottoms, I bought foil that's 18 inches wide (found it at Costco!) and since I've started using it, have had no issues with water leaking in. Tall silicone cake pans are also great for this!
Choose full-fat cream cheese, and make sure it is TOTALLY at room temperature. I'm very loyal to Philadelphia brand–I've been burned by sketchy store brands too many times.
Turn the oven off when the cheesecake is still jiggly. The inclination is to look for it to be fully set, but if you wait for it to set in the oven, it will be overcooked and stiff. It will continue to cook/set after you turn the oven off, and as it chills overnight. As long as it's set around the edges, some movement in the middle is fine.
Let it rest in a cooling oven before taking it out. This continues to cook the cake (see above) and also avoids an abrupt temperature shift that might cause the cheesecake to crack.
SPEAKING of cheesecake cracks, here's a great tip I learned from Jen at Baked by an Introvert! Stir in the eggs last, by hand, instead of beating them into the cream cheese. Beating them in in the beginning = more air whipped into the batter = a cheesecake that rises higher while baking = more likely the cake will collapse and crack as it cools. Stirring the eggs in by hand at the end avoids adding excess air to the cheesecake and reduces the chances of cracks. Ever since I tried this method I've had zero cracks in my cheesecakes!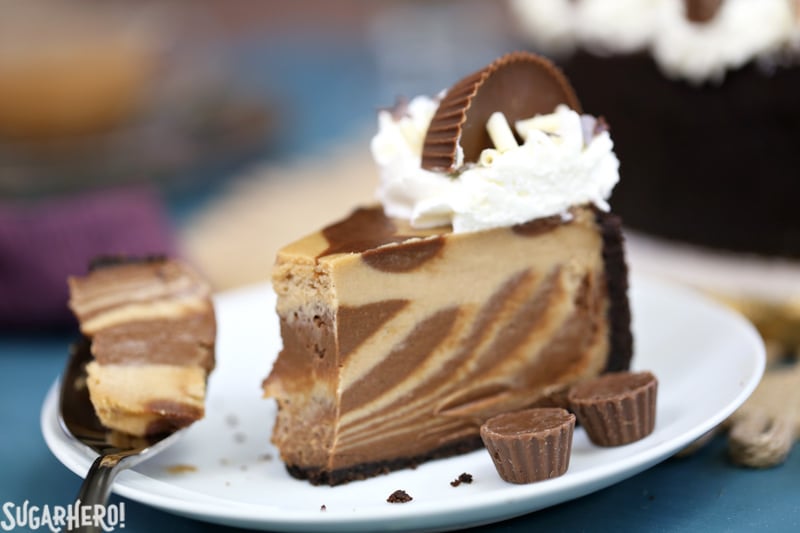 Bon appetit, my cheesecake-loving friends!
New York Style Cheesecake
This rich and creamy New York-Style Cheesecake recipe is what classic cheesecake should be! With a buttery graham cracker crust and a lightly sweetened cream cheese filling, it's perfect on its own, or topped with your favorite dessert sauce.
Get the recipe!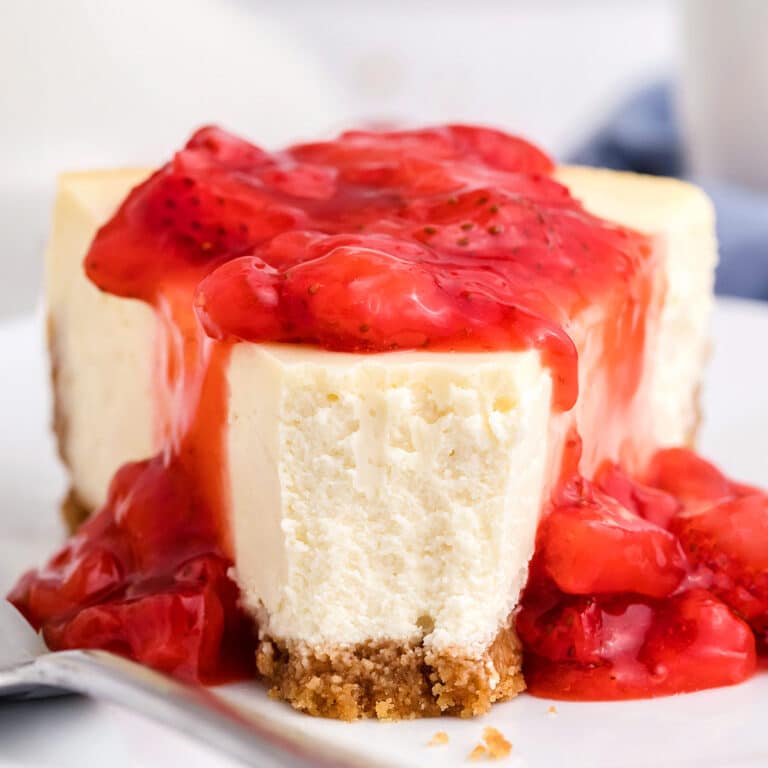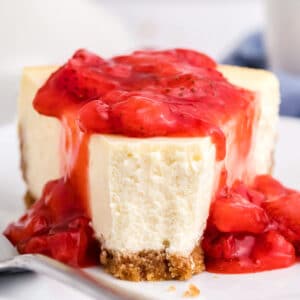 Deep-Fried Cheesecake
You've probably tried lots of different types of cheesecake, but have you ever had it deep-fried?? Deep-frying cheesecake gives it an amazingly creamy, soft texture. I like serving it with a raspberry sauce, but it's also great with chocolate, caramel, or any of your favorites!
Get the recipe!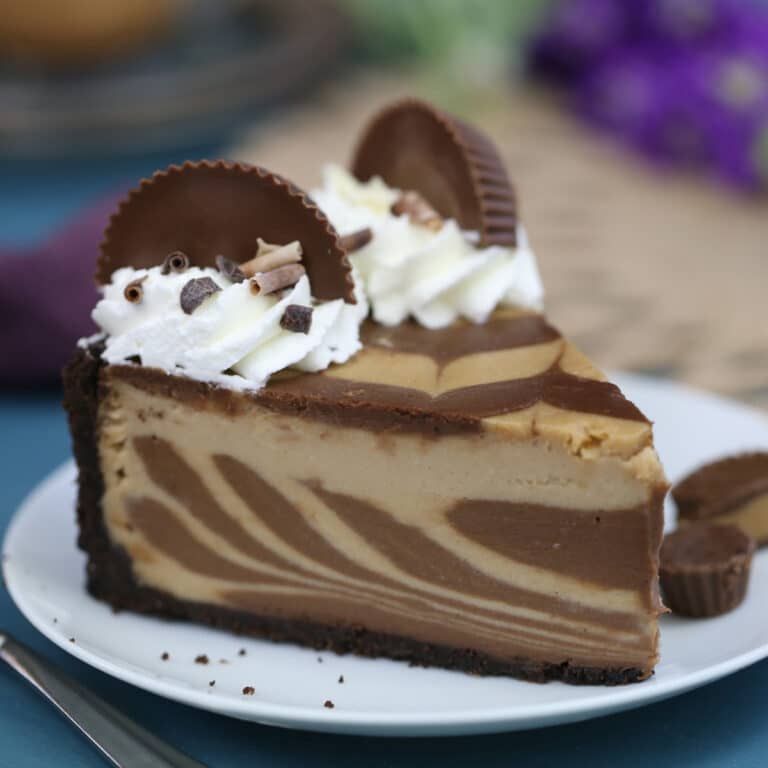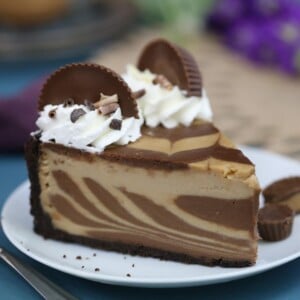 Chocolate Peanut Butter Cheesecake
This Chocolate Peanut Butter Cheesecake is the ultimate dessert for chocolate and peanut butter lovers! It features a chocolate cookie crust and rich stripes of luscious chocolate and peanut butter cheesecake. Top it with whipped cream and peanut butter cups for maximum indulgence! 
Ingredients
12

oz

chocolate graham crackers

, (

23

crackers, to yield about

2 1/3 cups

crumbs)

2.5

oz

unsalted butter

, (

5 TBSP

)

2

lbs

cream cheese

,

at room temperature – do not use whipped or light variety

9.37

oz

brown sugar, (

1 ¼ cups

)

9.5

oz

creamy peanut butter, (

1 cup

), do not use natural variety

1

TBSP

vanilla extract

½

tsp

salt

4

fl oz

International Delight REESE'S Peanut Butter Cups Creamer

, (

1/2 cup

), can substitute milk or whipping cream

4

fl oz

whipping cream

, (

1/2 cup

), or heavy whipping cream

4

large eggs

,

at room temperature and lightly beaten

5

oz

semi-sweet chocolate,

finely chopped

6

fl oz

whipping cream

, (

3/4 cup

), or heavy whipping cream

1

oz

powdered sugar

, (

1/4 cup

)

assorted sizes peanut butter cups

,

for decorating
Instructions
Preheat the oven to 325 F. Spray a deep 9-inch springform pan with nonstick cooking spray. Wrap aluminum foil tightly around the outside of the pan, coming up to the top edge. I like to use heavy-duty 18-inch foil, to prevent any water from leaking into the cheesecake, but if you don't have 18-inch foil, consider doing 2 overlapping layers of foil to make it more waterproof. Put water on to boil for a water bath.

Place the chocolate graham crackers in a food processor and process them until they're fine crumbs. (Alternately, you can put them in a plastic bag and crush them with a rolling pin until they're crumbs.) Melt the butter in the microwave, and stir the butter and crumbs together until the crumbs are the texture of wet sand.

Firmly press the chocolate crumbs into the bottom and up the sides of the springform pan, then refrigerate the pan while you prepare the filling.

Place the room temperature cream cheese in the bowl of a large stand mixer fitted with a paddle attachment. (A hand mixer can also be used.) Beat the cream cheese on medium speed until it is fluffy and free of lumps. Add the brown sugar and mix it in, then scrape down the bottom and sides of the bowl well.

Mix in the peanut butter, vanilla, and salt, and mix on medium-low speed until well-incorporated. With the mixer running on low, slowly stream in the International Delight REESE'S Peanut Butter Cups Creamer and 4 oz (1/2 cup) of whipping cream.

Finally, stop the mixer and add the lightly beaten eggs. Stir these in by hand with a spatula. At first the mixture will look separated, but keep stirring and it will all come together in a smooth, silky batter.

Melt the semi-sweet chocolate in the microwave. Divide the peanut butter cheesecake batter in half, and add the melted chocolate to one half, stirring until smooth and homogenous. Separate out 4.5 oz of chocolate batter (about 1 cup) and place it in a piping bag.

To make the striped interior effect, take a large ice cream scoop or 1/2 cup measuring cup and place two scoops of peanut butter cheesecake in the center of the prepared pan. Place two scoops of chocolate cheesecake right on top of it—this will push down on the peanut butter cheesecake and cause it to spread out. Continue this layering, making concentric circles with the two batters, until you've used all the chocolate cheesecake and have only a little peanut butter cheesecake remaining. Spread the remaining peanut butter cheesecake on top and smooth it into an even layer.

Pipe lines of chocolate cheesecake across the top of the peanut butter cheesecake. Take a toothpick and drag it through the lines, from top to bottom, then move over about half an inch and drag it in the opposite direction, from bottom to top. Continue this pattern across the whole cheesecake.

Place the springform pan inside a larger cake pan or roasting dish. Carefully pour the boiling water in the larger pan, coming halfway up the sides of the cheesecake pan.

Bake at 325 F for 90 – 100 minutes. After an hour, I like to cover the top with very loosely tented foil so that it doesn't get too dark. The cheesecake should appear set around the edges but still jiggle in the middle when the pan is tapped—it will firm up as it sits in the oven and rests in the refrigerator overnight. If it does not move when you tap it, it is overbaked.

Once done, turn the oven off but keep the cheesecake in the cooling oven for 1 hour. After an hour, carefully remove it from the water bath, peel off the foil, and refrigerate the cheesecake for at least 4 hours. (Overnight is good, too!)

Release the sides of the pan, and run a thin metal spatula under the crust to remove it from the bottom. Slide the cheesecake onto a serving plate.

Combine 6 fl oz (¾ cup) whipping cream with 1 oz (¼ cup) powdered sugar and whip to firm peaks. Transfer to a piping bag fitted with a large star tip, and pipe rosettes of whipped cream all along the outside edge of the cheesecake. Decorate the whipped cream with chocolate shavings and peanut butter cups.

For the cleanest cuts, cut the cake when it is still cool, and wipe the knife off between cuts. Store the Chocolate Peanut Butter Cheesecake in the refrigerator for up to a week, and for the best taste and texture, let it sit at room temperature for 10-15 minutes before serving so it loses some of the refrigerator chill.
Recipe Notes
This cheesecake requires a long baking and chilling time, so I recommend preparing it a day in advance and letting it chill overnight in the refrigerator.
MEASURING TIPS
Our recipes are developed using weight measurements, and we highly recommend using a kitchen scale for baking whenever possible. However, if you prefer to use cups, volume measurements are provided as well. PLEASE NOTE: the adage "8 oz = 1 cup" is NOT true when speaking about weight, so don't be concerned if the measurements don't fit this formula.
Click here to learn more about baking measurements and conversion.
Nutrition
Calories:
611
kcal
|
Carbohydrates:
44
g
|
Protein:
11
g
|
Fat:
44
g
|
Saturated Fat:
21
g
|
Cholesterol:
133
mg
|
Sodium:
559
mg
|
Potassium:
318
mg
|
Fiber:
2
g
|
Sugar:
29
g
|
Vitamin A:
1155
IU
|
Calcium:
112
mg
|
Iron:
2.3
mg
Share by Text
Share by Email
Share on Facebook
Share on Pinterest