This Chocolate Peanut Butter Cheesecake is the ultimate dessert for chocolate and peanut butter lovers! It features a chocolate cookie crust and rich stripes of luscious chocolate and peanut butter cheesecake. Top it with whipped cream and peanut butter cups for maximum indulgence!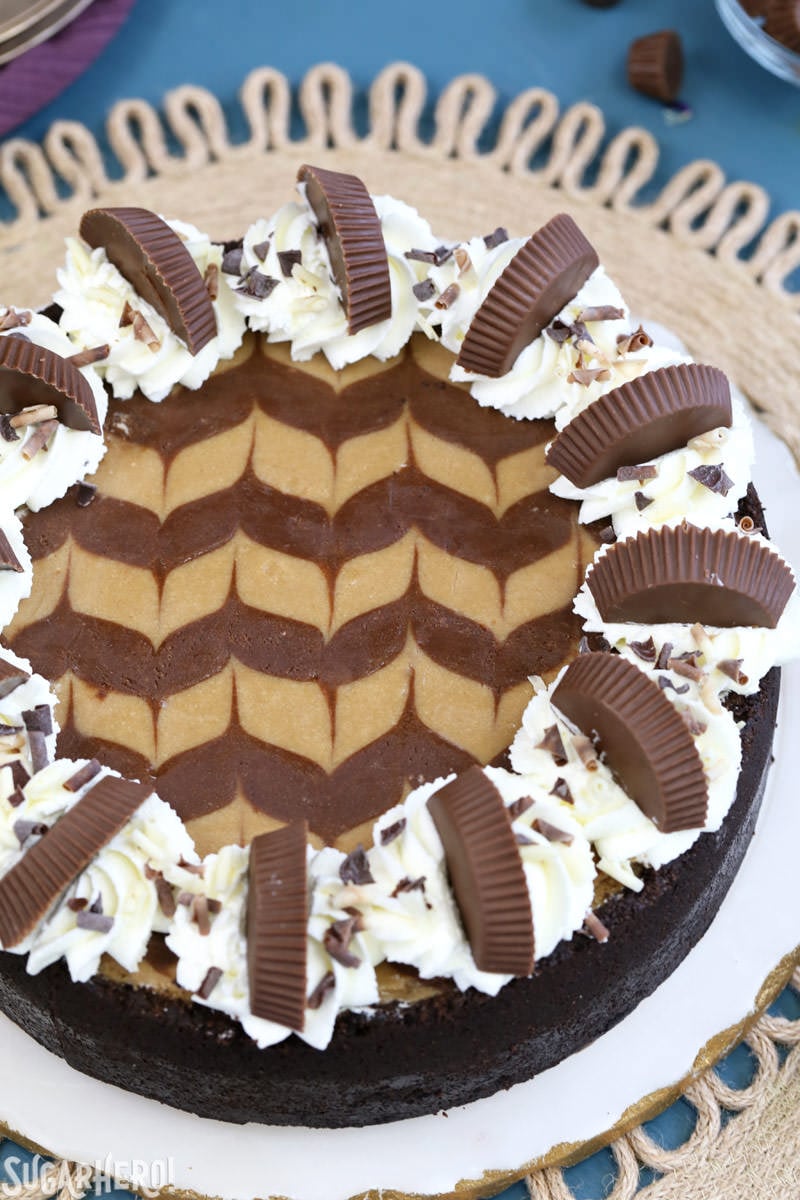 If you look up the definition of "Comfort Food" in the dictionary, I'm pretty sure you'll find a picture of this cheesecake. Sorry, mac & cheese, you've been bumped from top comfort food spot in favor of this Chocolate Peanut Butter Cheesecake–this big, beautiful, bountiful slice of heaven.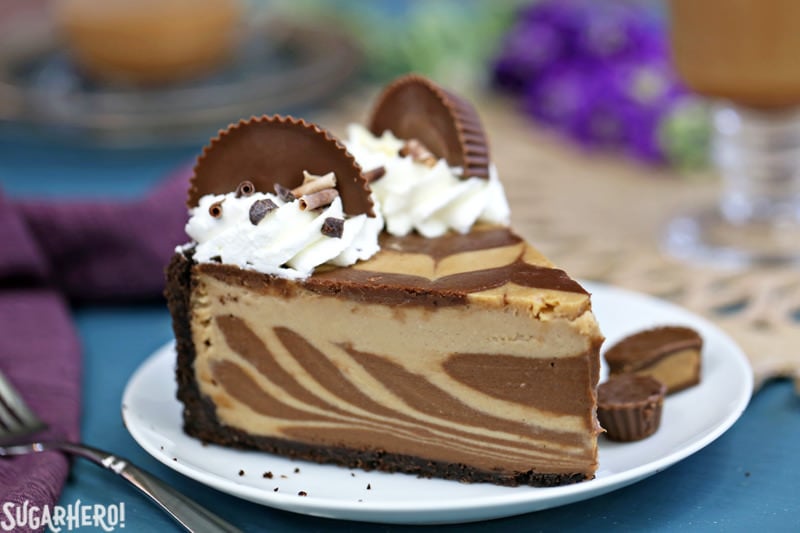 I've talked before about how I don't make cheesecakes very often, because my husband doesn't like them, and my son thinks they're "good for a few bites, and then they turn gross." (Thank you, child, for keeping it real and keeping mama humble.) I don't want to be the only one in charge of cheesecake consumption around the house–although to be honest I think it's a job I'm really, really good at–so I usually stick to desserts the whole family will eat.
But right now, with the weather turning, the cool bite in the morning air, and the first few days of fall rain, I'm craving comforting desserts in a major way, and only this cheesecake will do. Now if you can't commit to this specific cheesecake, check out this amazing 10-flavor cheesecake sampler! You won't be disappointed.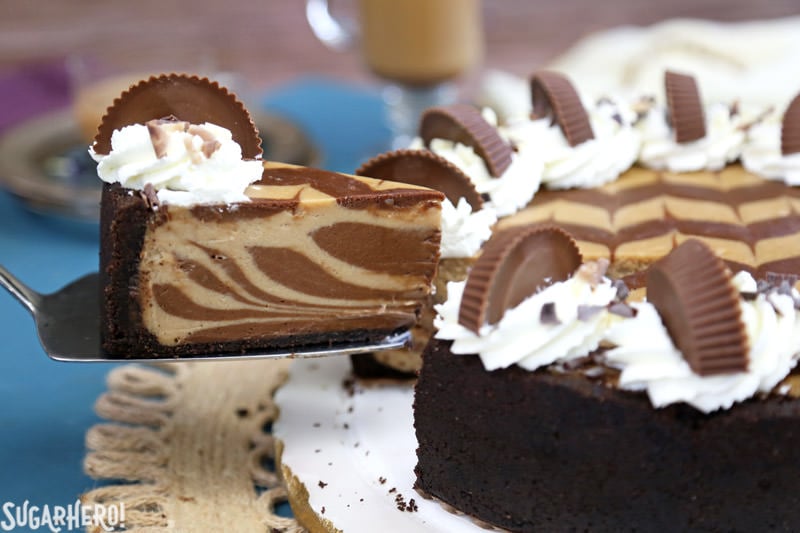 This cheesecake starts with a crunchy chocolate base–I used chocolate graham crackers, but you could also use regular graham crackers, chocolate wafers or sandwich cookies.
The cheesecake filling is made with lots of cream cheese and peanut butter (of course!). Then, the filling is divided in half. One half of the filling gets melted semi-sweet chocolate folded in, to make a rich chocolate cheesecake.
You could layer the two flavors on top of each other, or do a casual swirl, but I wanted to get a more precise striped effect on the inside, so I placed alternating scoops of batter on top of each other, which produces the pretty zebra pattern you see inside the cheesecake.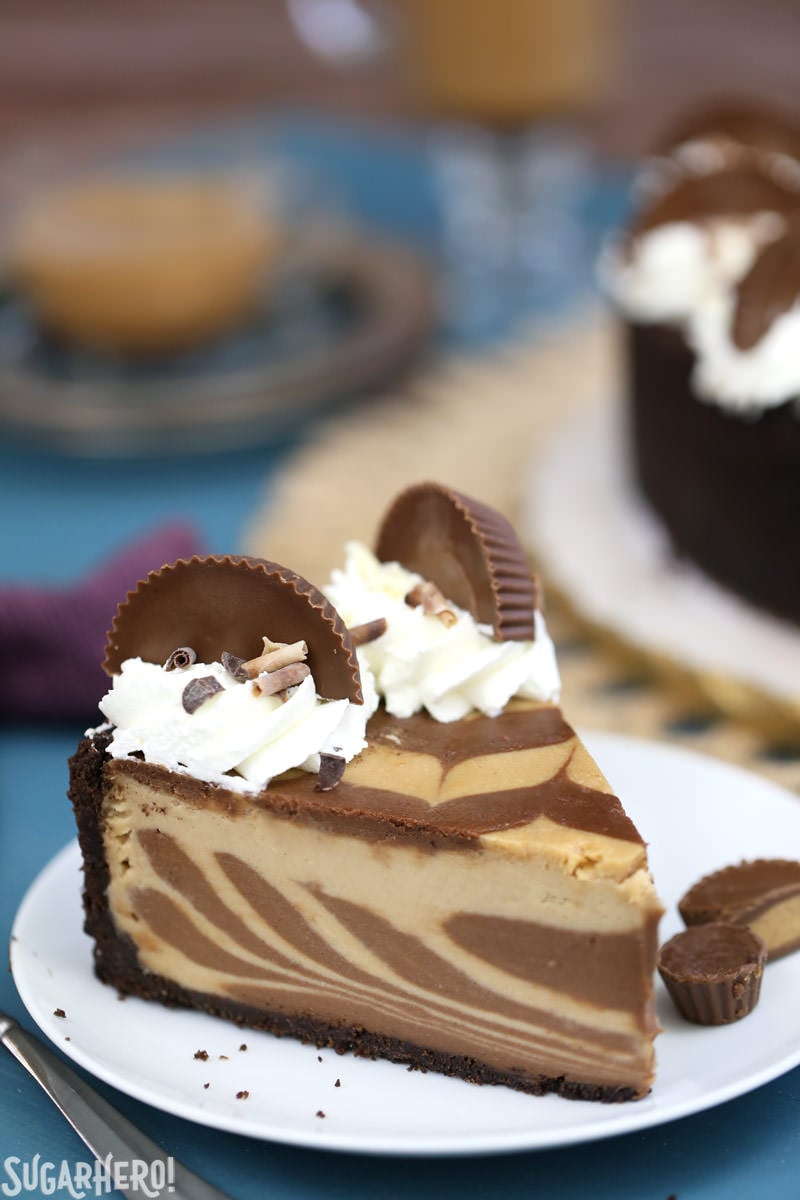 As for the design on top, I made that by piping thin lines of chocolate batter on top of the peanut butter, then dragging a toothpick through it in opposing directions. Totally easy, totally gorgeous!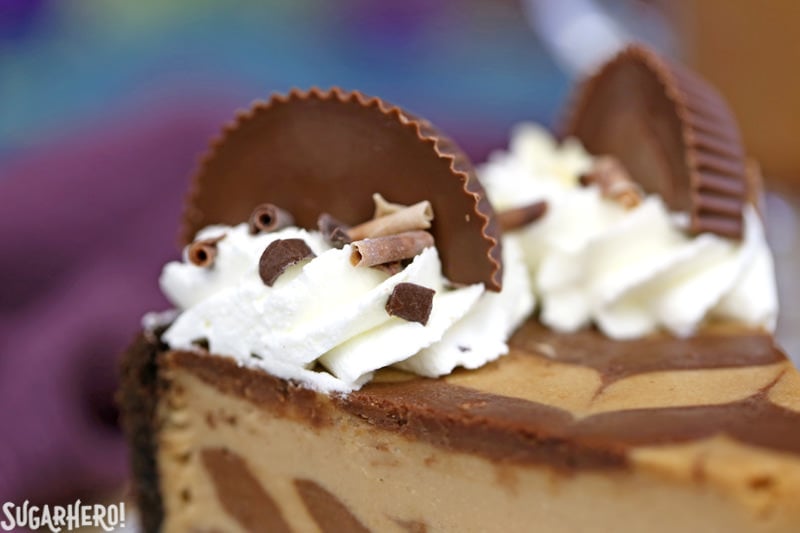 And OF COURSE, I needed to use lots of peanut butter cups as decorations. I could lie and say it's for aesthetic reasons, but that's about 10% of the truth. We all know that it's really because I want to snack on the extras while filming. Sorry not sorry, those suckers are delicious!
Because cheesecakes can be tricky, here are a few tips to getting the perfect cheesecake, every time:
Use a water bath. I know they're a pain, but they really will improve the texture of your cheesecake. To avoid soggy bottoms, I bought foil that's 18 inches wide (found it at Costco!) and since I've started using it, have had no issues with water leaking in. Tall silicone cake pans are also great for this!
Choose full-fat cream cheese, and make sure it is TOTALLY at room temperature. I'm very loyal to Philadelphia brand–I've been burned by sketchy store brands too many times.
Turn the oven off when the cheesecake is still jiggly. The inclination is to look for it to be fully set, but if you wait for it to set in the oven, it will be overcooked and stiff. It will continue to cook/set after you turn the oven off, and as it chills overnight. As long as it's set around the edges, some movement in the middle is fine.
Let it rest in a cooling oven before taking it out. This continues to cook the cake (see above) and also avoids an abrupt temperature shift that might cause the cheesecake to crack.
SPEAKING of cheesecake cracks, here's a great tip I learned from Jen at Baked by an Introvert! Stir in the eggs last, by hand, instead of beating them into the cream cheese. Beating them in in the beginning = more air whipped into the batter = a cheesecake that rises higher while baking = more likely the cake will collapse and crack as it cools. Stirring the eggs in by hand at the end avoids adding excess air to the cheesecake and reduces the chances of cracks. Ever since I tried this method I've had zero cracks in my cheesecakes!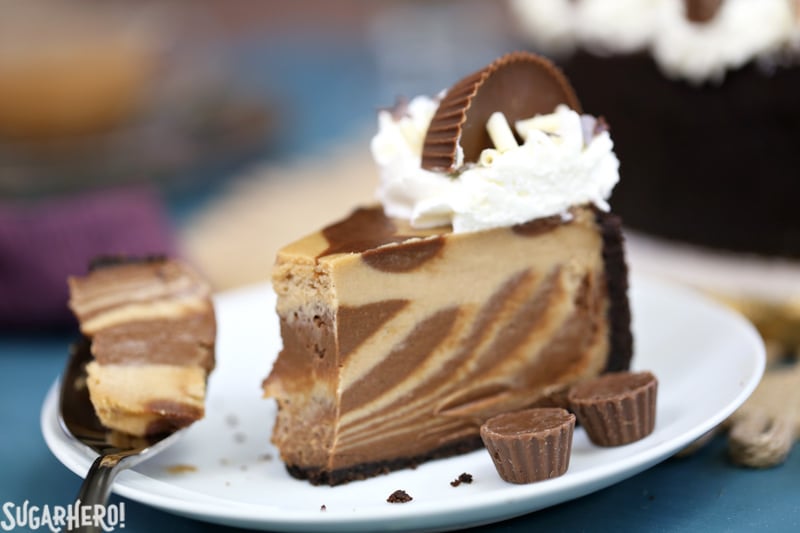 Bon appetit, my cheesecake-loving friends!