If you like regular tiramisu, you'll love Chocolate Tiramisu! This twist on the familiar Italian favorite calls for hot chocolate instead of espresso, and adds several layers of chocolate ganache for a deep, rich chocolate taste.
Delicious Tiramisu – Without Coffee!
I am huge sucker for tiramisu. I think it's because it triggers all the trifle pleasure centers in my brain, of which there are very, very many. I mean, it basically is a trifle, right? Soft cake-like layer? Check. Creamy layer? You betcha. Beautiful layered presentation? Yes indeedy. Fancy Italian name? Oh, behave.
What is Tiramisu?
Classic tiramisu features layers of sponge cake or ladyfinger cookies, soaked in a coffee/brandy mixture, layered with a creamy mascarpone cheese mixture, and finished with a generous dusting of cocoa powder. It is often made in a big dish and served like a sheet cake, but can also be made in individual portions. The name "tiramisu" literally means "pick me up" in Italian, because the amount of coffee will definitely pick anyone up from a low-energy slump.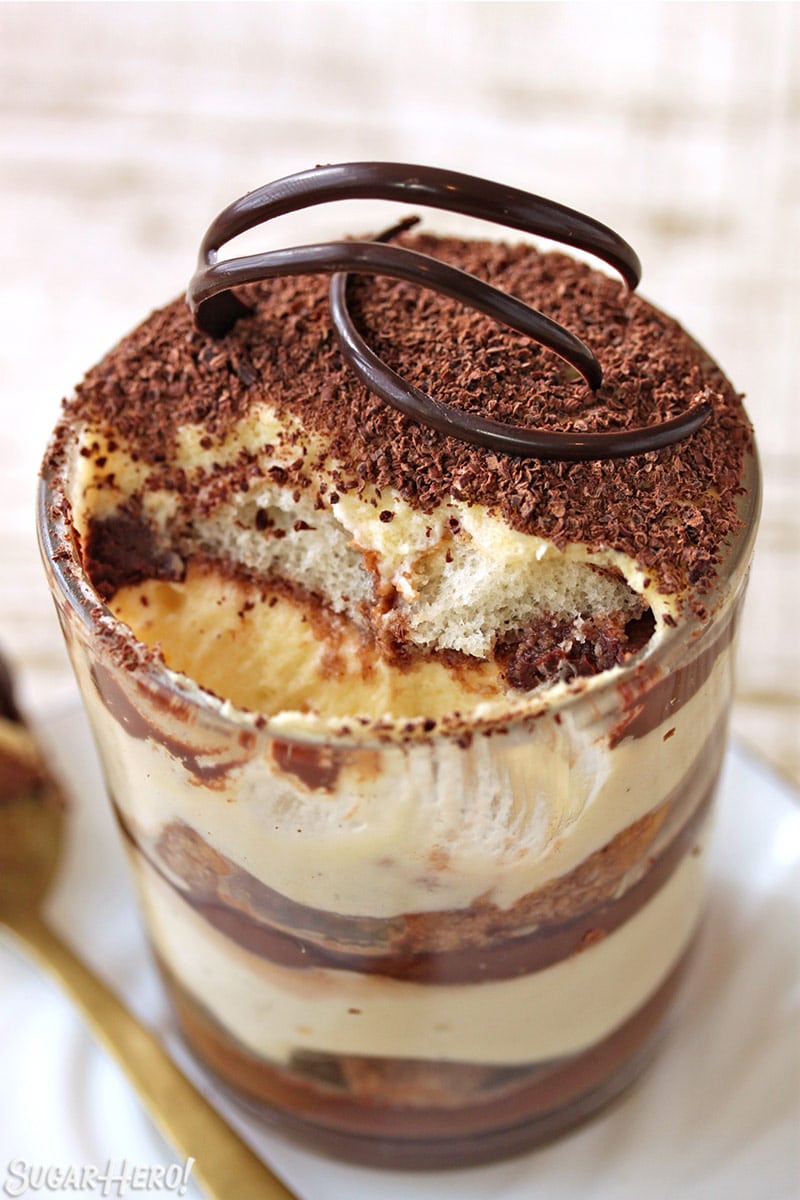 Chocolate Tiramisu, Hold the Coffee
I love the flavor of traditional tiramisu, but it's not for everyone. Maybe you don't drink coffee or alcohol. Or maybe you want something you can serve to the entire family, without worrying the kids will be bouncing off the walls at midnight, buzzing from a second slice of tiramisu. So I came up with the coffee-free, chocolate tiramisu recipe. This dessert still has the traditional lady finger cookies, and definitely still calls for that delicious mascarpone cheese-based layer of deliciousness, but in this chocolate version, the cookies are dunked in strong hot chocolate to soften them, and in between each cookie layer is a thick layer of rich, dark chocolate ganache.
I'm sure this version is sacrilege for tiramisu purists, but in the immortal words of surly teenagers on Twitter, #sorrynotsorry. Even though these "pick me ups" don't have the caffeine content of the original, I know that a big helping of cookies, cream, and chocolate always picks me up, if you know what I mean. And if you're looking for more great tiramisu variations, you won't want to miss my fabulous Banana Bread Tiramisu!
Does all this talk of chocolate have you craving more? Check out some of my other chocolate lover's recipes like Chocolate Cheesecake, Peppermint Lava Cakes, Salted Fudge Brownies, German Chocolate Brownie Ice Cream and Truffle-Stuffed Chocolate Chip Cookies!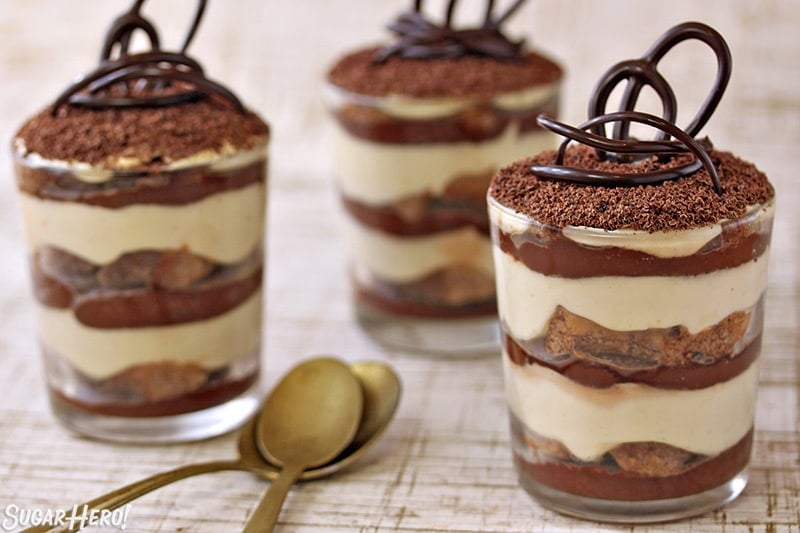 Table of Contents
🧾 What You'll Need
Ingredients
In addition to common pantry staples you probably already own, here's the lowdown on what you'll need to make Chocolate Tiramisu:
Semi-sweet chocolate:

Chopping up a chocolate bar will give you the best results–I'm a big proponent of Trader Joe's pound plus bars, if those are available to you. Otherwise, go for high-quality chocolate chips like Guittard–they'll give you the best flavor.
Heavy cream:I like heavy cream best for the rich texture it provides, but you can use whipping cream if that's what's available to you.
Egg yolks: You only need yolks in this recipe, so separate the egg yolks from the whites following these directions, and save the whites to use in meringue cookies or frosting!
Mascarpone cheese: Mascarpone is a soft, creamy Italian cheese sold in tubs. It has a more delicate flavor and texture than cream cheese, but full-fat cream cheese can be substituted in the recipe if you don't have mascarpone.

Lady fingers:

There are 2 kinds of lady finger cookies: soft ones (with a sponge cake texture) and hard ones, that are quite crunchy. I like using the soft version best, although the crunchy ones work in a pinch. Look for lady fingers in the cookie section of your grocery store, or check Italian markets or delis if you have any local to you.

Hot chocolate:

Use anything with a rich, strong chocolate flavor. I love indulgent homemade hot chocolate, or high-quality store-bought mixes are great too.
💡 Tips and FAQs
Can this be made in a large pan?
Yes! If you need to feed a crowd, or don't have the right size serving glasses, this recipe can also be made in a 9×13 pan—I've included the instructions in the Notes section of the recipe card. Enjoy!
Is it safe to eat raw yolks in tiramisu?
Traditional Italian mascarpone cream is made with raw yolks, and that is what this recipe calls for. If eating raw yolks is a concern for you, I recommend purchasing pasteurized eggs, which can often be found in the refrigerated egg section of many super markets – they will clearly be labeled "pasteurized" on the carton. Pasteurization means they have been gently heated to kill any bacteria present, and they are completely safe to eat while raw.
Make-Ahead and Storage Instructions
Tiramisu is a great make-ahead dessert, and leftovers keep very well! Make it up to five days ahead of time, and store it, well-wrapped, in the refrigerator until ready to serve.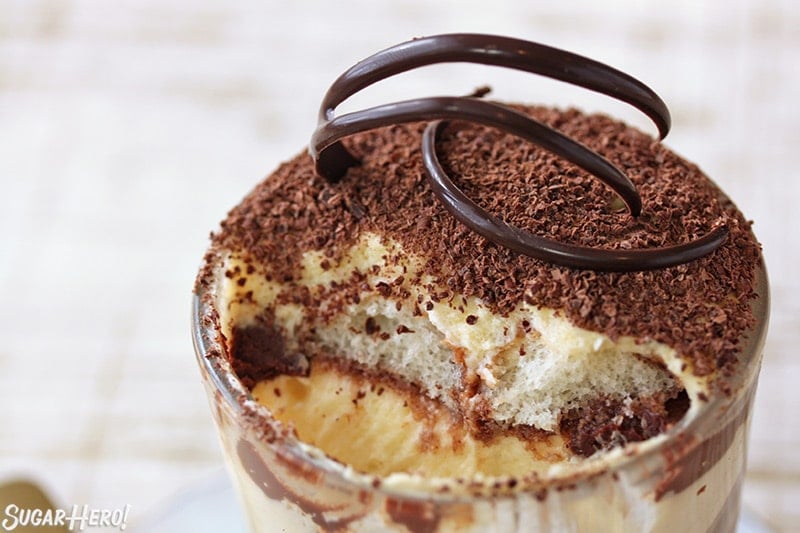 Leave a Review!
If you make this recipe, let us know! Leave a ⭐️⭐️⭐️⭐️⭐️ rating on the recipe below, and leave a comment, take a photo and tag me on Instagram @elabau, or use #sugarhero on IG!
Chocolate Tiramisu
If you like regular tiramisu, you'll LOVE Chocolate Tiramisu! This twist on the familiar Italian favorite calls for hot chocolate instead of espresso, and adds several layers of chocolate ganache for a deep, rich chocolate taste.
Ingredients
6

oz

semi-sweet chocolate,

(1 cup),

finely chopped

1 3/4

cup

heavy cream

,

divided use

6

large egg yolks

,

at room temperature

7

oz

granulated sugar,

(1 cup)

1

lb

mascarpone cheese

1/4

tsp

salt

2

tsp

vanilla extract

24-30

lady fingers

,

the soft variety, (use up to 40 if using a 9×13 pan)

2

cups

prepared hot chocolate

,

strong, cooled to room temperature
Instructions
Make the Chocolate Ganache:
Place the chopped chocolate in a small bowl. Pour one cup of heavy cream into a small saucepan, and place the pan over medium heat. Bring the cream to a simmer, heating it until bubbles appear along the sides of the pan, but it is not yet boiling.

Pour the hot cream over the chopped chocolate and allow it to sit and soften for a minute. After a minute, whisk the cream and chocolate together until the chocolate is smooth, shiny and melted. Press a layer of cling wrap over the top and refrigerate the chocolate briefly until it thickens to the consistency of soft peanut butter.
Make the Mascarpone Cream:
While the chocolate is chilling, prepare the mascarpone mixture. Place the egg yolks and sugar in the large bowl of a stand mixer fitted with a whisk attachment. Beat the yolks and sugar together on medium-high speed until they are very thick and pale, about 2-3 minutes. When you stop the mixer and lift up the whisk, the yolks should slowly drip from the whisk in a thick ribbon.

Add the mascarpone cheese, salt, and vanilla extract, and beat on medium-low until the cheese is incorporated and the mixture is free of lumps. Don't overbeat, or beat too quickly, since mascarpone is prone to breaking if it's overworked!

Transfer the mascarpone cheese to another bowl, and in the same mixing bowl—no need to clean it—place the remaining 3/4 cup heavy cream. Whip the cream to firm peaks, then gently fold it into the cheese in several batches.
Assemble the Tiramisus:
To assemble the tiramisus, spread a thin layer of chocolate on the bottom of six 10-oz dishes or cups. Working one at a time, dip a ladyfinger quickly in the hot chocolate so that it is submerged, then place it in the serving dish. You may need to break the cookies into several pieces to make them fit into an even layer in the dishes. Repeat until all of the dishes have a first layer of soaked lady fingers.

Spoon a thick layer of the mascarpone cream over the ladyfingers—you may find that it's easier to put the cream into a pastry bag with a round tip, or a plastic bag with the corner snipped off. Once all of the tiramisus have a layer of mascarpone, spoon a thin layer of chocolate on top. Repeat the layers, adding more ladyfingers, mascarpone, and chocolate, until you reach the top of your container. Make sure that you end with a layer of mascarpone cheese. Finish the tiramisus with a topping of shaved chocolate, unsweetened cocoa powder, or a big rosette of whipped cream. Refrigerate for at least 2 hours, and serve!

Tiramisu keeps very well, and this dessert can be made up to five days ahead of time and kept, well-wrapped, in the refrigerator until ready to serve.
Recipe Notes
This recipe makes six LARGE individual servings, or 12 more reasonable servings!
This recipe can also be made in a 9×13 pan. You will need more lady fingers to make it in a large rectangular pan, but the exact number will depend on the size of the brand you use. To make it in a 9×13 pan, start with a thin chocolate layer, then add dipped ladyfingers, mascarpone, chocolate, lady fingers, and mascarpone, in that order. Top with shredded chocolate or cocoa powder, refrigerate for at least 2 hours, and then serve!
You can substitute hard lady fingers (savoiardi) for the soft ones, if that is what you have available, but you will want to soak them for an extra second or two in the hot chocolate to make sure they soften.
Measuring Tips
Our recipes are developed using weight measurements, and we highly recommend using a kitchen scale for baking whenever possible. However, if you prefer to use cups, volume measurements are provided as well. PLEASE NOTE: the adage "8 oz = 1 cup" is NOT true when speaking about weight, so don't be concerned if the measurements don't fit this formula.
Want to learn more about baking measurements and conversion?
Nutrition
Serving:
12
g
|
Calories:
569
kcal
|
Carbohydrates:
44
g
|
Protein:
8
g
|
Fat:
40
g
|
Saturated Fat:
23
g
|
Polyunsaturated Fat:
1
g
|
Monounsaturated Fat:
7
g
|
Trans Fat:
1
g
|
Cholesterol:
232
mg
|
Sodium:
150
mg
|
Potassium:
181
mg
|
Fiber:
2
g
|
Sugar:
25
g
|
Vitamin A:
1299
IU
|
Vitamin C:
1
mg
|
Calcium:
115
mg
|
Iron:
2
mg
Tried this recipe?
Snap a pic and hashtag it #SugarHero. We love to see your creations on our Instagram @elabau.