Bring a little sparkle to your Easter desserts with these Easter Egg Sugar Cookies! Soft sugar cookies are decorated with sugar pearls to look like beautiful jeweled Easter eggs. Everyone will love decorating them, and they make great edible gifts or Easter basket goodies!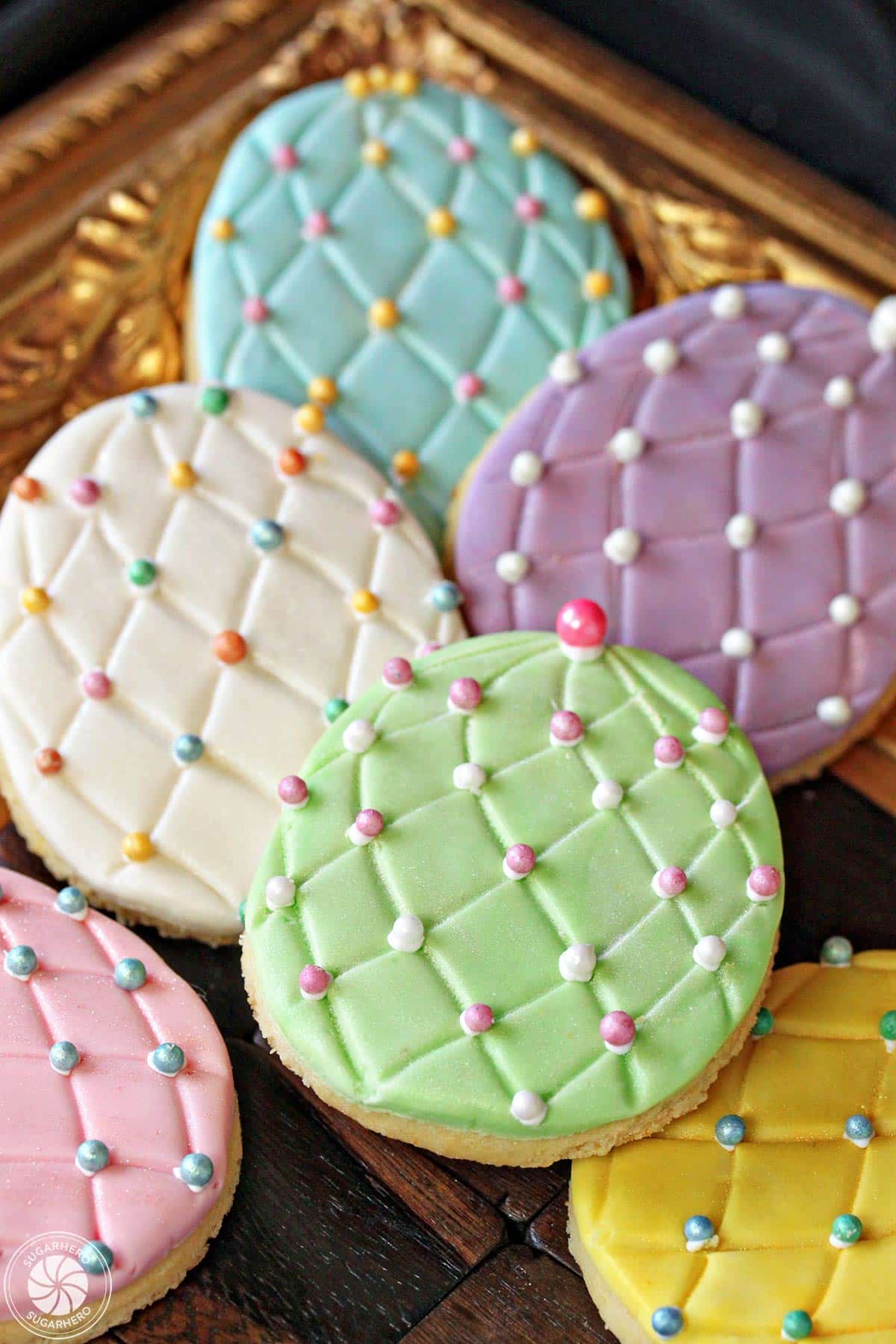 With April around the corner, we're in full-on Easter mode around here! (If you're picturing me wearing bunny ears and a fluffy tail, you're not far off.) I'm currently loving all recipes spring-y and pastel: Marbled Easter Egg Truffles, Easter No-Bake Cheesecakes, Pastel Rainbow Gelatin Cups, and these pretty Peanut Butter Easter Eggs.
If you're looking for more inspiration, be sure to check out our full list of Easter dessert recipes here.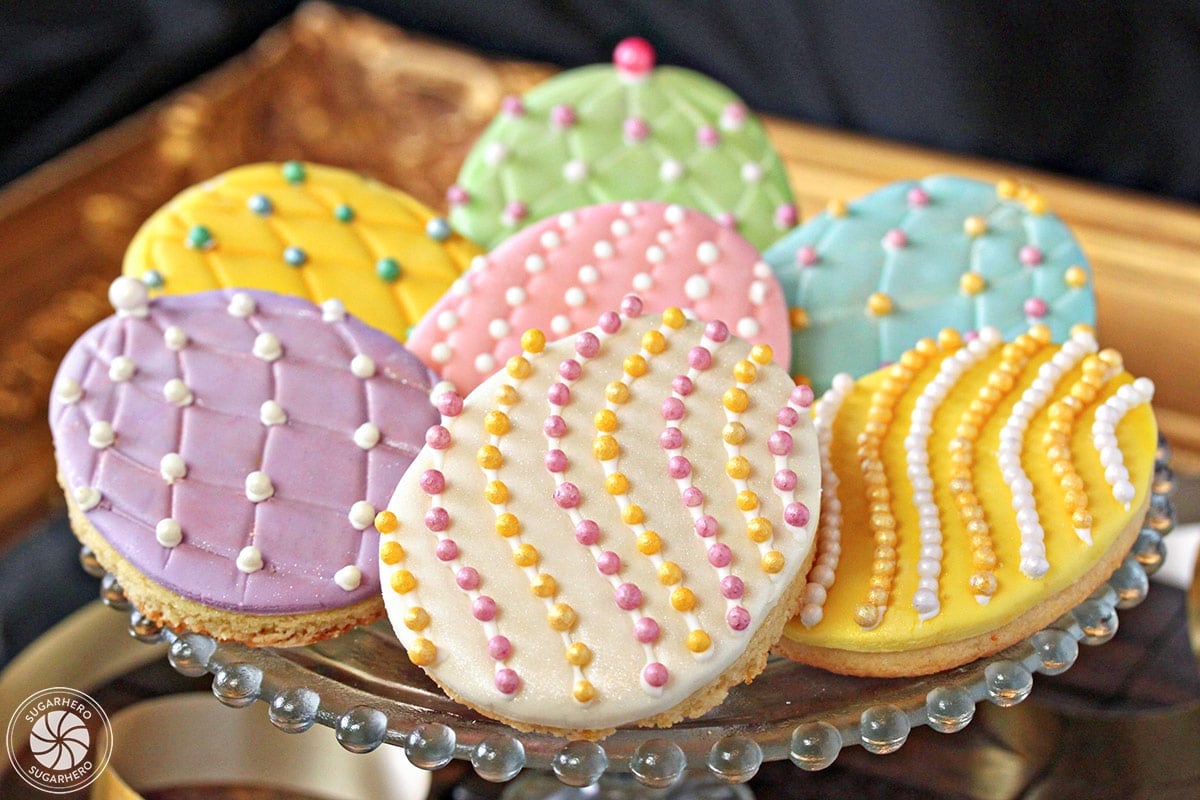 Sugar Cookies for Easter
I've shared plenty of Easter cake and Easter candy recipes, but I haven't shared many Easter cookie recipes, so I thought it was time to change that! These Easter egg cookies have an orange-scented dough that makes them just a little more special than your typical sugar cookie dough. (You can swap lemon or grapefruit for the orange if you'd like, or leave it out altogether!)
They're topped with a thin layer of fondant, which helps keep them soft and moist for days. And then to bring the bling, they're decorated with sparkling sugar pearls and glittering pearly dust.
I originally called these "Faberge eggs," because they remind me (a little!) of the super-fancy and over-the-top jeweled eggs. But that seemed to be giving these cookies a little too much credit. Besides, you can make them as simple or as complicated as you want. There's nothing to say you can't slap a layer of frosting on them and call it a day, no bling required!
Tools You'll Need
To make the cookies themselves, you don't need much more than a stand mixer or hand mixer to whip up the dough. But to decorate them with the fondant and sugar pearl design, you'll need a few more things. (The follow are affiliate links):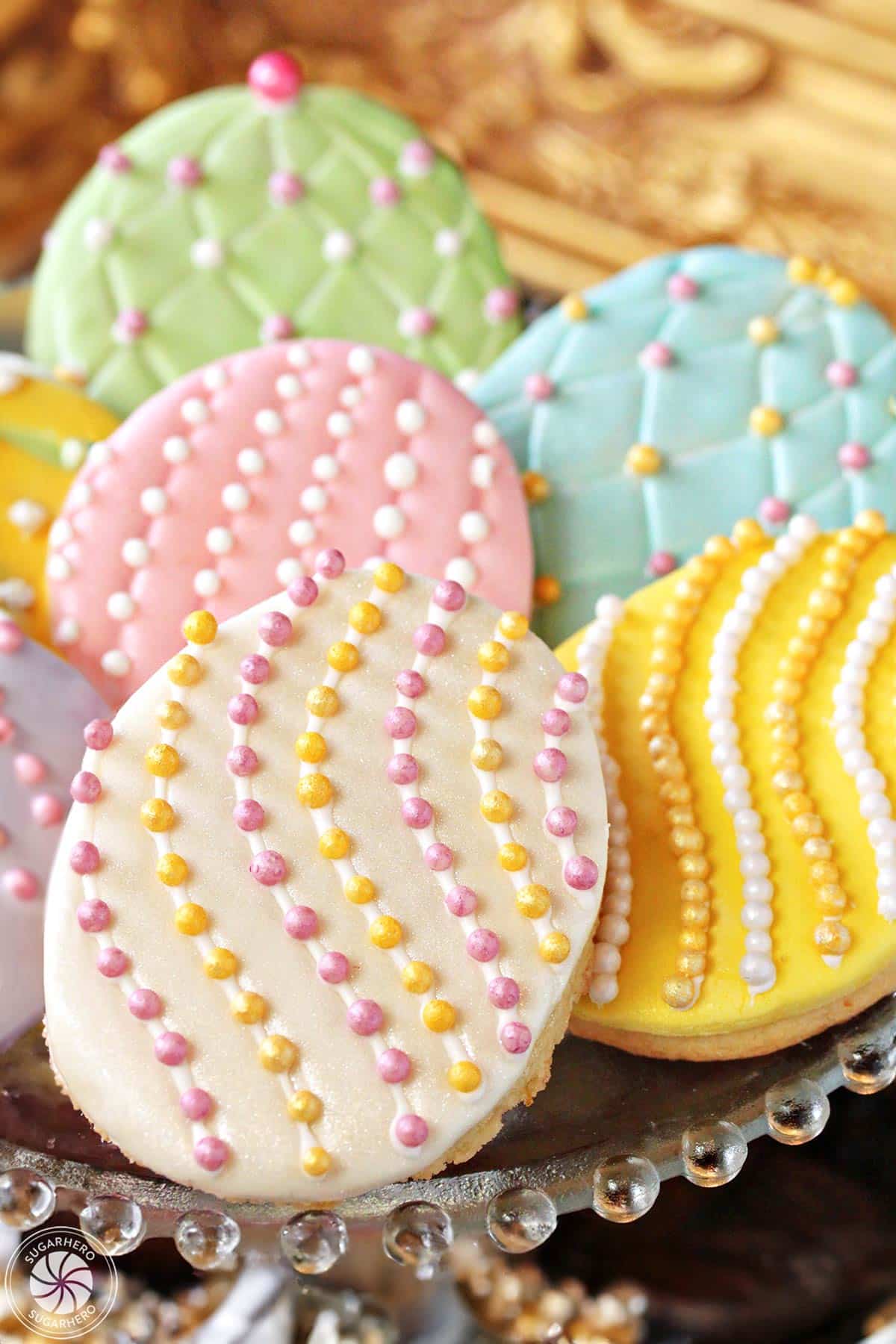 How to Decorate Easter Egg Sugar Cookies
After the cookies are baked, portion out the fondant into as many colors as you'd like. Knead food coloring into the fondant until the streaks disappear, and your fondant is smooth and supple.
Roll out the fondant on a powdered sugar-dusted surface until it is a thin layer, and cut it out with the same cookie cutter you used to cut the sugar cookies.
Attach the fondant egg shapes to the cookies with a touch of corn syrup brushed on the cookies.
Use fondant tools to emboss lines and patterns into the tops of the eggs. This could be as simple as vertical lines or as complex as an intricate Easter egg shape.
Brush the tops of the fondant with a thin layer of pearl dust to make it gleam
Use dabs of royal icing or melted white chocolate to glue the sugar pearls to the cookies
Devour!
Common Questions About Easter Egg Sugar Cookies
Do I have to use fondant?
Nope! The fondant gives the cookies a pretty look, and keeps them moist, but it's definitely not a necessity if you're a fondant hater.
You can use marzipan if you like almond flavor. Marzipan behaves similarly to fondant, but it can be a little more delicate, so be careful when you're handling it. OR you can skip the rolling and cutting process entirely and just use frosting! Find a royal icing recipe here, or a soft and fluffy sugar cookie icing recipe here.
How far can I make these in advance?
If you add the fondant layer, they will help keep the cookies moist, so they will keep a softer texture longer. They're still best enjoyed within a week of making them, however.
You can also make the cookie portion in advance. You can either make the dough and freeze it before baking, or bake the cookies off and then freeze them after they are baked and cooled. If you freeze the dough, transfer it to the refrigerator to let it thaw before moving it to room temperature to roll it out.
I do not recommend freezing the completely assembled cookies, since the fondant will absorb moisture and become sticky over time.
How can I make other flavors?
Not an orange fan? No problem! You can omit the orange zest and orange extract from the recipe. Try one of these ideas instead:
Coconut extract
Lemon extract
Almond extract
Grapefruit zest
Lime zest
Sugar cookies are such a fun dessert to make and can be customized to any holiday or color scheme. Check out some of my other fun sugar cookie recipes like Big Soft Sugar Cookies (with Frosting!) (try decorating them with Easter sprinkles), Watercolor Rose Sugar Cookies (try changing the shape and experimenting with the extract flavor), Stars and Stripes Sugar Cookies for the 4th of July (try changing the colors and making the center shape a bunny). You could also try changing the color scheme and incorporating the decorating styles of these Sugar Cookie Pinwheels and Christmas Pinwheel Cookies! Whatever you decide to make, have fun and let your creativity shine.
And that's it! I hope you'll put on your fancy pants and give these Easter Egg Sugar Cookies a try. If you do, please share your creations in our Facebook group or on social media using the #sugarhero hashtag.
🐣More Easter Egg Desserts You'll Love:
Easter Push-Up Pops
These Push-Up Pops are perfect for Easter! Chocolate cake, frosting, and chocolate rocks are layered in push pop containers, then topped with adorable chocolate bunny ears, carrots, and bunny butts.
View Recipe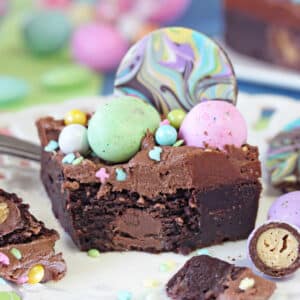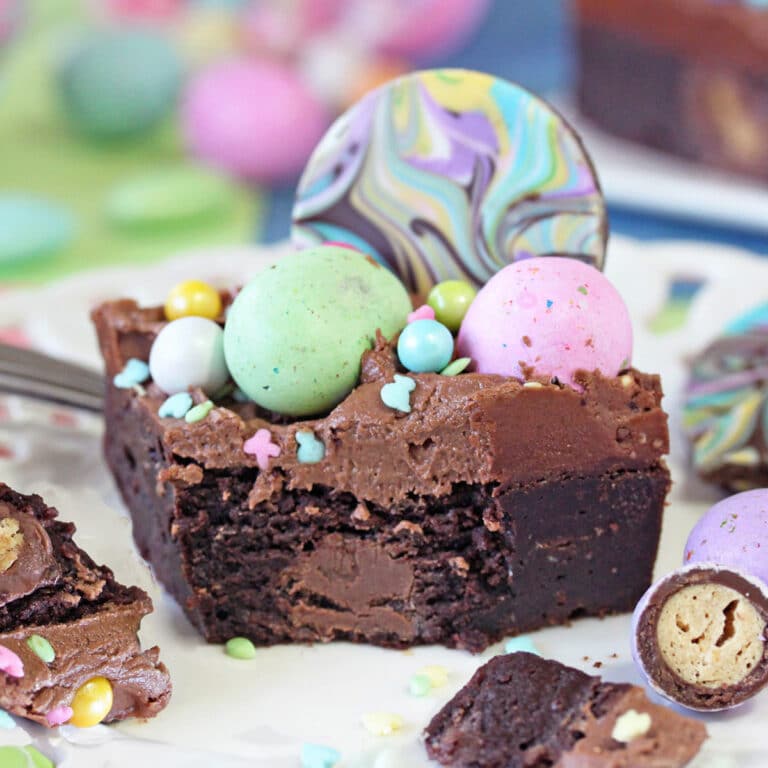 Frosted Easter Brownies
These Frosted Easter Candy Brownies are ultra-fudgy brownies, packed with malted Easter egg candies and topped with chocolate frosting and LOTS of fun sprinkles and candies! They're perfect for Easter, showers, and birthday parties.
View Recipe
Easter Egg Sugar Cookies
Bring a little sparkle to your Easter desserts with these Easter Egg Sugar Cookies! Sugar cookies are decorated with sugar pearls to look like beautiful jeweled Easter eggs.
Instructions
To Make the Cookies:
In a bowl, whisk together the flour, baking powder, and salt, and set aside for now.

In the bowl of a large stand mixer, combine the orange zest and sugar. Rub them together with your fingers until the sugar is very fragrant and has the texture of wet sand. Add the butter to the sugar, and mix everything together on medium speed until fluffy and well-mixed.

Add the eggs one at a time, beating well after each addition, then add the extracts.

With the mixer running on low, add the dry ingredients, and mix until they're just about incorporated. Stop the mixer when only a few streaks of flour remain. Scrape the bottom and sides of the bowl with a spatula, and finish mixing all the dough by hand.

Divide the dough in half and press each into a thin disc, wrapping well with plastic wrap. Refrigerate until firmer but not hard, about 30 minutes.

When you're ready to bake the cookies, preheat the oven to 350 degrees F. Place a disc of dough between two sheets of parchment or waxed paper, and roll out until it is 1/4-inch thick. (I did not need to add any extra flour during the rolling process, but you may find a light dusting helps.)

Use a 3-inch egg cookie cutter to cut out your cookies and place them on a parchment-lined baking sheet. You should get about 20 3-inch cookies. Put the sheet in the freezer for 10 minutes before baking to help the cookies hold their shape.

Bake the trays of cookies for 10-12 minutes, until the edges are golden and they have lost the raw shine in the middle. Let the cool on the baking sheet for 5 minutes, then remove them to wire racks to cool completely.

Re-roll your scraps of dough together to cut out more cookies. If at any point the dough becomes too warm to work with, chill it briefly in the refrigerator until you can once again roll and cut cookies easily. Cool the cookies completely before decorating them.
To Decorate the Cookies:
If you want to color your fondant, divide it into as many colors as you desire. If you have plastic food-safe gloves, now is a good time to wear them, so that your hands won't get food coloring on them.

Press one piece of fondant into a disc shape, and put a drop of gel food coloring in the center. Fold the sides over the coloring, so you have a fondant ball, and knead it between your hands. Soon you'll start seeing streaks of color come through the fondant. Continue to knead until the fondant is a uniform color. Add more food coloring if you desire, until you get a shade you like. If at any time the fondant gets too sticky, dust your hands with powdered sugar. Repeat with the rest of the fondant balls until you have all the colors you want.

Dust your work surface with powdered sugar. Roll out one color of the fondant out until it is about 1/8-inch thick. Use the same cutter you used for the cookies to cut the fondant into egg shapes. Brush the cookies with a very thin layer of corn syrup, and press the fondant on top to get it to adhere. Repeat with the other colors until all of your cookies are covered with fondant.

If you have

gumpaste tools

, you can use them to add texture to your cookies. You can use a veining tool or quilting tool to imprint lines, diamonds, or other patterns on the fondant.

If you're using pearl dust, use a clean, dry brush to dust the tops of the cookies in a pearl dust color that corresponds to the fondant.

Finally, put the royal icing or melted white chocolate in a piping bag with a very small round tip. Use the royal icing to affix the small sugar pearls to the tops of the cookies. Let the icing set before serving the cookies.

They can be kept for several days in an airtight container at room temperature, but the decorations do make them delicate, so package them carefully if you're going to stack them on top of each other.
Measuring Tips
Our recipes are developed using weight measurements, and we highly recommend using a kitchen scale for baking whenever possible. However, if you prefer to use cups, volume measurements are provided as well. PLEASE NOTE: the adage "8 oz = 1 cup" is NOT true when speaking about weight, so don't be concerned if the measurements don't fit this formula.
Want to learn more about baking measurements and conversion?
Nutrition
Serving:
20
g
|
Calories:
379
kcal
|
Carbohydrates:
47
g
|
Protein:
4
g
|
Fat:
19
g
|
Saturated Fat:
11
g
|
Cholesterol:
65
mg
|
Sodium:
97
mg
|
Potassium:
110
mg
|
Fiber:
0
g
|
Sugar:
19
g
|
Vitamin A:
590
IU
|
Vitamin C:
0
mg
|
Calcium:
39
mg
|
Iron:
1.8
mg
Tried this recipe?
Snap a pic and hashtag it #SugarHero. We love to see your creations on our Instagram @elabau.
This post was first published in April 2015 and updated in March 2019.