Look, I'm not saying the Easter Bunny is doing a terrible job. It can't be easy to hit all those houses and fill all those baskets without the help of any reindeer whatsoever. I'm sympathetic. But I do think he could try a little harder. Plastic eggs? Filled with cheap jelly beans? Hollow bunnies made of mockolate? Come on, now. We deserve better.
We're grown-ups, dang it, and we deserve some grown-up goodies this Easter. Peeps are all well and good, but I can only eat so many fluffy chick-shaped marshmallows before starting to contemplate my life choices. Sparkling Faberge-inspired sugar cookies are just what we need to celebrate this holiday in style.
These blinged-out Easter egg cookies are a fun twist on the usual kid-centric holiday fair. So often Easter decorations and desserts skew toward the cutesy—and that's not an insult, because I am as guilty of sticking a bunny butt on a dessert as anyone. (Okay, maybe guiltier, considering I just linked to my own bunny butt-strewn work. What can I say? I love me some edible cottontails.) My point is, more often than not, Easter treats are bright, whimsical, even a bit cartoonish—so it's nice to take a break from that and go a little classier.
To decorate these sugar cookies, I looked to the ultimate egg decorators for inspiration—Faberge. The legendary Faberge eggs are over-the-top baroque creations dripping with gold, silver, and jewels. My version features orange-scented sugar cookies topped with different colors of pastel fondant, brushed with luster dust, and embossed with different patterns and shapes. Multicolored sugar pearls complete the jeweled effect.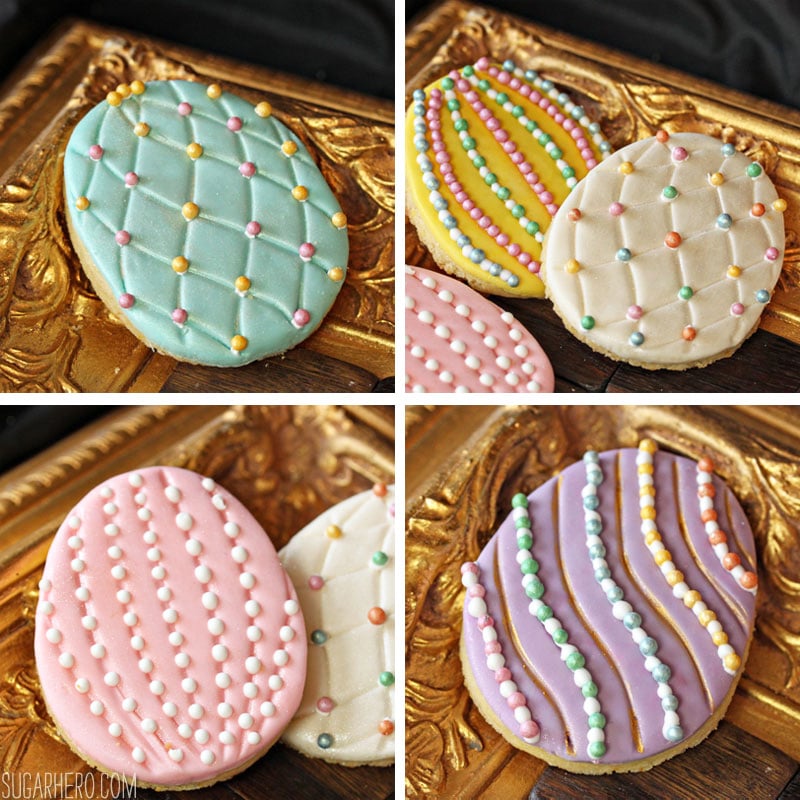 I'll be the first to tell you that you could go a LOT fancier with these cookies. They don't really compare to real Faberge eggs, and if you're ambitious (and have the time on your hands) I'm sure they could be REALLY blinged out with more intricate designs, gold or silver leaf, dragees, and a million other gorgeous details. But these designs hit that sweet spot for me, where they looked suitably fancy and complicated, but didn't require an hour of work per cookie and leave me wanting to tear my hair out. It's all about balance!
Print Recipe
Faberge Egg Sugar Cookies
These Faberge Egg Sugar Cookies is a break from the traditional kid-centric bright, whimsical, even cartoonish treats that you are used to. These aim to take Easter treats to a little classier level!
Ingredients
For the Cookies:
25 1/2

oz

all-purpose flour

(6 cups)

1

tbsp

baking powder

3/4

tsp

salt

Zest of 2 oranges

14

oz

granulated sugar

(2 cups)

1

lb

unsalted butter

2

eggs

2

tsp

vanilla extract

1

tsp

orange extract
To Decorate:
1 1/2

lbs

fondant

(I used homemade marshmallow fondant)

Gel food coloring

Corn syrup

Luster dust

(optional)

Gum paste tools or other fondant tools

(optional)

Royal Icing

(recipe below)

Sugar Pearls or other small decorations
Instructions
To Make the Cookies:
In a bowl, whisk together the flour, baking powder, and salt, and set aside for now.

In the bowl of a large stand mixer, combine the orange zest and sugar. Rub them together with your fingers until the sugar is very fragrant and has the texture of wet sand. Add the butter to the sugar, and mix everything together on medium speed until fluffy and well-mixed.

Add the eggs one at a time, beating well after each addition, then add the extracts. With the mixer running on low, add the dry ingredients, and mix until they're just about incorporated. Stop the mixer when only a few streaks of flour remain. Scrape the bottom and sides of the bowl with a spatula, and finish mixing all the dough by hand.

Divide the dough in half and press each into a thin disc, wrapping well with plastic wrap. Refrigerate until firmer but not hard, about 30 minutes.

When you're ready to bake the cookies, preheat the oven to 350 degrees F. Place a disc of dough between two sheets of parchment or waxed paper, and roll out until it is 1/4-inch thick. (I did not need to add any extra flour during the rolling process, but you may find a light dusting helps.) Use a 3-inch egg cookie cutter to cut out your cookies and place them on a parchment-lined baking sheet. You should get about 20 3-inch cookies. Put the sheet in the freezer for 10 minutes before baking to help the cookies hold their shape.

Bake the trays of cookies for 10-12 minutes, until the edges are golden and they have lost the raw shine in the middle. Let the cool on the baking sheet for 5 minutes, then remove them to wire racks to cool completely. Re-roll your scraps of dough together to cut out more cookies. If at any point the dough becomes too warm to work with, chill it briefly in the refrigerator until you can once again roll and cut cookies easily. Cool the cookies completely before decorating them.
To Decorate the Cookies:
If you want to color your fondant, divide it into as many colors as you desire. If you have plastic food-safe gloves, now is a good time to wear them, so that your hands won't get food coloring on them.

Press one piece into a disc, and put a drop of gel food coloring in the center. Fold the sides over the coloring, so you have a fondant ball, and knead it between your hands. Soon you'll start seeing streaks of color come through the fondant. Continue to knead until the fondant is a uniform color. Add more food coloring if you desire, until you get a shade you like. If at any time the fondant gets too sticky, dust your hands with powdered sugar. Repeat with the rest of the fondant balls until you have all the colors you want.

Dust your work surface with powdered sugar. Roll out one color of the fondant out until it is about 1/8-inch thick. Use the same cutter you used for the cookies to cut the fondant into egg shapes. Brush the cookies with a very thin layer of corn syrup, and press the fondant on top to get it to adhere. Repeat with the other colors until all of your cookies are covered with fondant.

If you have

gumpaste tools

, you can use them to add texture to your cookies. You can use a veining tool or quilting tool to imprint lines, diamonds, or other patterns on the fondant. Look at real Faberge eggs to get inspiration for what patterns might be appropriate.

If you're using luster dust, dust the tops of the cookies in a dust color that corresponds to the fondant.

Finally, put the royal icing in a piping bag with a very small round tip or a

paper cone

. Use the royal icing to affix the small sugar pearls to the tops of the cookies. Let the icing set before serving the cookies. They can be kept for several days in an airtight container at room temperature, but the decorations do make them delicate, so package them carefully if you're going to stack them on top of each other.
Nutrition
Serving:
20
g
|
Calories:
379
kcal
|
Carbohydrates:
47
g
|
Protein:
4
g
|
Fat:
19
g
|
Saturated Fat:
11
g
|
Cholesterol:
65
mg
|
Sodium:
97
mg
|
Potassium:
110
mg
|
Sugar:
19
g
|
Vitamin A:
11.8
%
|
Calcium:
3.9
%
|
Iron:
10.1
%
Print Recipe
Royal Icing
This is the only Royal Icing recipe you'll ever need!
Instructions
1. Combine the meringue powder and water in the large bowl of a stand mixer fitted with the paddle attachment. Bet on low speed until they're combined, then sift in the powdered sugar and beat on low until the sugar is moistened. Add the corn syrup and extract, and beat them in

2. Turn the mixer to medium-high and beat for 3-5 minutes, until the frosting is shiny, bright white, thick, and forms stiff peaks when you remove the beater. Press a layer of plastic wrap right on top of the icing until you are ready to use it, so it doesn't start to dry out. If making a day or two in advance, transfer it to an airtight container and press plastic wrap on top of the icing, then put the lid on top. Store it in the refrigerator, and stir well before using.
Nutrition
Serving:
30
g
|
Calories:
60
kcal
|
Carbohydrates:
15
g
|
Sugar:
15
g
|
Iron:
0.1
%
This post contains Amazon affiliate links. For more information, see my Affiliate and Advertising Policy.