These bright mini Unicorn Cakes put a colorful spin on traditional unicorn cakes! The cake batter and the frosting are both swirled with a colorful watercolor effect, so these cheerful unicorns look magical, inside and out.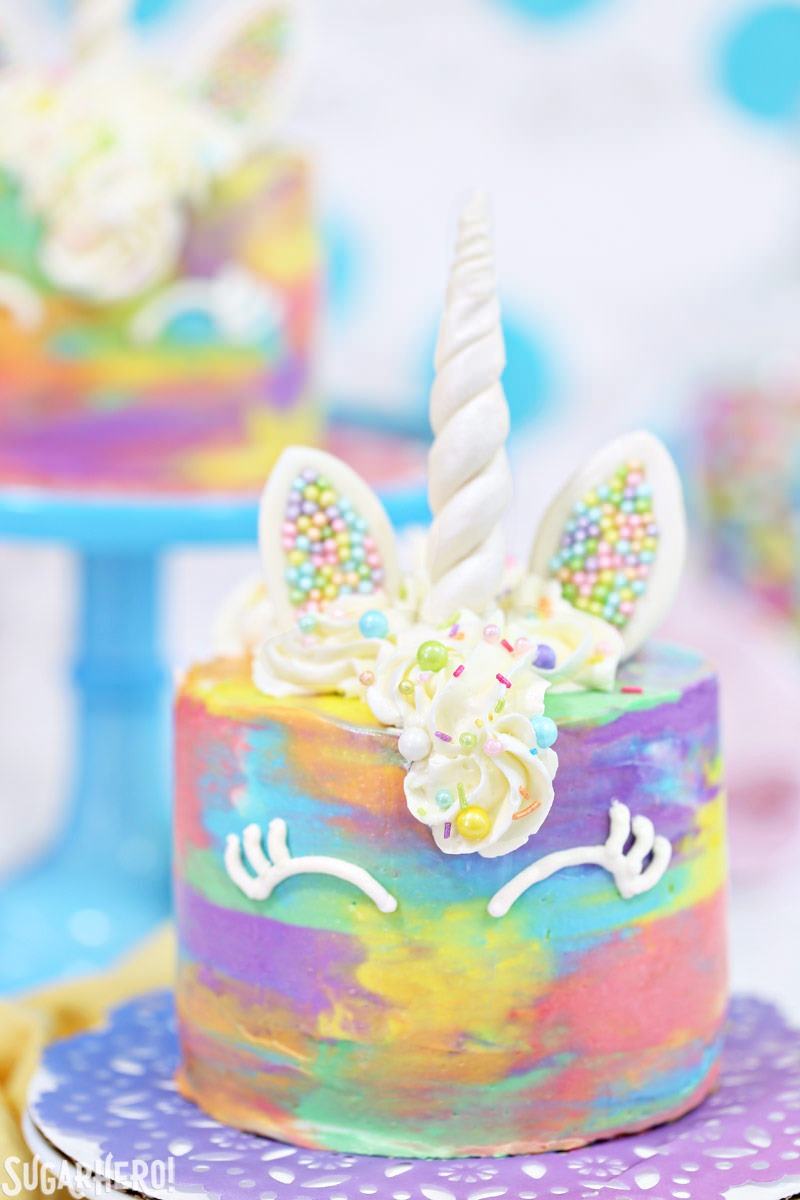 When I posted the Unicorn Milkshakes recipe a few weeks ago, I promised that you hadn't heard the last about unicorns from me. Unicorn cakes have been EVERYWHERE in the last year, and I just couldn't let this trend jump the shark completely before I tried making my own.
I have loved just about every unicorn cake I've seen. I know they're verging on overexposed, but I don't even care…my inner 9-year old thinks they're fabulous and she would kill me if I never made a unicorn cake.
Most of the cakes I've seen have featured white unicorn bodies, with lots of colorful sprinkles and frosting. I wanted to make mine a little different, so I decided to reverse it and make a colorful unicorn body with white frosting and fondant accents. I tried a subtle watercolor frosting effect first, and it was nice, but it was still not enough. I wanted MOOOORE! More color! More pop! More everything!
Eventually I settled on what could almost be described as a tie-dye effect—big swirls and patches of bold colors mixing together all over the cake—and I fell in love.
Unicorn trend, meet rainbow trend, meet SugarHero. Everyone please play nicely together.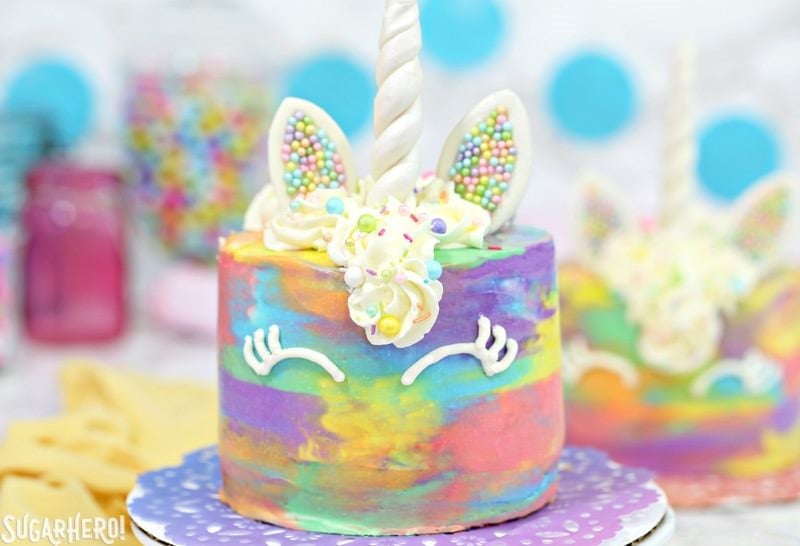 The other thing I did was make 3 mini cakes instead of one large one. No real reason, except that everything is cuter when it's miniature (true story). I like the sight of my unicorn buddies all lined up together, and mini cakes also make it easier to share the love with friends or neighbors! (Who wouldn't rather get a whole mini cake as opposed to a few slices of a large cake heaped on a plate?)
But if you can't find the mini cake pans, or don't want to fiddle around with decorating 3 unicorns, this recipe will also work as a normal 3-layer 9-inch cake.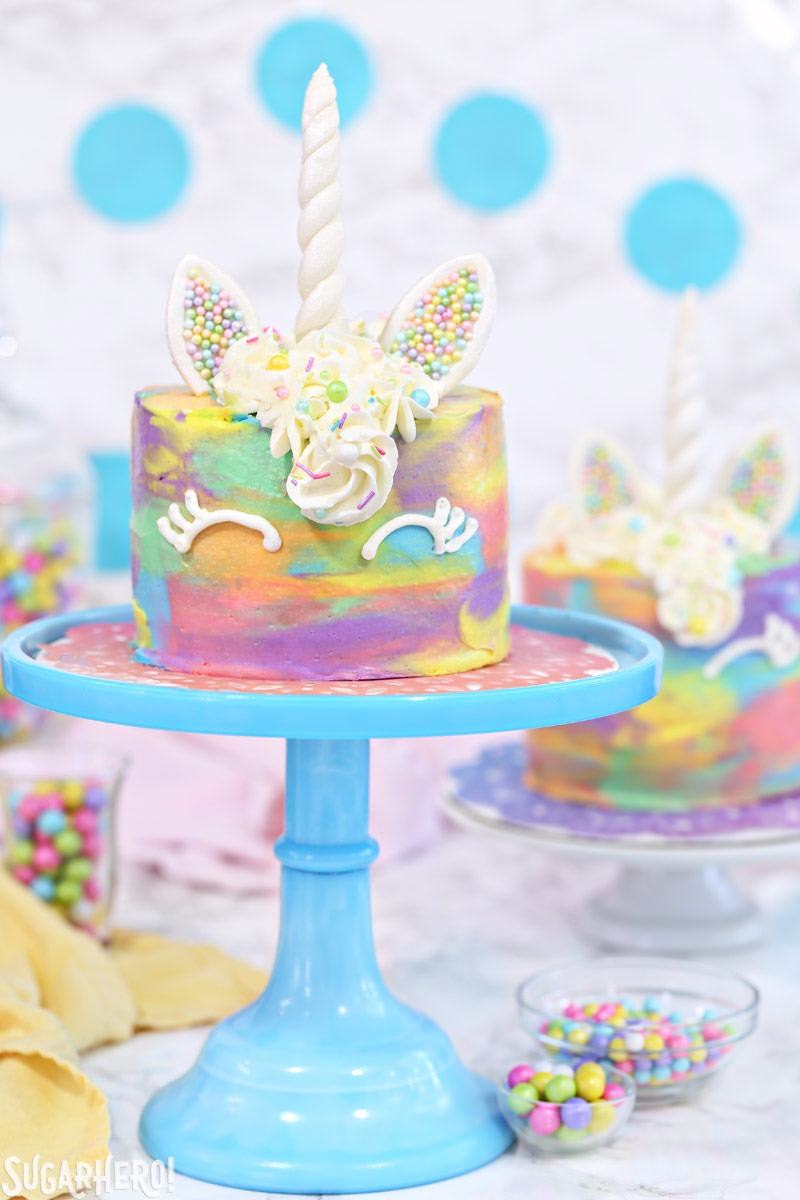 Let's talk details. The unicorn accents are made of fondant. I like to use homemade marshmallow fondant—it's super easy to make, and I think it tastes better than most store-bought kinds. But because it's such a small amount that's required for these cakes, store-bought fondant will work just as well if you don't want to make a full batch of homemade.
I sprayed the horns and ears with a bit of pearlescent food coloring spray I had in my box of tricks—mine is from Chefmaster, but Wilton also makes a good one. It's not a necessity, but the glimmer and pearly shine add to the fantasy aspect, so if you have some already, a little spritz of pearlescent magic never hurts.
And those fun ears? I made them by scoring along the edge of each fondant ear, painting the inside with corn syrup, and pressing colorful mini pearl sprinkles on top. After everything dried, they were super stable, and it was a really fun accent on top of the unicorns.
All of the fondant pieces will need some time to dry, so I'd recommend making them a day or two in advance, then leaving them uncovered in a dry place so they're firm enough to press into the cakes.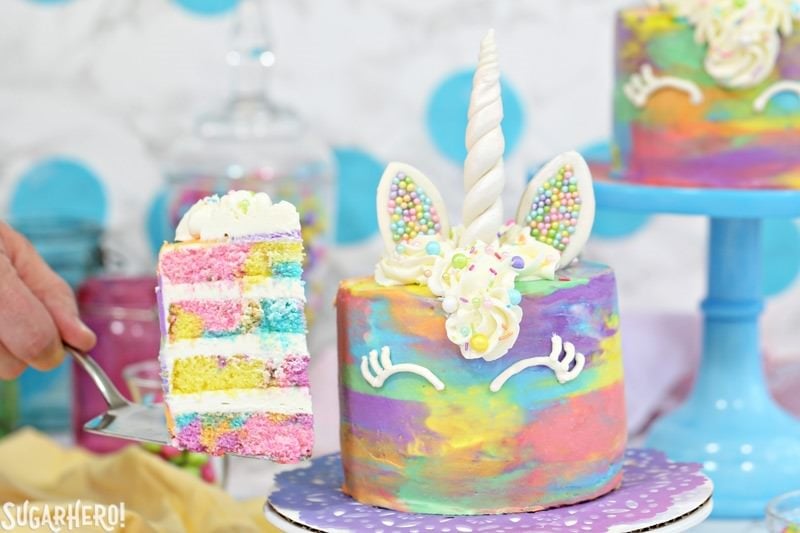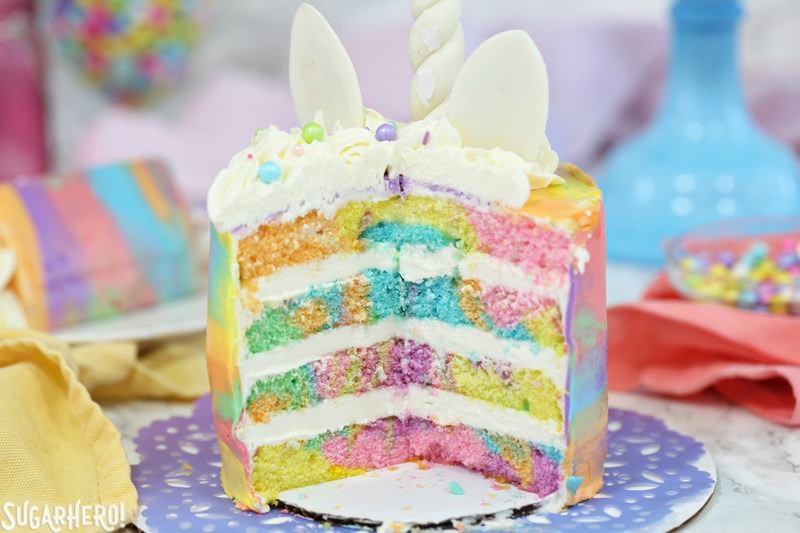 For the inside of the cake, I used the same trick I did with the Hydrangea Cakes, and colored a white cake batter six different pastel colors, then I swirled them together in the baking pans. The result is a cake that's as colorful on the inside as it is on the outside!
You don't have to use my cake recipe, but remember that if you want to add food coloring, a white cake batter will work better than a yellow cake batter—the colors will be truer, especially when it comes to blues and purples. (The yellowish tinge of yellow cakes tends to make blues and purples look dingy and teal.) You can also skip the colored cake batter step entirely, and leave the color for the outside of the cake!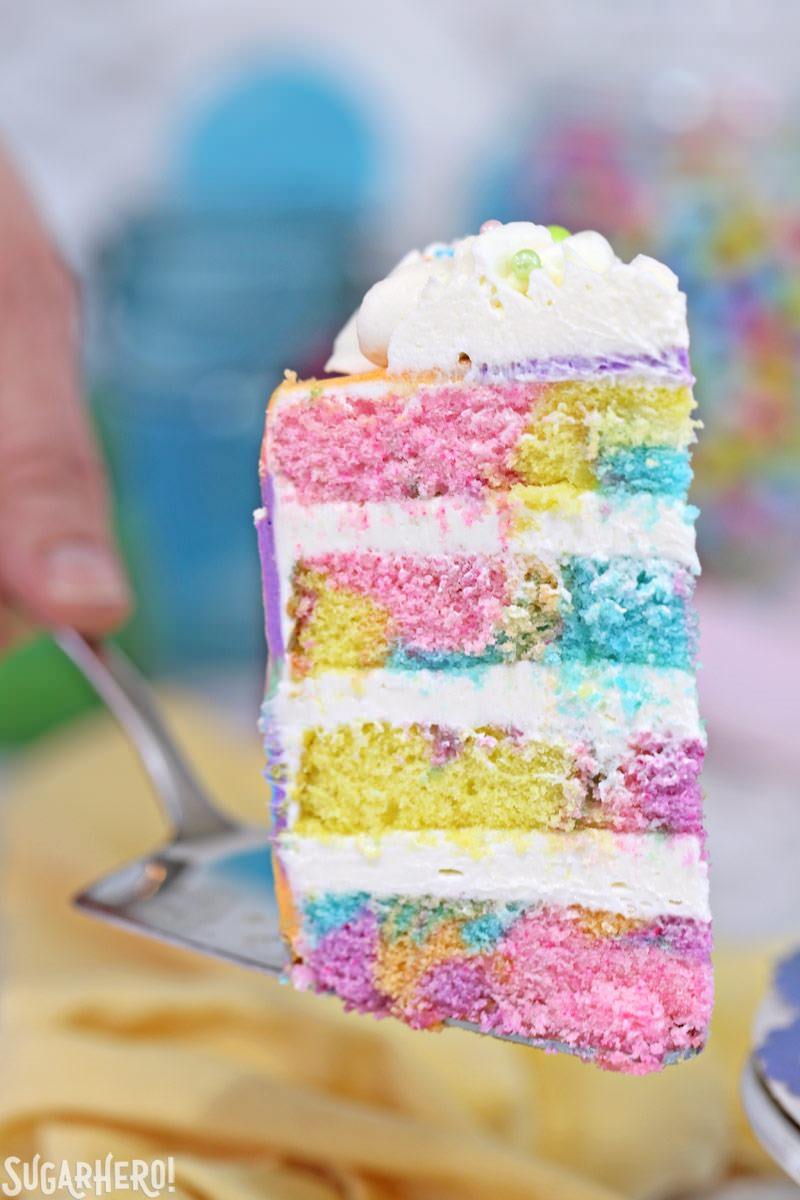 These colorful unicorn cakes make me so happy every time I look at them. They're bright, they're fun, and they make me smile—and isn't that what dessert should do for us?
🎂 More Fun Party Cakes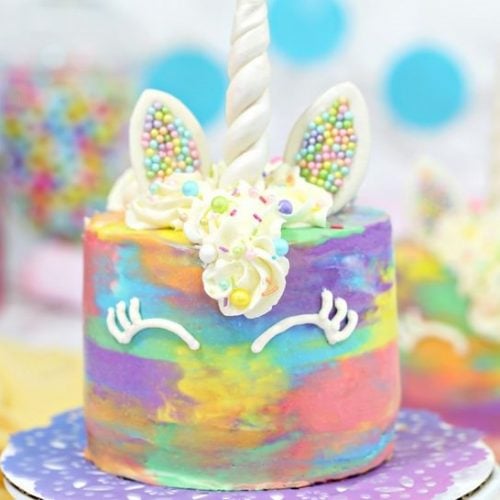 Colorful Unicorn Cakes
These bright mini Unicorn Cakes put a colorful spin on traditional unicorn cakes! The cake batter and the frosting are both swirled with a colorful watercolor effect, so these cheerful unicorns look magical, inside and out.
Ingredients
For the Buttercream:
8

fl oz

pasteurized liquid egg whites

,

(1 cup)

32

oz

powdered sugar

,

(8 cups)

3/4

tsp

salt

32

oz

unsalted butter

,

at room temperature

2

TBSP

vanilla extract
Green gel food coloring – leaf green,

I used Americolor electric purple, regal purple, sky blue, and soft pink
Instructions
To Make the Fondant Decorations:
The horns and ears will need at least a day to harden, so you'll want to do these first.

Dust your work surface with powdered sugar. Pinch off a golf ball-sized piece of fondant, and roll it out into a long, skinny snake. Pull the two ends of the snake together, and begin twisting the fondant rope together until it forms a tight coil, at least 6-7 inches long. Twist the top so that it thins out into a twirly point. Cut off the excess at the bottom, and transfer your first unicorn horn to a baking sheet covered with parchment. Repeat two more times until you have 3 unicorn horns.

Roll out the remaining fondant into a thin layer about ¼-inch thick. Use a circle cutter, cut overlapping circles so that you form leaf shapes—these will be the unicorn ears. Make 6 of these, and put them on the baking sheet as well.

If you have pearlescent food spray, spray the horns and ears now.

Use fondant tools or the dull tip of a table knife to score along the outer edge of each ear, leaving about a ¼-inch margin around the edge. Paint the inside with a light coating of corn syrup, and place the colorful sprinkles of your choice inside the ear, pressing gently to adhere them to the fondant.

Once all of the ears are decorated, leave the fondant in a dry place to firm up, for at least a day. (If your environment is humid, it might take more than one day, so it's best to do these well in advance of when you need them.)
To Make the Cakes:
Preheat the oven to 350 F. Line six 5-inch cake pans with parchment rounds, and spray the parchment and pan sides with nonstick cooking spray. (Note that you can make these cakes in different sizes depending on what size pans you have. If you make larger cakes, just extend the baking time and watch them closely. You can also bake them in batches if you only have a few 5-inch cake pans.)

Combine the sugar, cake flour, baking powder, and salt in the bowl of the stand mixer fitted with a paddle attachment. Mix on low speed for about a minute to combine the dry ingredients.

Lightly whisk together the egg whites together with a quarter of the milk and the vanilla extract, and set aside for now.

Add the remaining milk and the softened butter to the large mixing bowl and mix on low speed until the dry ingredients are moistened. Turn the mixer to medium speed and mix for a minute and a half.

Add the egg white mixture in three batches, mixing for 20-30 seconds after each addition, until you have a smooth batter. Scrape the bottom and sides of the bowl with a rubber spatula, and give the batter a few more stirs to make sure everything is incorporated. Divide the batter into 6 even portions, and color them a rainbow of colors: I used yellow, orange, pink, purple, green, and blue.

Use a spoon to scoop spoonfuls of the batters and plop them in a random pattern in the prepared cake pans. Fill them about halfway full—each pan should have about 9 oz of batter. Swirl a knife through the batter gently to mix up the colors. Bake the cakes at 350 F for 30-35 minutes, until the sides just start pulling away from the pan, and a toothpick inserted into the center comes out clean.

Let the cakes cool on a wire rack for 10 minutes, then gently turn them out and let them cool completely. I find it's easiest to cut and stack cakes that have been chilled, so if you have time, wrap them with plastic wrap and put them in the freezer for at least 30 minutes, until they are firm but not frozen all the way through. If you are making these in advance, they can stay in the freezer for up to several weeks. Let them partially defrost, until they are firm but not rock-hard, before assembling.
To Make the Buttercream:
Combine the whites, powdered sugar, and salt in the bowl of a large stand mixer fitted with a paddle attachment. Mix everything together on low speed, until the sugar is moistened and no dry patches remain. Turn off the mixer, scrape down the sides and bottom of the bowl with a spatula, then turn the mixer to medium speed. Beat on medium for 5 minutes.

After 5 minutes, turn the mixer to medium-low and start adding the softened room temperature butter, 1-2 tablespoons at a time. Once all of the butter is incorporated, add the vanilla extract and mix it in. Stop the mixer and scrape down the bottom and sides once more. Turn the speed to medium and beat the buttercream for 10 minutes. At the end, you'll have a frosting with a wonderfully light and creamy texture.
To Assemble and Decorate:
Place the cakes on small cake cardboard rounds, and set one on a cake turntable. Use a sharp serrated knife to cut off the domed top, if necessary, and to cut each cake into 2 layers.

Spread a layer of white buttercream on the first cake round, and top with a second cake layer. Repeat until your first cake has 4 layers of frosting, and cover the top and sides with a very thin layer of buttercream. Repeat with the remaining cake layers—you should end up with 3 cakes, each with 4 layers. Refrigerate the cakes for 20-30 minutes to firm up.

Fit a piping bag with a large star tip, and fill it with about 1 ½ cups of white buttercream. Set aside for now, and divide the remaining buttercream into smaller bowls. Color the divided frosting into the same rainbow colors you used for the cake batter.

When the cakes are firm, place one back on the cake turntable. Use a spatula to smear colors of frosting in a random pattern all over the cake. Don't worry about it looking "pretty"—at this point, you just want to cover the cake with colorful dabs of frosting. Once the top and sides of the cake are colored, use a bench scraper and slowly drag it along the outside of the cake, removing excess frosting and smearing the colors together for a painterly effect. It might take several passes with the bench scraper to smooth out the frosting.

Use a mini offset spatula on top of the cake, and holding it in the center, turn the cake on the turntable to smooth out the top. Finally, scrape the spatula in from the cake edges to remove any excess frosting from the corners. Don't worry about it being perfect, because most of the top will be covered with decorations, and besides, who wants a perfect unicorn? Repeat with the remaining 2 cakes.

Take the white frosting with the star tip, and pipe a swirled star on the front of each cake, for the unicorn's mane. Pipe stars and swirls on top for the mane, and decorate the mane with colorful sprinkles and sugar pearls. Switch out the star tip for a small round tip (I used a #3) and give each unicorn eyes.

Finally, take your fondant ears and horn and press them firmly into the top, embedding them in the cake. Your unicorns are finished! For the best taste and texture, serve these cakes at room temperature.
Video
Recipe Notes
For the cake, you may use egg whites that you've separated, or use pasteurized 100% egg whites from a carton. For the buttercream, since the egg whites are not cooked, pasteurized whites from a carton are necessary for food safety reasons.
This recipe yields three 5-inch cakes. If you don't want to make mini cakes, or can't find the pans, it will work as a 3-layer 9-inch cake as well.
The cake recipe is adapted from a white cake in Rose Levy Beranbaum's The Cake Bible. (An excellent book that I highly recommend!) The frosting recipe is my Easiest Swiss Meringue, adapted from a recipe by Lauren Kitchens.
Measuring Tips
Our recipes are developed using weight measurements, and we highly recommend using a kitchen scale for baking whenever possible. However, if you prefer to use cups, volume measurements are provided as well. PLEASE NOTE: the adage "8 oz = 1 cup" is NOT true when speaking about weight, so don't be concerned if the measurements don't fit this formula.
Want to learn more about baking measurements and conversion?
Nutrition
Calories:
646
kcal
|
Carbohydrates:
102
g
|
Protein:
5
g
|
Fat:
58
g
|
Saturated Fat:
36
g
|
Cholesterol:
154
mg
|
Sodium:
290
mg
|
Potassium:
86
mg
|
Sugar:
83
g
|
Vitamin A:
1805
IU
|
Calcium:
44
mg
|
Iron:
0.3
mg
Tried this recipe?
Snap a pic and hashtag it #SugarHero. We love to see your creations on our Instagram @elabau.