This Pistachio Pie with Lemon Whipped Cream has such an amazing flavor! It's mild with a mellow sweetness and an almost floral flavor, paired amazingly with the lemon cookie crust and slightly sweet lemon whipped cream.
I don't trust my own food judgment sometimes. As you might imagine, this can be problematic for someone who makes their living working with food. The problem is, I reeeeaaaally like desserts. As in, fourth grade style, write-a-MASH-note-to-a-piece-of-cake like-like desserts. And I also enjoy less popular ingredients and flavor combinations. So when I come up with a dessert that I think is great, I'm never 100% sure if it's really great, or if I've created something that appeals to my weird-o tastebuds alone. #foodbloggerproblems, am I right?
Last week I made a peanut butter pie for a friend, and as I was making it, I was thinking about how it's an incredibly simple recipe that could probably be tweaked in all sorts of interesting ways. Swap out the peanut butter for another nut butter, and the chocolate crumbs for other cookie crumbs, and you have a nearly infinite variety of interesting desserts. Almond pie with a gingersnap crust! Hazelnut pie with a coffee crust! Pistachio pie with a lemon crust! You could even try a graham cracker crust! Are you smelling what I'm baking over here?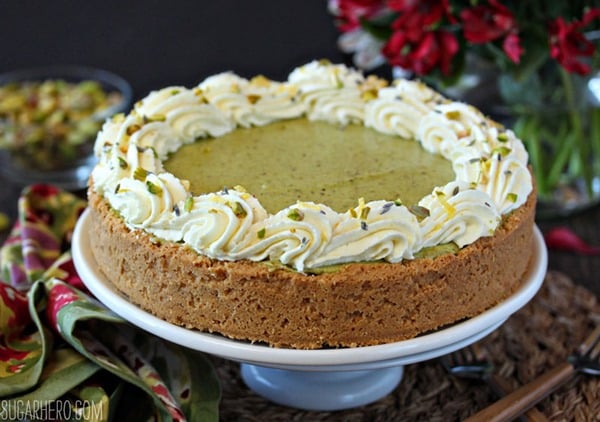 So this past weekend, I put my theory to the test and made this riff on traditional peanut butter pie–pistachio pie with a lemon cookie crust and lemon whipped cream. Rather than trying to track down elusive pistachio butter (which apparently exists, but which I must assume is made in single-serving batches by hand using solid gold equipment, since it costs a million dollars), I made pistachio butter myself in the food processor with pistachios and a little vegetable oil.
Once the pistachio butter is made, it's blended with powdered sugar, mascarpone cheese, and whipped cream, to create a light and fluffy, almost mousse-like filling. After chilling in the refrigerator, it firms up and develops a creamy texture that's one part mousse, one part cheesecake, one part fluffy clouds and one part mermaid song. By which I mean, it's pretty dreamy.
And the flavor! Can we talk about how pistachios should be our national nut, because they are (in the words of founding father George Washington) freaking delicious?* They're mild and have a mellow sweetness and an almost floral flavor. They're perfect when paired with the lemon cookie crust and the slightly sweet lemon whipped cream, and their subtle flavor means that eating a whole slice of pie isn't overwhelming.
I also added just a few drops of pistachio oil flavoring to mine, which intensified the taste. The oil is absolutely not necessary, and I didn't include it in the recipe because I don't think it's worth buying a whole bottle for the 1/8 tsp you'd be using here. But if you happen to have some lying around, or if you are a pistachio lover who thinks you'd get good use out of this flavoring, give it a try! Used sparingly, it adds a wonderful pistachio flavor to desserts.
*I think I saw that quote on Pinterest somewhere so it must be true
I finished the top of the pie with a sprinkling of chopped pistachios, lemon zest, and crushed lavender buds. Why? Because I have those aforementioned weird tastebuds, because I thought the pop of purple would look beautiful, and because I'm shamelessly courting the powerful lavender industry to sponsor my blog. Obvi.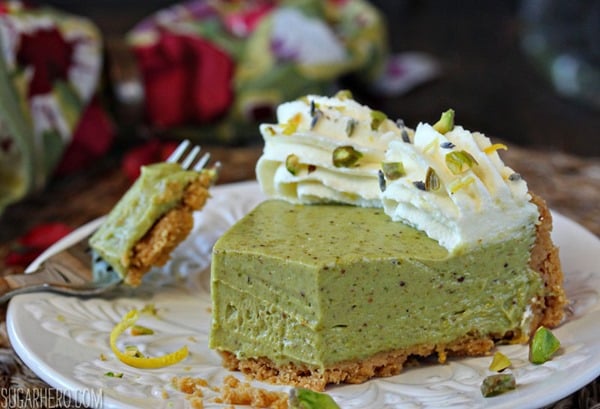 The result was a pistachio pie that I thought was incredible. Crunchy, creamy, bold, subtle, nutty, zesty, floral…pick an adjective, it probably describes this pie. I was worried that it was a Liz-specific pie, rather than one the wider world would enjoy, but when I (apprehensively) took it to a barbecue, it got rave reviews and really nice feedback, so I'm giving this a G rating, as in Good for everyone. Try it—you just might want to write it a MASH note yourself.
Key Lime Pie
This authentic Key Lime Pie recipe is easy and delicious! It has a buttery graham cracker crust and a sweet-tart creamy filling, bursting with fresh lime flavor.
View Recipe
Lime-Coconut Pie
This Lime-Coconut Pie is part of a long tradition of Southern-style baked custard pies. The filling is baked until it's firm enough to slice, but it still has a creamy, custardy texture with a chewy top layer from the shredded coconut.
View Recipe
Pistachio Pie with Lemon Whipped Cream
This Pistachio Pie with Lemon Whipped Cream has such an amazing flavor! It's mild with a mellow sweetness and an almost floral flavor, paired amazingly with the lemon cookie crust and slightly sweet lemon whipped cream.
Ingredients
For the Lemon Crust:
12

oz

lemon shortbread cookies

, (about

26

Oreo-sized cookies)

2

oz

unsalted butter

,

(4 tbsp)

1

tbsp

fresh lemon zest

,

(from 1 large or 2 small lemons)
For the Pistachio Pie Filling:
For the Lemon Whipped Cream:
10

oz

heavy cream

,

(1 ¼ cups)

1/3

cup

powdered sugar

1

tbsp

fresh lemon zest

, (from

1

large or

2

small lemons)
Instructions
To Make the Lemon Crust:
Spray a 9-inch springform pan with nonstick cooking spray, and preheat the oven to 350 F. Place the lemon cookies in a food processor and process them until they are fine crumbs. Alternately, you can place them in a zip-top plastic bag and crush them with a rolling pin.

Place the butter in a large microwave-safe bowl and microwave for 20-30 seconds, until melted. Add the lemon cookie crumbs and lemon zest to the butter and mix them together until it is the texture of wet sand. Press the cookie crumbs in the bottom of the pan and up the sides about 2 inches. Bake the crust for 10 minutes, until it starts to puff and looks set but is not burned. Let it cool completely.
To Make the Pistachio Pie Filling:
Place the nuts in the bowl of a food processor and turn the processor on. When they have turned to powder, gradually stream in 1 tbsp of oil and continue processing the nuts. Stop the processor periodically to scrape down the bottom and sides. Continue to process the nuts until they have turned into a very fluid butter with a smooth texture, adding a bit of additional oil if necessary to help thin out the nut butter. Depending on your processor, this could take 3-8 minutes. If the nut butter has become warm, let it cool to room temperature before proceeding.

In a large mixing bowl fitted with the whisk attachment, whip the heavy cream until stiff peaks form, then transfer the whipped cream from the mixing bowl to another bowl. In the same mixing bowl, combine the pistachio butter and the powdered sugar and mix on medium speed until well-incorporated. (It will be quite stiff.) Add the vanilla extract, salt, and mascarpone cheese. Beat on medium speed until everything is well-combined. Mascarpone breaks easily, so don't overwhip the mousse or leave the mixer running unattended.

Fold in 1/3 of the whipped cream to lighten the pistachio mixture, then add the rest and gently fold everything together. If desired, add just 1 or 2 drops of green food coloring, to give the filling a slight green color. Scrape the filling into the baked and cooled crust, and smooth it into an even layer. Refrigerate the pie overnight to set the filling, or for at least 6 hours.
To Make the Lemon Whipped Cream:
Combine the cream, powdered sugar, and lemon zest in the and large bowl and whip them together until stiff peaks form. Pipe a layer of shells or rosettes around the outside of the pie, and garnish them with chopped pistachios, lemon zest, and/or lavender buds. Keep the cake refrigerated until shortly before serving time—the filling will get soft if left at warm room temperatures for extended periods of time. Leftovers can be stored in the refrigerator for up to a week.
Measuring Tips
Our recipes are developed using weight measurements, and we highly recommend using a kitchen scale for baking whenever possible. However, if you prefer to use cups, volume measurements are provided as well. PLEASE NOTE: the adage "8 oz = 1 cup" is NOT true when speaking about weight, so don't be concerned if the measurements don't fit this formula.
Want to learn more about baking measurements and conversion?
Nutrition
Serving:
12
g
|
Calories:
583
kcal
|
Carbohydrates:
38
g
|
Protein:
7
g
|
Fat:
45
g
|
Saturated Fat:
21
g
|
Cholesterol:
95
mg
|
Sodium:
307
mg
|
Potassium:
255
mg
|
Fiber:
2
g
|
Sugar:
18
g
|
Vitamin A:
1140
IU
|
Vitamin C:
1.3
mg
|
Calcium:
86
mg
|
Iron:
1.5
mg
Tried this recipe?
Snap a pic and hashtag it #SugarHero. We love to see your creations on our Instagram @elabau.