This post may contain affiliate links. As an Amazon Associate I earn from qualifying purchases. Please see my disclosure policy for more information.
Where the Wild Things Are Birthday Cake is a beautiful nine layer cake! It has a layer of chocolate cake, sandwiching chocolate buttercream, salted caramel buttercream, and salted caramel filling. It is delicious and perfect for birthday parties!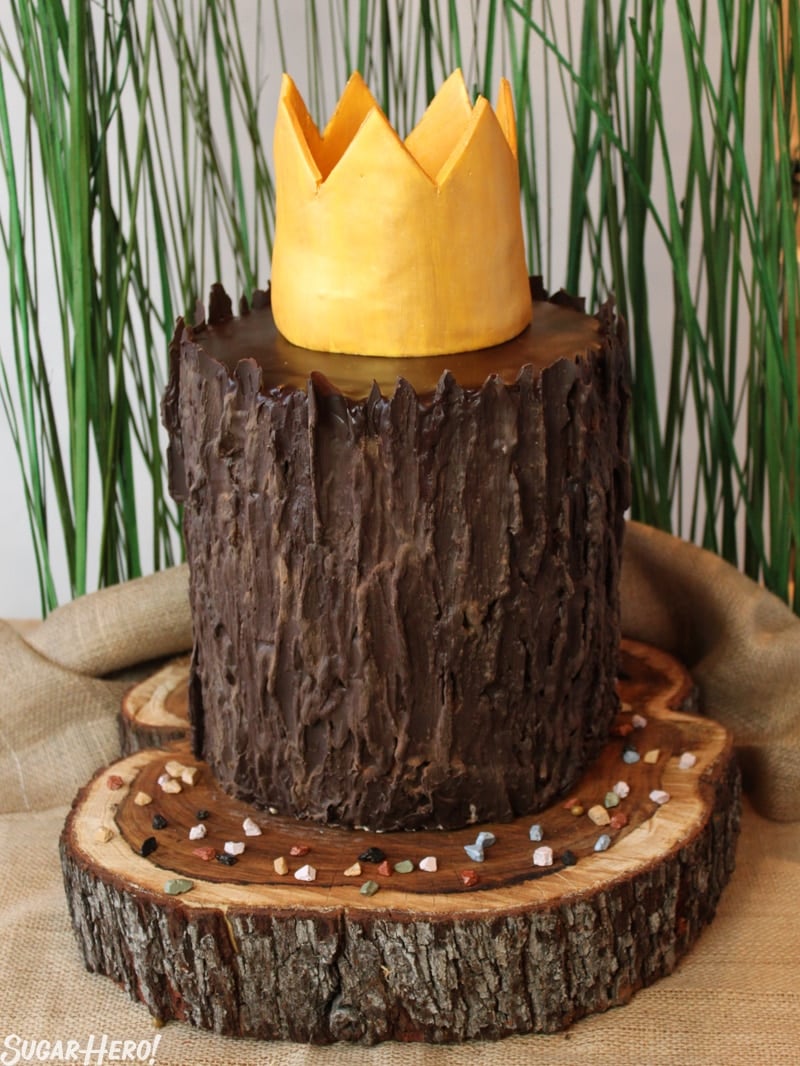 My son Asher turned two this month. I know. I KNOW. It seems like only yesterday I was writing a blog announcement and posting pictures of him in a wee Hershey's kisses hat. Like every parent always says, the past few years have sped by and I can't believe I now have a toddler who runs and sings and eats us under the table and tells me over and over that he's a big kid. This parenting stuff is heartbreaking and wonderful.
Last year we threw him a big Very Hungry Caterpillar birthday party, and it was a blast! (You can see the 3-tiered Caterpillar cake I made here, and read more about the party details here.) I loved everything about it–the park setting, the big gathering of our friends from all over the city, and the use of a literary theme. We decided to recreate the magic this year, and threw him a Where the Wild Things Are
party. I have a big post coming up with all the party details, but before that happens, we have to talk about the most important thing: the cake!
This beauty is nine layers of chocolate cake, sandwiching chocolate buttercream, salted caramel buttercream, and salted caramel filling. I wanted to evoke the feeling and imagery of the book without being super literal and sculpting mini Wild Things out of fondant or something. I decided to make my cake look like a tree stump, complete with rough chocolate bark, and topped it with a gleaming gold fondant crown. 
I wouldn't necessarily say that any type of layered cake is easy, but I do think that this type of decoration is easier and faster than traditional fondant-covered layer cakes. It's meant to look rough and imperfect, so the texture of the cake can go a long way toward hiding any mistakes. The tree bark effect is made by pressing long strips of curled chocolate into the buttercream, then painting over it with more melted chocolate. The protruding curls, uneven brush strokes, and globs of chocolate really made the cake look like realistic!
The full recipe is below, and I've put together a little photo tutorial showing how it was done. Please excuse the uneven lighting, these were (sadly) taken in the middle of the night. Maybe one day I'll figure out the secret to making birthday cakes in advance and sleeping like a normal person.
One thing you might notice in the pictures is that the cake is not actually nine layers stacked on top of each other. Rather, I made three 3-layer cakes (each cake is 9″) and put them on individual cake boards, then stacked the cakes on top of each other using dowels for support–much the way you would stack a regular tiered cake. I wanted my cake to be really tall and visually striking, but I also wanted to be able to serve people reasonable portions, so this seemed like the easiest way to get the look I wanted without having to serve small children a heart attack on a plate.
The cake was a huge hit at the party. Several people asked me if it was really a cake, and I know there were a few children who were concerned that Asher didn't have a cake at all! (I guess it blended well with the rest of the decor!) I served it on a giant 16″ tree slab, scattered with chocolate rocks, and set it on a burlap runner backed with green grass–all of the natural elements really made the gold crown pop.
Sadly, this is the best picture I have of Asher with the cake. He wasn't feeling well for his party (more on this in the next post!) and didn't even want a slice of his own cake. He also didn't enjoy having everyone sing–this is him crying on my shoulder during Happy Birthday. Like I said: heartbreaking.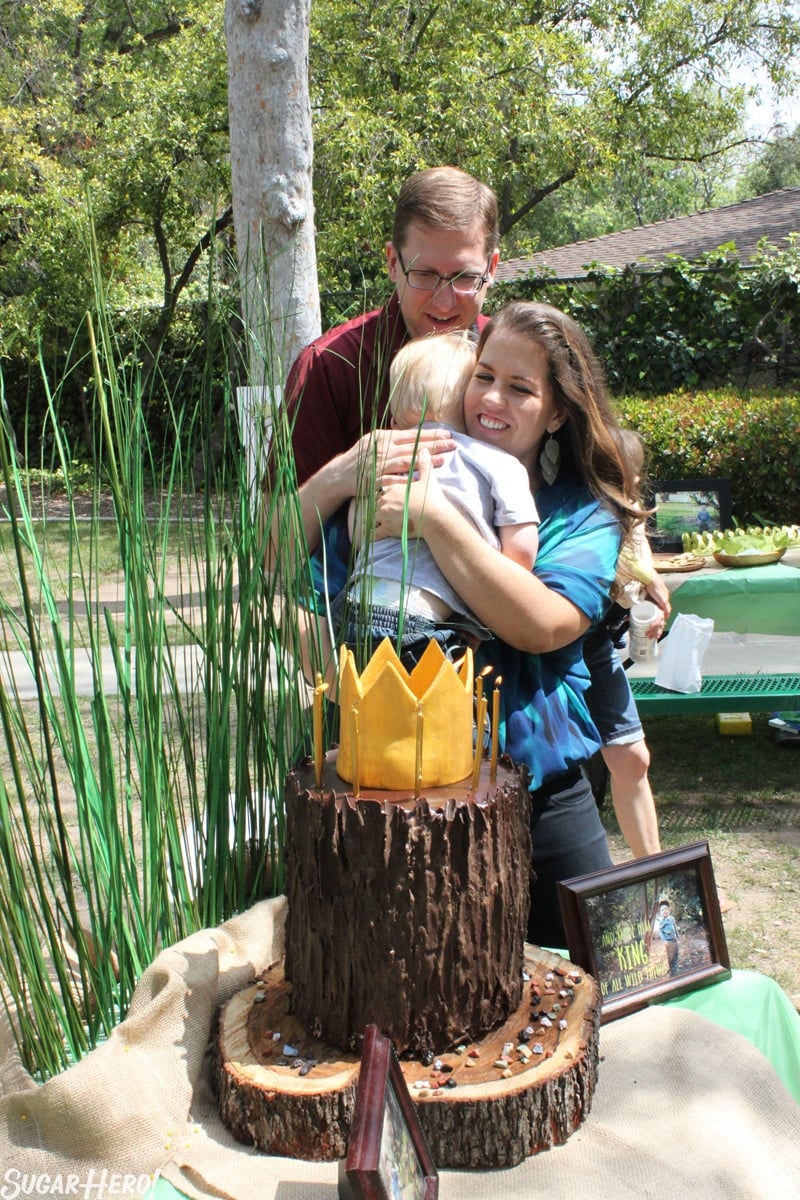 Fortunately, no one else objected to having cake, and most of it was demolished during the party. We had over 50 people, about half of them children, and I'd say we served about 75% of the cake. The remaining 25% we sent home with friends, and a few stray pieces came home with me (for photography purposes, of course!). Having the cake boards in between the layers was a godsend in dishing it up, and it was easy to cut small slices right off the top of the cake. The sides did get messy, though, and I generally had to pull the chocolate off because it didn't cut cleanly into slices. So I was left with a lot of chocolate scraps, although people did come up and munch on it as I was dishing up the slices.
And here's what it looks like on the inside! The cake itself is my go-to chocolate cake recipe. It's moist, with a deep chocolate flavor, but also holds up well to stacking and layering. I spread a thin layer of salted caramel on the bottom layer, then topped that with salted caramel buttercream. The second frosting layer is a chocolate buttercream, which was also used around the outside of the cake. I wasn't sure how well the salted caramel would do as a layer (whether it would cut cleanly, whether it would hold its shape, etc) so I was reluctant to use too much of it. In retrospect, it was one of my favorite parts of the cake, and I wish I'd used it for both filling layers instead of just one. I wrote the recipe with this change in mind–more salted caramel is never a bad thing!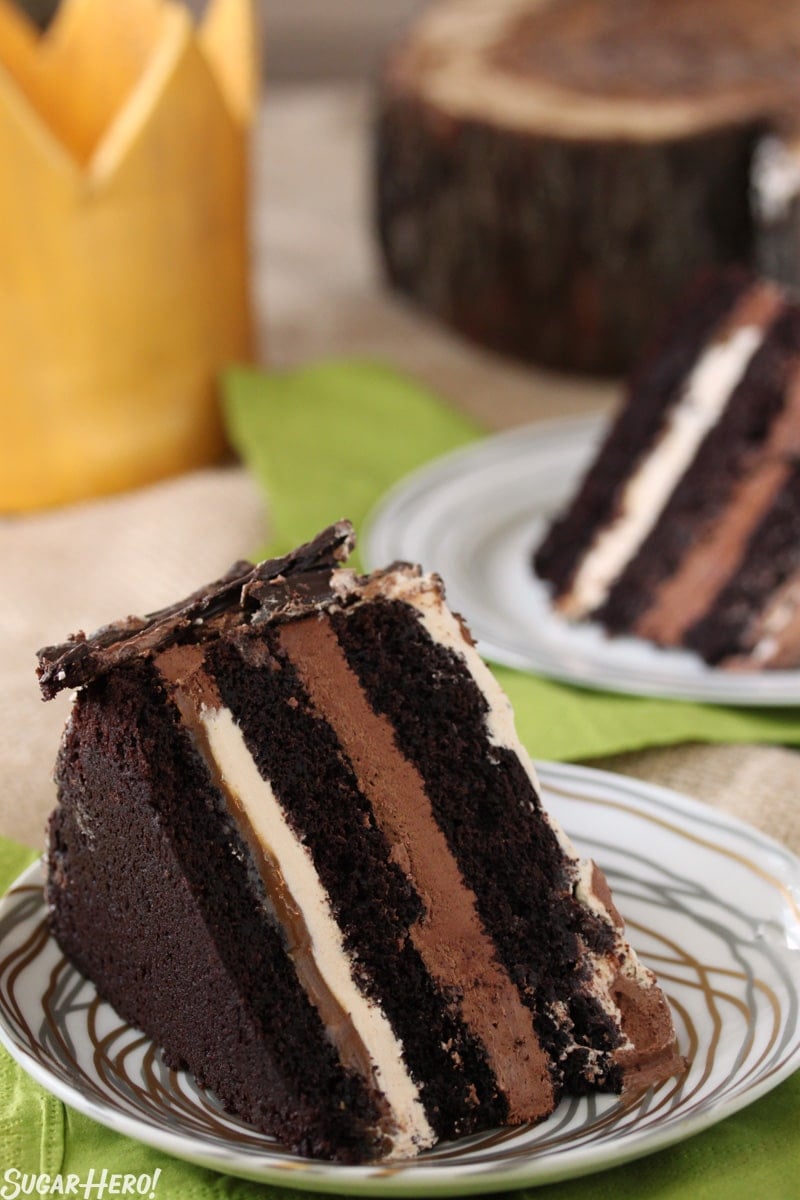 The recipe down below is for making one 9-inch cake. I figure most people probably won't have many occasions to make cake for 50 people, but there are plenty of occasions where a 9-inch cake could come in handy! So you can recreate our Wild Things cake at home any time, but if you need to make a giant one like I did, you'll need to triple this recipe.
I'll be back soon with all the party details, and gratuitous cute pictures of my kid. Sorry not sorry!
💛More Chocolate and Caramel Dessert Recipes
Black Forest Cake
Black Forest Cake is a classic dessert for a reason! This delicious cake has alternating layers of chocolate cake and juicy cherry filling, and chocolate "twigs" complete the black forest look.
Get the recipe!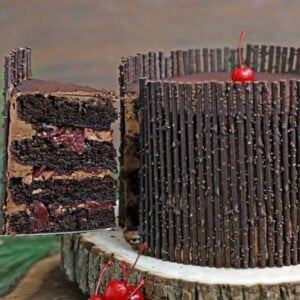 Mini Buche de Noel
Mini Buche de Noel are festive no-bake cakes that are fast and easy, with a delicious chocolate-raspberry flavor. They're the perfect make-ahead holiday dessert, and you'll find yourself craving them year-round!
Get the recipe!
Where the Wild Things Are Birthday Cake
This Where the Wild Things Are Birthday Cake is perfect for the wild things in your life. The chocolate cake and salted caramel buttercream make the perfect celebration cake. The chocolate tree bark texture is an easy technique that looks super realistic and also tastes super delicious.
Ingredients
For the Cake:
6

oz

unsalted butter

,

at room temperature

4.75

oz

granulated sugar,

(2/3 cup)

5

oz

brown sugar,

(2/3 cup)

, packed

2

large eggs

,

at room temperature

2

tsp

vanilla extract

8

oz

buttermilk

,

(1 cup)

, at room temperature

4

oz

sour cream

,

(1/2 cup)

, at room temperature

2

tbsp

water

,

or brewed coffee

7.8

oz

all-purpose flour,

(1 3/4 cups)

3

oz

unsweetened cocoa powder,

(1 cup)

, sifted

1 1/2

tsp

baking soda

1/2

tsp

salt
For the Salted Caramel Filling:
For the Buttercream:
9

large egg whites

,

at room temperature

14

oz

granulated sugar,

(2 cups)

1

lb

unsalted butter

,

softened but still quite cool

½

tsp

salt

1

cup

thick salted caramel sauce,

homemade or store-bought

4

oz

bittersweet chocolate

,

finely chopped
Instructions
To Make the Cake:
Line a 9×3-inch cake pan with parchment, and spray it with nonstick cooking spray. If you don't have a 9×3 inch pan, three shorter 9-inch pans can be used. Preheat the oven to 350 F.

Add the butter and both sugars to the bowl of a large stand mixer fitted with a paddle attachment. Beat them together on medium-high speed, until light and fluffy, about 5 minutes. Add the eggs one at a time, beating well after each addition. Add the vanilla extract and mix it in.

In a separate bowl, whisk together the buttermilk, sour cream, and water (or coffee, if using). In a different bowl, sift together the flour, cocoa powder, baking soda, and salt. With the mixer running on low, add a quarter of the sifted flour mixture. When the flour streaks have almost all disappeared, add a third of the liquid to the mixing bowl. When that's incorporated, continue to add the drys and wets in an alternating pattern, ending with the dry ingredients.

When the dry ingredients are nearly incorporated, stop the mixer. Scrape down the bottom and sides of the bowl with a rubber spatula, and finish mixing the cake by hand. Pour the batter into the prepared pan and smooth it into an even layer. Bake the cake for 55-60 minutes, until a toothpick inserted into the center comes out with just a few moist crumbs attached. Cool the cake completely before using. The cake can be made several days in advance and kept, well-wrapped and refrigerated or frozen, until ready to use. If you freeze it, make sure it's partially defrosted before you use it so you can cut it easily.
To Make the Salted Caramel Filling:
Combine the butter, brown sugar, corn syrup, sweetened condensed milk, and cream in a medium saucepan over medium heat. Stir while the butter and sugar melts. Once the mixture comes to a boil, insert a

candy thermometer

.

Continue to cook, stirring frequently to keep the caramel from scorching, until it reads 236 F on the candy thermometer. Remove from heat, stir in the vanilla and salt, and quickly pour it into another bowl to stop the caramel from cooking. Press a layer of cling wrap on top, and refrigerate it until thickened and chilled. Salted Caramel Filling can be made several weeks ahead of time and kept in the refrigerator until ready to use.

Note that this recipe makes a little more than you will need, and you will probably have some filling left over. It keeps in the refrigerator for several weeks, and is great on toast or ice cream.
To Make the Buttercream:
Combine the egg whites and the granulated sugar in the bowl of a large stand mixer, and whisk them together. Choose a small saucepan that lets you fit the base of the stand mixer snugly into the top of the saucepan—this is your makeshift hot water bath. (Alternately, you can use a different bowl or an actual bain marie and then transfer the mixture to a mixing bowl once it's heated.) Add an inch of water to the bottom of the saucepan, and bring the water to a simmer.

Place the mixing bowl on top of the saucepan, making sure that the bottom isn't in contact with the water, and heat the egg white mixture. Whisk frequently so that the egg whites don't cook. Continue to heat the whites until they are hot to the touch, and when you rub a bit between your fingers, you don't feel any grittiness from the sugar. Once the whites are hot, transfer the mixing bowl to your mixer and fit it with a whisk attachment.

Beat the whites on medium-high speed until they are no longer warm to the touch—feel the outside of the bowl, and make sure that it is around room temperature. Depending on your mixer and the temperature of your environment, this may take 15-20 minutes, or more. Reduce the speed to medium-low and add the softened but cool butter in small chunks, a tablespoon at a time, making sure to wait in between additions. It may separate or look a little gloopy at this point—fear not. Once all of the butter is added, increase the speed again and whip until it comes together and is light and fluffy. If, after 5 minutes, it hasn't come together, refrigerate the mixing bowl for 5-7 minutes, to cool the mixture down, and whip it again. Add the salt.

Divide the mixture in half, and to one half, add the caramel sauce, mixing until it is well-blended. Melt the chocolate in the microwave in 30-second intervals, and cool to room temperature. Add the chocolate to the remaining half of the buttercream and mix it in. The buttercreams can be made in advance and kept at room temperature if you're going to use them the same day, or refrigerated. If they have been chilled, let them sit at room temperature until soft, then re-whip them to get the fluffy texture back before you use them.
To Assemble:
First, make the chocolate curls. Melt 8 oz of the chocolate candy coating in the microwave, stirring after every 30 seconds to prevent overheating.

Pour the melted chocolate out onto a large sheet of parchment, and spread it into a thin layer. Place another sheet of parchment on top, and smooth it out with your hands. Working from the long end, roll the parchment up into a cylinder, and secure it with a rubber band. Refrigerate it until the chocolate coating has set completely. Once set, unroll the parchment—the chocolate will shatter into curled shards as you unroll it.

Using a large serrated knife, cut the cake into three even layers. Place one layer face-up on a cake cardboard.

Scoop some salted caramel buttercream into a pastry bag fitted with a 1/2-inch round tip. Pipe a ring of buttercream all along the edge of the cake round to act as a barrier and make assembly neater. Scoop about 2/3 cup salted caramel filling into the center, and spread it in an even layer until it covers the cake and reaches the buttercream ring. Spread a layer of salted caramel buttercream on top of the caramel filling. Top the cake round with a second round, and repeat the process of piping a ring of buttercream and spreading the caramel filling on top. This time, top with a layer of chocolate buttercream instead. Add the last cake layer on top.

Spread some buttercream along the sides and top of the cake in a very, very thin layer—this is just to hold the crumbs in. Refrigerate the cake until it's firm, at least 45 minutes.

Once firm, go back and add another thick layer of buttercream on the outside of the cake. It doesn't matter if you use chocolate buttercream, caramel buttercream, or a mixture of both, and it doesn't matter if it's perfectly smooth—it will all be covered in the end anyhow.

Press your chocolate shards into the sides of the cake, letting the top shards extend a little ways past the top. They should be close to each other, but the occasional small space between chocolate curls is fine. Once the chocolate is applied, refrigerate the cake again to firm up the buttercream and chocolate.

Melt the remaining 8 oz of chocolate coating in the microwave. Use a pastry brush to brush the melted chocolate onto the sides of the cake. Cover every surface liberally, and don't be afraid to go back and add a second layer if it looks thin in spots. Once the sides are covered, pour a small amount of chocolate on top of the cake and spread it to the edges, so all of the buttercream is covered. Refrigerate the cake to set the chocolate completely.

Finally, brush some cocoa powder in random spots on the sides of the cake to give it the look of dusty tree bark. Your cake is finished! Store it in the refrigerator, but for the best taste and texture, allow it to come to room temperature before serving.
Recipe Notes
To make the cake shown in the pictures, you will need to triple the quantities here, except the salted caramel recipe—that can be doubled. Assemble each cake separately on its own cake cardboard, and chill them well before you stack them. When you stack them on top of each other, use large boba tea straws or big dowels to separate each layer: place one in the center of cake, and four in a ring around it a few inches from the edge. Cut the straws or dowels so that they are flush with the top of the frosted cake, then stack them one on top of each other, and decorate as described in the recipe.
The chocolate cake recipe is adapted from Ina Garten's Barefoot Contessa at Home. The Salted Caramel Filling is from Cake Central.
MEASURING TIPS
Our recipes are developed using weight measurements, and we highly recommend using a kitchen scale for baking whenever possible. However, if you prefer to use cups, volume measurements are provided as well. PLEASE NOTE: the adage "8 oz = 1 cup" is NOT true when speaking about weight, so don't be concerned if the measurements don't fit this formula.
Click here to learn more about baking measurements and conversion.
Nutrition
Calories:
427
kcal
|
Carbohydrates:
52
g
|
Protein:
3
g
|
Fat:
23
g
|
Saturated Fat:
16
g
|
Cholesterol:
58
mg
|
Sodium:
338
mg
|
Potassium:
141
mg
|
Fiber:
1
g
|
Sugar:
41
g
|
Vitamin A:
590
IU
|
Vitamin C:
0.2
mg
|
Calcium:
52
mg
|
Iron:
1
mg
Share by Text
Share by Email
Share on Facebook
Share on Pinterest
This post contains Amazon affiliate links. For more information, see my Affiliate and Advertising Policy.