This Easter Fruit Pizza is the perfect Easter recipe! Serve this beautiful fruit pizza for breakfast, brunch, or even as a light Easter dessert. It has a sugar cookie crust shaped like an Easter egg, a generous layer of strawberry frosting, and LOTS of fresh, flavorful fruit.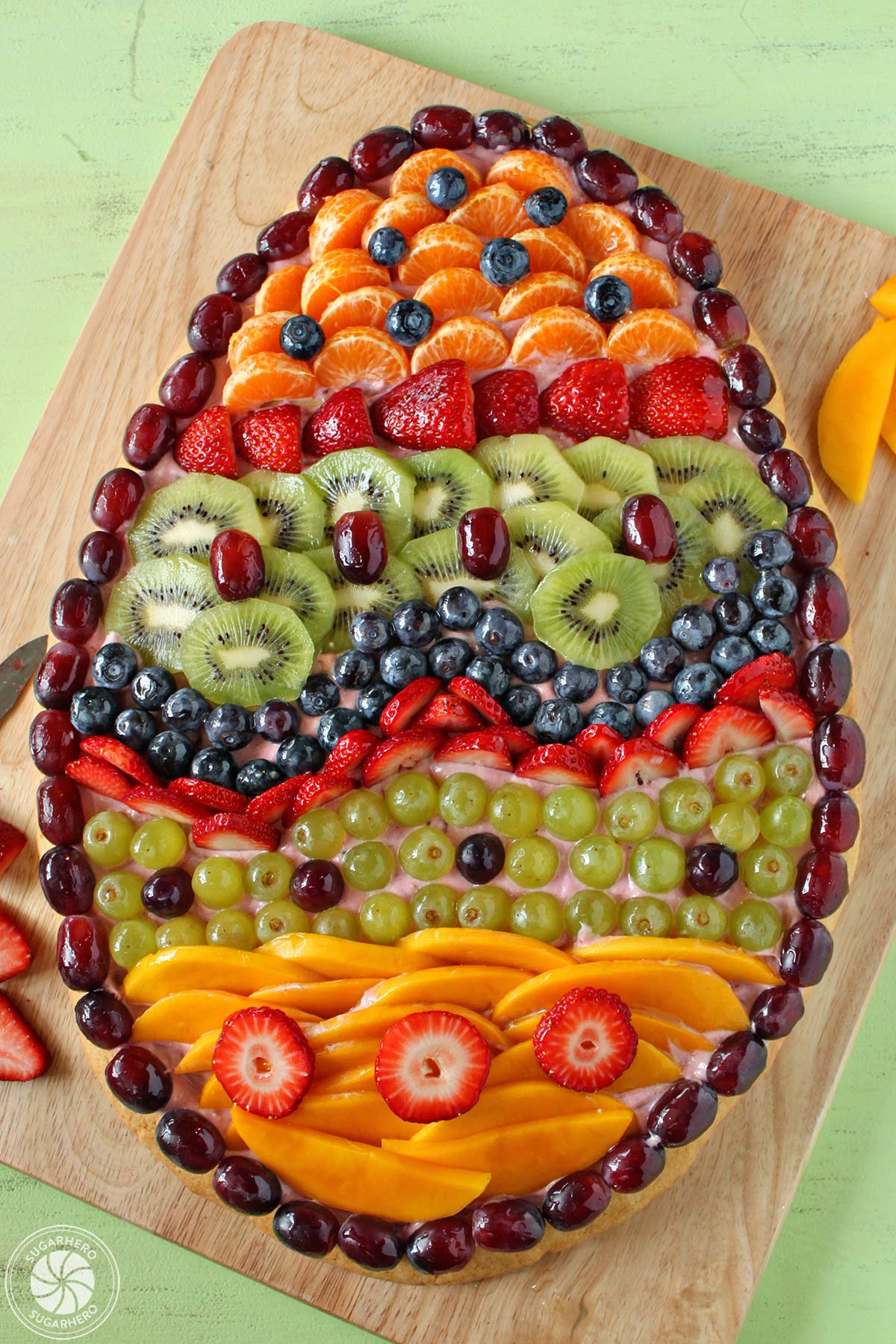 Fruit Pizza: the perfect light Easter dessert
Easter may have a reputation for being all about the chocolate and jelly beans, but that doesn't mean we can't sneak in a little fresh produce every now and again! If you want a break from the non-stop candyfest, give my Easter fruit pizza a try this year.
What is fruit pizza?
I grew up eating fruit pizza, but if you've never had one, you may be a bit confused or skeptical. Pizza? Fruit? Haven't we already done this with Hawaiian pizza?

Fruit pizza is typically made with a sugar cookie crust, topped with frosting, and finished with a variety of fresh fruit. Although it's most often in a large round pizza shape, you can also make mini individual pizzas, rectangular pizzas, or do what I did here, and make it into the shape of an Easter egg!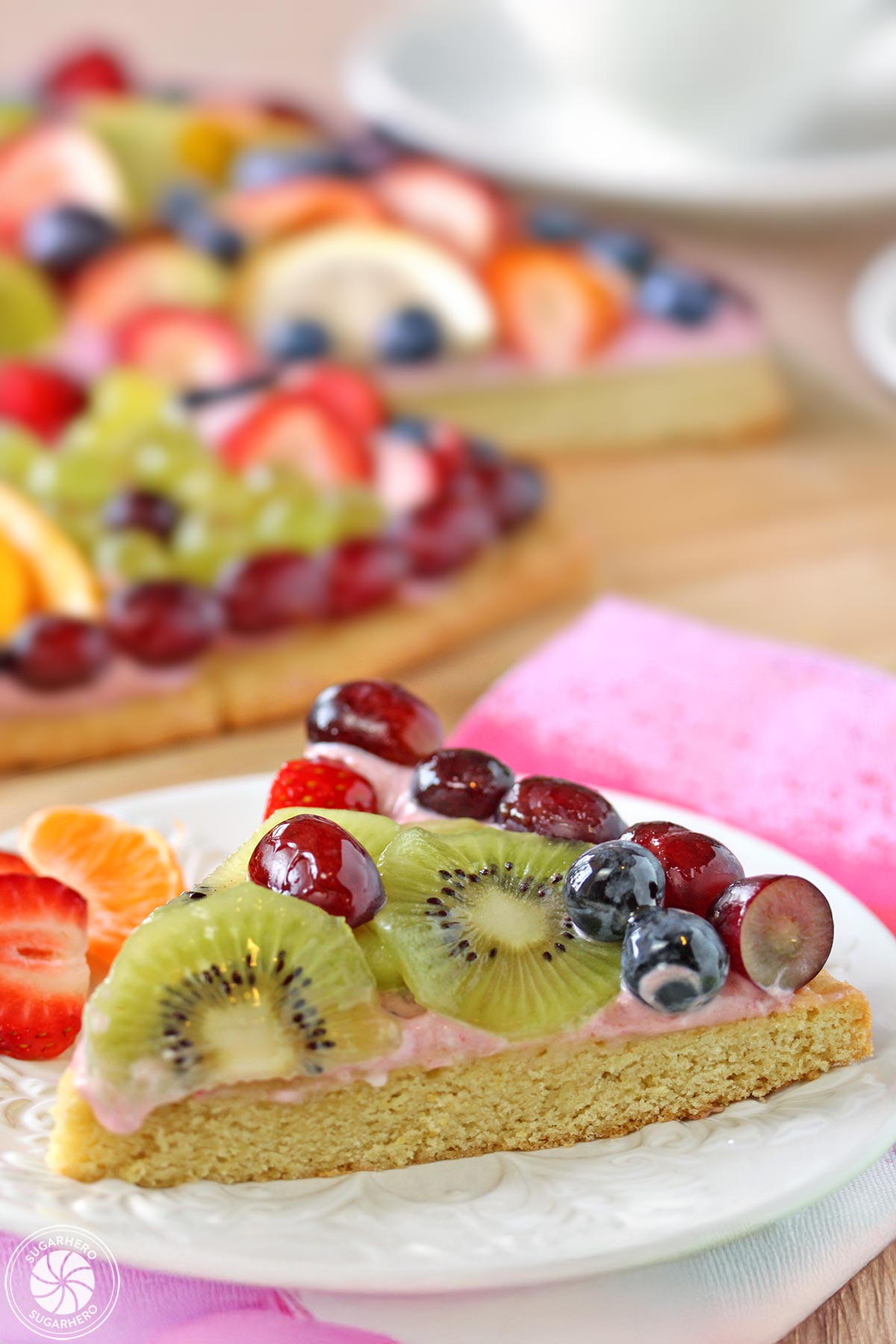 When do you serve fruit pizza?
One of the best things about fruit pizza is its versatility. It's piled high with fruit, so it makes a wonderful brunch or tea time dish. But the sugar cookie crusts and cream cheese frosting can also push it into the after-dinner dessert category. And honestly, it's so good, I find myself nibbling on it for any and every meal.
If you are a fresh fruit lover, be sure to check out my Strawberry Rose Tarts, Strawberry Rhubarb Layer Cake, and this FANTASTIC Coconut Macaroon Tart!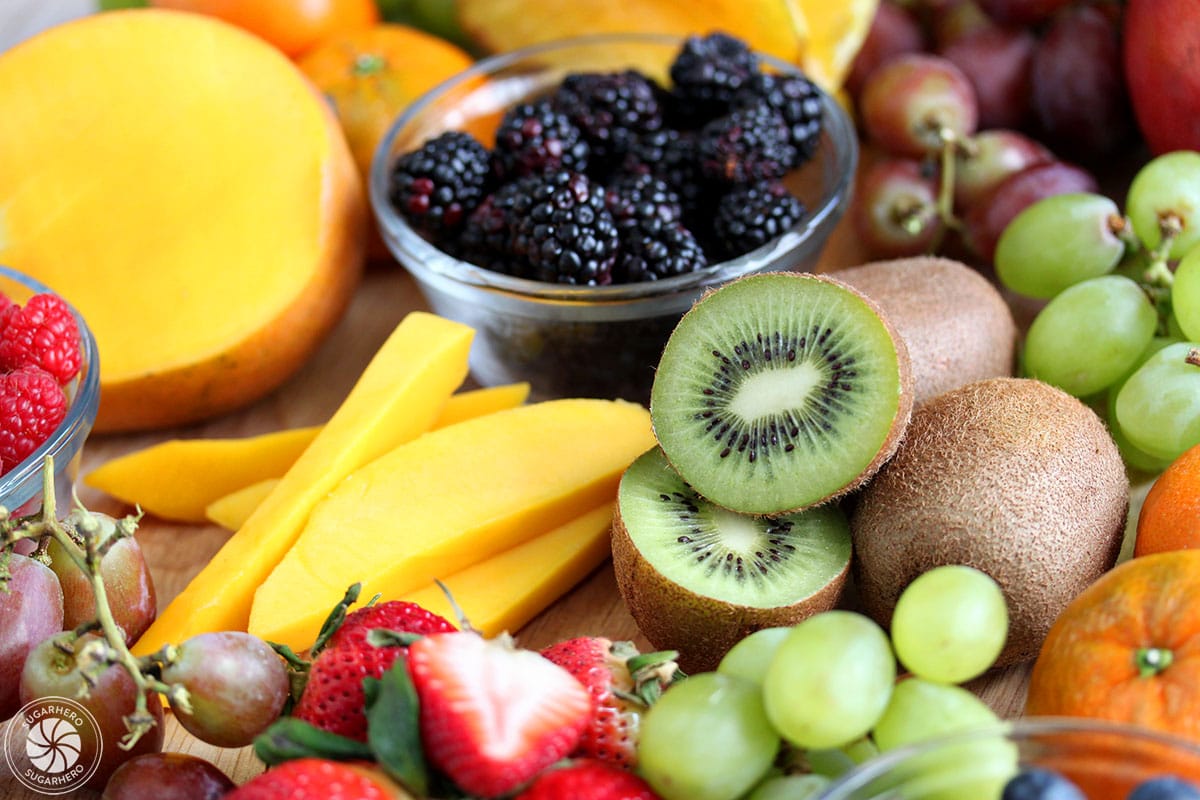 🧾 What You'll Need
Ingredients
The good news: this fruit pizza is made with common baking ingredients, so you probably already have most, if not all, of the ingredients you'll need! Here are a few tips to keep in mind as you make this recipe.
Lemon zest:

I love the fresh taste that a bit of lemon zest gives to the sugar cookie crust. If you don't have lemon, you can swap in another citrus zest, like orange or grapefruit, or just omit it entirely.
Cream Cheese: I've included a recipe for an easy strawberry cream cheese frosting. You can substitute store-bought strawberry cream cheese spread if you'd prefer.
Apple jelly: This is spread on top of the fresh fruit as a glaze–it gives the fruit pizza a great shine, and prevents the fruit from wilting and drying out after it's cut. You can swap in another clear-ish jelly if you'd like.
Fresh fruit: You'll want to gather ALL THE FRUIT — the more colorful and bountiful, the better! Feel free to use whatever is readily available to you, but my personal must-haves are lots of fresh berries, mangoes, clementine slices, and grapes. Combined, these have a lot of different colors and textures that make the fruit pizza look fresh and vibrant. If you have access to fun fruits like dragon fruit or star fruit (featured below!) that's just the cherry on top…pardon the fruity pun. 😉
🥄 Equipment
Fortunately, the equipment list is short and sweet! (Links are affiliate links and I earn a small commission from qualifying purchases.)
Baking sheet:

You'll want to use a half-sheet pan (approx 13×18″) so you have enough room for the large cookie crust. Look for a sturdy one with a thick bottom so the bottom of the cookie doesn't burn before it's cooked through. I use and love these Nordic Ware baking sheets.
Parchment: The easiest way to move a giant cookie crust around? Bake it on parchment so you can slide it right off the baking sheet, no awkward contortions required!
Mixer: You'll want a mixer to whip up the cookie dough and cream cheese frosting. A stand mixer or hand mixer will both work.
Pastry brush: To brush the fruit glaze on at the end.
📋 Instructions
Here's a quick overview of how to assemble this fruit pizza! Full instructions are in the recipe card below.
How to Make the Sugar Cookie Crust
After you make the sugar cookie dough, chill it well so that it's easy to roll out.
Flour your work surface and roll the dough out into a rough oval. Use a sharp knife to trim the dough into an egg shape. Eat the scraps. (A very important part of the process!)
Bake the cookie crust for 18-20 minutes, until puffed and golden brown.
Once the crust cools completely, spread on a generous layer of strawberry cream cheese frosting.
How to Decorate with Fruit
Time to get slicing! Cut up any large fruit (strawberries, mangoes, star fruit, etc) into slices. For larger grapes and berries, you might want to cut them in half so it's easier to decorate with them. Don't slice the fruit until you're ready to use it.
Start with a general outline of the "sections" of the pizza. Since this is an Easter egg-themed dish, try to make the design look like a colorfully decorated egg.
Gradually fill in the entire top with fruit, until the cream cheese frosting is completely covered.
Warm up the apple jelly and brush a thin layer over the top of the fruit to keep it looking fresh and shiny.
💭 Variations
There are a million and one ways to make a fruit pizza! Consider some of these twists:
Use another flavor in your cream cheese: lemon, orange, and raspberry would all be delicious.
Try a Fourth of July variation in the shape of a flag with red and blue berries.
Halloween time? Make the base in the shape of a pumpkin, use pumpkin spice cream cheese, and fill the top with citrus fruits to keep the orange theme.
Mini fruit pizzas are the cutest! Make palm-sized cookie crusts so everyone gets their own.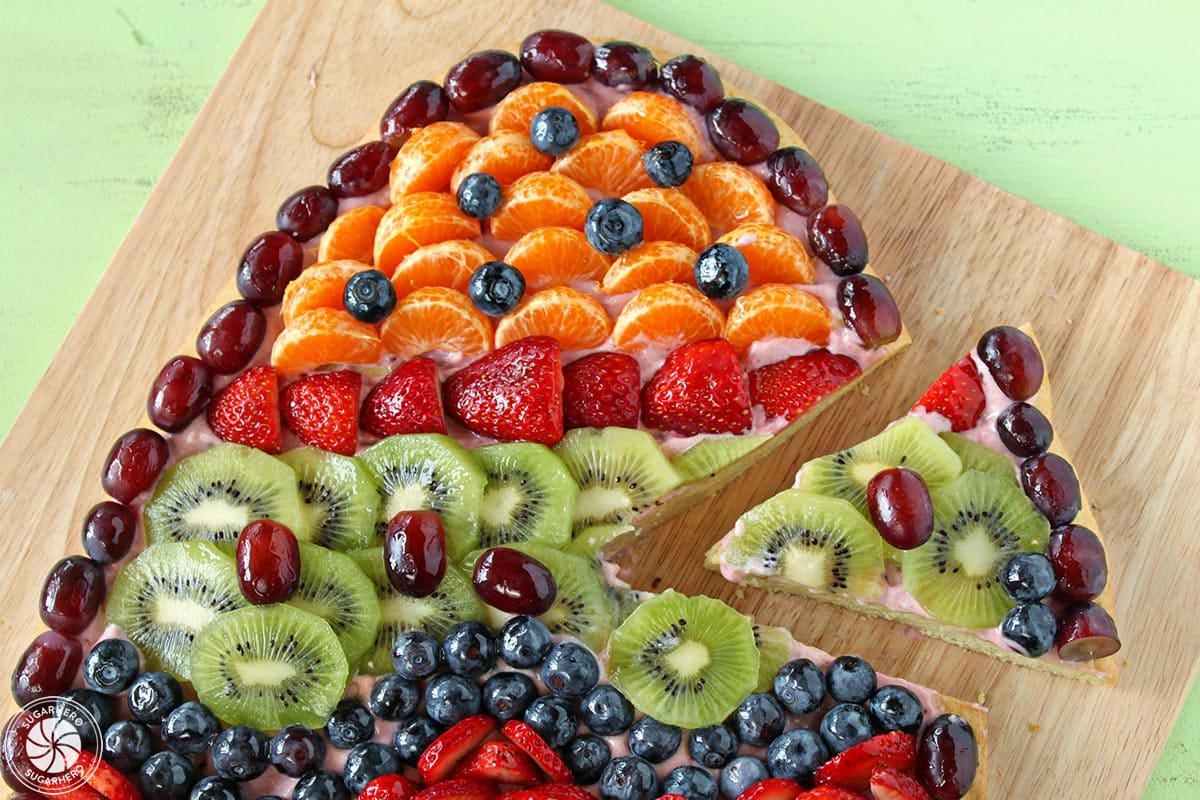 Make-Ahead and Storage Instructions
This fruit pizza is really best the same day it is assembled. The cookie crust starts to get soggy, and the cut fruit does not look its best after a day of being exposed to air.

If you need to make the components in advance, you can prepare the cookie dough several days ahead of time, and even bake the crust a day or two before. Keep the baked crust well-wrapped until you're ready to use. The cream cheese filling can also be made several days in advance and kept in the refrigerator.

After making, store any leftovers in the refrigerator and enjoy as soon as possible!
🐣More Cute Easter Egg Recipes
🐰Additional Easter Recipes You'll Love
Easter Egg Fruit Pizza
This Easter Fruit Pizza is the perfect Easter recipe! Serve this beautiful fruit pizza for breakfast, brunch, or even as a light Easter dessert. It has a sugar cookie crust shaped like an Easter egg, a generous layer of strawberry frosting, and LOTS of fresh, flavorful fruit.
Ingredients
For the Fruit Pizza Crust:
14.6

oz

all-purpose flour

(3 1/4 cups)

1/2

tsp

salt

1/2

tsp

baking soda

6

oz

unsalted butter

at room temperature

10.5

oz

granulated sugar

(1 1/2 cups)

2

TBSP

lemon zest

packed

2

large eggs

at room temperature

2

TBSP

heavy cream

either heavy or whipping cream

2

tsp

lemon extract
For the Strawberry Cream Cheese Frosting:
8

oz

cream cheese

at room temperature

1/3

cup

strawberry jam

at room temperature

6

oz

powdered sugar

(1 1/2 cups)
To Assemble:
8

cups

assorted fresh fruit

washed and sliced

1/4

cup

apple jelly

or other light-colored jelly

1

TBSP

water
Instructions
To Make the Fruit Pizza Crust:
In a small bowl, whisk together the flour, salt, and baking soda. Set aside for a moment.

Combine the butter, sugar, and lemon zest in the bowl of a large stand mixer fitted with a paddle attachment. Beat them together until light and fluffy, about 2 minutes. Add the eggs one at a time, beating well after each, then add the cream and lemon extract and mix them in.

Turn the mixer to low and add the dry ingredients, mixing until there are just a few flour streaks left. Stop the mixer and finish stirring everything together by hand, scraping the bottom and sides of the bowl well. Shape the dough into a large disc and wrap the dough in cling wrap. Refrigerate for at least an hour, until firm. Dough can be made several days in advance.

When the dough is firm, preheat the oven to 350 F and cover a large baking sheet with parchment. Roll out the dough between sheets of parchment or waxed paper until it is a rectangle about 16×12 inches. (You can make it ever thinner if you'd like—I prefer a thick, soft, cake-like cookie.) Use a paring knife to trim it into an egg shape.

Transfer the cookie to the baking sheet, and bake it at 350 F for 16-20 minutes, until it takes on a light golden color and is puffed and set in the middle. Let it cool completely at room temperature. The cookie can be baked several days in advance.
To Make the Frosting:
Beat the cream cheese using a mixer until it is smooth and free of lumps. Add the strawberry jam and powdered sugar, and beat until everything is well-mixed.

Taste the frosting, and add more sugar if desired. Remember that it will be combined with a cookie and fruit, so it doesn't have to be super-sweet on its own. Frosting can be made in advance and stored in the refrigerator for up to a week.
To Assemble:
Spread the frosting in a thin, even layer over the surface of the cookie, leaving a small margin around the edges. Layer the fresh fruit over the frosting in the pattern of your choosing—don't' be afraid to play with colors and shapes!

In a small microwave-safe bowl, combine the jelly and water, and microwave for 15 seconds. Stir them together until the jelly is fluid and smooth. It should have the consistency of a thin gel—if it's still fairly thick, add a bit more water to thin it out.

Use a pastry brush to spread this glaze on top of your fruit. This gives the fruit pizza a lovely shine, and also prevents the cut fruit from looking wilted and tired at room temperature.

Cut the pizza into slices and enjoy! Store extras in an airtight container in the refrigerator. This Easter Egg Fruit Pizza is best within a day of assembly.
Video
Recipe Notes
If you want to save some time, you can use refrigerated sugar cookie dough, and canned cream cheese frosting (or other frosting of your choice.) After the fruit pizza is assembled the cookie tends to get softer, so this is a dessert that's best enjoyed the day it's made. The components can be made in advance, though, and kept for several days before you're ready to assemble the pizza.
You can use any fruit you'd like, although I recommend staying away from bananas since they brown so quickly.
Measuring Tips
Our recipes are developed using weight measurements, and we highly recommend using a kitchen scale for baking whenever possible. However, if you prefer to use cups, volume measurements are provided as well. PLEASE NOTE: the adage "8 oz = 1 cup" is NOT true when speaking about weight, so don't be concerned if the measurements don't fit this formula.
Want to learn more about baking measurements and conversion?
Nutrition
Calories:
380
kcal
|
Carbohydrates:
58
g
|
Protein:
4
g
|
Fat:
14
g
|
Saturated Fat:
8
g
|
Cholesterol:
61
mg
|
Sodium:
246
mg
|
Potassium:
66
mg
|
Sugar:
35
g
|
Vitamin A:
515
IU
|
Vitamin C:
2.1
mg
|
Calcium:
28
mg
|
Iron:
1.4
mg
Tried this recipe?
Snap a pic and hashtag it #SugarHero. We love to see your creations on our Instagram @elabau.