Looking for an easy Easter dessert? These Easter No-Bake Mini Cheesecakes are perfect! They're cute pastel striped cheesecakes that are simple to make, no baking required!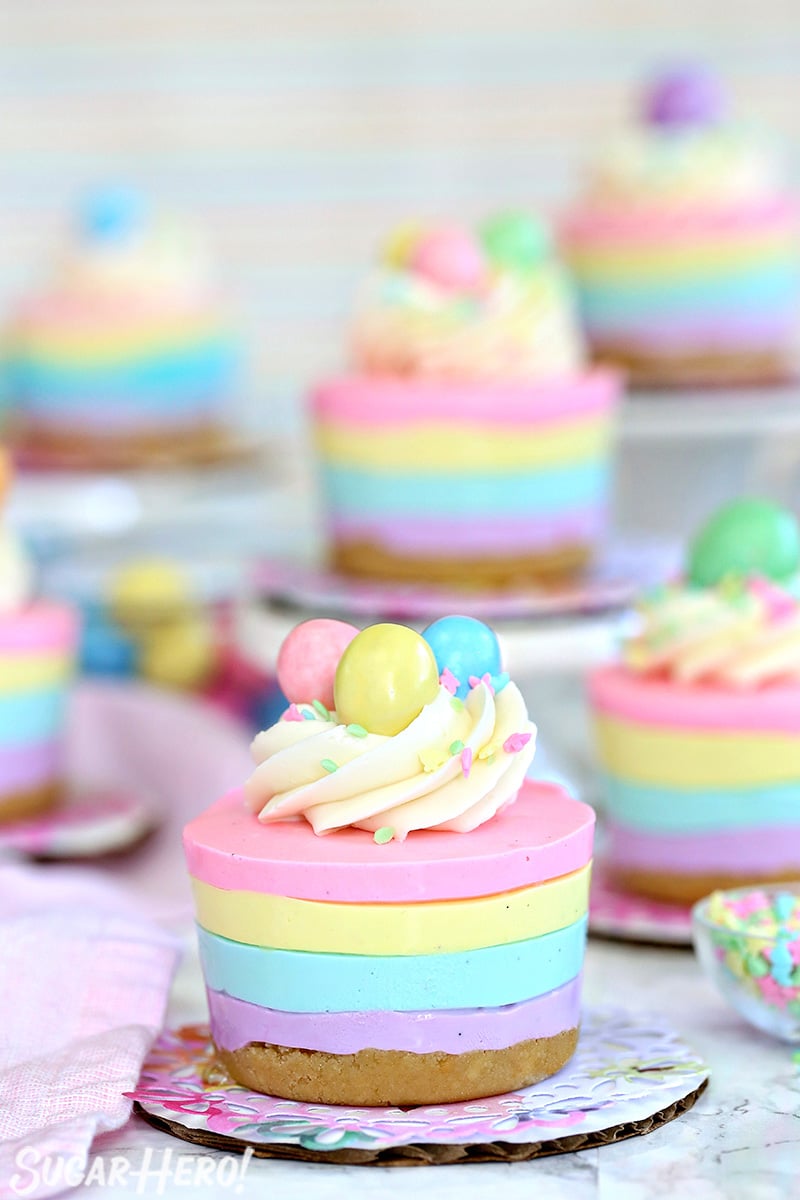 This post is sponsored by International Delight. This year I'm pleased to partner with them to bring you a series of delicious dessert recipes featuring their products.
Easy Easter Cheesecakes
If you were to take a spin through the SugarHero recipe archives, you would notice a distinct lack of cheesecake recipes. We can blame this on my husband. I've never had particularly strong feelings about cheesecake, and he's an passionate anti-cheesecake activist. I tried to stay strong and keep an open mind, but over time, his arguments started to make sense.
"It's so dense!" (Hmmm, sometimes cheesecake is really dense…)
"Who wants to eat gloopy cake?" (Yes, he has a point…)
"You could eat six cupcakes with the calories in one slice of cheesecake!" (Best not to do that math, just pass the cupcakes…)
My point being, I'd turned my back on cheesecake and ignored it for too long. But when International Delight asked me to develop some recipes using their products, I couldn't stop thinking about puddings, mousses, and…yes…even cheesecakes. Could I…should I…bring cheesecake back to the LaBau household? (Cue music sting: Dum-dum-DUUUUUMMMMMM!)
Spoiler alert: I could, I should, I did, and it was amazing.
But these are not your traditional cheesecakes! These no-bake babies have a soft and fluffy texture, closer to a cream cheese mousse than to the ultra-dense New York-style cheesecakes. A traditional cheesecake can feel indulgent, yes, but also very heavy. These are a gateway cheesecake, perfect for convincing cheesecake skeptics and for delighting long-time cheesecake lovers alike.
The ingredient list is simple—cream cheese (of course!), cream, sugar, flavorings, and International Delight Sweet Cream creamer. This is my favorite ID flavor. It tastes almost like ice cream! But if you're a dedicated vanilla lover, I've also tried this recipe with the French Vanilla variety and that was delicious too!
How to Decorate Easter No-Bake Cheesecakes
These mini no-bake cheesecakes are the epitome of what a springtime dessert should be: light, refreshing, not too sweet, and oh yes—stinkin' adorable.
Can we talk about their adorableness (totally a word) for a second? Those pastel stripes are GIVING ME LIFE, as the kids might say on snapchat these days.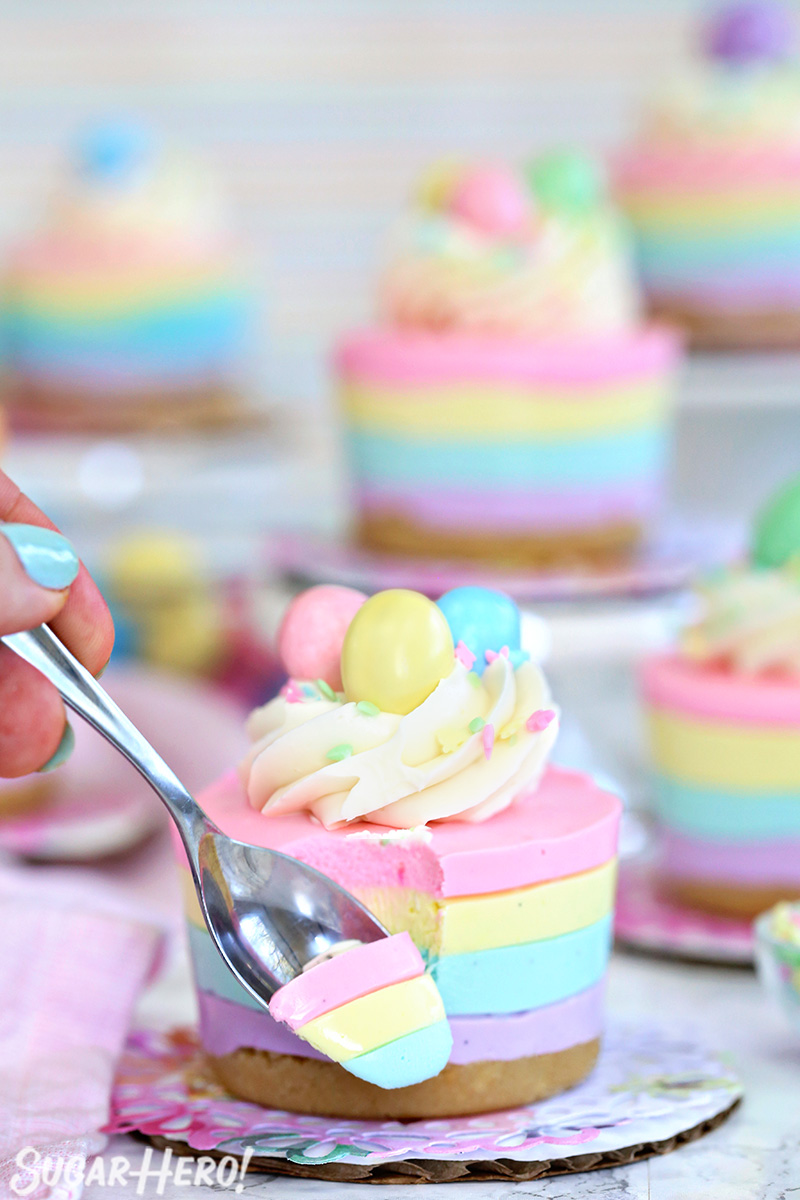 I really wanted to make a striped cheesecake, but I also didn't want a recipe that was too fiddly or time-consuming, so I worked to get the perfect texture: soft and spoonable, so it was easy to dish into the containers and spread evenly, but not so liquidy that I would have to chill it between each layer. Ain't nobody got time for endless trips to the freezer when there is cheesecake to be had! So the striping procedure is simple: 1 batch of cheesecake, tinted 4 colors, and then layered on top of each other, one after the other, no mid-assembly chilling required. Huzzah!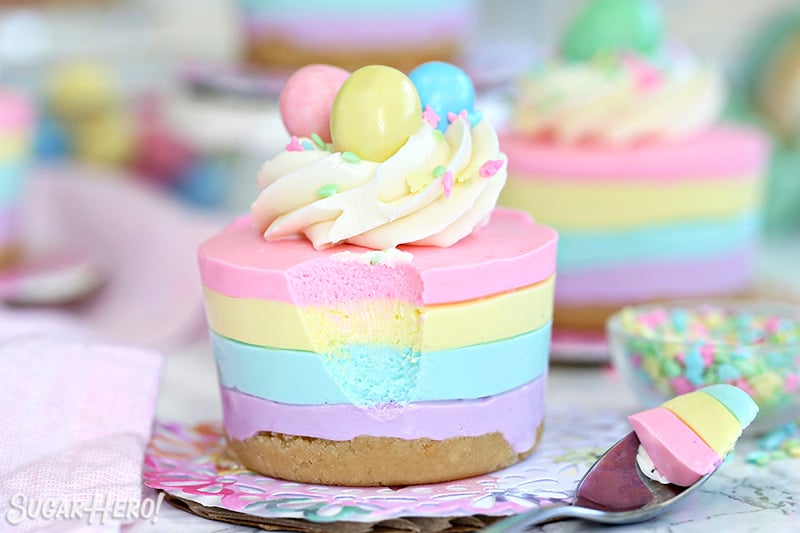 There is 1 very important piece of equipment you'll need to make these, though: a silicone jumbo muffin pan. This is the one I used, and 1 batch of cheesecake will fit perfectly into this pan. After the cakes are assembled, they need about 2 hours in the freezer, and then all you have to do is push them out of the silicone pan, and they come out easily, neatly, and perfectly formed. I think you could also use a traditional mini cheesecake pan, but I'm not sure the sides would be as beautifully smooth and even if you don't use silicone.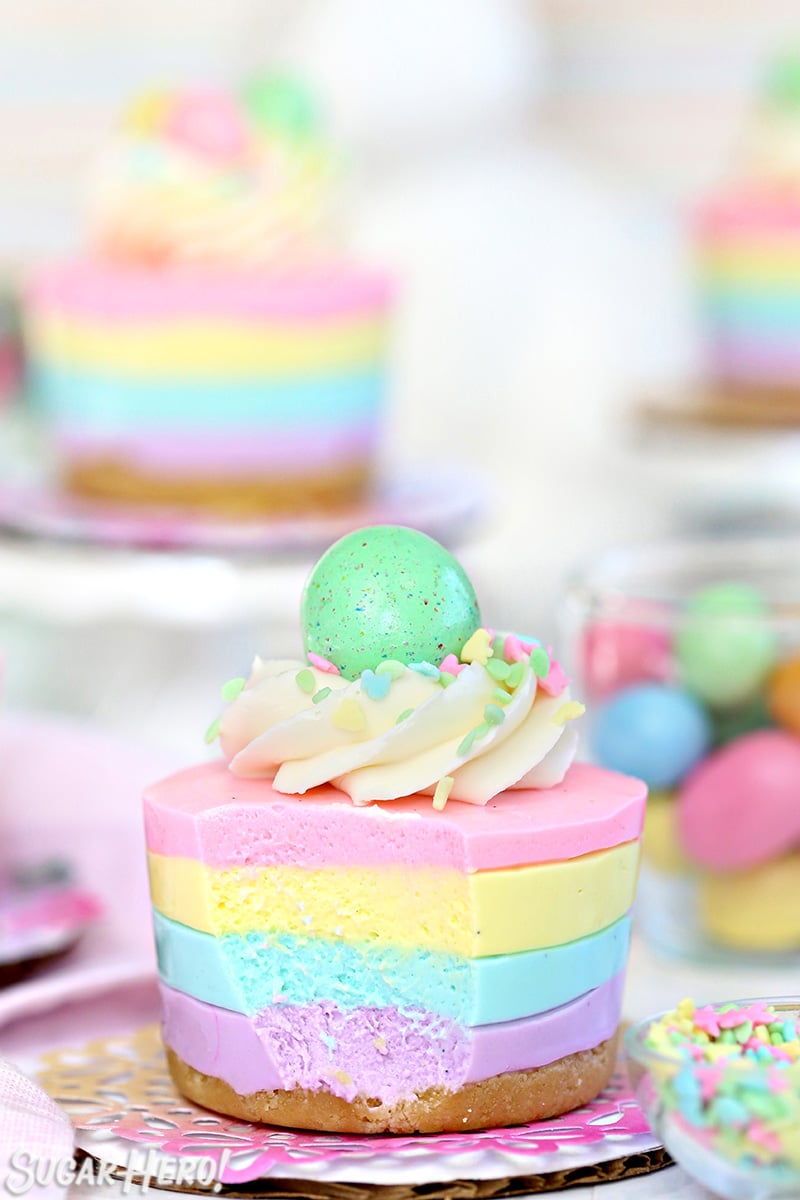 The final touch is a swirl of whipped cream, a pinch of Easter sprinkles, and a candy egg or two (or three). Enjoy!
Print Recipe
Easter No-Bake Mini Cheesecakes
Looking for an easy Easter dessert? These Easter No-Bake Mini Cheesecakes are perfect! They're cute pastel striped cheesecakes that are simple to make, no baking required!
Ingredients
6

oz

shortbread cookies

approx. 12 round cookies

½

oz

melted butter

1

packet

unflavored gelatin

(1/4 oz, or 2.5 tsp)

2

TBSP

cold water

1

lb

full-fat cream cheese

at room temperature

3.5

oz

granulated sugar

(½ cup)

½

tsp

lemon juice

1

tsp

vanilla bean paste

can substitute vanilla extract

Pinch salt

½

cup

heavy cream

at room temperature

½

cup

International Delight Sweet Cream creamer

at room temperature

Gel food colors

½

cup

whipped cream

Candy eggs and sprinkles

to decorate
Instructions
Place a jumbo silicone muffin pan on a baking sheet. Blitz the shortbread cookies in a food processor until they're fine crumbs, or crush them in a plastic bag with a rolling pin until they're finely crumbled. Mix them in a bowl with the melted butter.

Divide the shortbread crumbs between the 6 cavities in the muffin pan, and press them firmly into the bottom of the pan to form your cheesecake crust.

Place the cold water in a small bowl, and sprinkle the gelatin on top. Whisk them together, then let the bowl sit for 5 minutes so the gelatin can hydrate and absorb the water. Once it feels very firm, microwave it for 10-15 seconds, until fully melted and liquid.

Put the cream cheese in the bowl of a large stand mixer fitted with a paddle attachment, and beat it until it is smooth, creamy, and free of lumps. (A hand mixer can also be used.) Add the sugar, lemon juice, vanilla bean paste, and salt, and mix well, scraping the bottom and sides of the bowl occasionally.

With the mixer running on low speed, gradually add the cream and creamer, mixing until everything is smooth and well-combined. Finally, add the liquid gelatin and mix it in. (The gelatin should be slightly warm when you mix it in, and the cream cheese mixture should be room temperature. If the gelatin has thickened or seems cool, microwave briefly until it is very fluid. This will help prevent gelatin lumps in the final product.) Finish mixing by hand, scraping the sides and bottom well.

Divide the cheesecake into 4 portions (each should be about 7 oz, if you want to measure them out.) Stir a drop of gel food coloring into each one and mixing until the color is smooth and uniform.

Take your first color and divide it between the 6 cavities—I found it was fastest and easiest to use a cookie scoop, but you could use a regular spoon, or even pipe the cheesecake in if you want to be really precise. Spread it into a smooth layer with the back of a spoon, then add a second color on top of the first.

Continue to layer the cheesecake colors until all 4 of them have been added to the pan. Smooth the tops of the cheesecakes, then place them in the freezer for at least 2 hours to firm up. (The exact time will depend on the temperature of your freezer.) They should feel solid to the touch before you try to unmold them.

To unmold, simply press from the bottom of one of the cavities and turn it upside-down, pushing the cheesecake out into your hand. Let them sit at room temperature for 30 minutes to defrost before serving. They can also be refrigerated for several days after being unmolded, if you want to make them in advance. These cheesecakes should be stored in the refrigerator and served chilled.

To decorate, top each cheesecake with a swirl of whipped cream, a pinch of sprinkles, and a few candy eggs.
Nutrition
Calories:
590
kcal
|
Carbohydrates:
41
g
|
Protein:
7
g
|
Fat:
45
g
|
Saturated Fat:
23
g
|
Cholesterol:
124
mg
|
Sodium:
431
mg
|
Potassium:
193
mg
|
Sugar:
26
g
|
Vitamin A:
28.5
%
|
Vitamin C:
0.2
%
|
Calcium:
10.4
%
|
Iron:
5.9
%