This Easter Polka Dot Cake is a gorgeous spring cake with polka dots on both the outside AND inside of the cake! Learn how to create this cute, easy cake with surprise polka dots inside.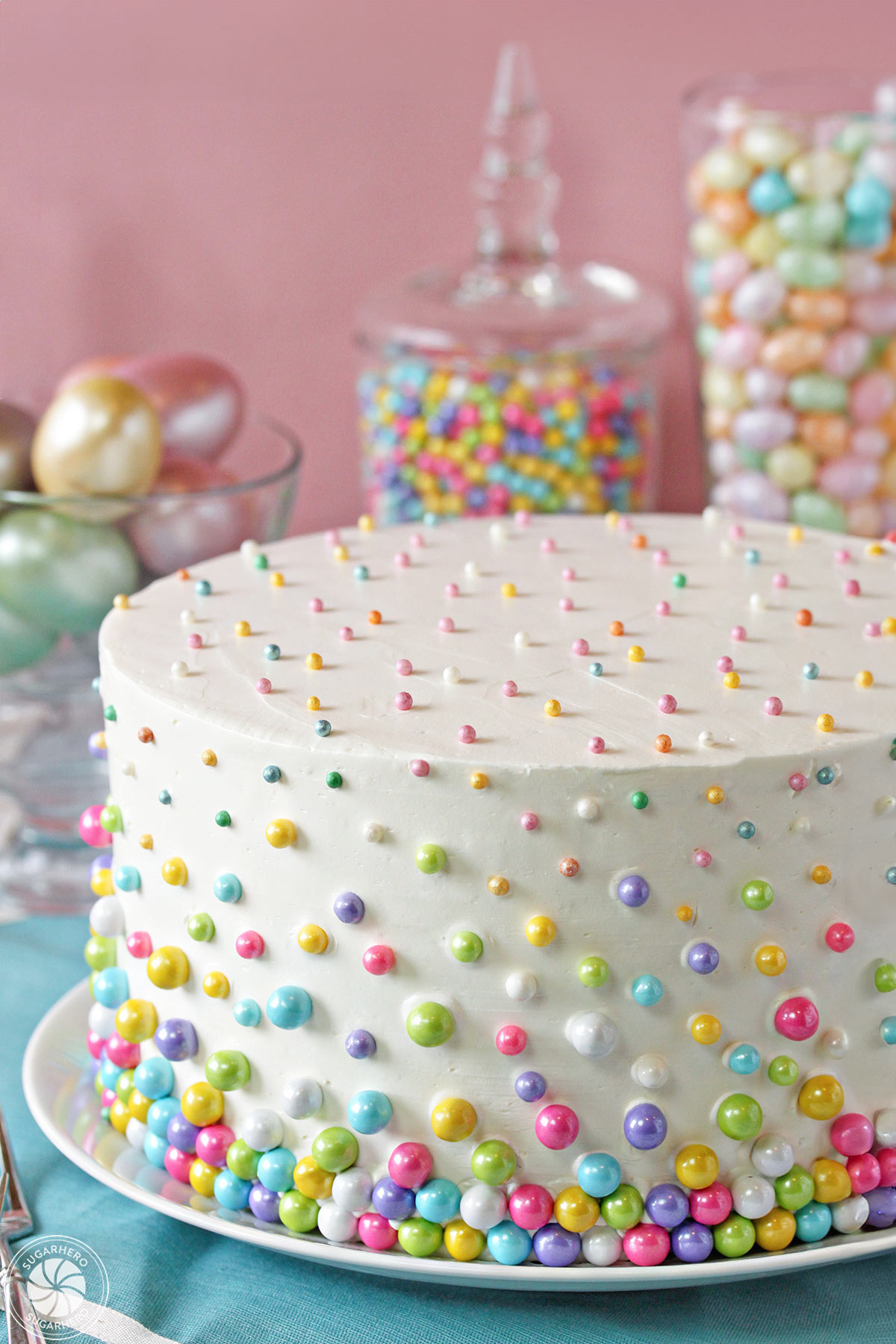 My parents were in town last week for my son's birthday party, so they were around when I was making and photographing some SugarHero desserts. When my mom walked into the kitchen and saw this cake, she stopped, smiled and said, "Oh honey, everything you make is so—"
A pause.
What was she going to say? Beautiful? Gorgeous? Stunning beyond measure?
"—time-consuming."
BUSTED.
My mom does not lie—many things that I make and post here are time consuming. Let's be honest about this. I'm no Rachael Ray, and very few of my recipes could be described as quick or easy. This is something I think about frequently, both because it causes me to be working in my kitchen at unholy hours of the night, and because I'm aware that fast and easy foods are the flavor du jour. We live in a Pinterest world, and that means few ingredients, minimal steps, and instant gratification. Basically, the exact opposite of everything I make.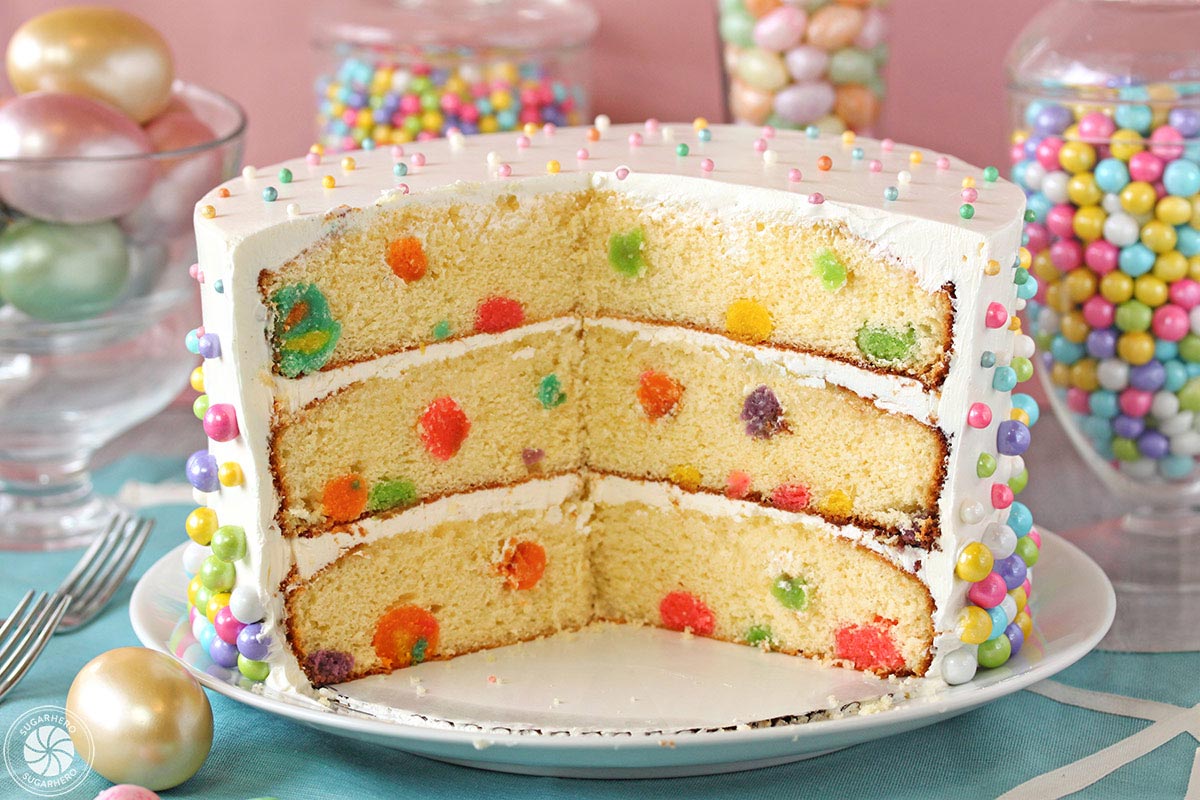 On one hand, I want to give the people what they want. Of course. What good is a recipe blog if no one ever makes the recipes? On the other hand, what's the point of having a personal blog if you're writing to popular opinion and not your own tastes? I go back and forth on this issue on a weekly basis, but what it usually comes down to is the fact that I can't bring myself to make and post things that I'm not really, really excited about.
And what excites me most are semi-ridiculous things like are sky-high mousse desserts, homemade stuffed doughnuts, eight layer cakes, and swirled tarts topped with whipped cream and chocolate curls and homemade truffles. In my world, more is more, and I just need to own it. If people pass by my recipes in favor of ones made with a cake mix*, well, that's the way the overly complicated cookie crumbles.
*I should point out that this particular recipe does make use of a cake mix, though, so y'all should come back here right now!
Now that I've effectively talked you out of ever making one of my recipes, let me sell you on this polka dot cake. I won't tell you it's fast, because I like you too much to ever lie to your face. But I pinky-swear to you that it truly is easy. The polka dot pattern on the outside is made by pressing candy into frosting, which requires zero planning and very little thought.
The polka dots on the inside start as mini cake balls, which every single person on this planet and a few intelligent apes have probably made by now. Cake + frosting + rolling = instant cake balls! The cake balls are suspended in yellow cake batter before being baked, which again doesn't take many brain cells. Both aspects are simple on their own, but when you combine them, you end up with a whimsical cake with a super-fun surprise inside.
To make this even more Easter-appropriate, you could roll your cake balls into egg shapes, and decorate the outside with an Easter egg pattern. You might be able to see in some of the pictures that I got a little ambitious and tried to make multi-colored cake balls with stripes or dots inside. It worked, but I didn't think the effect actually looked very appetizing, so I abandoned the idea–but you could certainly experiment with combining colors to form cool patterns! The cake itself is a lemon cake with coconut buttercream, so it tastes light and springy. It's the perfect way to end a special Easter dinner, or you can use this technique to make any special occasion cake. Birthdays, anniversaries, and major holidays all call for surprise polka dots, in my opinion.
And don't worry, this story with my mom has a happy ending. To punish her for her brutal honesty, I served her a big slice of this cake that as soon as I was done taking pictures. That'll show her.
If you're looking for more desserts to make for Easter, be sure to check out these adorable Easter Basket Cupcakes, Spring Chick cupcakes and Easter Baby Chick Cupcakes. Or, if you've got candy on your mind, try these beautiful Marbled Easter Egg Truffles and Peanut Butter Easter Eggs. These unique Easter Push-Up Pops and Chocolate Easter Nests (Birds Nest Cookies) are so fun for the kids!
💗More Spring Layer Cakes You'll Love